Nguyễn Văn Huân and Trương Công Tùng are cruise managers with The Au Co in Ha Long Bay. Both men have worked their way up to their current roles, where they take pleasure in showing passengers the best of Ha Long Bay. Here they share thoughts about their work in hospitality, their aspirations and what it's like to live in one of the most beautiful corners of Vietnam.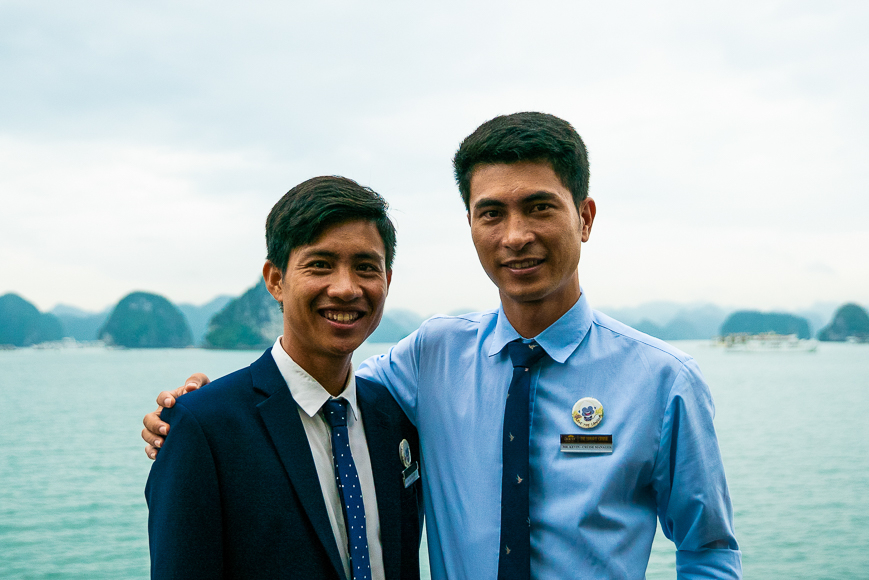 ---
How did you get started in travel?
Huan: It was a long time ago, almost 10 years now. The first day I came to Halong Bay, it was amazing. I was a bit nervous but excited to meet people. Many passengers asked me about Halong Bay in English, and it was very hard for me. I wanted to communicate with the customers, so I applied to housekeeping from marines, and then I moved to F&B, bartending, and reception. I did every job on board before I became cruise manager. It's very nice to see people from around the world, and have time to talk to them.
Tung: When I finished school, I came to work for this company as a receptionist and went through a lot of promotions to get to this position. It took me almost three years to become cruise manager. I think it's destiny, as my dream when I was young was to be a teacher. I couldn't make it to the university level for teaching, but was able to study tourism, to be a tour guide. Then I started work in hospitality, and there was a lot of opportunity for me to improve my skills.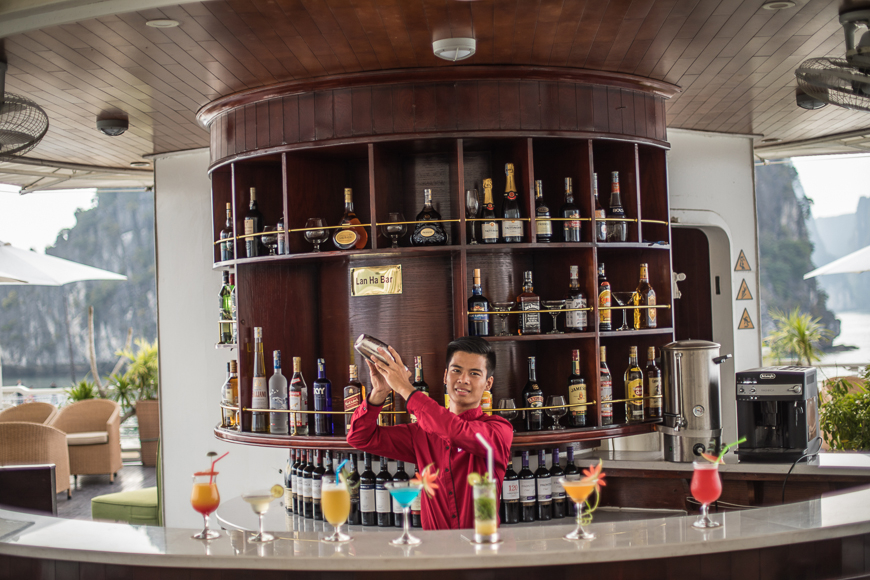 What do you think makes this part of Vietnam special?
Huan: If you visit Halong Bay, you'll see so many islands and inlets. You can also explore a lot of nice caves, with stalagmites and stalactites, and go kayaking. One of my favourite places is Ho Ba Ham lake. We take guests kayaking there, and it's very quiet and peaceful.
Tung: Well, its beauty. I've worked here a long time, seen different seasons and weather, each gives a unique feeling to the place. I like it, as it's more relaxing and quiet than on land.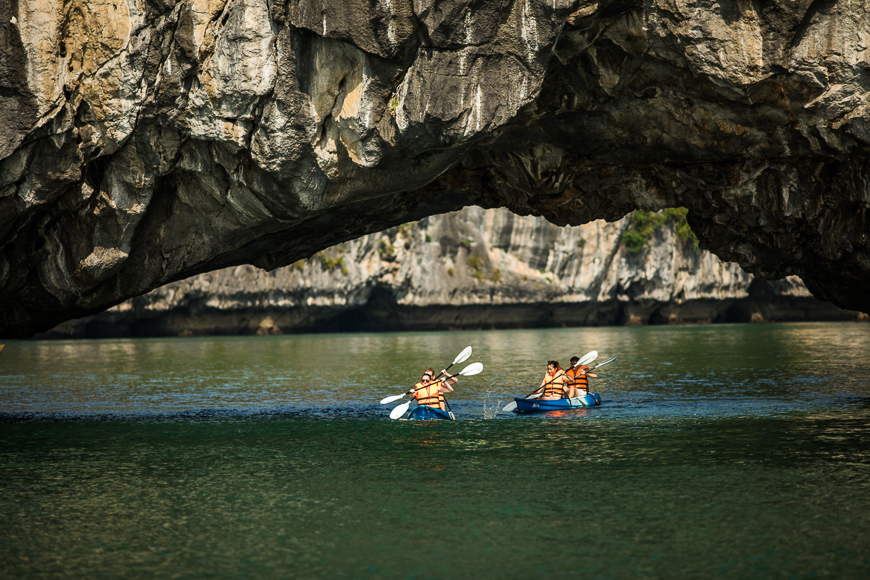 Tell us about your families. Where are they from?
Huan: My family lives far from here in Thai Binh Province, about 200 kilometres away. I stay on board 25 days a month, so my five days off I want to spend with my family.
My wife lives at home. I have two children too. My wife and parents have been on the cruise. Before, my parents didn't want me working here, because it's very far. Also, my father is a doctor, he wanted me to be the same. But I like travel, meeting and talking with people. So I called my parents and they came on board. When they saw me kayaking, swimming with passengers, they asked, "Oh, this is your job?" I said, "Yes!" They were surprised and very happy. Now they're quite glad that I work here.
It's very nice to see people from around the world, and have time to talk to them.
Tung: My original hometown is in Nam Định Province, 180 kilometres from here. My parents were farmers. They were actually from different parts of the countryside originally and came from the northern highlands. They met and married and moved there together, but my dad passed away when I was 9 years old. My mom brought me up, and she worked on her own to support me. That's one of the reasons I tried to study and work hard, to be good in the future.
I came here to go to college and now I live in Ha Long City. In my hometown it was quite difficult to find a job and improve the quality of life. So I set off to find a new life.
What do you like most about working on The Au Co?
Huan: Our company's very good with helping local people. We bring passengers to the floating fishing villages where before they only earned a living from fishing. Now they can earn extra money from tourism. Also, we bring our guests to Cat Ba Island, and our summer staff comes from there. We interview and train them to work on the boat so they can save money to support their families. We also bought some land there and we've built a community farm in the area.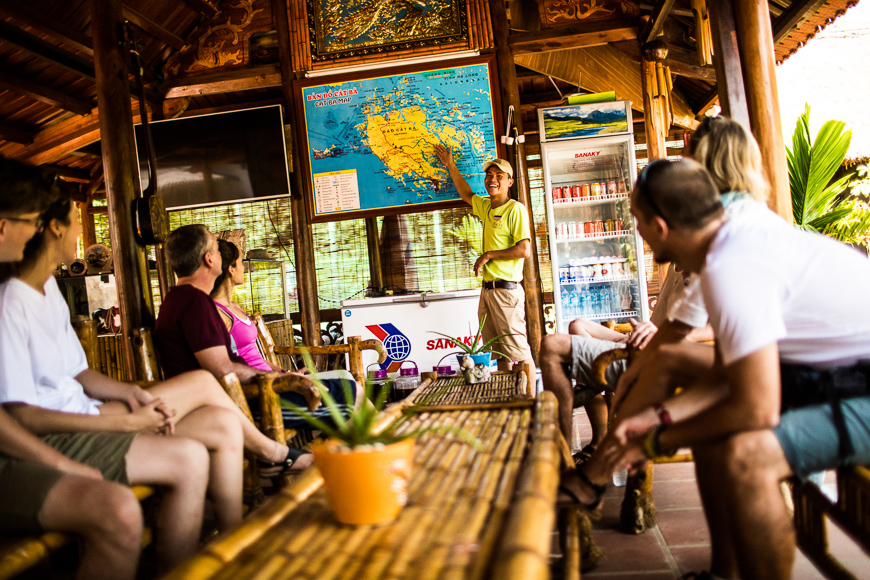 Tung: Every cruise, we do a beach clean-up and each time we try to go to a different beach. Our company also has a project to clean up the bay twice a year with a lot of volunteers, cleaning where there's the most garbage in the bay. We try to find the place where the clean-up will have the most impact, because the bay is quite large. We hope that our action will be an example.
Do you have plans for the future?
Huan: One day soon, I want to become a training manager, because I've been working here for 10 years so that's what I want for the future. I'll still get to be on board with our staff.
Tung: In 10 years, I want to own and manage a restaurant and use my experience. I also want to help people with my knowledge. A lot changes in 10 years, but I really want to do a restaurant by the sea.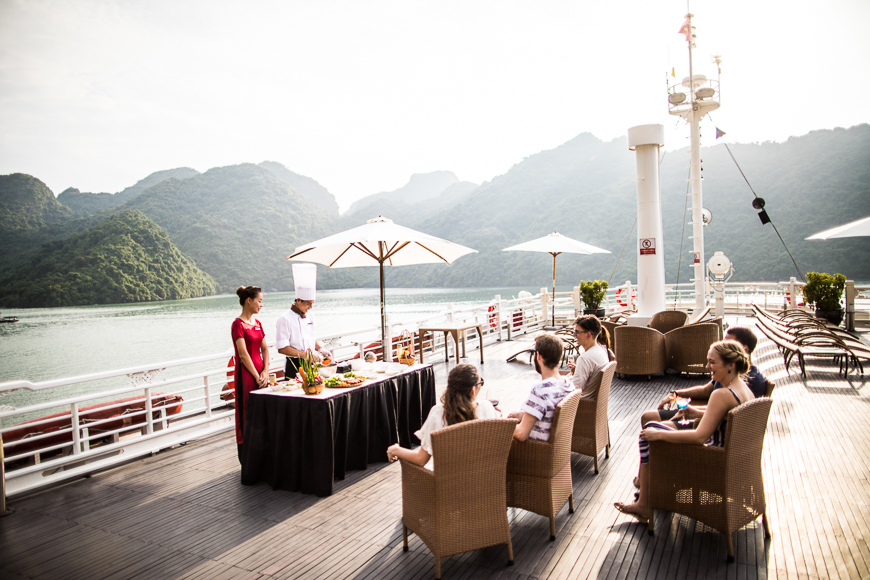 What do you love about Vietnam?
Tung: There are a lot of places to see and a lot of different cultures. The people, wherever you go, are friendly and always smile. If you need help they are always ready to guide you.
Do you ever feel tired in your job?
Huan: No! Everyday is like my holiday, I love it here.
---