Vietnam is a country with phenomenal food - the freshest of vegetables, herbs, and flavours galore all put together in a gastronomical mosaic that will make your tongue dance and your senses sing. You can't bid the "rice basket nation" farewell before learning how to make all those outstanding dishes yourselves.
Because of this explosion of interest in Vietnam's culinary showcase, there are more than enough cooking classes in every tourist city. After meticulously researching our options, we decided on Bay Mau Eco Cooking Class, an all-inclusive program that turned into more of a culinary adventure than your average class!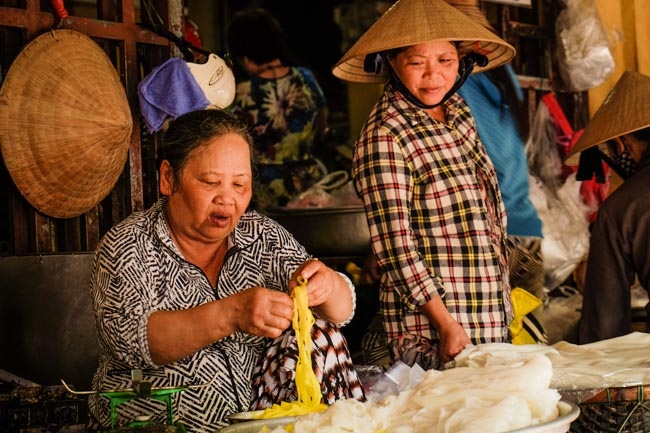 We began our day early with an included pick-up (and later, drop-off) from our doorstep via an air-conditioned van that whisked us, along with fellow classmates for the day, to our first stop: Hoi An Market. We were introduced to our friendly guide, Ahn Mi, who brought out the farmer chic in all of us by outfitting us each in Non La, Vietnam's iconic conical bamboo hat. She led our wide-eyed group from butchers, to produce vendors, to the wet market, making stops along the way to purchase fresh ingredients for our upcoming class while explaining all of the significance for said items in Vietnamese cuisine.

With baskets full of edible goodies, we were escorted down to the waterfront where a big boat was waiting to take us on a leisurely cruise up the Thu Bồn River, allowing us to admire traditional Vietnamese fishing nets and wave at smiling local fisherman. We veered into a small channel, where the landscape quickly transformed into a leafy coconut grove. As we gawked at locals paddling by in curiously bowl-shaped bamboo boats, a few latched onto our boat and Ahn Mi coaxed us to hop in—it was actually part of our day! We took to the boats in pairs and greeted our ferrywoman, an elderly lady whose face broke out into a network of wrinkles every time she smiled. She gently guided our boat through groves and even stopped to fashion a coconut leaf hat, ring and bracelet for us, much to Jen's delight.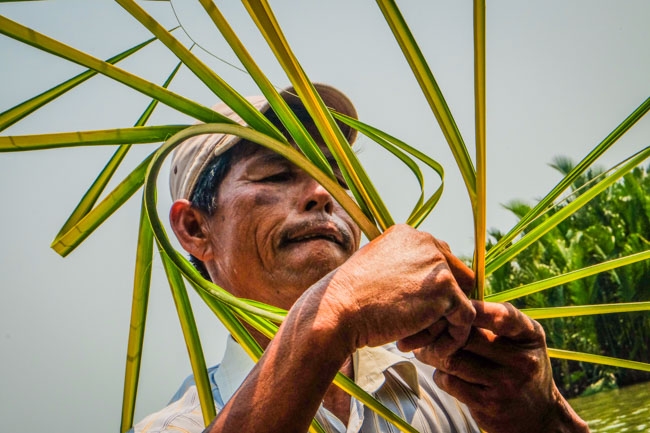 Our ride brought us to dual open-air kitchens wrapped around a pond full of fish and surrounded by greenery, a fantastic setting to make some authentic Vietnamese food. As with any good lesson we first got to learn where our food came from as we all got to try our hand at making rice milk using a traditional full-sized stone grinder. Our individual cooking stations had been placed around the table and we all donned crisp white chef's hats and aprons before meeting our culinary teacher, someone who instantly conjures up the feeling of a generic Auntie who brings you comfort food in one hand and pinches your cheek with the other. Although she didn't speak English, apart from some hilarious comedic quips here and there, we were able to follow her every move as Ahn Mi translated every step brilliantly. We all watched keenly as our teacher prepared a dish with deliberate but effortless steps, before sending us scurrying back to our stations to try it ourselves. There was just the right balance of supervision and assistance without feeling smothered. Spring rolls with jumbo shrimp (Goi Cuon) and crispy Vietnamese crepes (Banh Xeo) were some of the delicacies we created. Of course, the best part was getting to devour it all.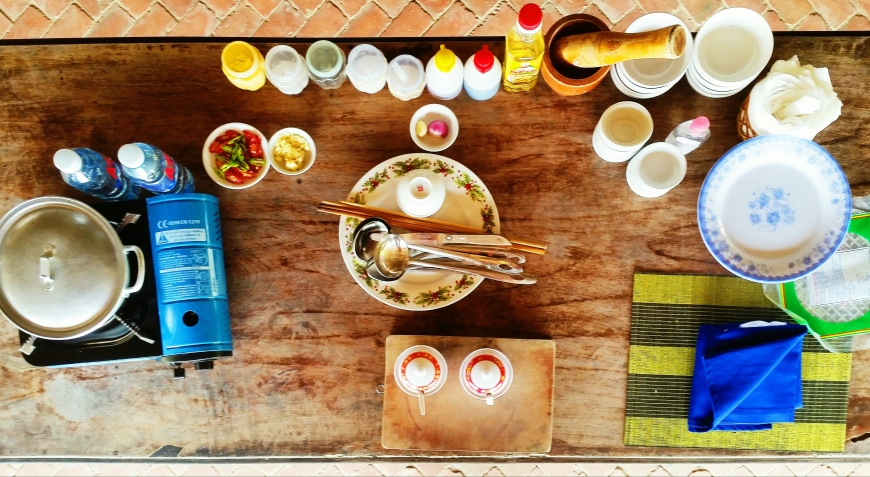 As we began to feel full, we were suddenly invited to head over to the pond and lo and behold, our cooking class became an impromptu fishing excursion! We all did our best to catch as many of the young fish as we could (we were the only ones to catch none, sadly). We traded in our fishing poles for bamboo fans, which we used to fan coal fires to grill up the main ingredient for our next dish: succulent seasoned pork. Satisfied with our grilled meat, we returned to our stations and whipped up a marvelous entrée of Bun Thit Nuong, a cold rice noodle salad ornamented with our crisped pork.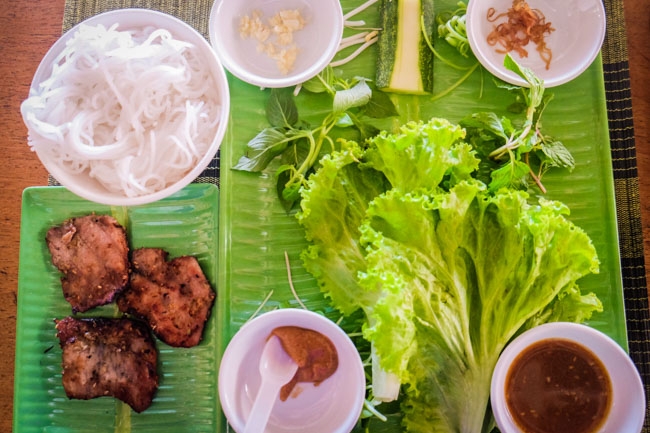 Finally, the day came to an end with full bellies and happy hearts. We all received cookbooks to take home, carrying the secrets of all these phenomenal dishes so that the culinary artistry wouldn't stop at this moment. We thanked the head chef and accompanying staff and waddled out to the waiting van to be shuttled home.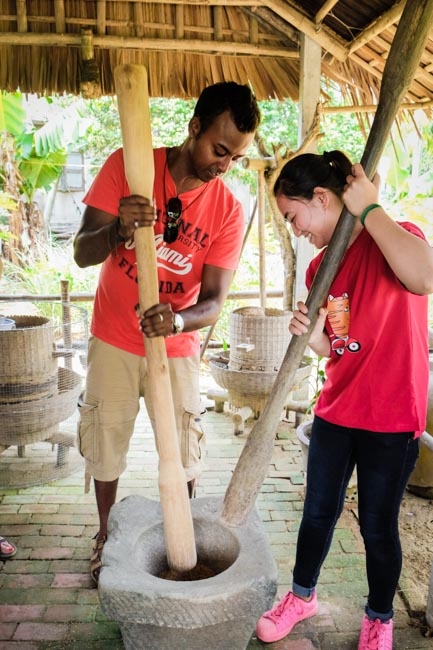 Besides the truly tasty treats we made and the knowledge of how to make them, we really appreciated the diversity of activities in the program. The variety kept us engaged every step of the way by having us look forward to what new experience lay ahead, unlike other cooking classes that just stick you in a dingy kitchen for hours on end. On top of it, the staff were professional, funny and simultaneously helpful. We have a feeling this is going to be one of the highlights of your trip to Vietnam that you won't be forgetting anytime soon!