In the mood for love? Elevate romantic dinner plans with a three-course menu inspired by "The Lover" and "Indochine."
Special thanks goes to Things Asian for the reproduction of these recipes.
Appetizer
Spicy Shrimp Skewers
24 large shrimp, deveined, shells & tails intact
1/4 cup light soy sauce
1/2 teaspoon chili garlic sauce
1 tablespoon shao xing or dry sherry
4 bamboo skewers
Combine soy sauce, chili garlic sauce and shao xing or sherry in a non-metal bowl. Add shrimp and mix thoroughly to coat. Marinate for 1 hour. Skewer each stick with 6 shrimp and cut in half with a pair of kitchen shears for easier handling. Cook on a grill pan, electric grill or outdoor barbeque until just pink and tender, about 2 minutes per side. Serve with Nuoc Cham Dipping Sauce.
Serves 4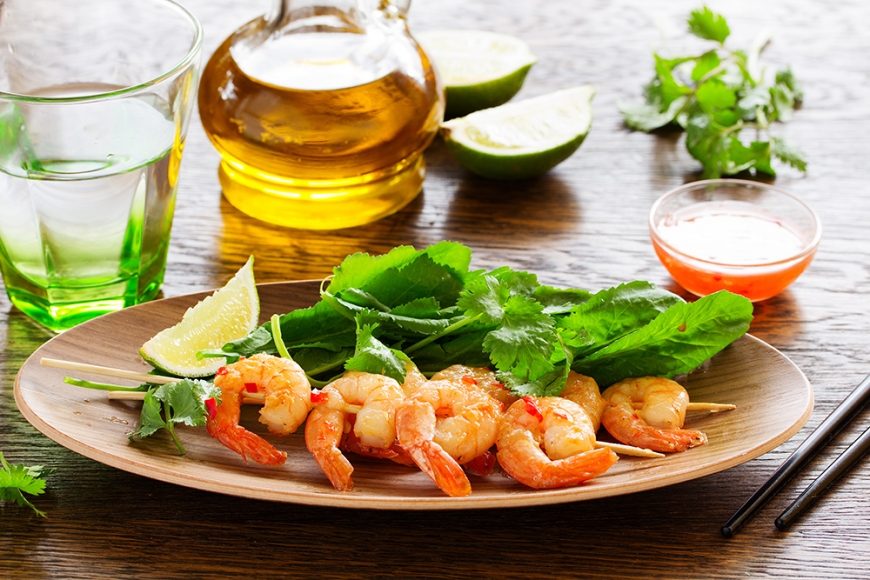 Main Course
Braised Ginger Duck
1 duck (about 4 - 5 pounds)
1 4" piece ginger root, finely shredded
2 teaspoons salt
8 cups water
1 small onion, coarsely chopped
1 carrot, coarsely chopped
1 stalk celery, coarsely chopped
2 tablespoons vegetable oil
2 tablespoons nuoc mam (Asian fish sauce)
1 tablespoon sugar
2 tablespoons shao xing or dry sherry
1 jalapeno pepper, deseeded and cut into fine strips
(This recipe takes several hours)
To prepare the duck, using a sharp knife or cleaver, divide the duck in half lengthwise along the breastbone and separate the breast meat from the ribs, leaving skin intact. Remove each whole leg/thigh piece, leaving skin intact. Remove wings. Separate the back from the front rib cage. Place breasts and leg pieces on a plate and store in the refrigerator until ready to cook.
Fill a large kettle with 8 cups of water. Add onion, celery, carrot and duck carcass pieces and bring to a boil. Reduce heat and simmer for about 1 hour, until duck meat is tender. Allow to cool. Remove duck pieces from the stock, separate all remaining meat from the bones and set the meat aside to use in the rice.
Strain the stock into a large jar and place in the refrigerator for several hours. Discard any remaining vegetables and bones. When the duck fat has solidified, skim it into a bowl and set aside.
Rub the duck pieces with half of the shredded ginger and sprinkle with salt. Heat about 2 tablespoons of duck fat in a large wok or heavy skillet. Brown the duck breasts and legs for about 7 minutes per side, until golden brown. Remove from pan and drain on paper towels. Drain away excess duck fat from the pan, leaving about 2 tablespoons. Add remaining half of shredded ginger and the jalapeno pepper strips and stir-fry until tender and fragrant, about 2 minutes. Add nuoc mam, sugar, and shao xing or sherry and stir to blend.
Add 3 cups of duck stock and bring to a boil. Return browned duck pieces to the pan, reduce heat, cover and simmer for about 1 hour. Remove the lid after 30 minutes to allow the stock to thicken. Remove duck from the pan to serving plates with rice. Spoon sauce over duck and rice.
Serves 4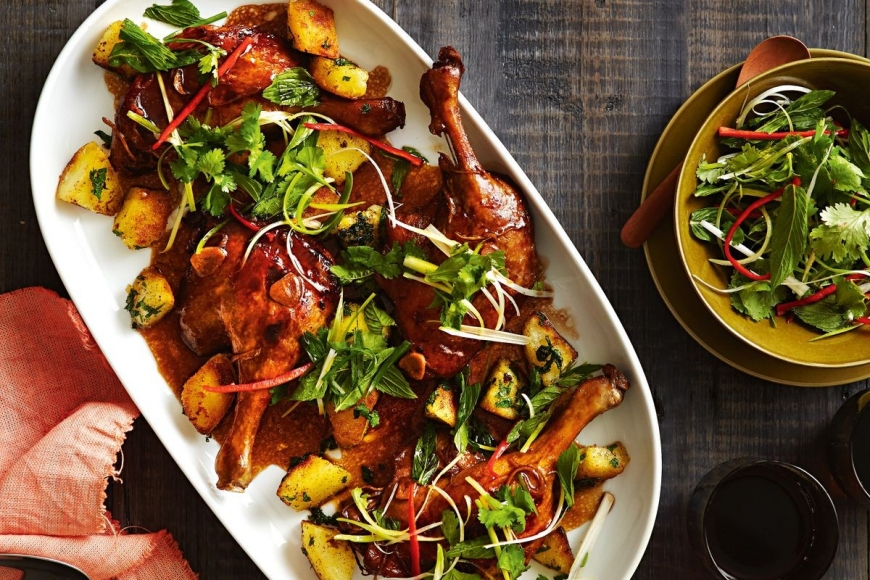 Dessert
Coconut Creme Caramel Custard
3 eggs
1/4 cup sugar
1 can unsweetened coconut milk
Whisk together eggs and sugar. Add coconut milk and blend until smooth. Set aside until time to assemble custard cups.
Sugar Glaze
3/4 cup sugar
1/4 cup water
Combine sugar and water in a small saucepan. Heat over a medium flame, swirling the pan gently every few minutes until the mixture becomes a clear, bubbly syrup. DO NOT STIR. Cover pan with a tight-fitting lid and boil the syrup for two minutes. Remove the lid and continuing boiling, swirling the mixture every few minutes until it becomes golden brown. Sugar can go from boiling to burning very quickly, so be careful not to overcook the syrup.
When the syrup is the desired color, pour a little into each 4 ounce custard cup, swirling immediately to fully coat the bottom of the cup before it hardens. Fill each cup to just below the rim with the custard mixture. Custard needs to bake in a water bath to keep it from overcooking or setting too quickly, so the custard cups should be placed in a large baking dish with about 1" of water. Bake at 275 degrees for 45 minutes, or until custard is lightly set.
Remove from the oven and allow to cool in the water bath. Cover and refrigerate overnight. When ready to serve, fill a shallow bowl with about an inch of hot water and soak each custard cup for one minute to help release the sugar glaze from the bottom. Carefully run a sharp knife around the edges to loosen the custard and carefully turn the custard onto a serving dish. Garnish with fresh mint leaves and serve immediately.