Traveling through Việt Nam, you'll see flowers and plants depicted in artwork, handicrafts and architecture. Curious what these motifs mean? In this article, we look into the symbolism and stories behind Vietnam's favourite flora.
---
Lotus blooms
The flower most closely associated with Vietnam is the lotus, with the pink lotus serving as the national flower. These blossoms have long been linked to Buddhism, nobility, and purity of thought. An old chant states:
"No other species in the lake can rival lotuses

Green leaves, white blossoms and yellow pistils

Yellow pistils, white blossoms and green leaves

Never tarnished by the dirty mud nearby."
In Vietnam, two colours of lotus are preferred: pink and white. Lotus patterns are an ancient theme in Vietnam's decorative arts, often used in community halls, temples and pagodas. Ceramic lotus petals from the Lý Dynasty (1009 - 1225) are displayed in the Thăng Long Citadel in Hanoi. The shape of Vietnam's most famous pagoda, the 11th century One-Pillar Pagoda in Hanoi, was inspired by a lotus flower. You'll find lotus motifs adorning the 17th century Bút Tháp Pagoda in Bắc Ninh province.
Every traditional village in Vietnam boasts a bamboo hedge, a banyan tree, and a lotus pond. In Vietnam, pink lotus blooms are symbols of romantic love, as shown in this verse:
"Yesterday I swept water by the temple

Forgetting my shirt on a lotus

May you return it to me?

Or will you keep it as a love token?
---
Unbreakable bamboo
A well-known Vietnamese folktale tells of a baby boy named Thánh Gióng who could neither walk nor talk until he was three years old. At that time, the nation was invaded and the king called for volunteers to fight the Yin forces. Gióng asked for massive amounts of rice, grew rapidly to become a giant, and—mounted on a metal horse and armed with a bamboo spear—set off to save his homeland.
As shown by this tale, bamboo is a symbol of the bravery and indomitability of Vietnamese people. Bamboo bends but is hard to break. It represents the Vietnamese martial art Vovinam. In the past, every Vietnamese village was encircled by a thick bamboo hedge, which helped to keep out bandits and invaders. The proverb, "When the bamboo is old/The bamboo sprouts appear," reminds Vietnamese people that their nation can never be obliterated. When one generation dies, the next rises.
Vietnam's best known architect, Võ Trọng Nghĩa, has found fame making incredible domed structures out of this quintessentially Vietnamese material. To see his work, treat yourself to a drink in the bamboo dining hall of the Nam A resort near Đà Nẵng; or visit the community centre of Diamond Island east of Ho Chi Minh City.
---
Peach and ochna flowers
During the Lunar New Year, every family in Vietnam's North displays boughs of pink peach blossoms in their home, while Southern families display yellow ochna flowers. Pink and red are considered lucky, so the peach blooms are intended to bring good luck in the new year. Thanks to their bright golden colour, ochna blooms are symbols of wealth and abundance. Another reason these blossoms appear all over during Tet time, is because their name "mai" sounds similar to the word "may" (meaning 'good luck') in the Southern dialect.
Both peach and ochna blooms have five petals, said to represent the Five Good Fortunes: Happiness, Fortune, Longevity, Affluence and Peace.
---
Rice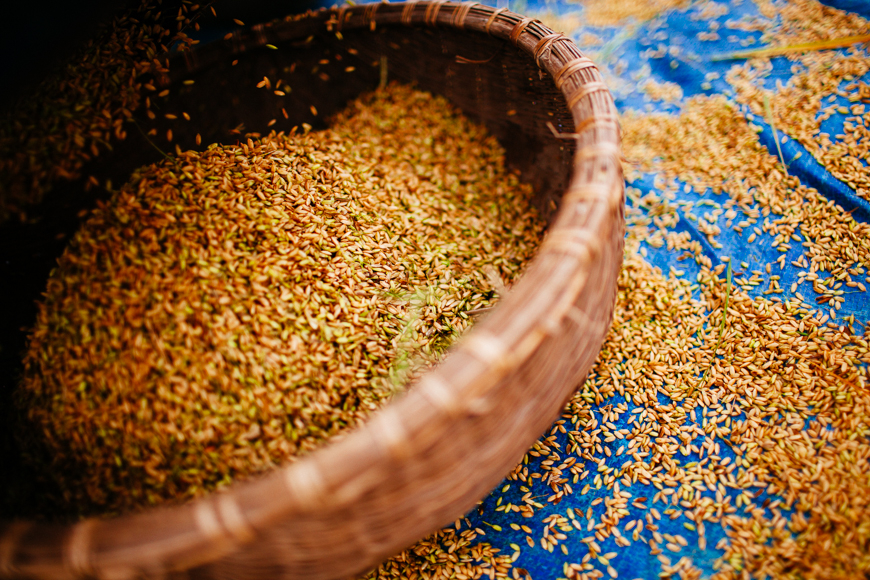 No plant is more closely linked to Vietnamese culture than rice, which remains the nation's staple crop. Vietnam is one of the world's largest rice-exporters. Vietnamese culture began in the northern Red River Delta based around wet rice farming. The long, skinny shape of Vietnam is often compared to two baskets of rice slung from a shoulder pole. In Vietnam, a meal isn't a meal without rice. The popular greeting "ăn cơm chưa?" literally translates as "have you eaten rice yet?"
Cakes made of rice flour or sticky rice flour are key offerings during the Lunar New Year, and at many festivals and weddings. Keep an eye out for bánh chưng—square Vietnamese rice cake made of sticky rice, mung beans, and pork--that is offered to the ancestors during the Lunar New Year and during the Festival of the Hùng Kings. Not surprisingly, rice cultivation is celebrated in many Vietnamese arts including water puppetry, where you'll see the puppets planting and harvesting wet rice.
The popular greeting "ăn cơm chưa?" literally translates as "have you eaten rice yet?"
Venturing out into Vietnam's countryside it's hard not to find rice paddies. In Central Vietnam, beautiful paddies lie just a short bike ride out of Hội An. For a spectacular rice paddy experience, the highland region around Sapa is famous for its terraced emerald rice fields, which turn gold in August and early September.
---