Vietnam's Lunar New Year, Tết Nguyên Đán, is the biggest celebration of the year in Vietnam—a time when families reunite to honour their ancestors and pray for good luck in the New Year. The public Tết holidays run for one week but in reality, the celebrations last much longer, especially in the countryside, and preparations for Tết begin weeks in advance.
---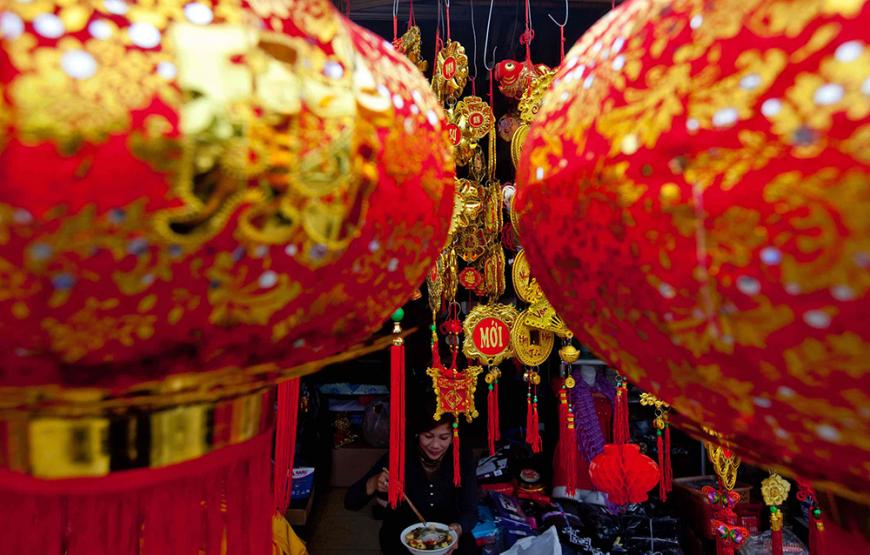 Like many Vietnamese holidays, Tết is connected to the country's agricultural roots. Vietnamese civilisation began in the northern Red River Delta, where the main crop is wet rice. Tết takes places during the coolest season, when farmers have less work in the fields, and can take time to worship their forefathers, give thanks for the coming spring, and have fun.
The days and weeks after Tết are filled with traditional village festivals. Even today, 66 percent of Vietnam's population remains rural. Many Vietnamese who live and work in big cities still consider small villages "home". Come Tết, there's a mad exodus of city-dwellers returning to their native villages.
TIP: Try to avoid travelling around the country in the week just before Tet, as transport centres will be full to overflowing.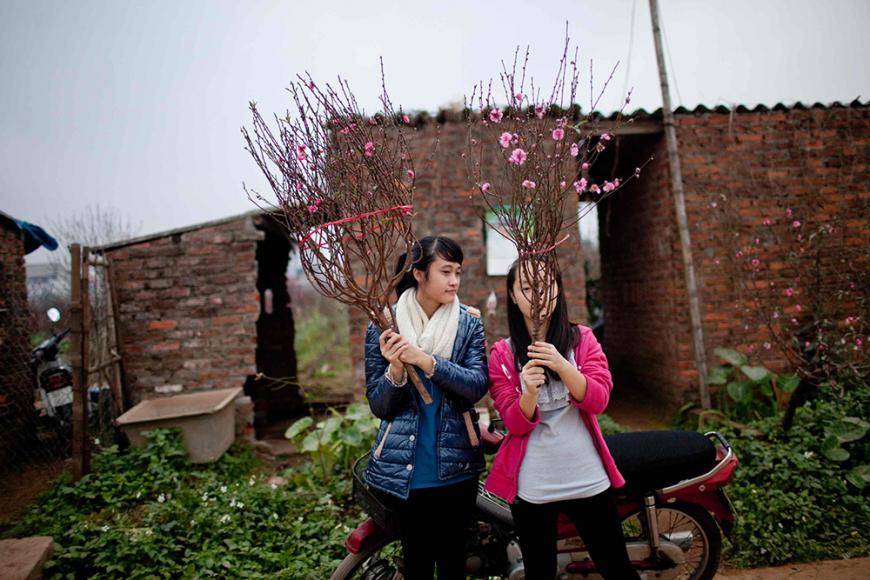 The Anticipation Begins
A favourite place to soak up the spirit of Tết is in Hanoi, a days before the festival starts. While the skies are grey and the weather is cool, the city's narrow streets are punctuated with bursts of colour. Look for fairy lights and lanterns, market stalls ablaze with red and gold decorations, freshly painted pagodas, pink peach boughs, and orange-dotted kumquat trees. Everyone is busy and excited—sprucing up their homes and businesses, getting haircuts and buying new clothes, flowers, and Tết delicacies.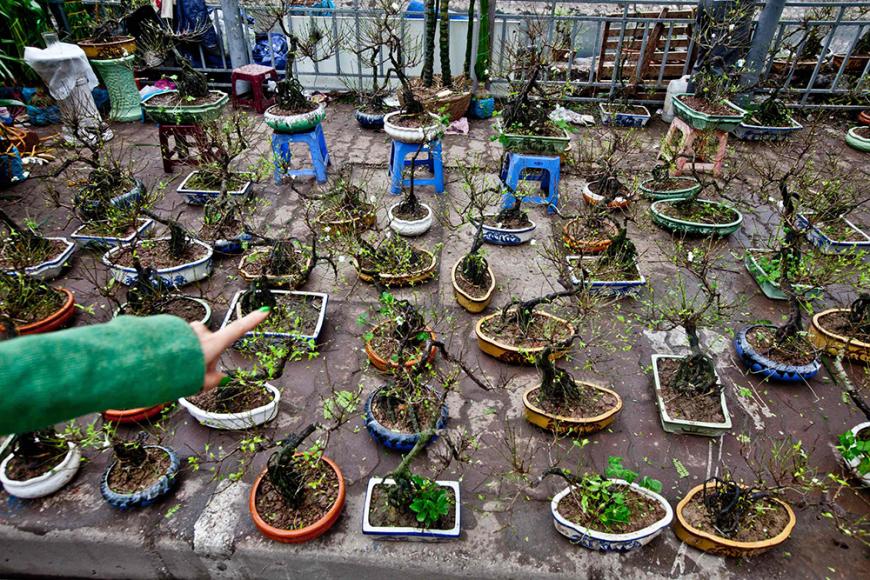 New Year Shopping
In the Old Quarter, Hàng Lược and Hàng Mã streets are jam-packed with shoppers buying foil, paper garlands, and auspicious red and gold decorations shaped like fish, coins, firecrackers, and Tết flowers. This is the place to stock up on lì xì - cute red envelopes that are a highlight of Tết for kids. Older folk slip crisp new bills into the lì xì and present them to youngsters, who thank them by offering good wishes in the coming year.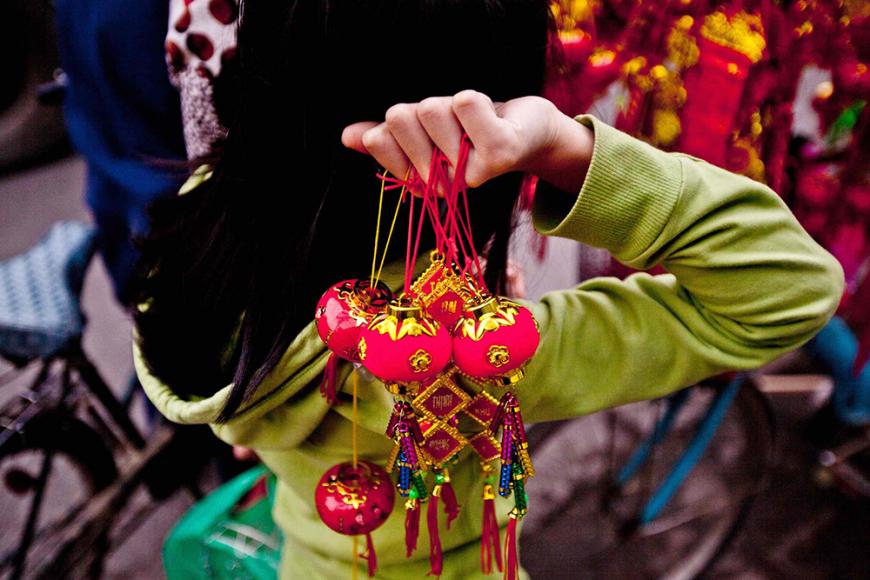 Traditional Holiday Treats
Tết wouldn't be Tết without special foods: sticky rice, pickled onions, dried young bamboo soup, candied fruits -- and especially, banh chung and banh day cakes. According to legend, a prince who lived in the 17th century won the throne after presenting his father with these two sticky rice cakes - one square and one round, representing earth and heaven.
Ancestor Worship
Every year, the banh chung and banh day cakes are placed on the ancestral altar at Tết, along with a tray of five symbolic fruits. On New Year's Eve people light incense and bow before their home altar to welcome their ancestors to join the living for Tết.
TIP: Buy your bánh chưng at the Quốc Hương Shop on Hàng Bông Street, which has been selling these cakes for 200 years!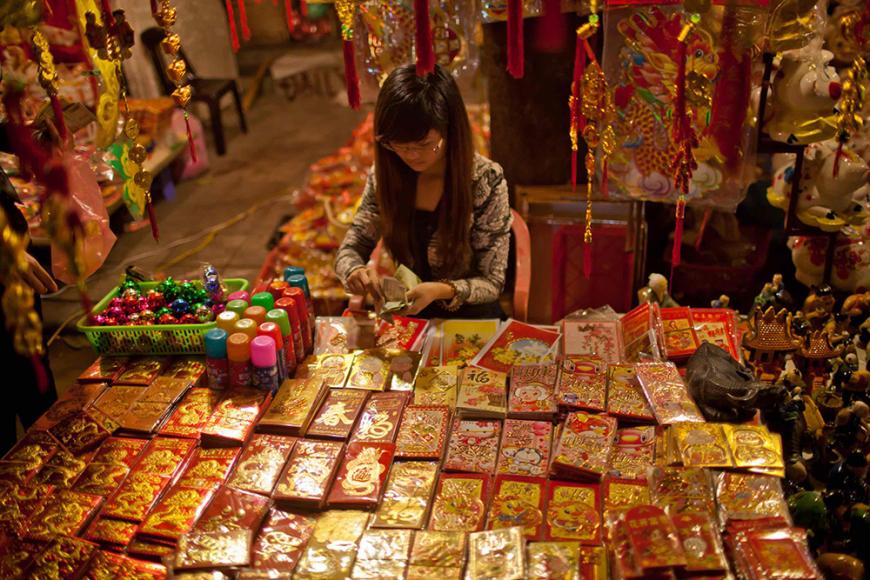 Festive Flowers
As a traditional spring festival, flowers play a key role at Tết. Days before the festival, Hanoi's narrow lanes resemble moving forests as vendors carry peach and kumquat trees on the backs of their motorcycles. A stroll around the Quảng Bá Flower Market near West Lake is unforgettable: shoppers bundled up against the chill buy the finest pink peach boughs they can afford to bring luck in the New Year.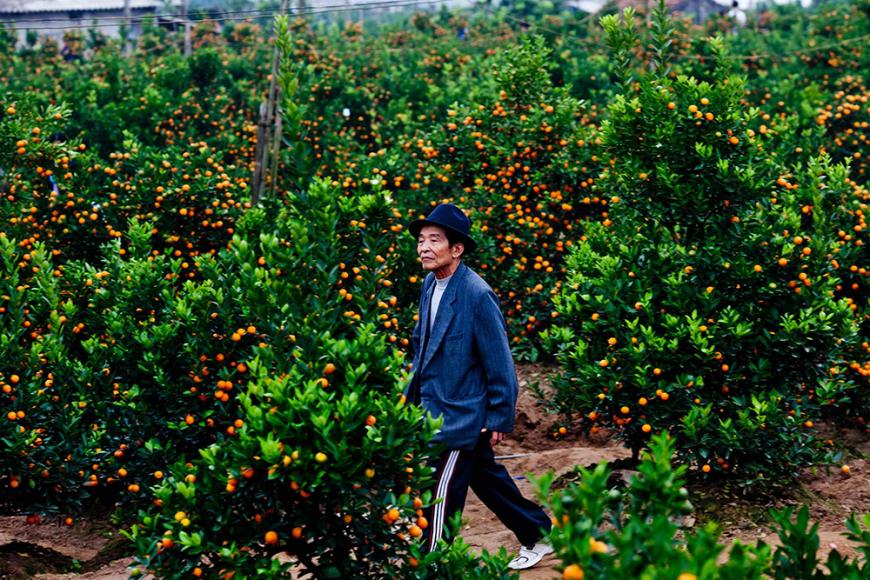 Just as pink peach blossoms are the symbol of Tết in the North, yellow ochna flowers represent the Lunar New Year down South. While Tết in Hồ Chí Minh City is less traditional, it's no less colourful. Nguyễn Huệ Street in District One hosts the country's largest flower show. Join the throngs—extended families in new clothes, young women in áo dàis wielding selfie-sticks—and admire the outrageous floral sculptures.
---
Tết Tips for Travellers
Book bus, train and plane tickets well in advance. Much of Việt Nam's population is on the move pre- and post-Tết.
Stock up on food. Smaller businesses and restaurants shut for at least the first few days of Tết. Plan to eat in larger hotels.
Take the chance to explore. Get a bike and see Vietnam's bigger cities on the first days of Tết. For once, the streets will be empty.
Don't visit friends unless invited. The first visitor of the year is so important that many families invite a successful acquaintance well in advance. Unless asked, avoid entering shops and homes early on the first day of Tết.
Be happy. People believe the first days of the New Year set the tone for the entire year. Be on your best behaviour—no haggling or grumpiness.
Head to a pagoda after midnight on Tết Eve. It will be packed with people praying for good luck, choked with incense smoke and utterly magical.
Good wishes are much-appreciated during the festival. Learn to say, "Chúc Mừng Năm Mới" (Happy New Year) and practice with everyone you see.
---