It doesn't look like much but bánh tráng, or rice paper, is absolutely essential to Vietnamese cuisine. The thin, usually circular sheets are a versatile building block for a variety of staple dishes, including the ubiquitous spring roll. Incredibly, rice paper continues to be made by hand in homes by families who have been making it for generations.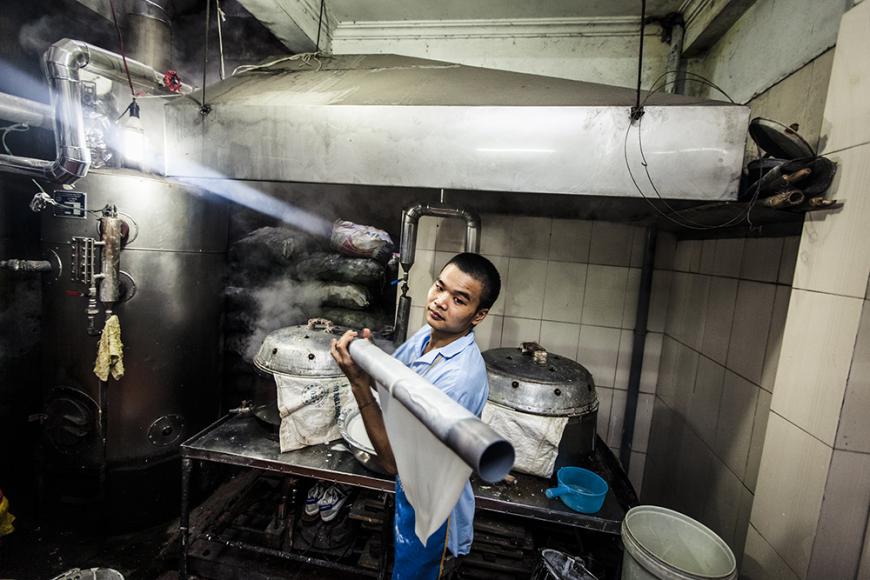 The workday begins before dawn by soaking the rice and grinding it into a batter. Each sheet is made by hand: ladling the batter onto a steamer, spreading it evenly into a thin crepe, delicately removing it and laying it out on a bamboo rack–this is repeated without pause until there are more than 1000 perfect sheets of rice paper destined for restaurants and dinner tables.
A food tour, like those in gastronomic hot spot Hội An, will get you into these homes to watch the fascinating process and join in the fun but fair warning–it's not as easy as it looks. By the end of a cooking class, you'll be rolling spring rolls like a pro and feasting on the fruits of your labour.
A million ways to use bánh tráng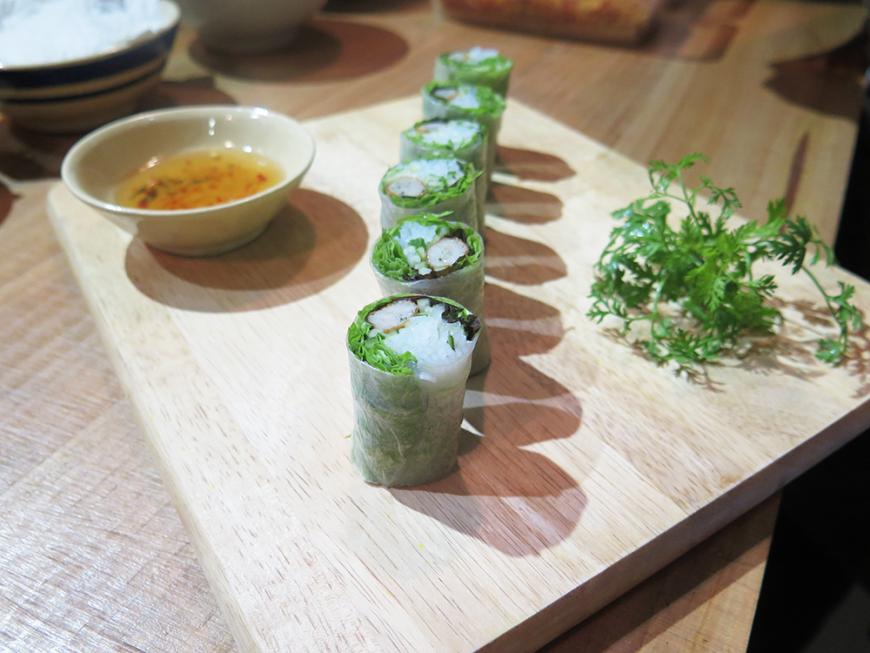 Gỏi cuốn
Spend any amount of time in Vietnam and you'll quickly learn that the nation loves nem, any dish where ingredients are wrapped in rice paper to form rolls. Gỏi cuốn (or nem cuốn) is your standard summer roll, filled with pork or prawns, fresh vegetables, herbs and rice vermicelli. Dig into nem rán, also known as chả giò, a deep-fried roll with minced prawns or pork.
Nem nướng
My absolute favourite is nem nướng. Said to originate from Ninh Hòa, a town just north of beach city Nha Trang, nem nướng is a roll-it-yourself feast with garlicky grilled pork meatballs, rice vermicelli, fresh herbs and a sauce, usually a sweet and tangy one with ground peanuts. Rice paper is the vehicle, allowing eaters to get all that goodness in every bite.
Where to try: Nem nướng restaurants like Nguyen Thi Minh Khai St in Nha Trang. Ba Le Well Restaurant at 45-51 Tran Hung Dao is a local Hoi An institution.
Practically anything can become a nem experience. While feeling peckish in Rach Gia, I asked a motorbike taxi driver to take me to the best bánh xèo located at a joint three kilometres south of town. I couldn't believe it when a bánh xèo the size of frisbee arrived with bánh tráng and all the fixings so it could be eaten as part of a wrap.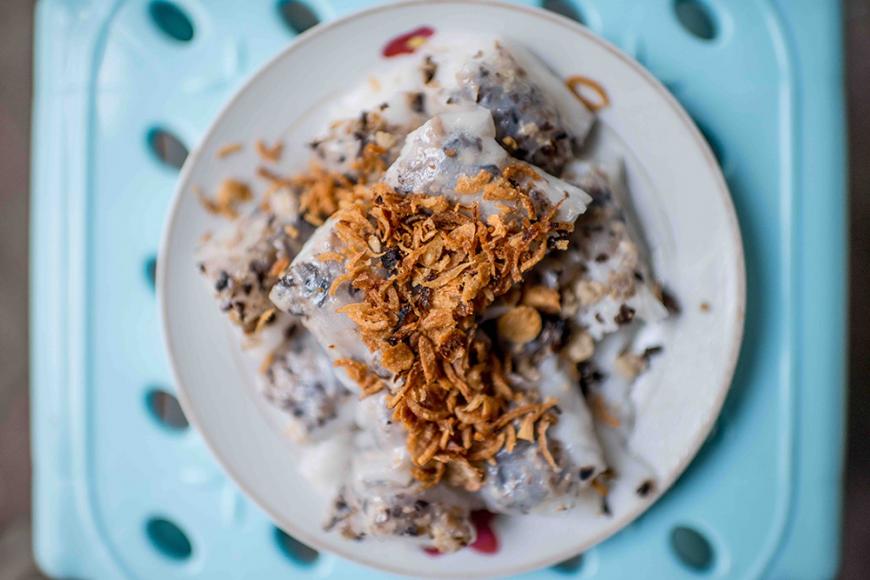 Bánh tráng trộn
Now for some creative flair: An astounding street snack in Saigon is bánh tráng trộn, rice paper salad. The paper is cut into bite-sized strips, then heavily seasoned with julienned green mango, dried spicy beef, chilli, lime juice, crispy fried shallots, tiny dried shrimp, crushed peanuts, hard boiled quail eggs and fresh herbs like coriander and mint. Sometimes beef liver is added, but you can usually ask for it without. The moisture from the ingredients and dressing softens the bland rice paper just right; the flavour is absorbed while a firm chewiness is retained. This hodgepodge is a cheap, simple, sensational snack for Saigonese after work, often eaten with chopsticks straight from the plastic bag.
Where to try: In HCMC, go for a casual bite at Turtle Lake (Hai Con Rua) in District 3. If you're in Da Nang or Huế, treat yourself at Rice Bowl, Angsana Lang Co Resort's signature restaurant.
Bánh tráng nướng
Hit the footpaths at sunset and no doubt you'll see vendors grilling bánh tráng nướng on small coal braziers. Think of it like a grilled Vietnamese pizza using rice paper as the base with an assortment of toppings. Typically it's minced pork, a generous amount of spring onions and quail egg, served with a drizzle of Sriracha chilli sauce. It's easiest to eat by folding it in half like a taco.
Where to try: In the Da Lat night market, vendors have elevated this simple snack with toppings like Laughing Cow cheese, tiny dried shrimp and paté.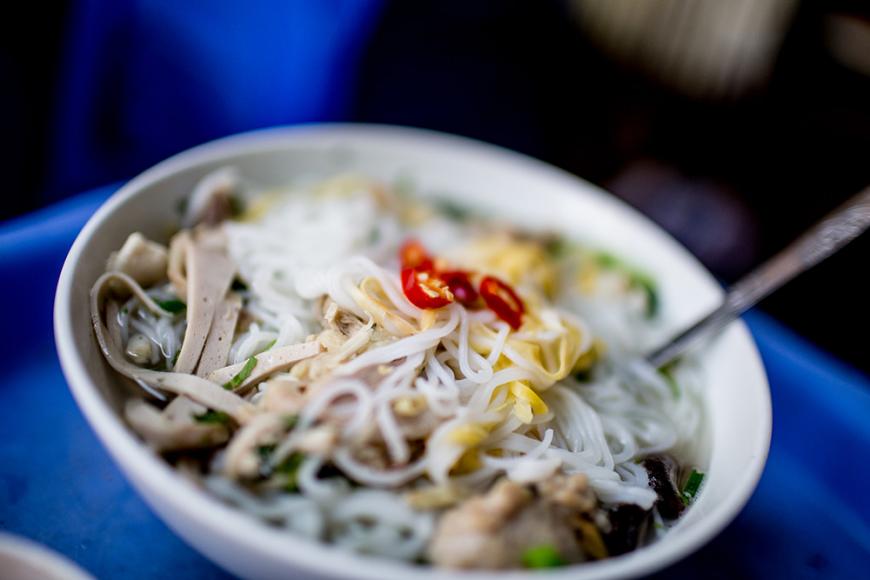 Bánh Tráng Mè
Bánh Tráng Mè or bánh đa tôm is a thicker version or with bánh tráng dotted with sesame seeds and roasted to form a cracker, which is thrown on top of salads and dishes like mì quảng soup to give a welcomed crunchy texture.
Where to try: Mì quảng is the signature noodle soup of Quảng Nam Province. Enjoy a bowl in historic Hội An at Streets Restaurant Café, a training restaurant supporting disadvantaged youth.
Finally, freshly made sheets can also be hand cut to acquire thick noodles, while semi-dried sheets are machine-cut to make thin rice noodles. Both kinds are destined for delicious steaming hot bowls of phở throughout the country.
---
Where To Take Cooking Classes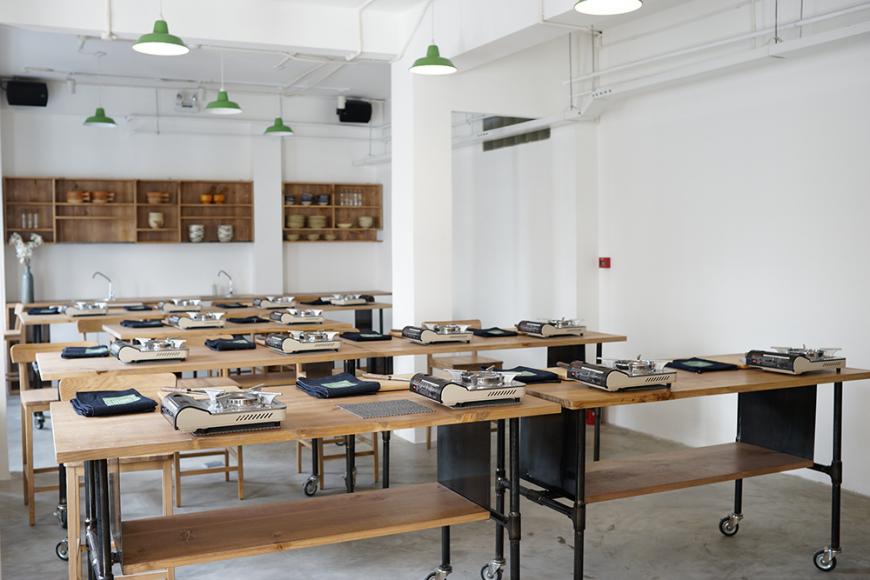 Hanoi
Learn the secrets of Vietnamese food with KOTO, a social enterprise dedicated to providing hospitality training to disadvantaged youth.
Hội An
Pound the pavement with Coconut Tours to sample Hội An's best street food vendors and stalls.
Master the art of the spring roll with Green Bamboo Cooking School & Cafe.
Ho Chi Minh City
GRAIN by Luke is a cooking class with modern flair brought to you by Australian chef and Vietnamese cuisine world ambassador Luke Nguyen
Get out of the big city and into the farm with Ho Chi Minh Cooking Class. Before even putting on an apron, you'll be identifying and picking ingredients from the garden.