This southern beach town is the perfect escape from the endless hubbub of Ho Chi Minh City. Succumb to the delights of succulent seafood and unparalleled Vietnamese hospitality, only a mere hour and a half away from Saigon.
Vung Tau's convenient location makes it a great seaside break from Ho Chi Minh City for those looking for the calm and fresh air the big city lacks. While Vung Tau might not be on the roster for its outstanding scenery, it is fair to say that this place is simply a wonderful option for all the boxes it ticks. Local adventures, worthy beaches, and mouthwateringly fresh seafood... it has it all!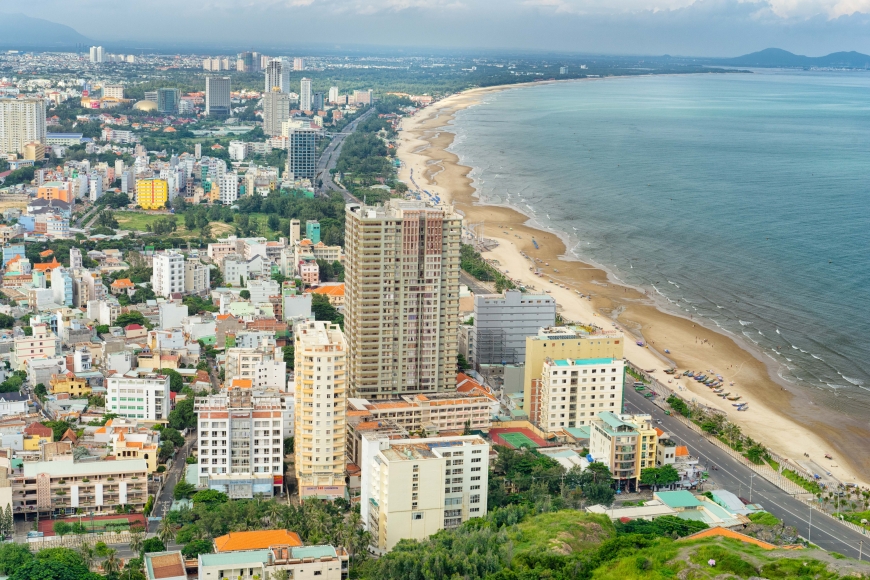 WHAT TO DO
Enjoy a fine day at the beach
Bai Truoc and Bai Sau are typically crowded, touristy beaches as they are more centrally located to the town proper. Nonetheless, you may want to consider these two options in case you are not willing to get a ride somewhere else. A bit further from the downtown area, Chi Linh and Thuy Tien are clean and spacious beaches that offer enough recreational services to entertain you for an entire day.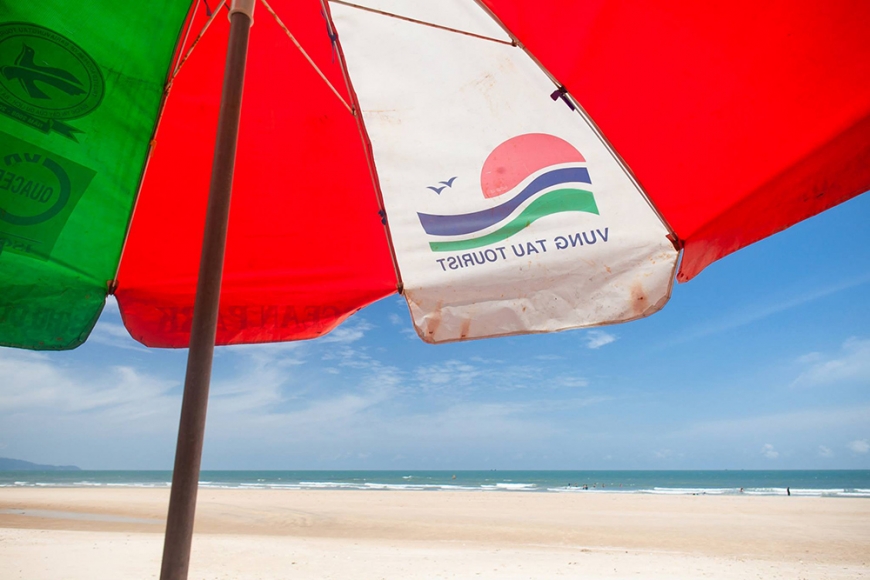 Chum up with the locals
Vung Tau is the actual hometown of many "Saigonese" who flock back in crowds during their days off to spend some quality time at the beach. The city shores boast a number of resorts that provide shade, food and drinks to families and friends looking to spend the day together. There's an infectious quality to the camaraderie of Vietnamese locals. My last visit to Vung Tau was one of the best experiences I've ever had in Asia. In search of a beach further away from the city, we ended up at Long Cung Resort as there were plenty of picnic tables with cabanas where we could comfortably hang out.
Before accessing the beach, there are two parking lots to park your motorbike. A fleet of coracle boats and fishermen cleaning and cooking their catch of the day is the standard greeting for any beachgoer.
As soon as my friends and I stepped foot in the sand, we immediately attracted the attention of every Vietnamese person in sight— the fact being that we were the only foreigners around. Minutes later, we were sharing a big picnic table, beers and food with our newfound friends. Vietnamese people are known for their hospitality towards foreigners. I have experienced these encounters many other times, but none matched the gusto of this group. We finished countless beer cans, ate all the food we were offered, and enjoyed the beach until the last ray of sunlight was gone.
At the end of the day, we all know it's not about the place, but the people you share it with. The beach was not paradise, but those moments were priceless. So my advice here is: if you are up for a fun time, be adventurous and embrace these invitations of fellowship whenever they show up.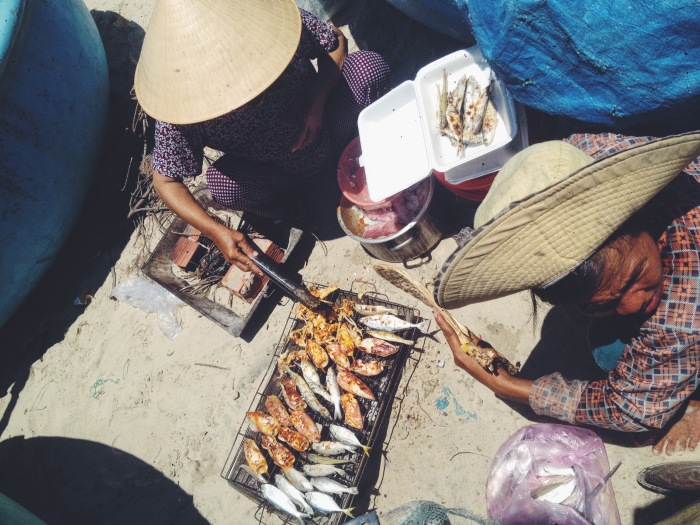 Soak up the East Sea from the arms of Giant Jesus
Considering Vietnam's sizeable Christian community and the Vietnamese people's proclivity for impressive structures, it's no wonder that a giant figure of Jesus took over the top of a hill in one of Vietnam's main cities. After 800 steps up the hill where it is located, you reach this 32-metre tall effigy of Christ the King, considered as one of the world's biggest. Ascend the spiral staircase as if it were a stairway to heaven, with biblical displays flanking the marble steps, to enjoy the impressive panoramic view of Vung Tau.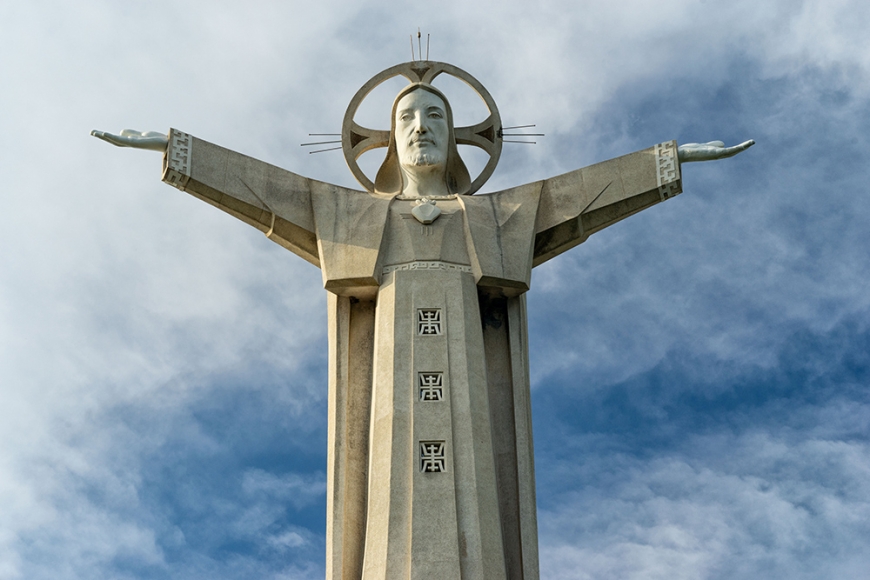 Take a trip back in time
A history lesson awaits inside the confines of The White Palace. For those who learn by immersion, this is a wonderful way to familiarise oneself about Vietnam's French colonial period. This mansion, with beautiful views of the bay, was built at the beginning of the 20th century and functioned as a summer retreat for the then-French governor. It currently houses some 17th century Chinese vases from a recently discovered shipwreck off the Vung Tau coast. Another stop that will coax a romantic sigh is the Vung Tau Lighthouse. Built by the French in 1910, this lighthouse is another great site for a 360-degree view. The walk to the top of the hill where it is located takes around half an hour, but there are plenty of cafes where you can break for a caffeine pick-me-up along the way along the way.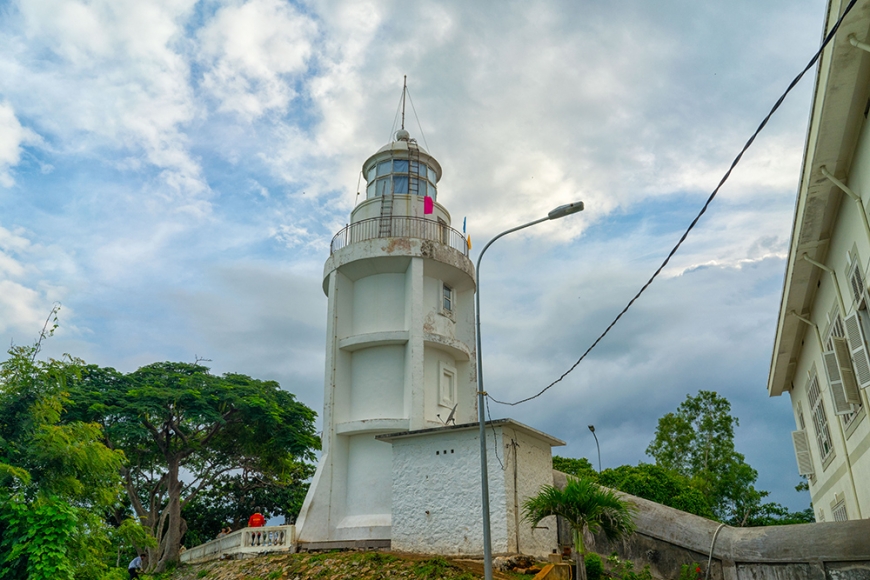 Score some of the freshest seafood in town
No trip to Vung Tau is complete without a visit to one of the city's many streetside seafood joints. The ocean brings endless varieties of nautical chows to the shores of Vung Tau. A proper exploration of the narrow alleyways will reward the curious with the best of the seafood spots—or quan hai san, as they are known in Vietnamese—with shellfish of any size, colour, and shape. Go from restaurant to restaurant, plop yourself onto one of the tiny stools, and get ready to get your hands dirty, all without breaking the bank. On average, a plate of any kind of seafood—boiled, baked or stir-fried—costs around 40,000 VND (~approx $2.)
What to order: The showstopper of any traditional Vietnamese seafood banquet is oc— freshwater and saltwater snails. Feeling squeamish? When stir-fried in chili and salt or slathered in garlic butter, you won't believe you're eating snails. Ngheu Hap voi Ot va Xa, also known as steamed clams with chili and lemongrass, is a simple and heavenly dish, balancing soft and sweet citrus flavors with a cheeky touch of spice.
To make the most of this food experience, do as locals do—you know I did!— and grab some cold beers to wash down all this decadent seafood. And keep a loaf of crunchy bread, aka banh mi, to scoop up the leftover sauces. Waste not, want not.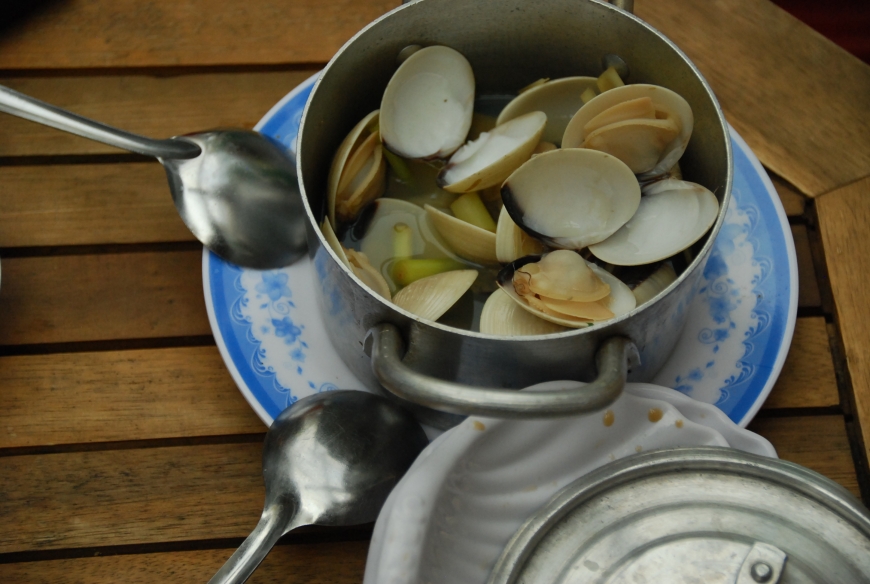 In search of a good Quan Hai san
One thing is true: if the restaurant is packed with locals, it is a good sign. Vietnamese people love going out for dinner, and seafood tops the list of social events. My advice is to follow your gut. Walk around and go with whatever catches your eye and appetite. However, if you are not that daring with seafood and are in need of advice, check out the following eateries:
Quan Oc Phuong Nam  
Spot the tiny stools on the street and watch the crowds devour impressive amounts of seafood. Do not worry if they don't speak English; it won't stop you for getting your dinner. Just ask for the menu, which comes with near accurate photos to help you get your message across.
89 Nam Ky Khoi Nghia, Vung Tau

Quan Oc Noc
Very similar to the aforementioned listing, this shellfish eatery is a tiny, but popular option among the locals. Don't forget to try the crab with tamarind sauce. Truly excellent!
105 Nam Ky Khoi Nghia, Vung Tau

Gan Hao
Gan Hao is considered an institution in Vung Tau. Set along the promenade, this massive restaurant offers great food and an unadulterated view of the sea. Get there early if you want a front-row seat of the setting sun. During weekends, that mission gets a bit trickier. Expect prices to be a bit higher than the average.
3 Tran Phu, Vung Tau
If seafood isn't your cup of tea, you won't be left out! There are other dishes to pick on the city's menu like Banh Khọt Goc Vu Sua, the local specialty. It's a simple, but tasty steamed flour cake studded with tiny dried shrimp. Wrap the cakes in the accompanying bundle of herbs, lettuce and mustard leaves then dip it in nuoc cham, sweetened fish sauce.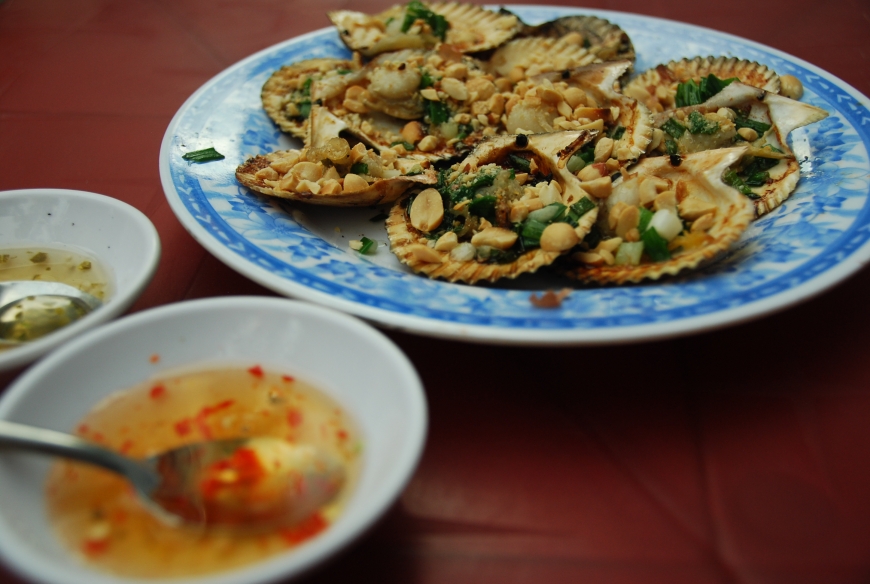 ---
HOW TO GET THERE
Usually people heading to Vung Tau come from Saigon, and the most common way to reach it is by bus. It takes around three hours, and they normally offer a pick-up/drop-off at your hotel. The tickets are no more than $6 one-way, depending on your company of choice.
Even though it is not as popular as the bus, the hydrofoil is much quicker, and it only takes just over one hour. Plus, you get to experience another—and more alternative—way of transportation. Tickets are around $10 one-way. Make sure to book them in advance!