Far too few travellers make it to Ninh Bình a mesmerizing area known locally as 'Halong Bay on Land' thanks to its magical riverine landscape, with sheer limestone mountains rising up from the paddies. The best way to get a sense of this UNESCO-protected site is by taking a paddleboat tour along its shimmering rivers, and climbing to the top of its fabled peaks.
Click the image below for a 360-degree tour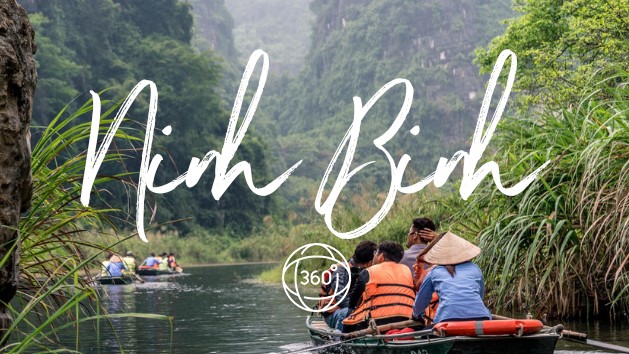 ---
TOP THINGS TO DO IN NINH BÌNH:
See the view from Hang Múa
Get a bird's-eye view of Ninh Bình at Hang Múa, where 500 steps have been dramatically carved into the steep face of a mountain. At the top, a lookout points offers a vista across the Tràng An Scenic Landscape Complex, where the river winds lazily among paddies, hemmed up by limestone outcrops. If you still have energy left, embark on another climb to the awe-inspiring lookout at Bích Động Pagoda.
Take a sampan tour
At the Tam Cốc boat dock, board one of the waiting green sampans. Each one is guided by a boat person who rows with their feet, not their hands. You'll be expertly guided through the landscape and into caves barely tall enough to allow these vessels to pass. If one boat trip isn't enough, head to Tràng An where two more mesmerizing river journeys await.
Visit the ancient capital
Today the capital of Vietnam is Hanoi, but in the past that honour was held by Hoa Lư. This small ancient city served as Vietnam's politcal centre in the 10th and 11th centuries. Today, it's a good place to get a history fix at two impressive restored pagodas.
Go in search of wildlife
An exotic boating experience is a must-do at the Vân Long Nature Reserve. Keep your eyes open for exotic friends around you—the Delacour's langur, one of the world's most endangered primates. For guaranteed primate sightings, visit the Endangered Primate Rescue Centre in Cúc Phương National Park nearby. Here, along with the Delacour's Langur, you'll see golden-headed langurs, Tonkin snub-nosed monkeys, and black crested gibbons.
Pay a visit to the Bai Đinh Temple
An important place of pilgrimage and the largest complex of Buddhist temples in the country, Bái Đính is a fascinating site for its mix of old and new. Ancient temples are housed in caves you can only reach via a pretty climb of 300 steps, while the new temple area covers an area of 500 hectares. This is a tranquil place to wile away an afternoon.
Ninh Binh Itineraries
24 hours in Ninh Bình
With 24 hours, climb up to the lookout at Hang Múa to survey the landscape before a river tour at Tam Cốc. Add a trip to Tràng An in the afternoon. Be sure to lunch on some grilled goat—the area's specialty.
48 hours in Ninh Bình
With another day, add on a trip to Vân Long in search of primates and a visit to the ancient capital of Hoa Lư. Alternatively, for a more active day out, head for Cúc Phương National Park and take on some of the trails before visiting the Endangered Primate Rescue Centre.