It's not often a resort like JW Marriott Phu Quoc Emerald Bay comes around, but when it does, it calls for attention. Situated on Phu Quoc's powdery Khem beach, this imaginative property wins its guests over with a stimulating experience unlike anything you've had before. From the mind of famed architect Bill Bensley comes the mythical Lamarck University, an institution dating to the 1800s, obscured by time until its resurrection in 2017 as a five-star beach resort.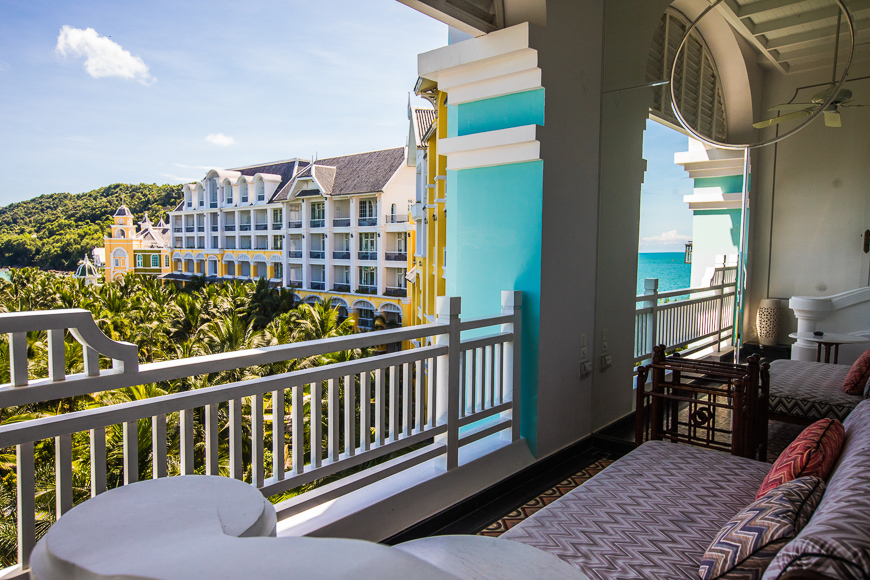 The idea of going to school for your holiday may seem like a stretch, however JW Marriott executes the concept so successfully — right down to the details — that the resort has won a clutch of top awards since opening. The resort's highly photogenic 'school lobby', dreamy guestrooms and four inviting swimming pools are constantly buzzed about on social media. Planning a visit? Here are three experiences you must have at JW Marriott Phu Quoc.
---
Personal pampering at Chanterelle Spa

'Alice in Wonderland' is the theme at Chanterelle Spa, a bright, refreshing space in the heart of the resort. Named the World's Leading New Spa in 2017 at the World Luxury Awards, the spa's interiors are a visual treat, with suspended bicycles, leafy loungers, and halls plastered with repeating quotes. The spa has 9 private treatment rooms, including one splendid VIP suite, men's and women's areas with saunas and steam rooms, and a beautiful foot massage lounge, where guests are welcome to relax with friends over a cup of tea.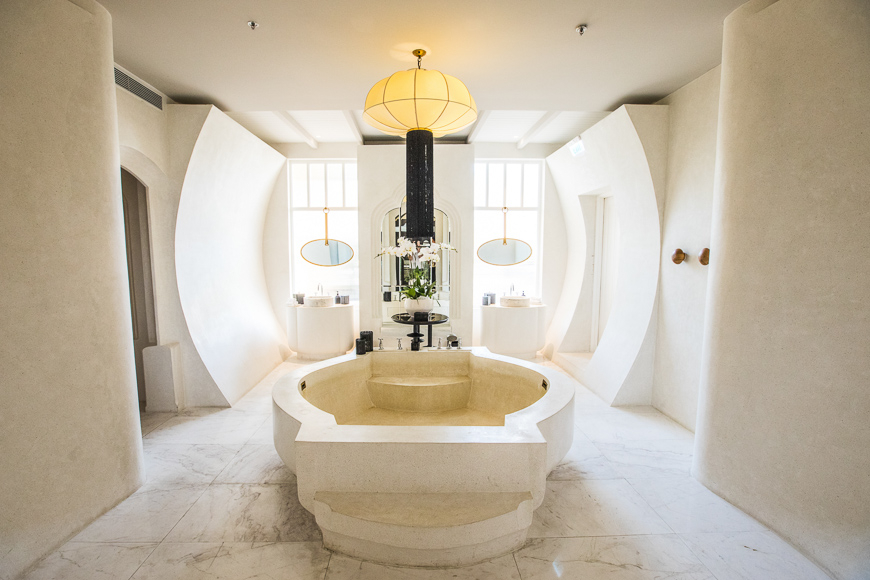 Design aside, Chanterelle Spa embraces simplicity. The spa adopts a pared-down menu and philosophy which focuses on guests' needs. Spa-goers choose one of four benefit states they want to achieve — calm, indulge, renew, or invigorate — and from there, treatments and products are selected with this goal in mind. After each treatment, Chanterelle Spa offers a take-home regimen with recommendations for guests to continue their wellness journey.
TIP: For a one-of-a-kind experience, request the 1920s Sports Therapy massage, a real technique for deep muscle relaxation developed in the 20s and performed by two highly trained therapists.
---
Lessons from Lamarck University

If you're the type that enjoys learning new things, you'll love the opportunities at your fingertips at the Marriott in Phu Quoc. In line with the university theme, the resort offers complimentary daily activities and workshops for guests, with 'student classes' led by local experts. Depending on your mood, you might sign up for a calligraphy lesson, test your balance at paddleboard yoga, or get crafty in a lantern-making workshop.
The resort's full program of activities is listed in the Student Book given to each guests on check-in. On any given day, you have the option of learning baking or mixology, picking up DIY wellness techniques, or explore Phu Quoc culture with guided excursions around the island. After gathering new knowledge, you'll be gifted with a thoughtful memento from the class to take home.
TIP: Parents travelling with children will be happy to meet the resort's Kids Club Team, who are dedicated to keeping youngsters engaged with activities that develop culinary skills, physical activity and creativity.
---
1920s dinner at Pink Pearl mansion

Get ready for a glamorous evening. Pink Pearl Restaurant is perhaps the most striking venue within the entire resort. Set aside a few hours to fully enjoy the journey, which begins with a warm welcome from servers arrayed in full-on flapper gear. The story goes that during the university's heyday, Madame Pearl hosted lavish parties for her friends inside this mansion. Today, Pink Pearl recreates the magic of those nights, with the recipes, music and atmosphere she so loved.
Inside, Pink Pearl is a sensory delight. Globe lanterns float in soaring ceilings, tables are laid with sparkling crystal and delicate china, and shimmering jewel-toned peacocks watch the setting from above. Pink Pearl's affable chefs will walk you through the menu, which spotlights Phu Quoc's amazing seafood in sensational, contemporary creations. A classical opera ensemble takes the stage in the evenings — the finishing touch on a truly transportive experience.
TIP: Before leaving, ask for a guided tour of Pink Pearl to see Bill Bensley's extraordinary creations in the private rooms and wine cellar.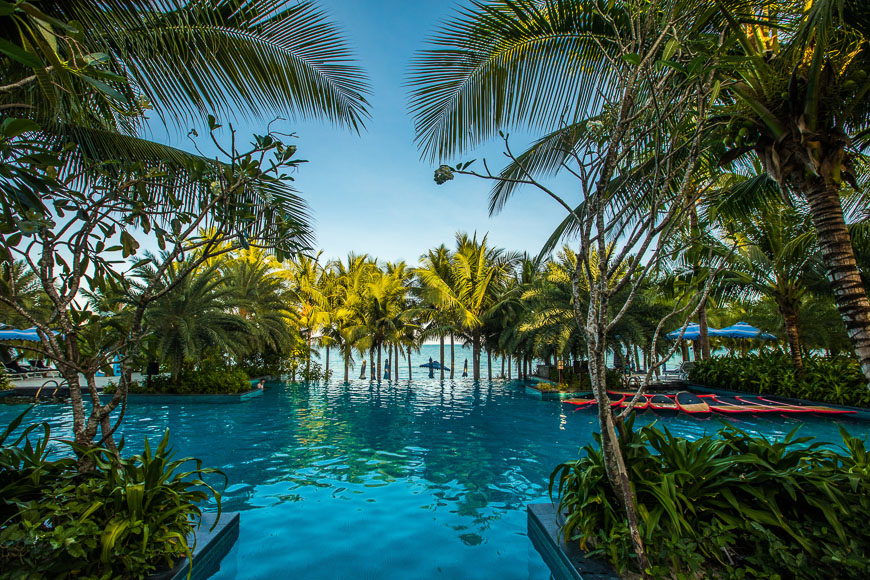 For more about JW Marriott Phu Quoc Emerald Bay, visit the resort's official website.
---