Vietnam is home to a vibrant collage of ethnic groups. There are 54 recognised ethnicities that filter into hundreds of subgroups. Wondering where to start? The best way to understand Vietnam's ethnic makeup is through hands-on experiences. From mountain homestays to medicinal herbs, encounters with ethnic culture are a highlight of any trip to Vietnam. Here are five easy ways to get to know the Dao, Hmong, Tay, Bahnar, and Khmer ethnic groups.
---
Experience Dao traditional medicine

The Yao (often spelt Dao or Dzao) have been in Vietnam since the 13th century, and are one of the first ethnic groups to settle in the northern mountain provinces of Lao Cai, Yen Bai, and Ha Giang. Yao agriculture developed over centuries and Yao medicine draws heavily from the secrets of the land. Yao people cultivate many medicinal herbs, which not only treat illnesses and ailments, but are used for soothing herbal baths and therapeutic massages.
La Vie Vu Linh in Yen Bai offers a unique medicinal plant tour that will take you across the hills with a traditional doctor. Yao herbal baths — which are said to detoxify the body and even improve bone health — are a must-try after a tough hike in Sapa or Lao Cai. For something special, look up social enterprise Sai Duan, the luxurious spa at Topas Ecolodge, or the award-winning Dao Lodge in Ha Giang.
TIP: If you can't make it to the mountains, Dao's Care offers steaming Yao herbal baths and traditional massages in Hanoi.
---
Take a hike with the Hmong

The Hmong in Vietnam are divided into four subgroups: White Hmong, Blue Hmong, Flowered Hmong, and Black Hmong. Hmong hamlets are nestled in some of Vietnam's most mountainous provinces, where typhoons, cold weather, and landslides are a constant concern. In Mu Cang Chai, the Hmong tend to spectacular swirling rice terraces; in Ha Giang, Hmong corn farms climb seemingly vertical mountain slopes; and in Sapa, Hmong villages are perched above lush, misty valleys. Living and working in severe conditions has made the Hmong hardy mountaineers and excellent trail guides.
Hmong guides will proudly talk you through the rich Hmong culture, while showing you around their mountain homes. Avid hikers should visit Mu Cang Chai and Ha Giang for captivating new trails that are only just opening up, or set aside time for a multi-day trek through the valleys and villages of Sapa.
TIP: Sapa Sisters and Ethos Spirit of Travel can connect you with excellent Hmong guides for hikes surrounding Sapa.
---
Book a lakeside homestay with the Tay

The Tay are the second-largest ethnic group in Vietnam, and you'll find picture-perfect Tay dwellings in Vietnam's northern provinces. Unlike the Hmong, most Tay settled in valleys where land is flat and fertile. Tay houses are raised, made mostly of wood, and built next to rivers, streams, and lakes. Proximity to water has made wet farming an important component of Tay crop production, and wild fishing is a common skill among the Tay.
To learn more about Tay traditions, pay a visit to Ba Be Lake, six hours from Hanoi. Here you can spend a few days in a Tay village, and learn fishing and boating first-hand from your host family.
TIP: Mr. Linh's Homestay in Ba Be Lake can arrange transfers from the capital and overnight stays in Tay stilthouses in the National Park.
---
Learn about Bahnar architecture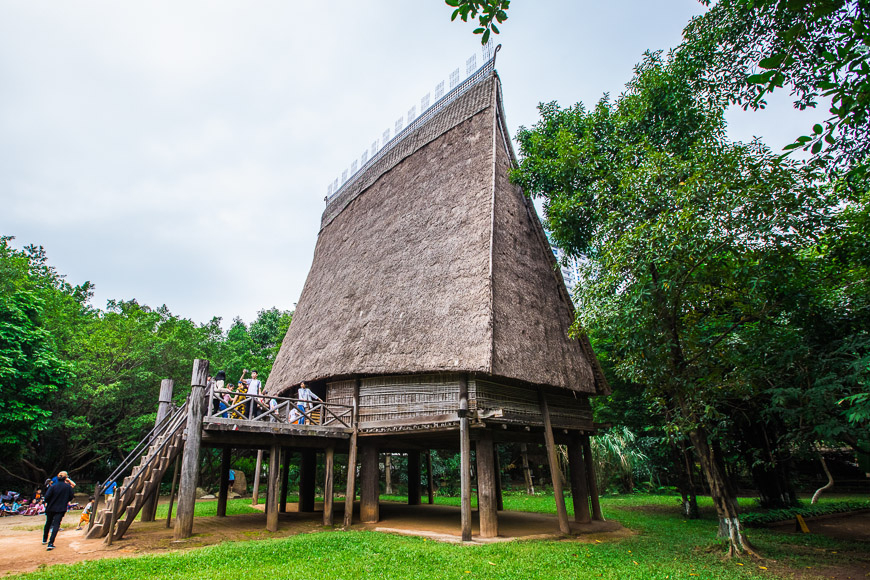 Pretty Bahnar villages punctuate large areas of Vietnam's Central Highlands, each one with a grand communal house that towers above the trees. The Bahnar are friendly and fiercely proud of their communal homes, which serve as halls for rituals, celebrations, and community gatherings. Typically these houses measure twelve metres tall, twelve metres long, and eight metres wide. Some competitive villages build taller structures as a demonstration of power and affluence.
Bahnar communities are often clustered together, making it possible to hop from village to village. The most accessible Bahnar villages are in Kon Tum, although you'll also find Bahnar villages outside of Pleiku and Buon Ma Thuot. Must-see communal houses are those in the villages of Kon Kotu, Kon Harachot, and Kon Tum Kapong.
Tip: Visit the Vietnam Museum of Ethnology to explore more ethnic architechture in Hanoi.
---
Explore Khmer pagodas in the Mekong Delta

Buddhism is an important cultural tenet for the 1.3 million ethnic Khmer living along the Mekong River in southern Vietnam. Many boys spend several years in the pagoda to study Buddhism and Khmer customs before entering adulthood. You'll find dazzling Khmer pagodas across the Delta, but the most impressive are in Soc Trang and Tra Vinh. Witness the monks from Xon La Pagoda collecting alms in the early mornings, and pay a visit at Hang Pagoda or Ang Pagoda and strike up a conversation with the resident monks to learn more about their beliefs.
An excellent time to visit the Mekong Delta is the middle of April, when Buddhists celebrate Chol Chnam Tmay — the new year in Khmer tradition — by decorating pagodas and playing traditional games in the streets.
TIP: Mekong Rustic organises tours across the Mekong Delta, including trips to the Khmer pagodas of Soc Trang and Tra Vinh.