Vietnam is a place of paradox and a country of contrast. Modern metropolises sprawl out into the arms of ancient mountains, and families of farmers cultivate expansive rice paddies kilometers from colonial architecture. Backpacker-budget accommodation options are abundant everywhere, but Vietnam also boasts a fast-growing upscale tourism market. High-end hotels and world-star resorts can be found in every city, and some of the best are in Hanoi.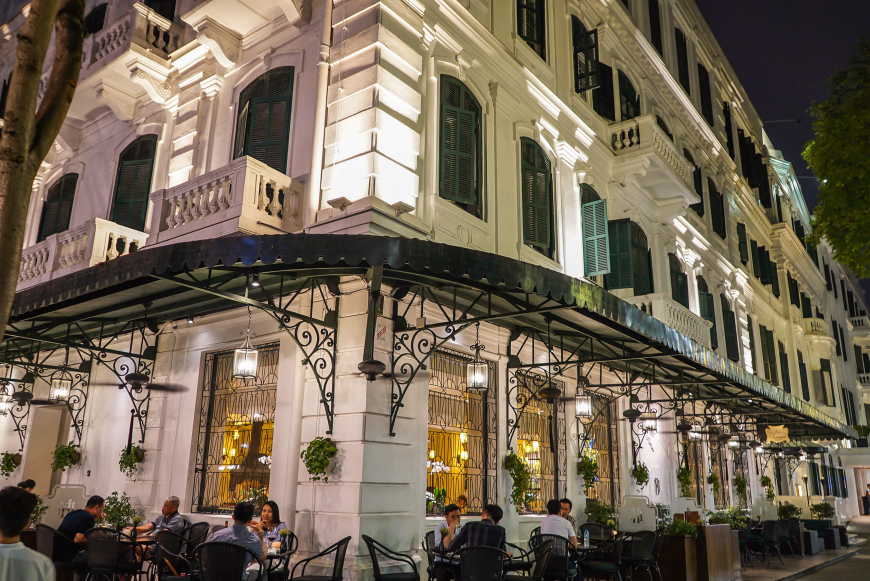 What might cost hundreds or even thousands of dollars in the West – spas and pools, rooftop bars and room service – is extremely affordable in Vietnam. Luxury travel is accessible even in the capital city, offering comfort and relaxation alongside culture and exploration.
Many people think of luxury travel as an opportunity to be pampered, but upscale hotels offer more than simple pleasures. The DIY, figure-it-out-as-you-go backpacking experience is fun for some but requires much more time, patience, and the grace to undergo mistranslations, mistakes, and sometimes-lengthy transportation between destinations. The luxury travel experience is quite different. Short trips can be seamlessly organized and upgraded. A single day can easily include healthy and traditional local cuisine, a well-prepared encounter with breathtaking nature, a cultural performance, and sunset cocktails on a rooftop after a five-star spa massage. Luxury travel in Vietnam is where entertainment and adventure meet leisure and splendor.
Here are some of Hanoi's best luxury hotels, catering to quaint culture-seekers and lovers of the high life alike.
Luxury Hotels in West Lake / Tay Ho
Reclining over the top of West Lake, Hanoi's largest body of water, Intercontinental Hanoi Westlake is hands-down the best accommodation available in Tay Ho, or West Lake District. Westlake is Hanoi's multicultural ex-pat neighborhood, bubbling with entertainment, nightlife, and local street food digs as well as fine dining restaurants. Intercontinental Hanoi Westlake sits in the middle of it all, a literal island in the city.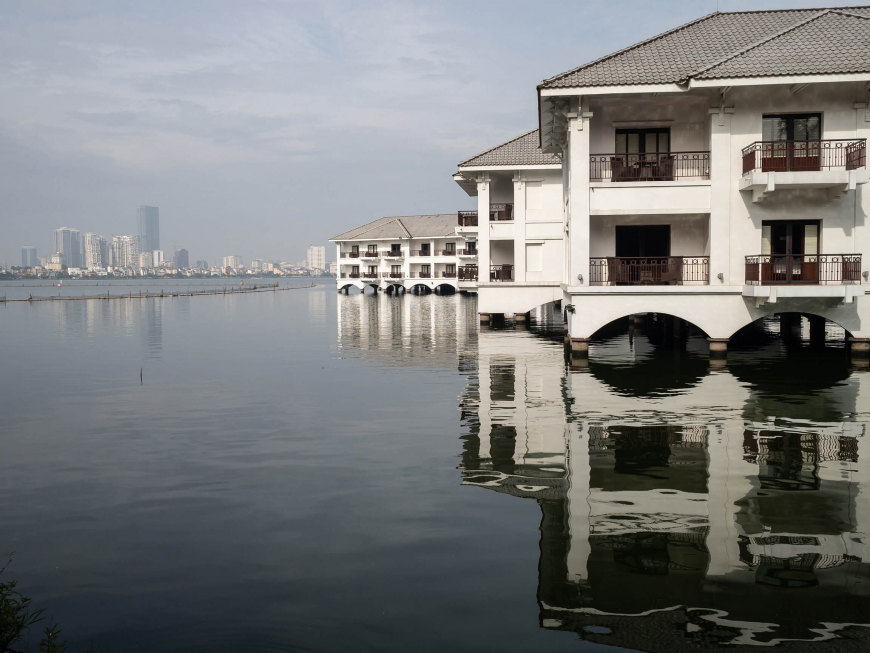 All of the rooms at Intercontinental Hanoi Westlake are outfitted with hardwood floors and balconies. Many of the rooms overlook West Lake itself, offering spectacular sunsets over the skyline across the water.
The hotel facilities include a swimming pool, a fitness center with yoga and pilates classes, and a spa with massage services. Restaurants serve local and western food, and the Sunset Bar is perched on its own mini-island, perfect for cocktails while immersed in the reflective lake.
Luxury Hotels in Old Quarter
To experience luxury like a well-heeled French dignitary, head to the Sofitel Legend Metropole Hanoi Hotel, a French colonial building that has been a landmark of the city since 1901. The elegant white hotel is classically designed from the inside out, with mahogany-floored suites and high ceilings in all 364 rooms. Wander through the gardens to people-watch at a Parisian cafe called La Terrasse, and catch a live saxophone player in the evening before a cocktail at one of several white-tableclothed restaurants or bars. Some of the most famous foreign visitors to Vietnam have stayed within these walls, from entertainers like Charlie Chaplin to journalists and writers like Graham Greene.
The Peridot Grand Hotel and the Grande Collection Hotel and Spa exist to satisfy travelers in search of taste and style. The forest green walls of the Grande Collection Hotel and Spa rooms are complemented by diffuse golden lighting and rich, dark wood. Different rooms offer different furniture arrangements and amenities. Rooms with balconies provide spectacular views of the Old Quarter and floods of natural light in the morning. Guests who prefer to cocoon into luxury can book a room with a four-poster bed and draw the curtains over the evening like a Victorian princess.
For flashier and more boutique luxury, the Peridot Grand Hotel will suit. A crystal chandelier dangles overhead the lobby to welcome guests, and a fine-dining rooftop restaurant and infinity pool overlook the city for unwinding with a view. A variety of rooms are available, some of which include freestanding bathtubs and ensuite living rooms, and all of which are tastefully decorated with contemporary artwork.
To ascend to Hanoi's height of sophistication, head to the Oriental Jade Hotel. The rooms and suites are expertly designed in a combination of Western and Asian styles, classy down to the smallest details. The real draw is the rooftop swimming pool, with panoramic views of the Old Quarter and beyond.
Meliá Ba Vi Mountain Retreat
Retreat into the heart of nature without compromising on comfort. Ba Vi is the closest national park from Hanoi city, a 10,000 hectare tropical forest erupting from a mountain range. Melia Ba Vi Mountain Retreat is an eco-friendly resort situated in the heart of the park. It's easily accessible from the airport and the city center, but the urban world immediately melts away upon arrival.
The resort is a true oasis, offering meditation and holistic wellness retreats and experiences amidst an organic garden. Breakfast, lunch, and dinner are all cooked fresh from local ingredients – so local, in fact, that many come directly from the backyard garden.
Spend a restorative day or weekend in the resort itself – panoramic mountain views mean that trekking isn't even necessary to experience nature – or book a tour to a nearby waterfall or ethnic minority village.