Northern culture is a world of its own compared to central or southern Vietnam, and Hanoi is the place of origin for much of the region's cuisine. In general, Hanoi food is quite balanced, erring on the side of subtlety rather than pungence or power. Black pepper is used to add heat to food, rather than chili pepper. While Southern Vietnam excels at sweet and spicy flavor profiles and fusion food, Northern Vietnam has a knack for elegance and tradition. Dishes are light and rooted in centuries of practicing to perfection.
---
There are dozens of traditional dishes to try in this part of the country. Here are five of the best, and a few options for fusion food at a fine dining scale.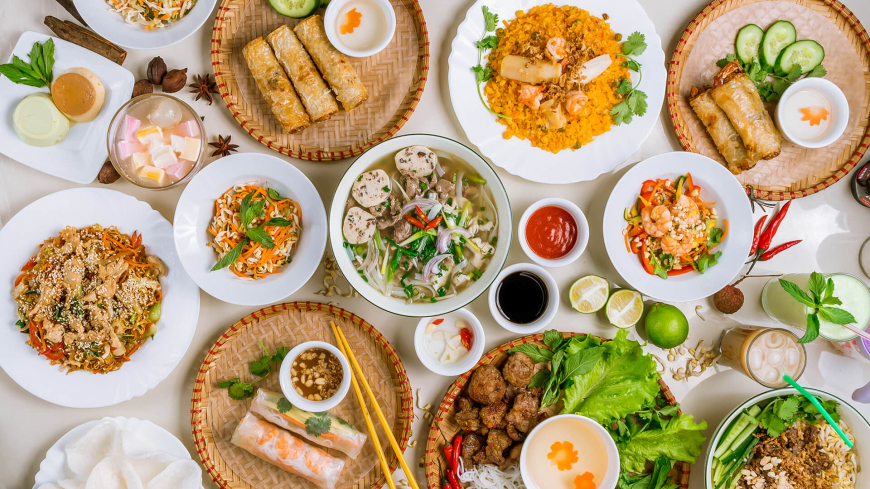 Pho Hanoi
Pho is considered to be the "national dish" of Vietnam, and Hanoi is the most famous place to have it. The rice noodle soup is primarily eaten for breakfast, lunch and even dinner, so it is served from street stalls at all hours of the day and makes for an equally hearty supper, especially in a cold winter weather.
Beef bone is cooked for hours – sometimes days – with star anise, cinnamon, ginger, and black cardamom. The result is a rich, clear broth that is topped with noodles, green onions, and meat. Beef steak, flank, or brisket are the most common, but chicken is a close second.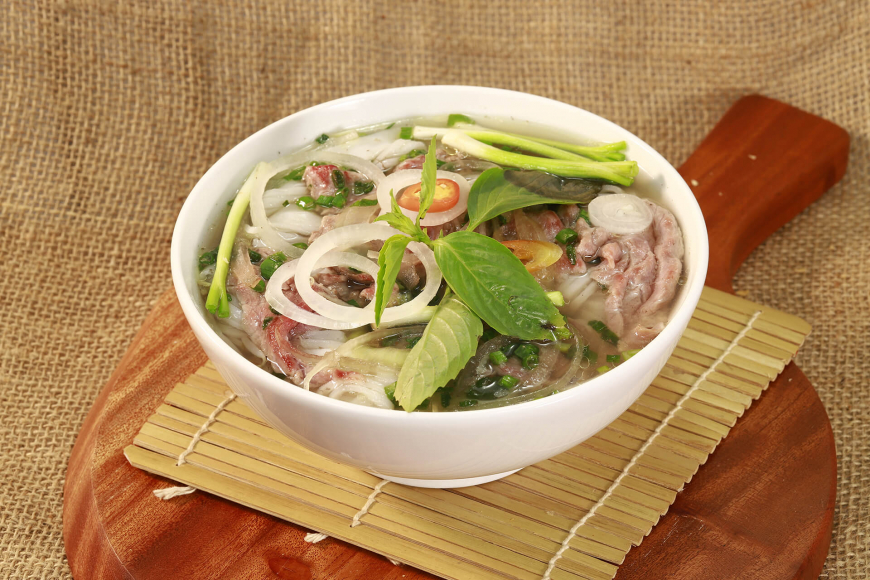 Banh tom
These crispy snacks are known as "banh tom Ho Tay," or West Lake shrimp cakes, because they were originally made using freshwater shrimp fished from Hanoi's West Lake at night by torch light. The shrimp comes from other waterways these days, but the recipe remains otherwise unchanged from its origins.
Shredded sweet potatoes are battered and pressed into cakes. A whole shrimp – head, legs, tail and all – is embedded in the top of each cake, and then the whole concoction is deep-fried in boiling oil. The shrimp shell softens a bit in the hot oil, but it remains crunchy enough to compliment the deep-fried cake crust. Wrap the fritter in lettuce, dip it in fish sauce, and wash it down with a cold beer. There's no better pub snack.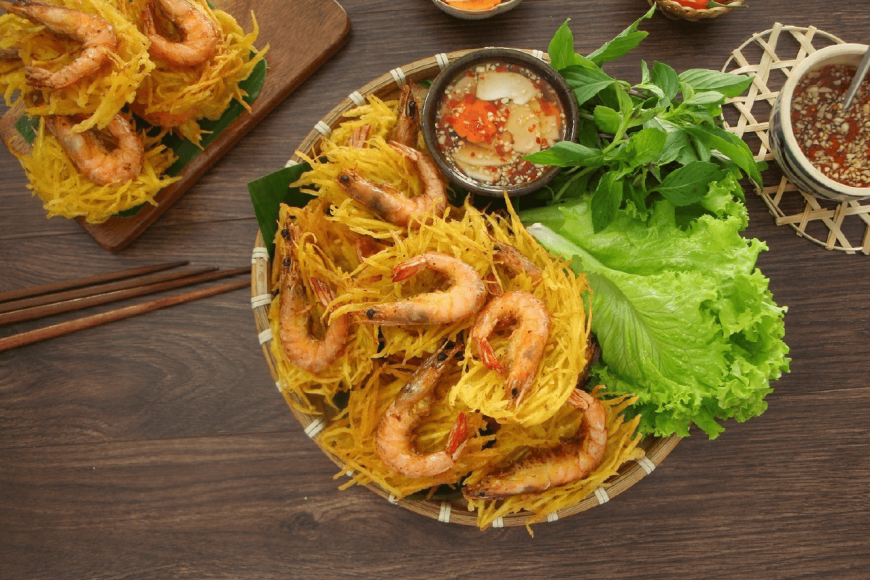 Source: Internet
Banh cuon
Banh cuon is a rice flour roll stuffed with meat, mushroom and black funguses, a bit like a soft spring roll. It's cheap and fast, yet light and flavorful, making it a popular breakfast everywhere in Hanoi city.
Fermented rice batter is carefully steamed on a taut cloth over boiling water, resulting in a soft, thin, translucent, flat pancake. This rice pancake is then stuffed with minced pork, mushrooms, and shallots, rolled up neatly, and paired with a side of pork sausage and fresh herbs, then dip in hand-made nuoc mam (sweet and sour fish sauce). Though the rice pancakes are technically a carbohydrate, the dish is light enough to feel more like a salad than a hearty entree.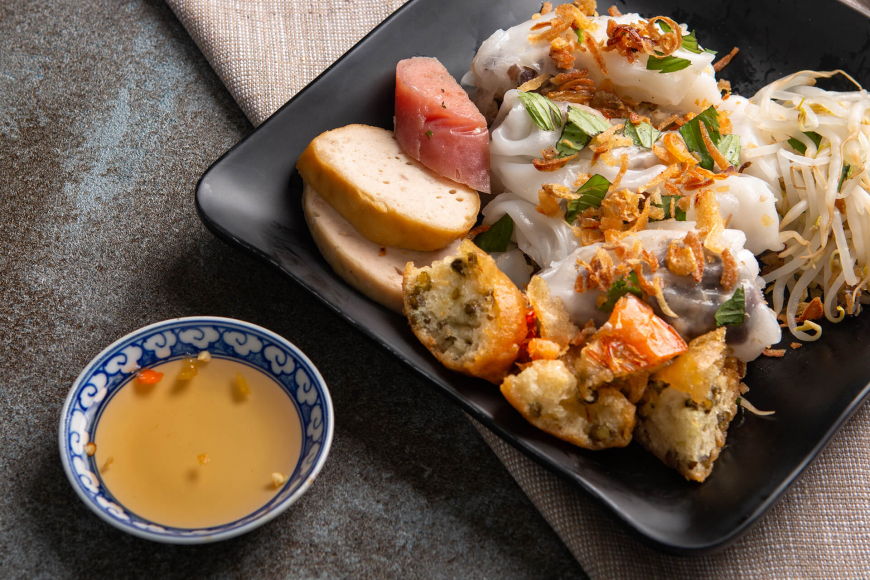 Cha ca La Vong
Hanoi's Old Quarter is famous for its artisanal streets, each road named after the specialized craft that is or was once sold there. Cha Ca street is named for the fish cakes that have been cooked and sold there by the Doan family since 1871. More than another staple food, Cha ca La Vong has evolved over the last century and a half into a symbol of the city itself.
La Vong fish cakes are fried with turmeric and dill, which are both very unusual spices in Vietnamese cuisine. Snakehead fish is fileted and cut into bite-sized chunks before marinating with turmeric, shallots, garlic, sugar, and of course fish sauce. The trick is to grill or bake the fish first so that it is fully cooked before pan-searing it with dill for a crispy outer crust.
Serve the fried fish with rice vermicelli noodles, peanuts, and a side of "mam tom" a fermented shrimp paste delicacy (which is absolutely irreplaceable in this dish, so don't be shy!).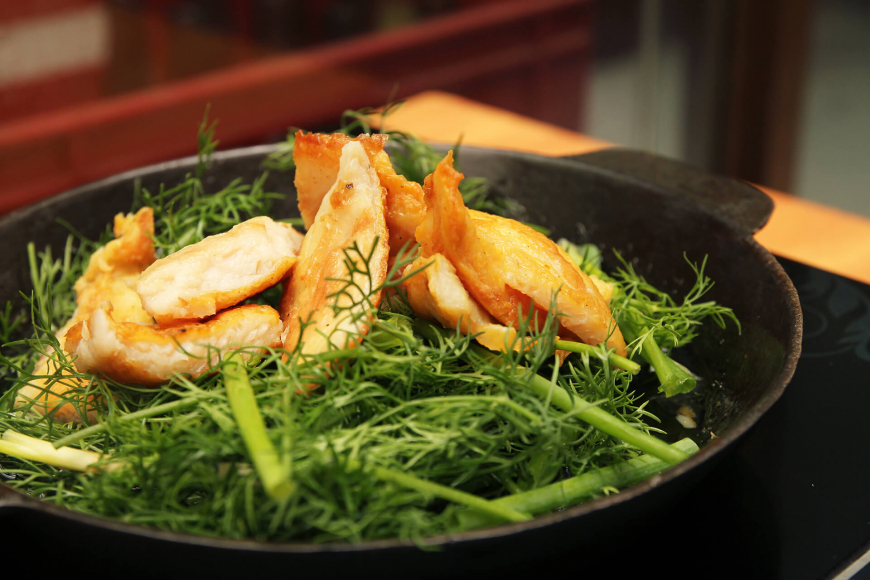 Bun cha
If pho is the country's national breakfast, then bun cha is the capital city's designated lunch. Fatty pork is grilled over charcoal and served in a hot, sweet broth. Thin rice vermicelli, meatballs, and pickled and fresh vegetables are served on the side. Use chopsticks to add the vermicelli and salad directly into the soup, mixing them together to get a balanced mouthful.
Even former US President Barack Obama and the late legendary celebrity chef Anthony Bourdain were captivated by bun cha. The pair pulled up plastic chairs at Bun Cha Huong Lien in 2015. Though the tiny establishment has been serving up bun cha for regulars since the 1990s, it's now an international destination where people line up around the block to order the "Combo Obama". The table and chairs where the two men sat may have been encased in glass like a museum, but the bun cha here still tastes like a home kitchen. Pull up a plastic chair and dig in.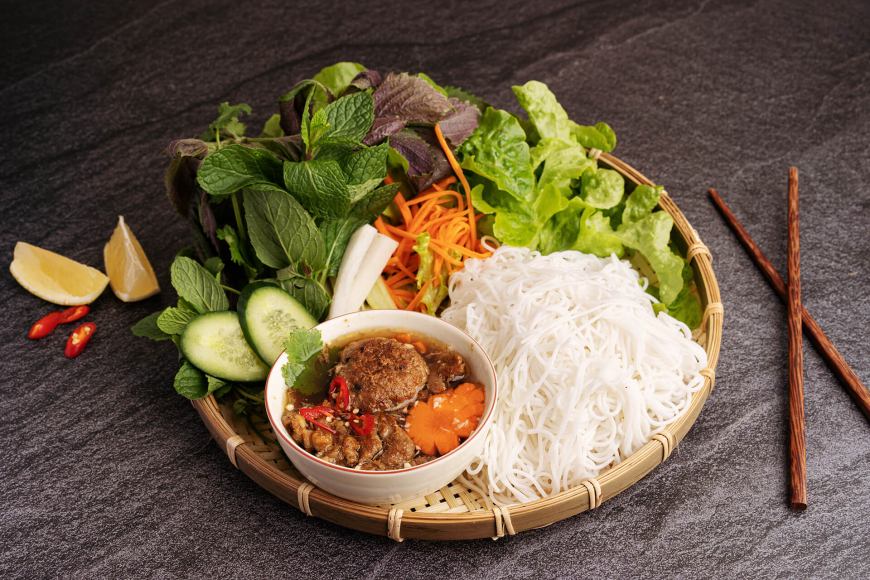 Fine Dining and International Cuisine in Hanoi
The best Vietnamese food in Hanoi isn't found in five-star restaurants. It's served on plastic stools at folding tables in the front room of someone's family home. These recipes have been passed down for generations. That kind of authenticity isn't something a Michelin star can earn.
International cuisine is a different story. Hanoi's charm has drawn immigrants and travelers from all over the world who have left their marks on the city's food scene. Many of the best international restaurants are fine dining establishments, where dishes are plated by internationally-renowned and studied chefs. Here are three fine dining options in Hanoi serving up some of the best Cantonese, Japanese, and French food in the country.

Crystal Jade Palace Restaurant
Crystal Jade Palace Restaurant specializes in authentic Cantonese food, prepared using high-quality imported ingredients. The Singapore-based restaurant has been serving Chinese food in Vietnam for 25 years now and has accrued awards and a Michelin star for excellence.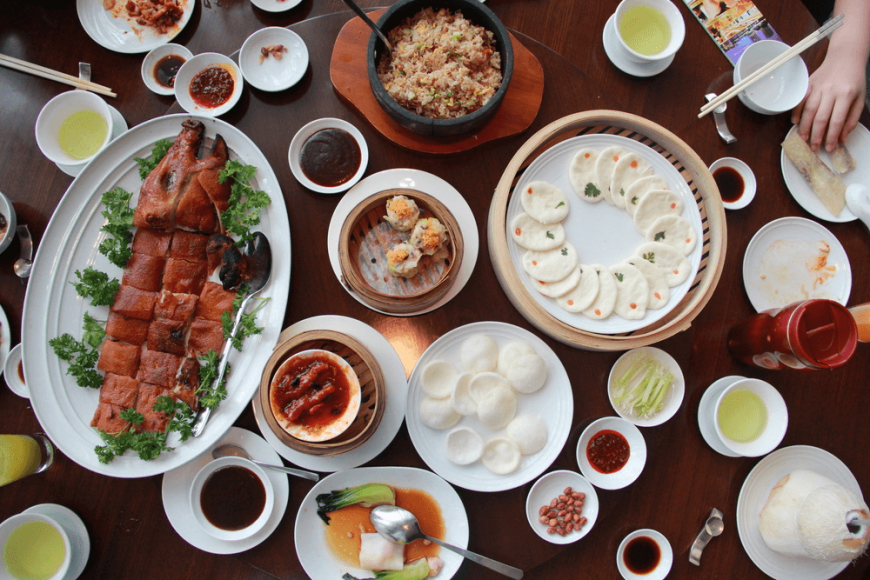 Source: Internet
Kappou Ishia Sushi
For a change of pace that is guaranteed to be good, try an "omakase" Japanese restaurant, where the chef chooses every plate for the guest. The 10-course set menu includes appetizers, sashimi, a main dish, a rice dish, and a dessert, all hand-selected by the chef. Kappou Ishia is one of the best Japanese restaurants in all of Hanoi, offering a culinary journey more than a mere meal.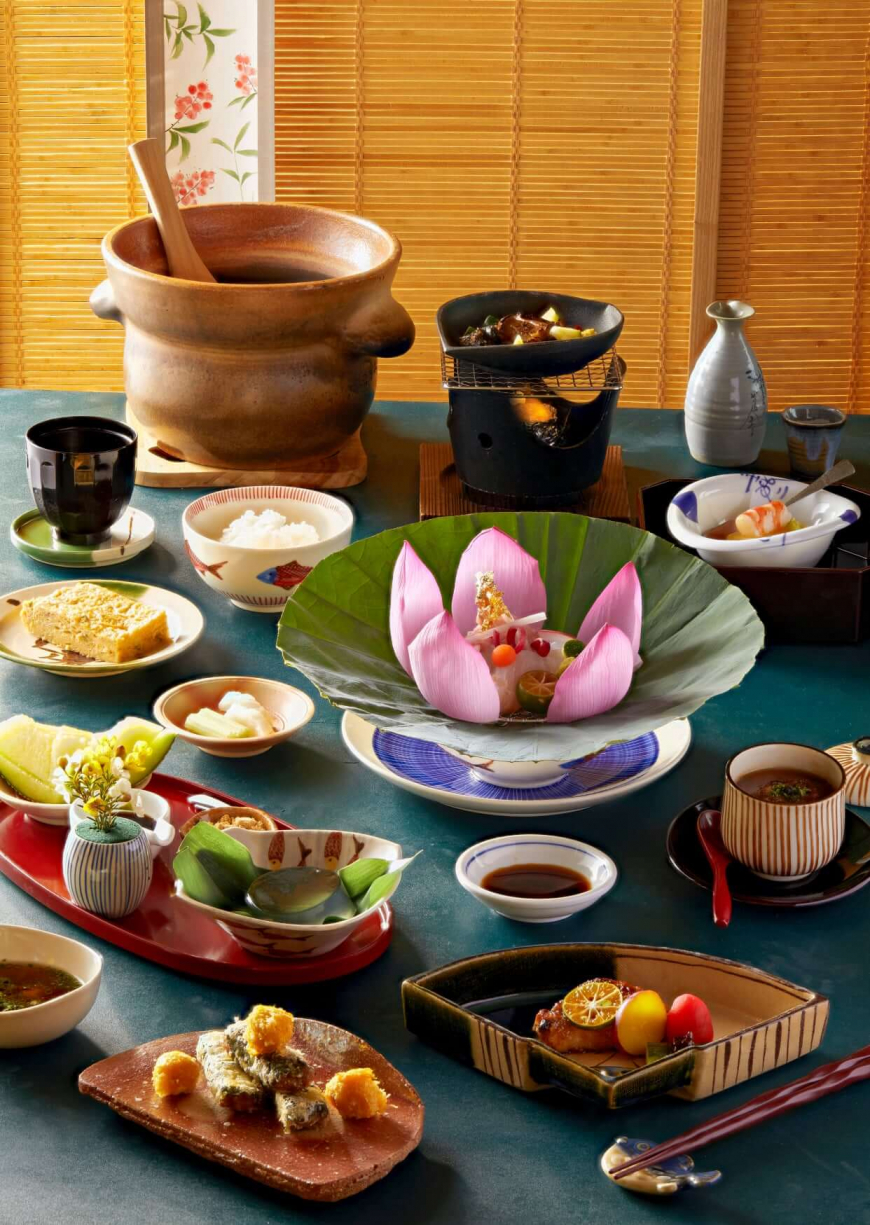 Source: Facebook - Kappou Ishida Restaurant
Spices Garden - Sofitel Legend Metropole Hanoi
Spices Garden restaurant at the Sofitel Legend luxury hotel is where traditional Vietnamese cuisine meets French gastronomy. They serve all the street food staples, including most of the list above. Bun cha, pho, and cha ca are all on the menu here, cooked and plated using European techniques, and served on white tablecloths.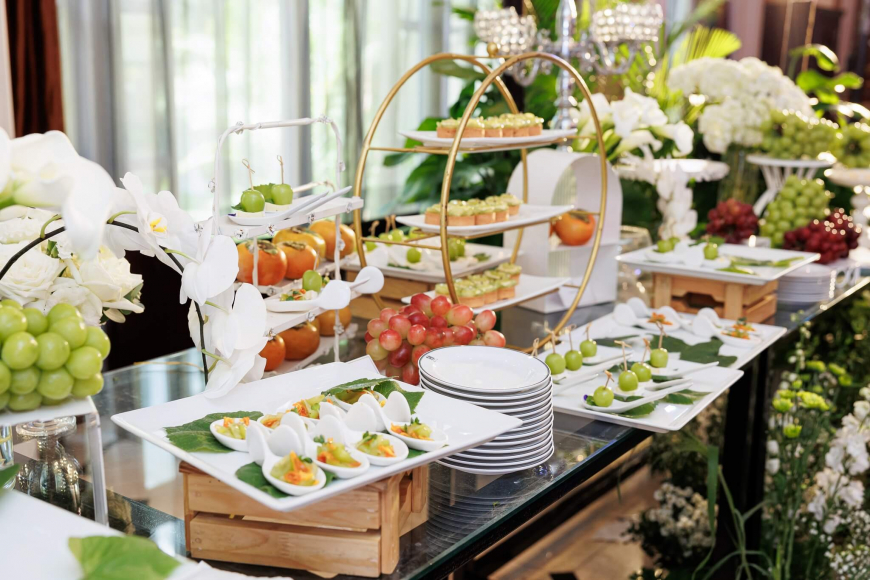 Source: Facebook - Sofitel Legend Metropole Hanoi