Lush tropical scenery, shimmering ocean views, and immaculate fairways and greens make "the pearl of Vietnam" a natural choice for a memorable golfing holiday.
Travellers are drawn to the stunning island of Phú Quốc for many reasons. It boasts a tropical National Park and protected marine environments, luring nature-lovers from near and far. There's also the balmy climate, fascinating culture, a plethora of stunning beaches and lip-smackingly fresh seafood. Add world-class fairways and greens, and it's easy to see why the "pearl of Vietnam" is the perfect spot to putt, play, and stay.
---
The rise of golfing in Vietnam
In 2021, Vietnam continues to be nominated as Asia's Best Golf Destination in the prestigious World Golf Awards – a title it won five years running since 2017. Besides, 2021 is the 2nd year that Vietnam is honored to receive the World's Best Golf Destination Award (2019,2021). Did you know, the country's gathered such accolades for some time? In 2012, the IAGTO (the International Association of Golf Travel Operators) named Vietnam the "Undiscovered Golf Destination of the Year". Seven years later, Vietnam took the top prize − World's Best Golf Destination.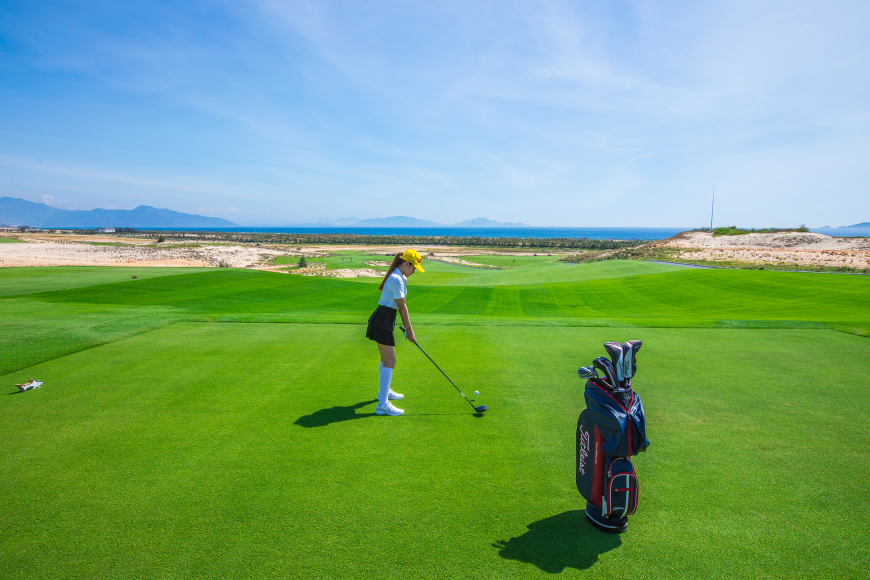 More and more Vietnamese are taking to outdoor sport. Golfers here rose from 10,000 to 70,000 between 2009-2018 – which is why linksmagazine.com named Vietnam "the fastest-growing golf nation in the world". Numbers look set to rise. Hanoi's Vietnam National University has included golf as a trial offering in their Physical Education program. And Vietnam Golf Association has started a Young Golf Development Fund to promote the sport among youth.
Golfing in Vietnam increasingly attracts foreign tourists, too. Before the COVID-19 pandemic, the number of tourists arriving to play golf climbed by 20% annually. The tropical nature and diverse landscapes appeal to golf enthusiasts looking for a relaxed, scenic golfing holiday. The fact that it's an affordable destination draws those wanting an extended stay.
---
World-class courses
The country boasts over 30 stunning courses. Some of these layouts have been designed by golfing legends – think Sir Nick Faldo, Luke Donald, and Greg Norman.
Of his first visit to the country in the early 2000s, the Australian pro golfer said: "I got to understand very quickly where golf was going to be an economic driver for the country. I, as an architect, and my team, fell in love with what Vietnam could deliver with golf."
Norman became a tourism ambassador for Vietnam, advising on sustainable golf tourism and encouraging the world's golfers to try their swing here. In one evocative advert, the World Golf Hall of Fame winner said, "People travel to Vietnam for the landscape, culture and food. I travel here for all that, plus playing some of the best golf courses in the world. See you on the courses in Vietnam."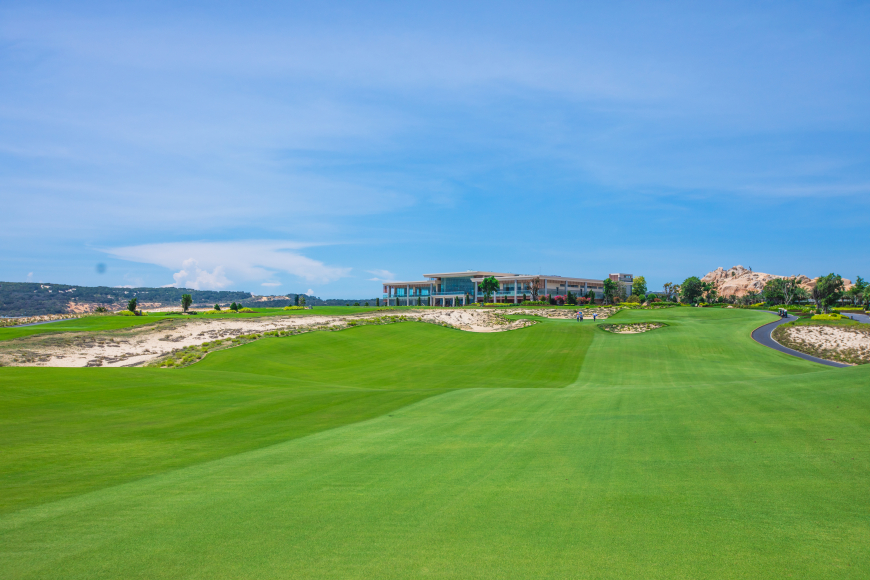 ---
Putt and play on Phú Quốc island
Golfers know: nothing's better than playing rounds at a seaside setting. Phu Quoc is surrounded by stunning turquoise waters that tourists can't get enough of. In the pristine North, there's a 27-hole golf course, where you can play three nines beside the sea. The 100-hectare course design was inspired by some of the most breath-taking seaside courses in the world. Yet its natural beauty is distinctly 'Phu Quoc'. The local terrain, which includes sea and forest areas, has been thoughtfully integrated into a challenging course that both novices and pros are eager to explore. Two of the loops weave through unspoilt tropical woodland. The other features gorgeous lakes with panoramic views of the East Sea. Varying levels of difficulty ensure a diverse experience for players.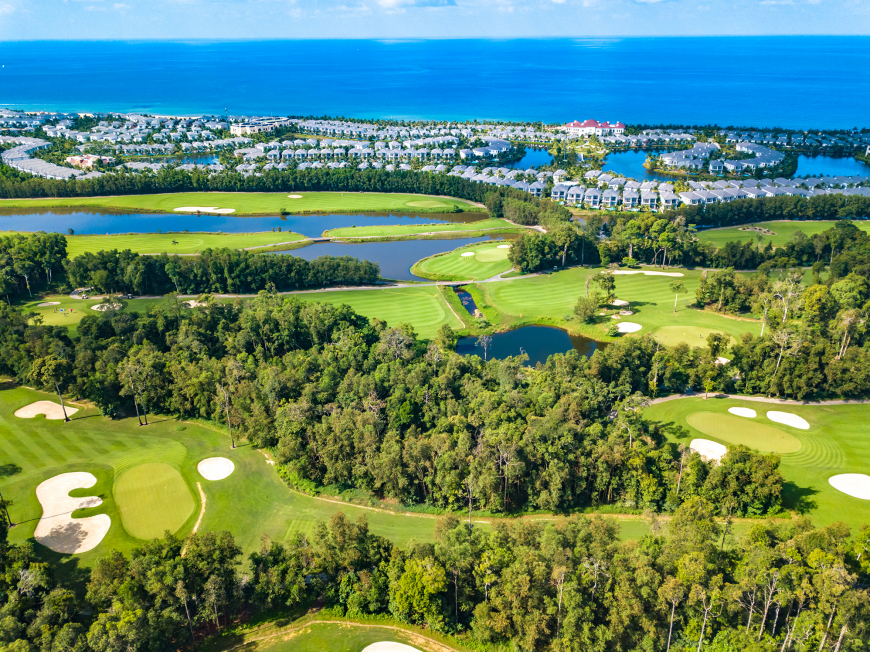 Of course, the natural environment steals the show. The rolling greens and large flat areas cut through majestic hardwood forests, with the sea breeze gently rustling the leaves up high. As you progress through the flawlessly mowed fairways, beautifully raked bunkers, and wooded areas, look for wildlife like white-bellied sea eagles and mischievous monkeys. Play all nines to slowly savor the soul-restoring forest and ocean scenery.
Those who've played golf on Phú Quốc rate it highly for course condition, the pace of play, and overall experience. The bunkers and fairways are in top-top shape; there's a variety of water hazards, contours, and doglegs; and the caddies are super helpful. What more could you ask for?
---
Services and safety
Facilities and services include a clubhouse, caddies, golf carts, places to practice, golf lessons, Rest assured that the golf courses have measures to ensure customer safety, so that even sensitive Covid-19 issues are covered with safe solutions.
Ready to pack your clubs? The best time to visit is from October to April (after the rainy season). Give yourself enough time to stay to enjoy what the rest of the island has to offer.
---
Want more Vietnam travel ideas? Sign up for our newsletter to receive our best stories in your inbox.