Golfing legend and Vietnam Tourism Ambassador Greg Norman recently paid a visit to Hanoi, where he spent an afternoon touring the capital's Old Quarter via cyclo. Accompanied by Linh Nguyen of Mr. Linh's Adventures, Greg Norman got a glimpse of local life in the 36 ancient guild streets, often considered the historical heart of the city.
One of Vietnam's most storied districts, the Old Quarter is equally fascinating and chaotic. Sidewalks are overflowing with vendors, eateries, and cafes. The smell of incense and spices wafts from pagodas and markets. Some of the guild streets sell modern goods, while others still ply their old trades. If you're planning a visit to Hanoi, here's how to have your own adventure in the Old Quarter.
---
Ride a three-wheeled cyclo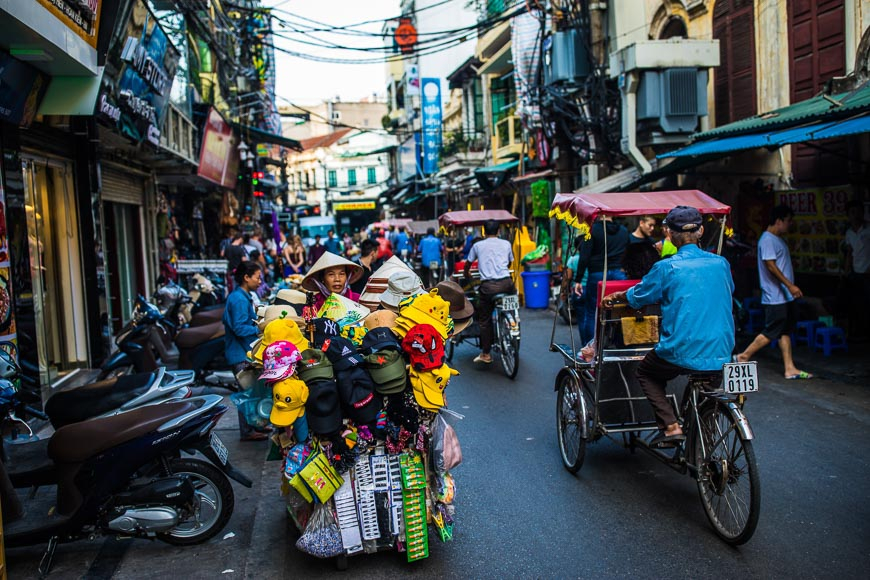 Almost every Hanoian has memories of riding cyclos in their childhood. For many years these three-wheeled rickshaws were the most convenient way of transporting goods across town. Nowadays, cyclos are used to take couples and tourists on scenic rides to enjoy Hanoi's distinct atmosphere.
Because the Old Quarter's narrow streets are constantly humming with foot traffic and commercial activity, cyclos are a great way to tour without worrying about traffic or road crossings. Ask your driver to take you to Hàng Bè for scenes of bamboo pole sellers, Hàng Quạt for brightly coloured flags, and Lãn Ông for a whiff of medicinal herbs.
---
Take a coffee break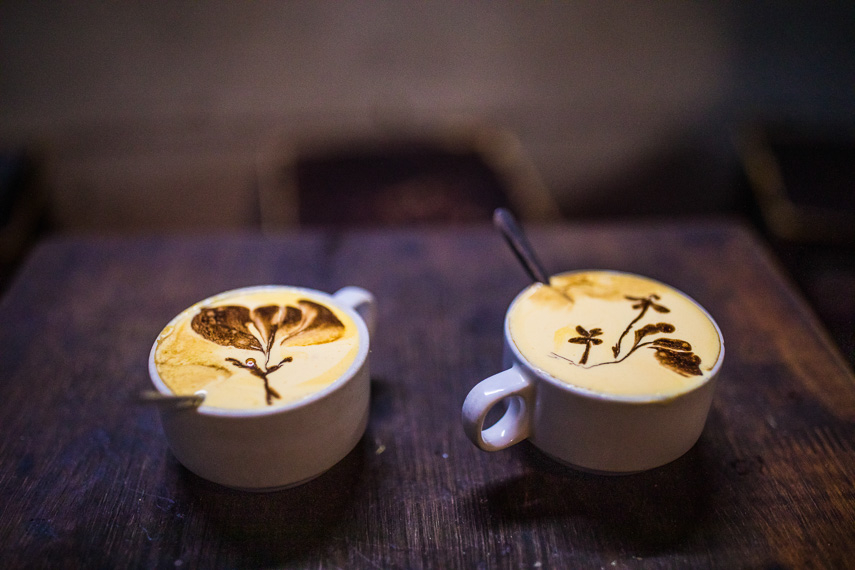 There's nothing more Hanoian than spending hours on the sidewalk sharing conversation over a cup of coffee. Greg Norman and Mr. Linh visited Cộng Cà Phê, a popular Vietnamese coffee chain, to sample cold coconut coffee. If you have time, take a wander to locate your own favourite cafe out of the hundreds in the Old Quarter.
Some savvy places to start are Cafe Giảng, the original home of Hanoi's egg coffee; Blackbird Cafe, a smart contemporary hangout on Chân Cầm; and Cafe Nola, a shabby chic hideaway with mismatched furniture and dripping vines.
Read more: 5 Ha Noi Cafes for Architecture Enthusiasts
---
Duck inside a pagoda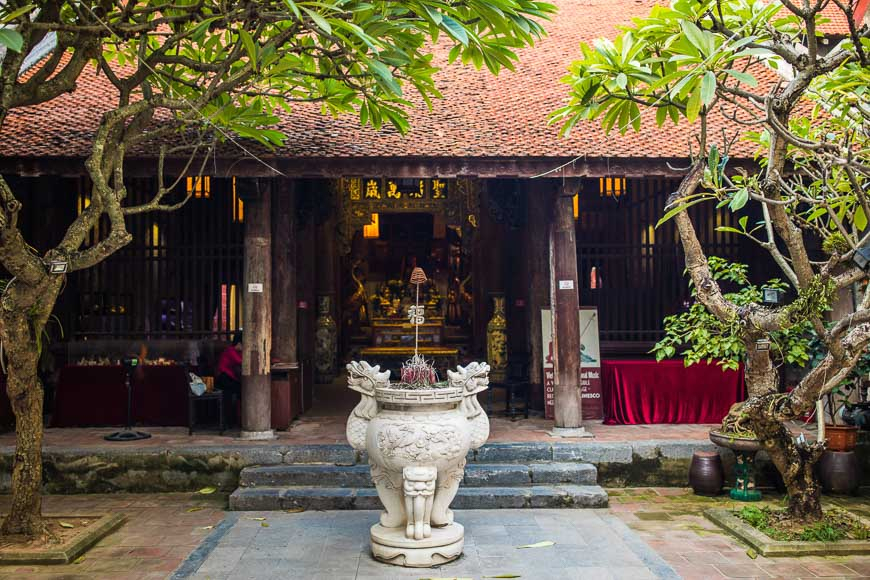 No matter how hectic the Old Quarter may seem, a quiet courtyard is always just down an alley. The Old Quarter has dozens of pagodas, each one with its own unique history and devoted worshippers. These pagodas are treasure troves for culture seekers, with intricate architecture, bonsai gardens, and hushed halls.
Mr. Linh and Greg Norman stopped for a visit at Ba Da Pagoda, a small, photogenic pagoda set off the busy street of Nhà Thờ. Other pagodas worth visiting in the Old Quarter are Chùa Cầu Đông and Ly Trieu Quoc Su Pagoda.
---
Circle Hoan Kiem Lake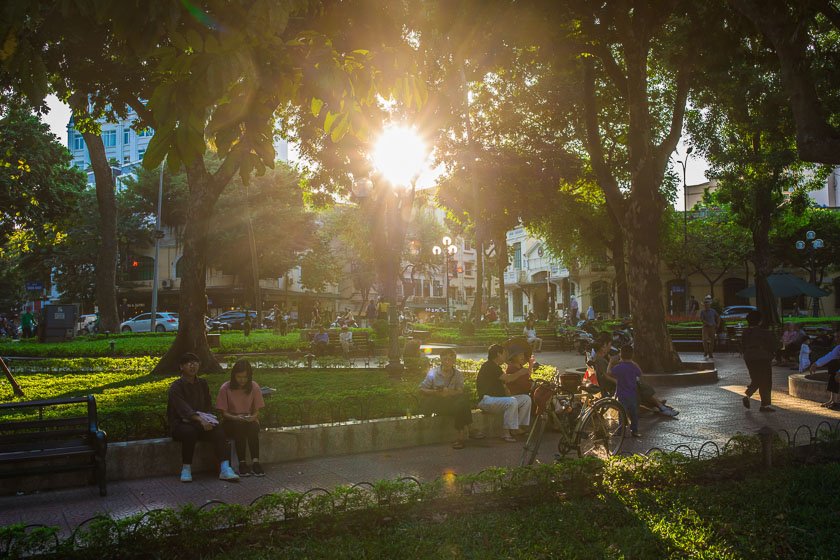 You can really say you've been to Hanoi until you've spent time on the banks of Hoàn Kiếm Lake. The shaded footpaths along the lake are where Hanoians have gathered for years to stroll, exercise and unwind.
Cầu Thê Húc, a beautiful red bridge, waits on the northeastern part of the lake, and the Turtle Tower in the lake takes its name from a legend involving a brave king, a magical sword and mythical turtle. At the top of the lake you'll find water puppet theatres, and Hanoia, a boutique selling exquisite lacquerware. In the evenings, locals love to stroll around the lake eating ice-cream.
Read more: Explore the Old Quarter your way
---
Hunt down historical landmarks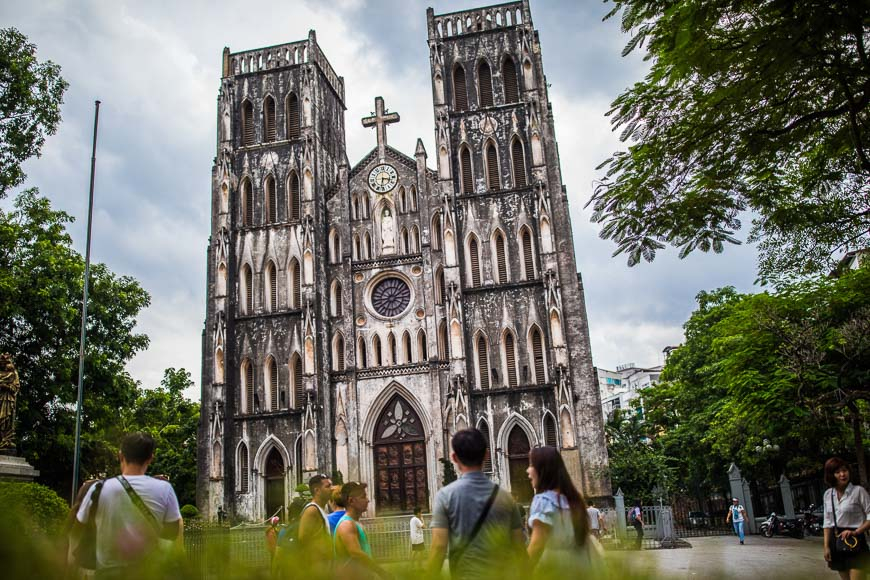 The final part of Greg Norman's tour takes place at Lý Thái Tổ Park, named for an emperor of the Ly Dynasty. All around the Old Quarter, history can be found in the most unexpected places. To learn what life was once like for affluent families in Hanoi, stop by the Ancestral House on Mã Mây St. For a glimpse of colonial French legacy in Vietnam, pay a visit to St. Joseph's Cathedral.
Also in the Old Quarter, the Quan Chưởng Gate is the only remaining part of a wall that once protected a feudal citadel. Like many things in the Old Quarter, the gate has changed over the years, however portions still remain as before, echoing the timeless charm of Hanoian culture.
---
Want more Vietnam travel ideas? Sign up for our newsletter to receive our best stories in your inbox.