Vietnamese food is highly regional. Although some of the Vietnamese food in Ha Noi may also be found in other cities, many dishes remain unique to the capital. Vietnamese is becoming one of the all-time favourites of worldwide food lovers. No need for fancy dresses with the requirement of standard etiquette at luxury restaurants, everything to eat in Ha Noi has been shown on the street, in every corner of the city, with the friendly and warm smile of the people. All you need to prepare is a loving stomach and a little bit of adventure.
---
Beyond the 3 most famous dishes of the city: pho bo (traditional Vietnamese noodle soup with beef), bun cha (barbecued pork with rice vermicelli) and banh mi (baguette), Ha Noi street food is as diverse as it is adventurous.
Bánh cuốn (Steamed rice rolls)
One of the traditional breakfasts in the capital city of Vietnam, Ha Noi, is Bánh cuốn. There are some versions of this dish, one with minced pork (banh cuon nhan thit), mushroom, eggs or mix. Bánh cuốn is usually served with fried shallot, sweet and sour fish sauce (nuoc mam chua ngot), a variety of fresh herbs, and lime-based sauce on the side.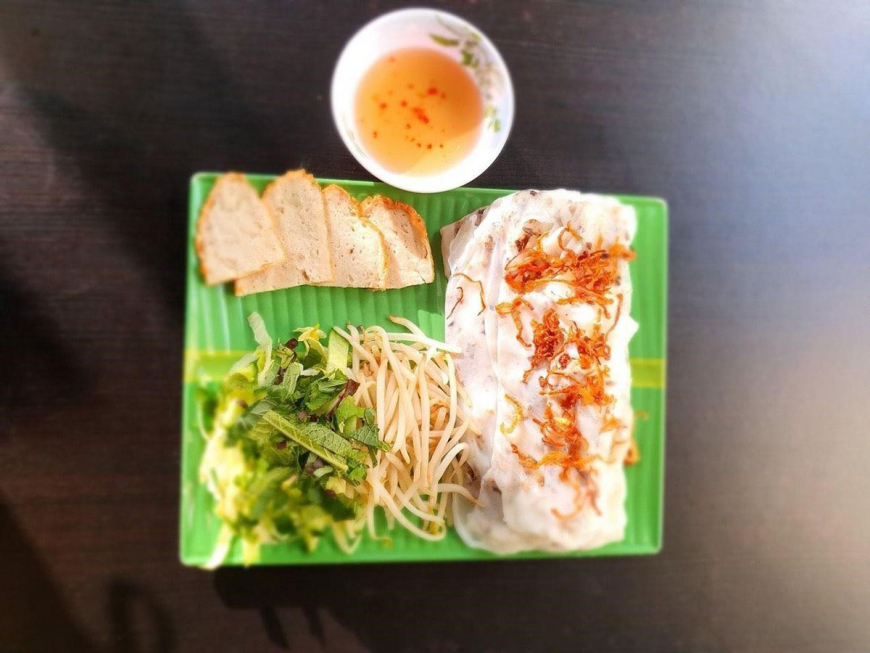 Bún Ốc (Snail rice vermicelli soup)
Snail rice vermicelli soup is one of Hanoi's classic comfort foods. A standard bowl comes with rice vermicelli (bún), other toppings include beef and crab meat, and a heaping plate of herbs that accompany most Vietnamese dishes. Key ingredients in the broth are tomatoes, wine vinegar, and pepper, giving it a nice kick.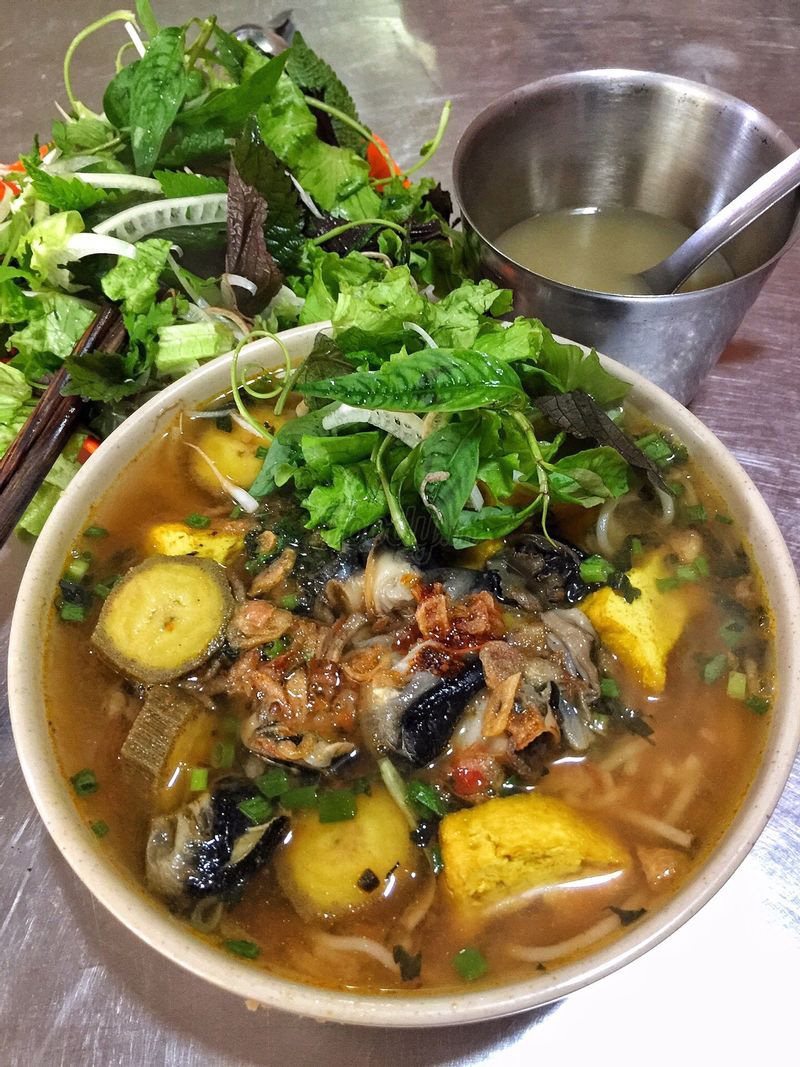 Lẩu (Vietnamese hot-pot)
Gather around the bubbling pot and drop in a huge amount of fresh vegetables, meat and seafood to your liking. It might seem intimidating at first, yet hot pot is the truest way to experience street food life in the city. Who knows, you might make some new friends during your cheering beer session.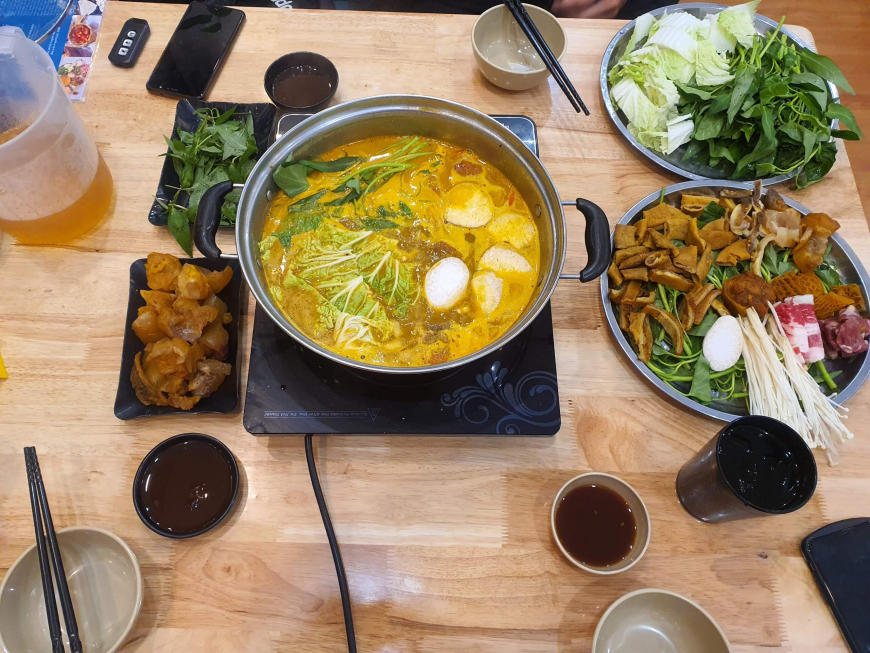 Bún cá (Fish rice vermicelli soup)
This dish is commonly enjoyed at lunch. One of the soups uses bún (rice vermicelli) with fried fish pieces. The broth is prepared with green vegetables often including a variant of 'morning glory' - a popular vegetable commonly stir-fried or boiled. A combination of aromatic herbs, including cilantro and dill, make the taste unique.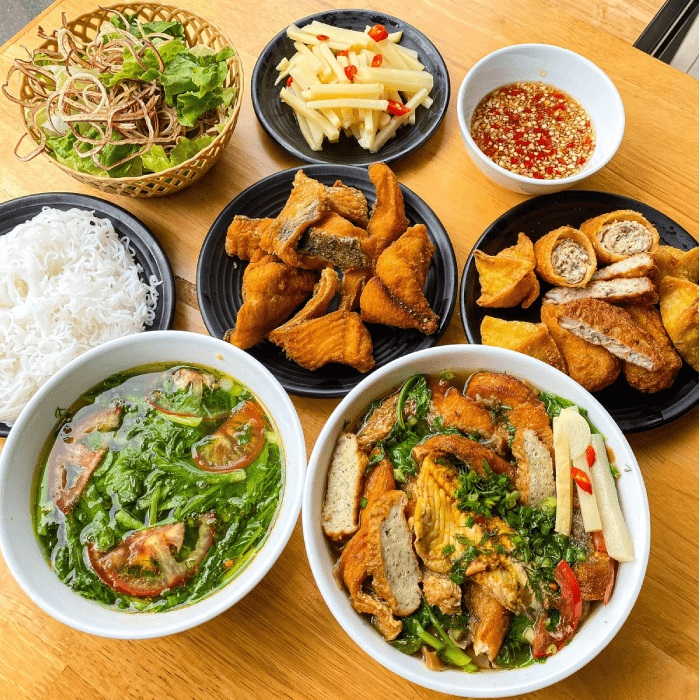 Miến xào lươn (Stir-fried glass noodles with eel)
It is an uncommon ingredient in everyday meals but worth trying. Crispy eel is mixed with stir-fried glass noodles, egg, and bean sprouts. Other options include mien tron (noodles tossed with eel, cucumber, and herbs) and chao luon (eel porridge).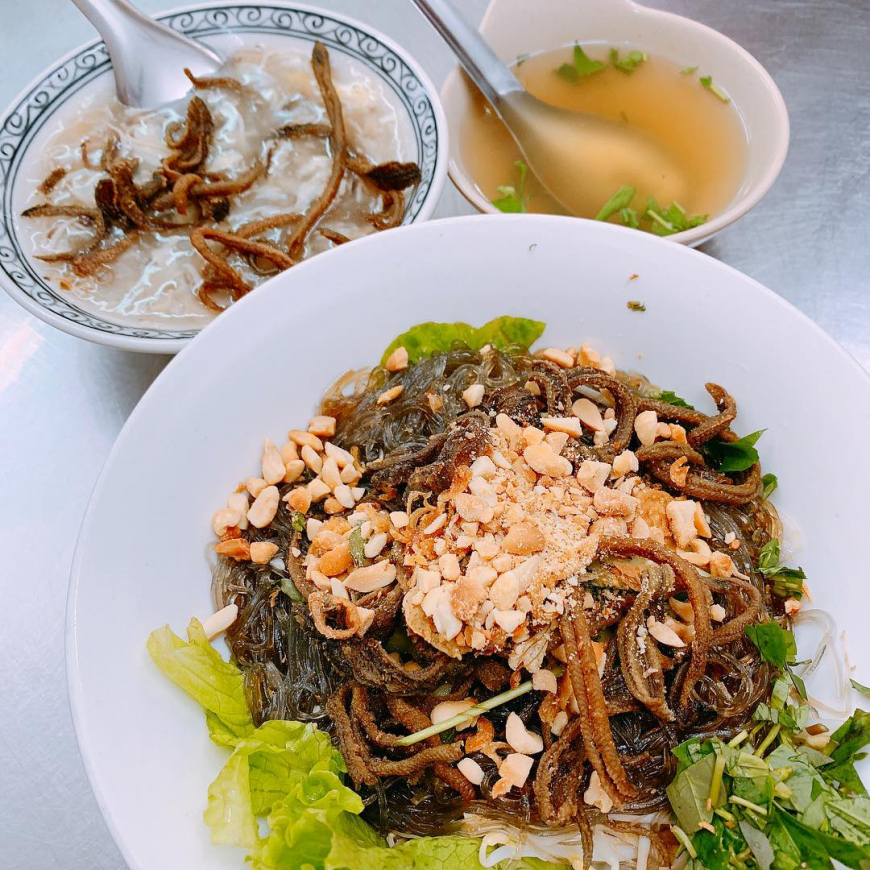 Bánh đa trộn (Mixed flat rice noodles)
Taking a leisure walk along the Old Quarter area, you will encounter a woman on the side of the street with a carrying pole and two baskets: one holds a steaming pot and the other is filled with raw ingredients. These two baskets carry one of Ha Noi's specialties - Banh da tron. Thick, flat noodles topped with sausage, fried fish cakes, tofu, peanuts and leafy vegetables. Thin glass noodles called mien are another option. The taste of this unique local food will probably awe every diner.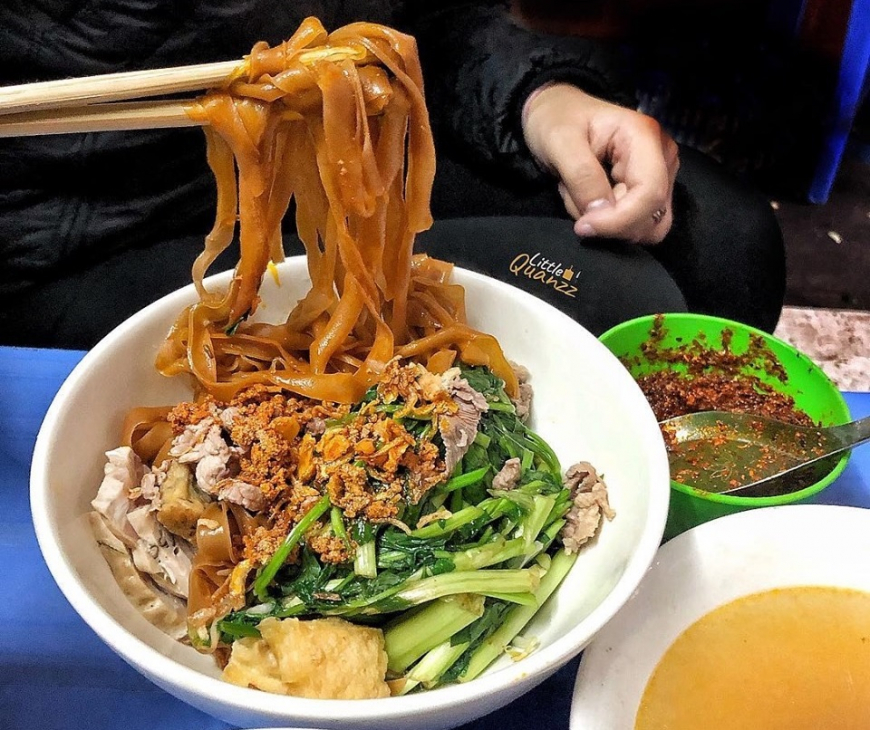 Bánh tôm (Ha Noi shrimp cakes)
These snacks are originally from Ho Tay, the West Lake area from shrimps caught locally. Banh tom is made from battered sweet potatoes and prawns, with sweet and sour fish sauce and papaya on the side. You can order a glass of iced soy milk to wash down the grease of oil.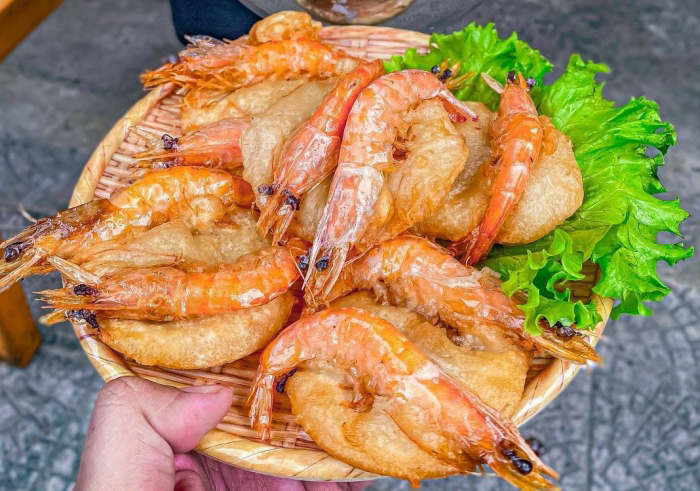 Bánh gối (Crispy "pillow" cake)
Another battery snack for the active afternoon to explore Ha Noi, banh goi - a pillow shaped pastry holding minced pork, black fungus, vermicelli noodles and a quail egg. For more fried goodies, ha cao (fried dumpling), Pho mai que (fried cheese stick) and nem chua ran (fried fermented sausage) are also sold along with banh goi.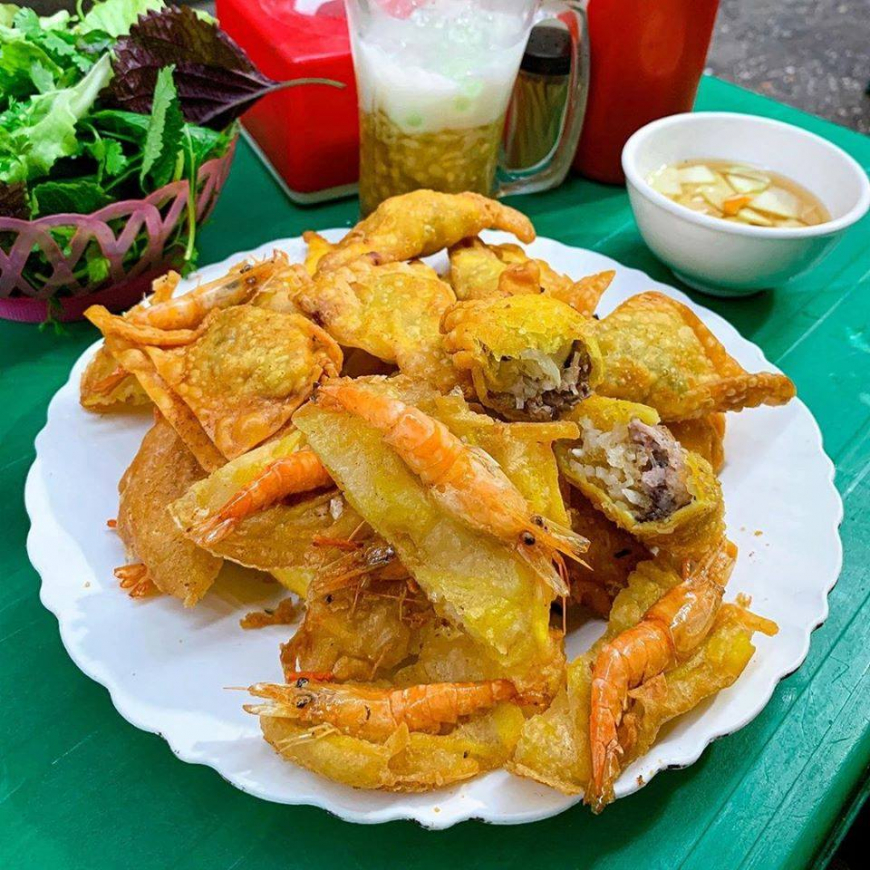 Mỳ gà tần (herbal braised chicken noodles)
Some of you might find this dish a bit "weird" but intimidating. The dish is hearty and fulfilling with braised chicken and egg noodles. Diners have two options: the 'regular' chicken, or a miniature (and slightly more expensive) black chicken, named for its black skin.
The chickens are stuffed into empty soda and beer cans with aromatic herbs including mugwort. The cans are placed over heat, allowing the meat to soak up the flavours while it simmers. Egg noodles (mỳ trứng) are added to the stew.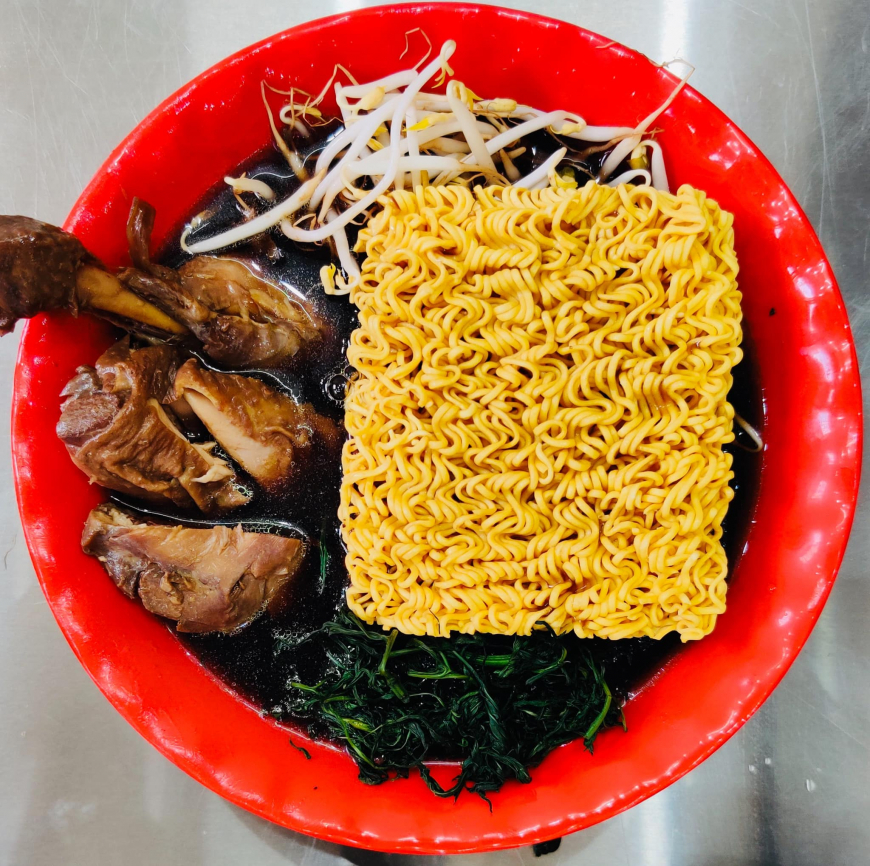 Bánh đúc nóng (Vietnamese hot steamed rice cake)
Coming to Ha Noi in the days of winter, don't forget to have a bowl of hot Banh duc - a steamed rice cake made from plain rice and tapioca flour, this dish is processed in a sophisticated and meticulous manner, to cook and stir the ingredients with reasonable consistency and flexibility. The filling includes black fungus, meat, fried shallots, and is served with chilli garlic fish sauce and herbs. The hot, soft, delicious banh duc, fragrant with onions and meat, are always the ideal choice for an afternoon snack on a cold day.
Chè (Colourful sweet dessert soup)
There's always empty places for desserts. Something sweet and fragrant with fruits and flowers are the best to finish off a cuisine exploration day in Ha Noi. Che - a "sweet soup" made of layers including red bean and mung bean pastes, glutinous rice balls in starch and herbal jelly cubes, topped with syrup and coconut shreds. The mixed che thap cam with the town-famous jasmine syrup is highly recommended.