Street food has been part of the Vietnamese cultural landscape for a century. From cities to towns to remote villages. From vendors on bicycles to pushcarts and stalls. In Vietnam, street food reigns supreme. But in Ho Chi Minh City, the street food phenomenon has reached a peak of epic proportions.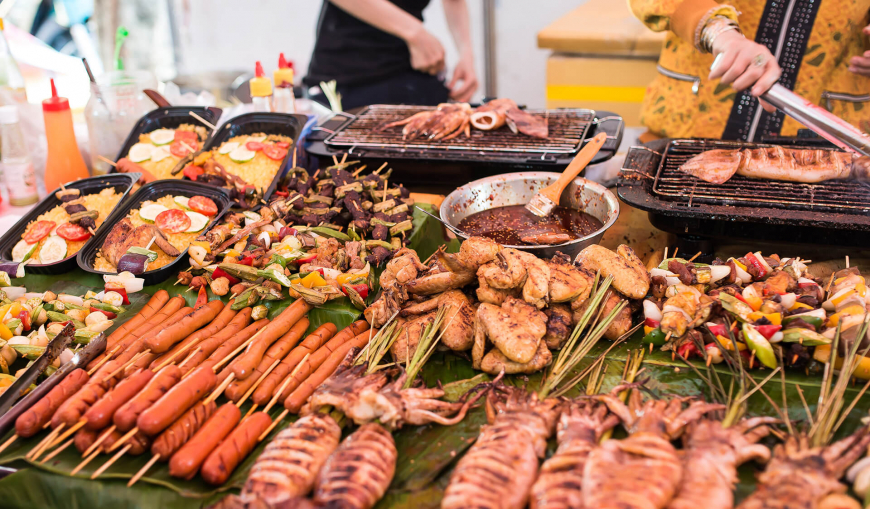 ---
HCMC boasts a population of nearly 9 million and is divided into multiple districts (some numbered, some named). This provides a recipe for street food distinction and ample opportunity for exploration. Plastic tools and tables are arranged nicely along the pavement becoming a familiar picture, not only in HCMC but across cities of Vietnam. The bustling streets of HCMC mix ambiance and aroma on a nightly basis. Fresh cheap eats, dined al fresco. From cook to consumer, right under your watchful gaze.
Most Vietnamese are social butterflies. Dining in groups with myriad dishes and raucous toasts of Mot-Hai-Ba Dzo are some kinds of formalities. It's an intoxicating, celebratory way of eating, socializing and sharing. Eating street food is one of the most authentic experiences you'll find in Vietnam.
Street food purveyors and pundits seem to have reached consensus on certain "must-eat" streets. Let's start with District 1, which is the heart of downtown HCMC—packed with hotels, restaurants, nightlife and popular tourist attractions.
Co Giang Street sits on the edge of what's known as exotic street food maze. Unfazed by the din of western style bars and restaurants which occupy the neighboring blocks, Co Giang Street provides a pure Vietnamese street food experience. Barbeque embers glow, works and cauldrons fry and steam as fluorescent lights illuminate the scene.
Tran Khac Chan Street (also in District 1) is a neon lit, bustling strip of eating options. A veritable smorgasbord of delectables offered amongst the buzz of a quintessential "Saigon Street". Cars and motorbikes mingle with the mass of foot traffic and diners. So much to choose from, so much to see.
Phan Van Han Street is on the edge of District 1. This "neighborhood" lane is popular amongst university students and locals. It's lowkey, homey and densely packed with inexpensive food stalls. A strip of sidewalk provides room for small tables and chairs—bare bulbs provide the lighting. There are lots to choose from on this bustling but rather quaint little street.
District 3 rivals District 1 as far as foot-traffic and tourism are concerned. There are several well-known religious sites, a couple of museums and a lake, all of which seem to draw the crowds. But Nguyen Thuong Hien Street has carved out a reputation all its own for its bawdy revelry and sidewalk dining. The street is narrow, noir in vibe, and known for its seafood specialties—clams, sea snails, crab claws and oysters, as well as fresh fruit juices and beer. It's not unusual to see diners singing along to guitar playing troubadours.
You might say District 4 is an island unto itself (surrounded by the Saigon River, Ben Nghe Canal and Te Canal). Considered the smallest district in HCMC, District 4 has personality and Vinh Khanh Food Street personifies its independent spirit. Known as a youthful, hipster hangout—where the trendy flock and parade—singing karaoke and dancing amongst fire-eaters and the curious. Vinh Khanh is as much a street party as a street feast—a place where patrons grill their own myriad meats and seafood on coal stoves at their tables.
District 5 has a rather haunting backstory. It's also the district that contains HCMC's Chinatown. Perhaps it's the density of the population that provides the impetus for such a vibrant street life. The street is lined with food stalls as well as cafes and bars. Locals mingle (young and old) creating a neighborly vibe that's both welcoming and festive.
On the border of the Phu Nhuan and Binh Thanh districts, you'll find Van Kiep Street. Under a neon glow of signage, visitors discover myriad street-eating options—a showcase of Vietnamese specialties. It's typically a young crowd that gathers in festive, cultural revelry. If there's a rare dish to be found, this is the street to find it.
So just what can you expect to eat on the streets of HCMC? Well, here's a short list of delectables to inspire your palate:
Banh beo is translucent morsels filled with shrimp and pork—perfect for sharing as they typically come in eight to ten per order.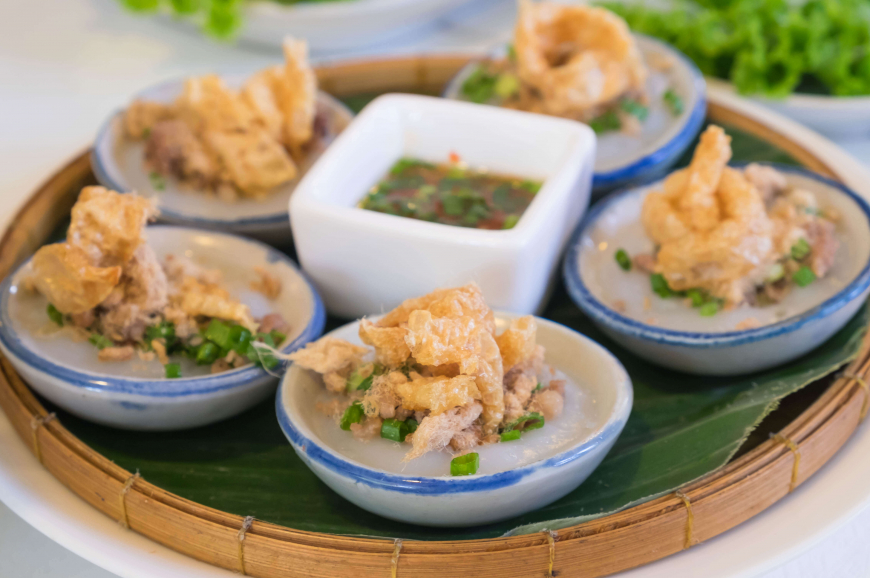 Banh da xuc hen contains tiny fried clams with lemongrass, chili, onion, garlic and coriander—sprinkled with peanuts and served with few pieces of sesame crackers.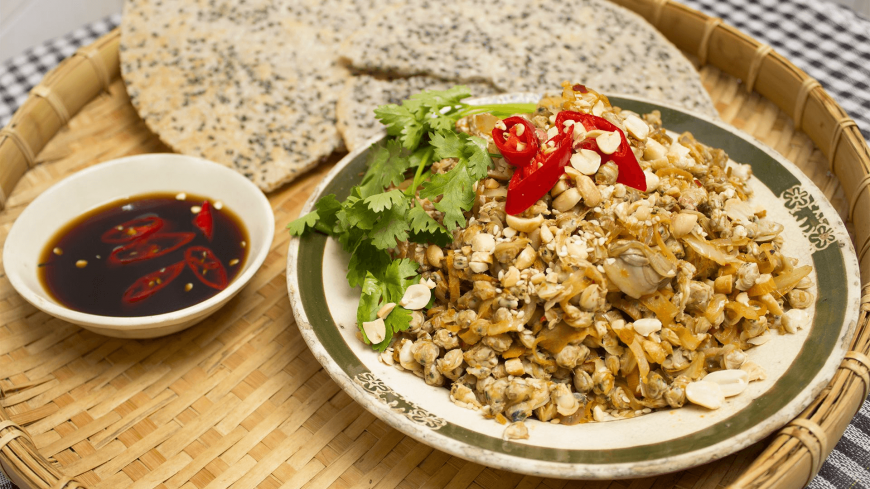 Source: Internet
Banh cuon is steamed rice rolls with mushrooms, black fungus and ground pork, another of those delicious "let's share" dishes.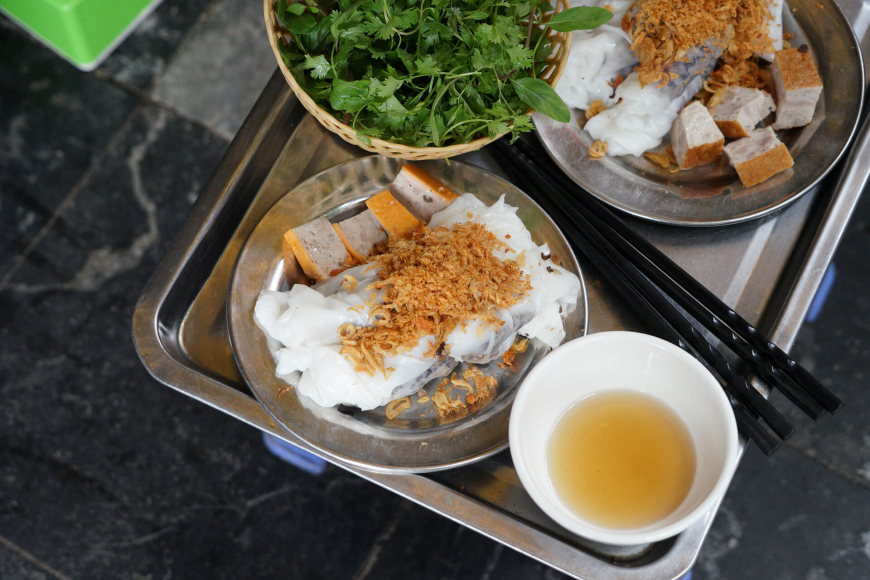 Banh xeo is a crispy crepe, folded taco style with shrimp, pork, bean sprouts and dipped in fish sauce.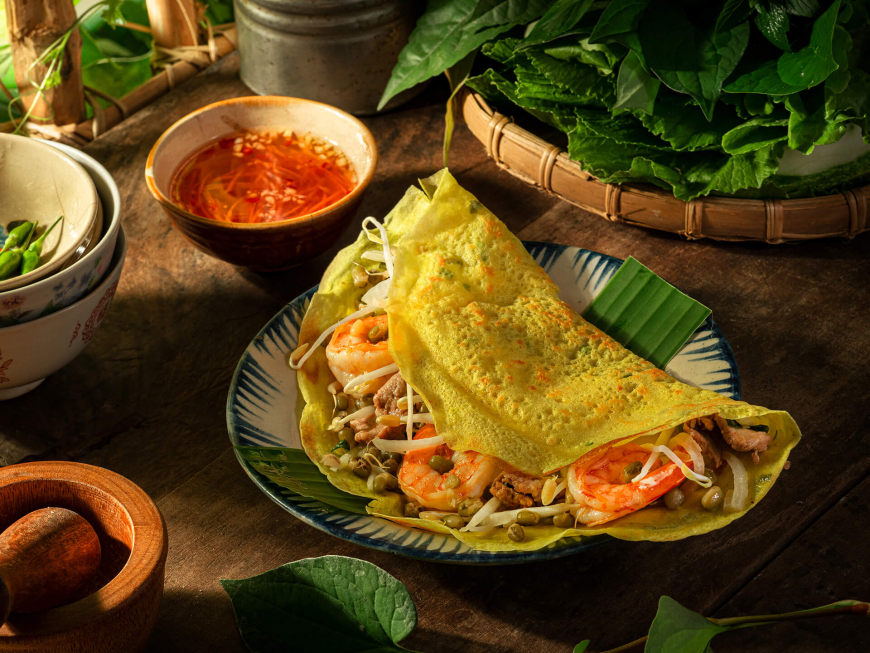 Bo la lot combines marinated beef wrapped with piper lolot leaves, rice noodles, fresh herbs and rice paper. You roll the concoctions yourself and dip in fish sauce.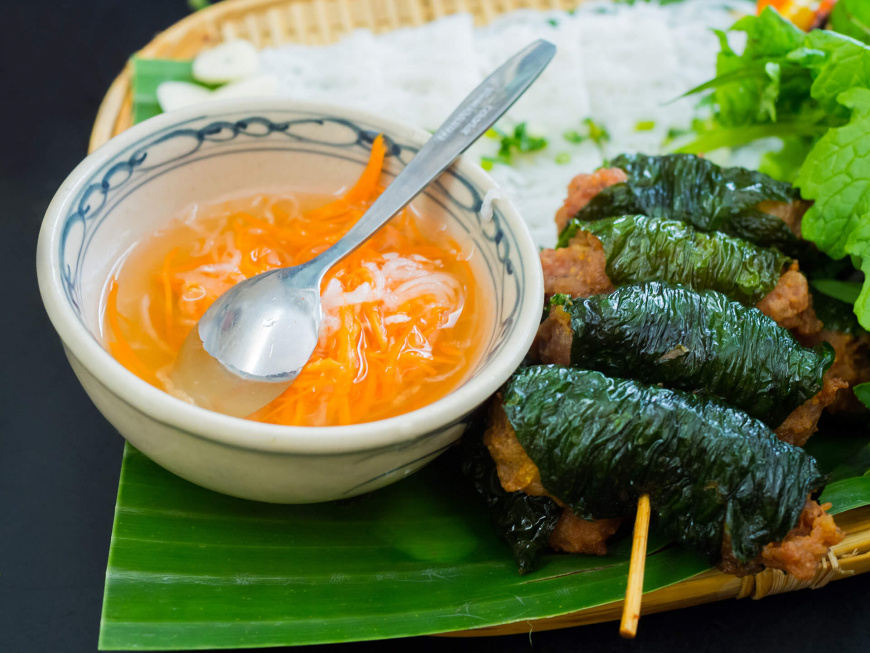 Bo Kho is Vietnamese beef stew—chunks of beef, vegetables, chili and lime and always served with a fresh baked roll.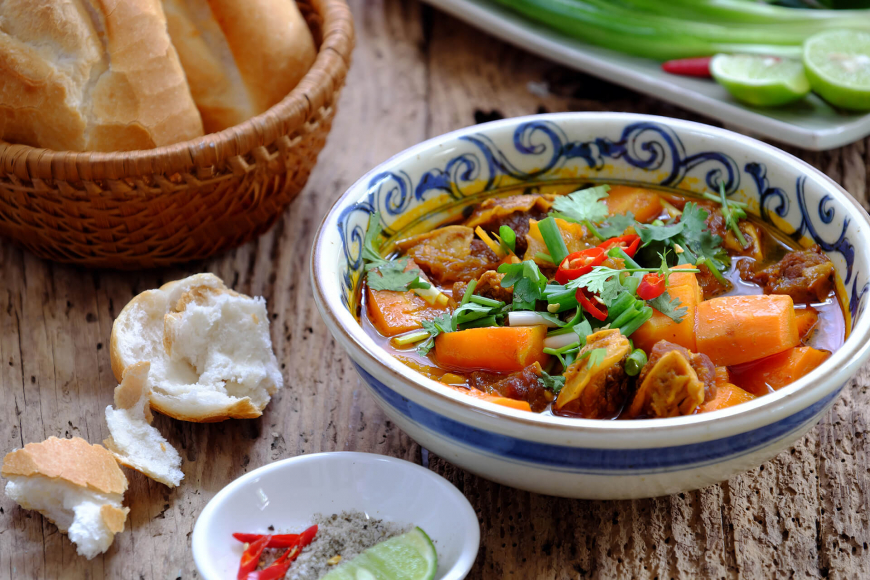 Banh Canh Cua is a seafood soup with crab, shrimp and rice or tapioca noodles in a pork broth.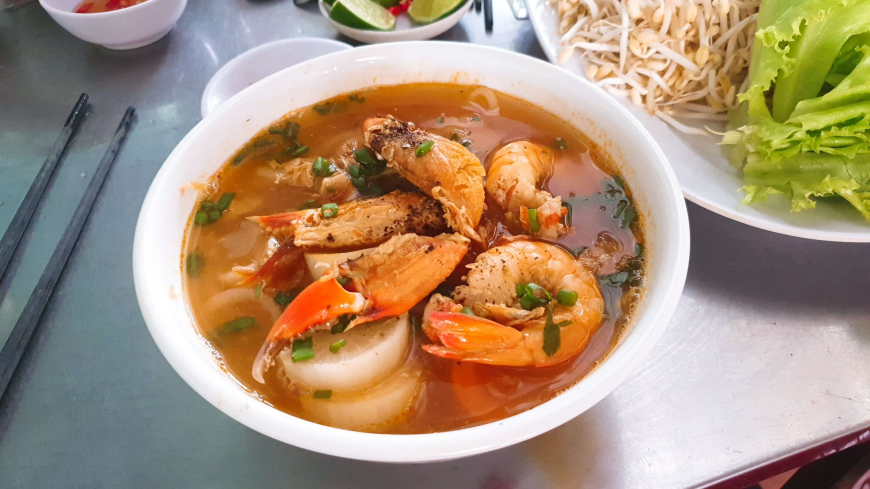 The list goes on and on—from spring rolls to seafood (crab, seasnail, oysters and clams), to skewered/grilled meats and poultry… The streets of HCMC offer a cornucopia of colorful concoctions, created before your eyes, in an ambiance of festive frolic. Our advice: Hit the streets and eat!