Need a quick "Green'' fix? Then a few days in Moc Chau is just what the doctor ordered. Crowned "World's Leading Regional Nature Destination'' by the 2022 World Travel Awards, Moc Chau provides a year-round, weather accommodating bounty. Located in the northern province of Son La (about 200km from Hanoi), Moc Chau is known as the "Green Pearl."
---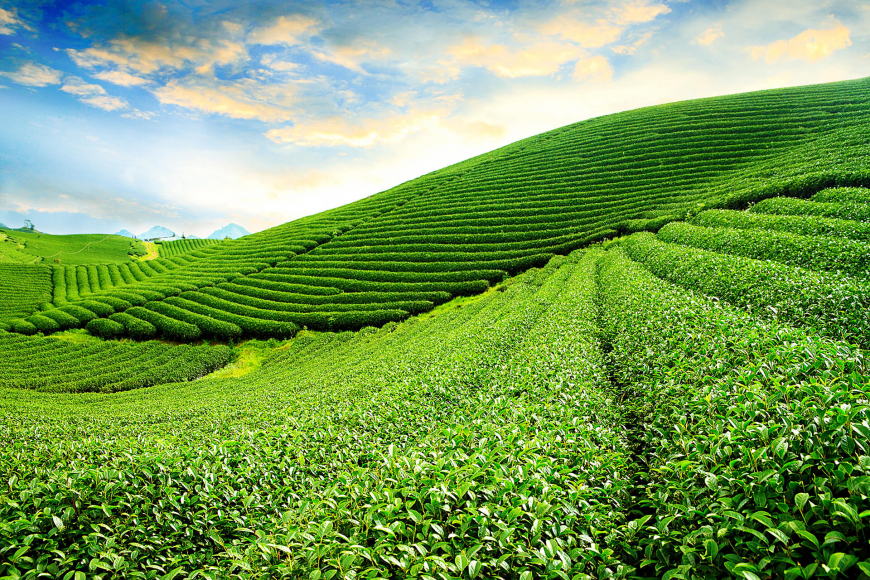 Situated on a massive plateau (80km long, 25km wide and rising over 1,000 meters above sea level), the "Green Pearl" delivers a host of nature's wonders: mountains, rivers, waterfalls, caves, an abundance of flowers and breathtaking blooms of apricot, plum and peach blossoms.
Living harmoniously with this natural wonderland are 12 indigenous ethnic groups, their cultural practices very much on display (in daily life and through myriad festivals).
You'll find community-based green attractions such as Ang Village, Doi Village and Vat Village. These villages actively embrace eco-tourism as a way of promoting sustainability. You can also visit Moc Chau Island which was created in a concerted effort to embellish and preserve Moc Chau's eco-friendly status.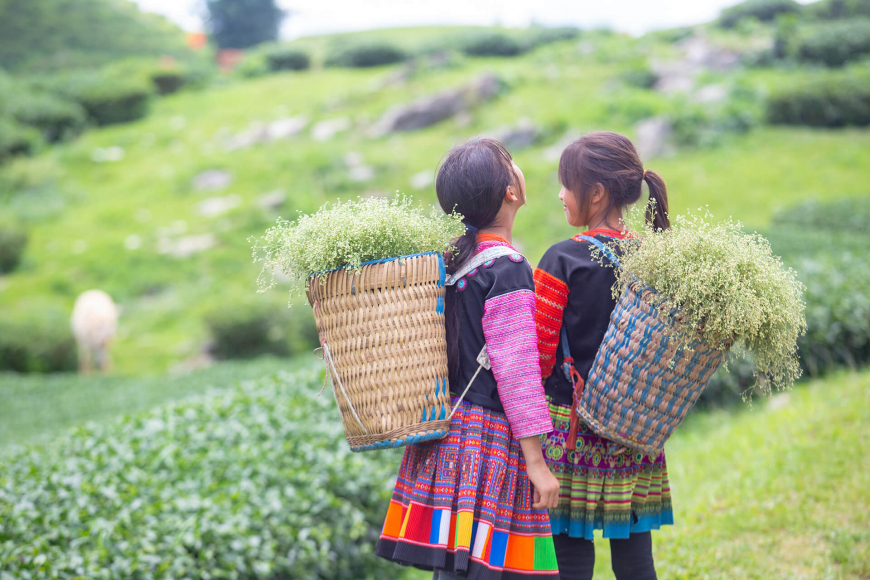 ---
Below are a few suggestions for your Moc Chau/Green Pearl experience:
You hear Dai Yem waterfall before you see it. As you meander through the dense forest along the winding road that leads to the falls, you begin to feel the rumble—to hear the roar as it joins in harmonious chorus with the birds and cicadas. Dai Yem is divided into two shelves. From the top, the drop is over 100 meters, while the lower shelf provides visitors the convenience of exploration and swimming in the pond just below the lower ledge. A benefit of visiting Dai Yem is the opportunity to cross the red painted Love Glass Bridge (Cau Kinh Tinh Yeu). This ornately carved transparent glass bridge offers a unique view of Dai Yem itself.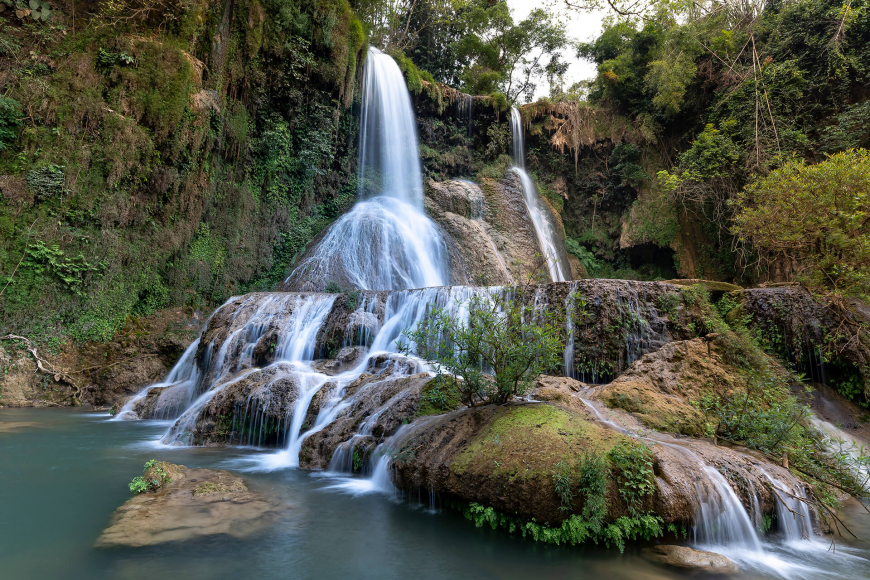 With about 3000 hectares of tea fields, Moc Chau is the largest tea growing region in all of Vietnam. These sprawling waves of green tea leaves are found in an area mostly inhabited (and worked) by the Hmong and Thai ethnic groups. Conical hats and colorful costumes bob amongst the blanket of green as they go about their cultivating practices, creating a visual feast. Visitors can mingle and take photographs. Bicycle and motorbike rentals are available for deeper exploration. You can also visit the Moc Suong eco-tourism area to experience the ancient tea ceremony and witness the processing of this most valuable crop.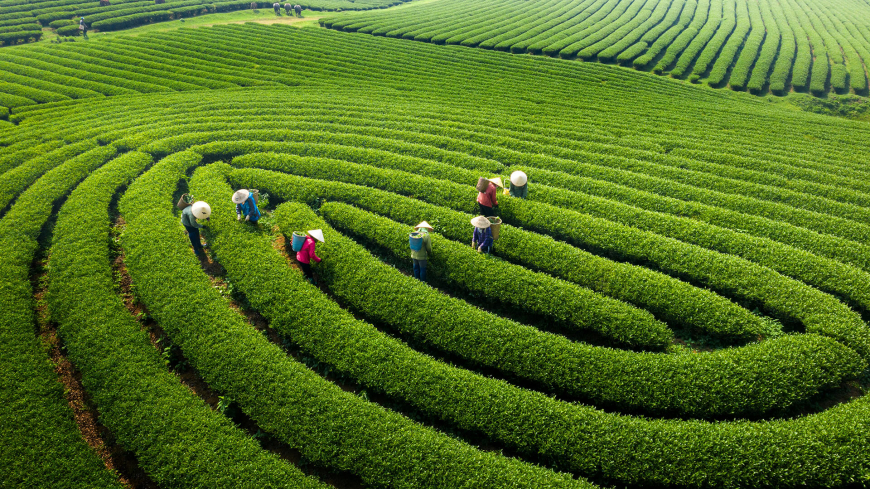 It requires quite a bit of uphill hiking to reach Pha Luong Peak, dubbed "The Roof of Moc Chau," (2,000 meters above sea level) but it's worth every step. As you ascend, you'll find the mountainside draped in rice terraces. The simple path takes you through dense forest as you continue your hike upwards. Bordering Vietnam and Laos, the views from the top are unapparelled. The icing on the cake—the rock ledge overhang where bucket-list photo ops have become tradition.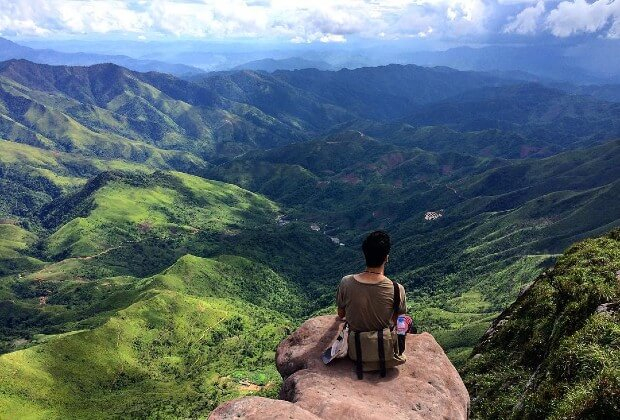 Source: Internet
Dong Doi (Bat Cave) has an area of over 7,000 square meters, 100m in height and 930m long. Follow the 240-steps to the entrance of this National historical and cultural site. The interior of this impressive limestone cave is wonderous in its riches—from the twinkling, multi-colored stalactites (which eerily resemble Buddhas, elephants, tigers, eagles…), to the dry lake located in the center of the cave.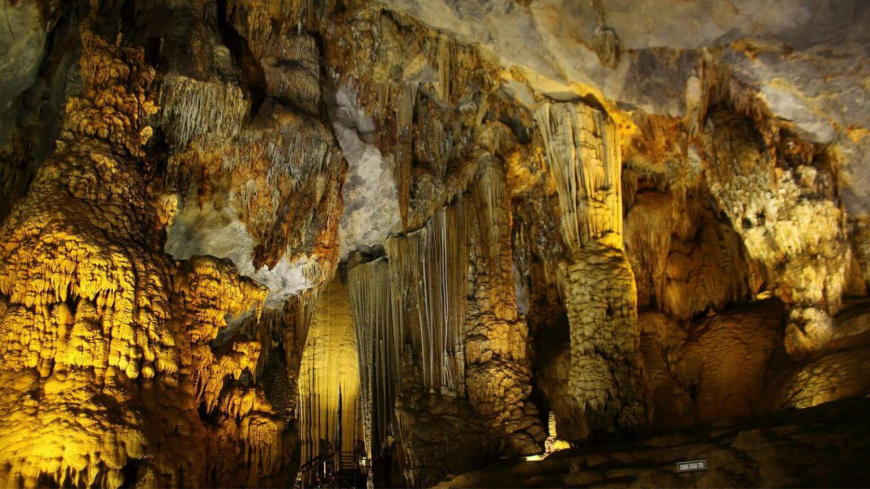 Source: Internet
Ang Pine Tree Village is a bucolic vision—traditional stilt houses under verdant green canopies with a lake surrounded by pine forests. The nearby hills are cloaked in green tea leaves while the pine forest is speckled with blossoming flowers and blooms. A pleasant option is exploring the area on horseback. Ang Village is home to the Thai ethnic people whose culture is very much alive and evident in their housing, farming, costumes, customs, music and dance. Visitors are welcomed and encouraged to experience both nature and culture. Dine on traditional Thai food and try the homemade rice wine, which is drunk from a gourd with a long narrow bamboo tube.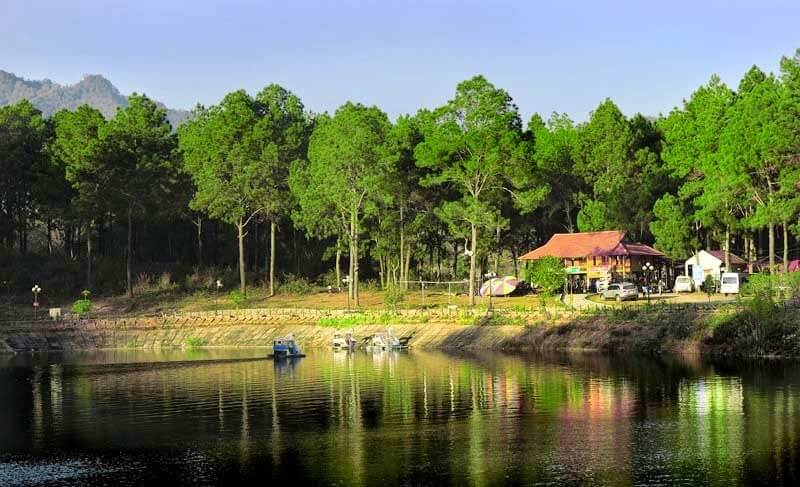 Source: Internet
The past and future blend seamlessly on Moc Chau Island (with nature being the bond that holds both together). It starts with Bach Long Bridge (White Dragon Bridge) - the world's longest glass bridge. Spanning two mountains and providing breathtaking visuals from every angle. This epic crossing also has a cliff-side path that slithers along the mountainside.
Once across the bridge you'll find Chim Than (God Bird) cave with its natural stalactites, ponds and stone sculptures. While not surrounded by water, Moc Chau Island is truly an island unto itself. There's Central Park Lake with its performing arts water-stage, artificial beaches, amusement parks (ziplines, air slides et al), bike paths and swimming area. The resort park farming area (with regulated humidity and clean water source), is a place where visitors can stroll through fields or fish in streams. The natural culture area and rural tourism ethnic zone showcase traditional ethnic villages, hosting ethnic festivals and offering crafts and cuisine of the indigenous peoples. There's just so much to experience on Moc Chau Island: The Ecology Tea Garden, The Grasslands Tourism Area, Experimental Gardens and Flower Park. There are also eco-friendly, hyper-modern accommodations available, as well as the open-aired, TaBamboo restaurant, built entirely of bamboo and covered with a thatched roof.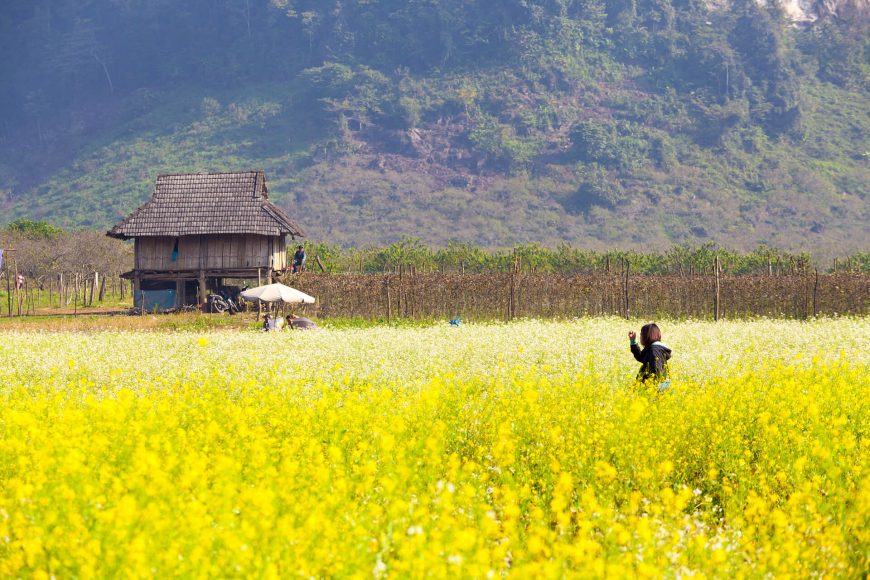 If it's an environmentally friendly, outdoor experience you seek, then open the oyster that is Moc Chau and embrace Vietnam's "Green Pearl" …