Mui Ne is a coastal resort town located in the Binh Thuan Province (Southeast Vietnam). Mui Ne has become a popular tourist getaway, and for good reason: beautiful beaches, wind and kite surfing, flying sand dunes, a mystical fairy stream, a thriving fish market, ancient Cham towers, the oldest lighthouse in Southeast Asia and a mountain pagoda featuring the world-renowned reclining Buddha. But there's another draw to Mui Ne, one of colorful arrays and aromas—and that's the food. Mui Ne is a palate pleasing paradise, a foodie's fantasia, a gourmand's grotto…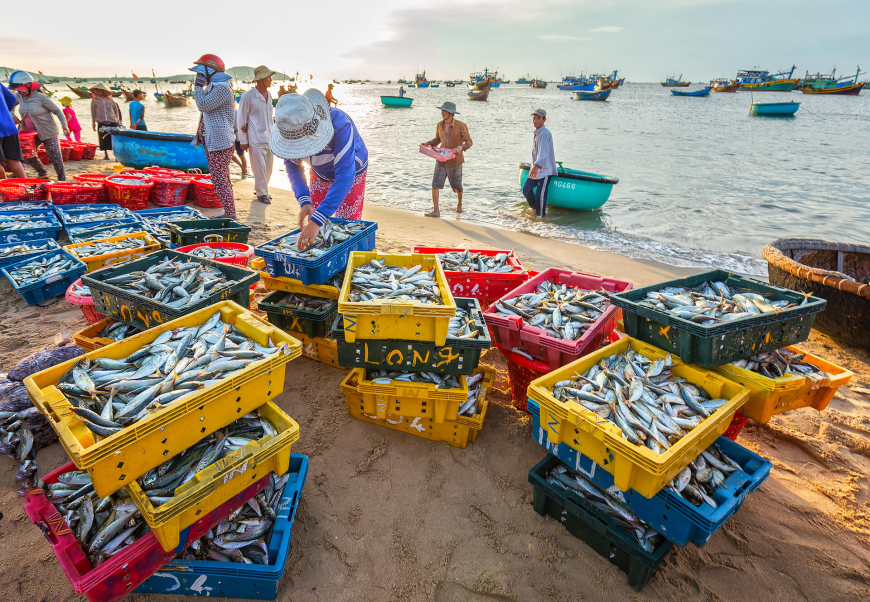 ---
Being a seaside locale, seafood is certainly in abundance and the dishes don't disappoint. Here's a short list of must-try Mui Ne mainstays:
Lau Tha (special fish hotpot): While Vietnamese hotpot typically blends myriad scrumptious ingredients, the Mui Ne version goes the extra mile: fish, shrimp, pork, veggies, green mango, banana flower, rice noodles, fried eggs—a broth flavored with peanuts, chili and lime. Fresh local ingredients put this hotpot over the top.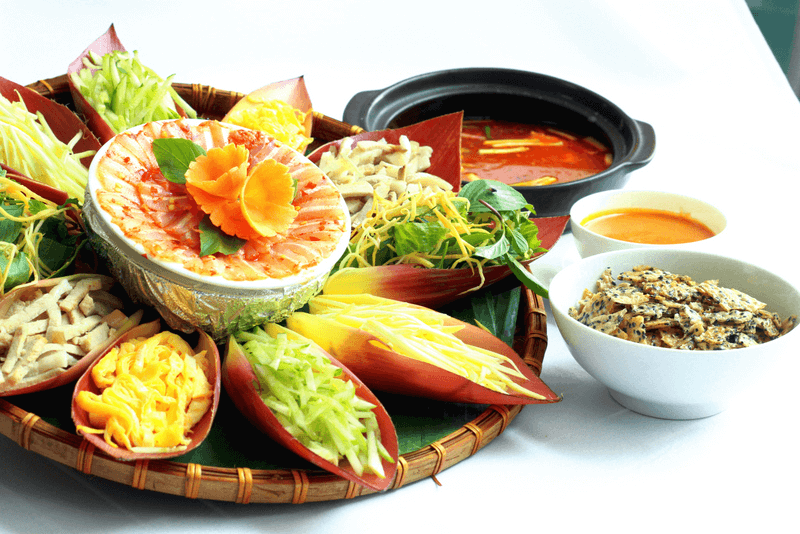 Source: Internet
Muc mot nang (sun dried squid): This mouthwatering munchable is popular all over Mui Ne. Fresh squid, dried in the sun and then grilled over coals with a chili and lime baste. Dipped in fish sauce, these savory, sweet tasting squid pack a flavorful punch.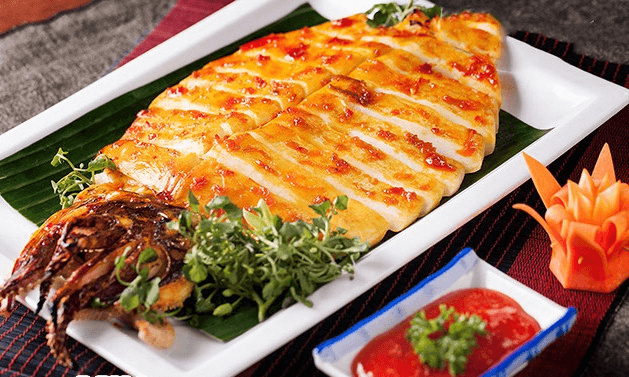 Source: Internet
Ca Mai (fish salad): Vietnamese ceviche might best describe this delectable. Fresh Mai fish delicate slender is the core ingredient to this zesty assemblage . The works are stuffed with raw vegetables (basil, onions, green bananas, star fruit, chili, garlic, and roasted peanuts), then wrapped in rice paper and dipped in fish sauce.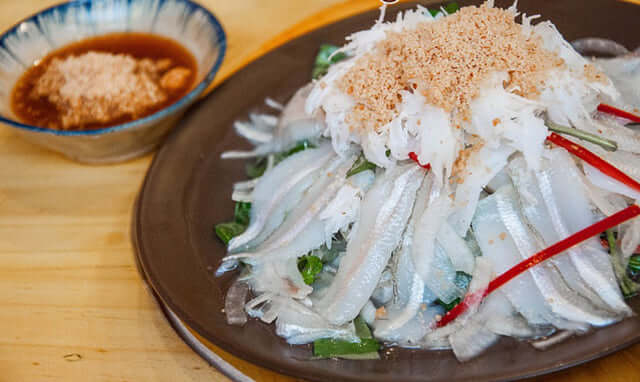 Source: Internet
Oc Huong (sweet sea snail): The sweet sea snail is an affordable delicacy and a rarity outside of Mui Ne. Captivating in its speckled shell, the sea snail is prepared in various styles: steamed (with onion and ginger), baked, grilled or roasted with garlic. Locals, typically pluck the snail from its shell, sprinkle it with lime and dip it in crushed peanuts.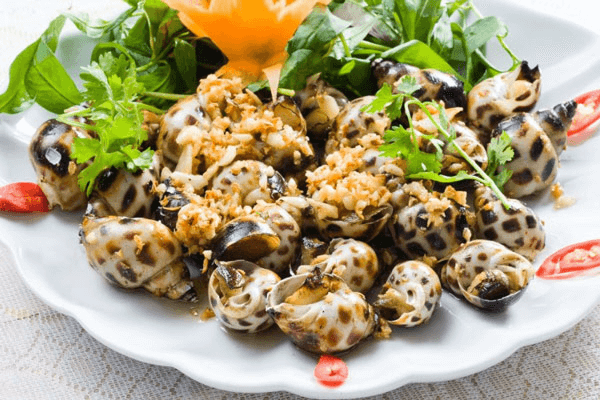 Source: Internet
Dong (lizard meat): This creature is with a similar shape but larger than geckos. This curious dish is best served grilled (though it is served stir-fried, in soup, salads, rolls, even in pastries). The meat is a bit chewy (like a moist jerky) and served as seasoned strips with chili—a fantastically exotic finger-food.
Source: Internet
Banh Canh (thick noodle soup): This is something of a staple amongst Vietnamese (whose noodle varieties are legendary). It's the thick, chewy noodle itself that really stands out (made of tapioca flour and/or rice flour). The broth is a fish stock made of a variety of fish caught fresh in the waters of Mui Ne. Mui Ne's version comes with fried and steamed fish cakes, scallions, cilantro, dried onion, peppers and lime. A Vietnamese version of comfort food.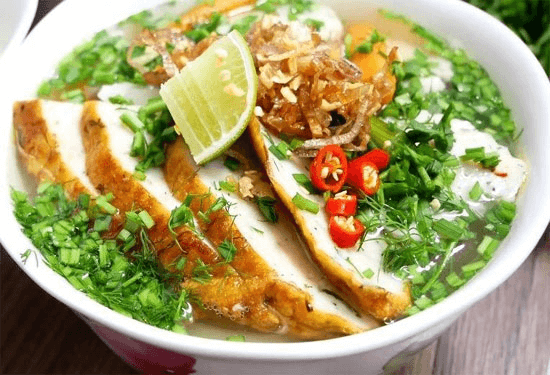 Source: Internet
Banh Xeo (Crispy pancake): Mui Ne's signature "Street Food" is Banh Xeo, a fried crispy pancake/tortilla loaded with shrimp, fat pork and bean sprouts and then folded. Dipping the mouthwatering concoction into a chili, garlic, lemon, fish sauce completes the ensemble.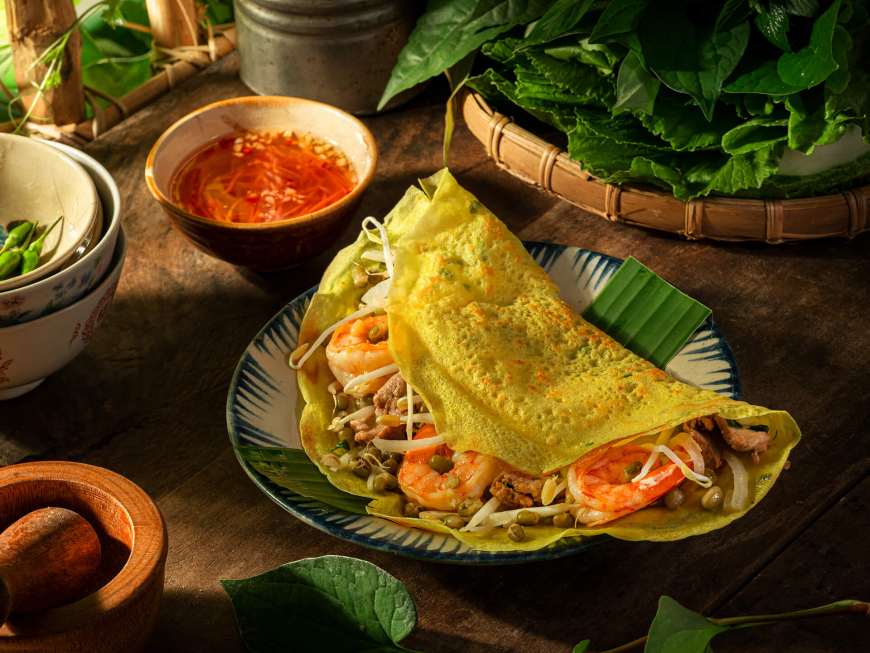 Quai vac tran (shrimp and pork cake): This is another street food delicacy. Translucent (made from transparent wheat-flour) bite-sized, deheaded prawns and fatty pork, sprinkled with finely sliced scallions and chili pepper—boiled and served on every street corner.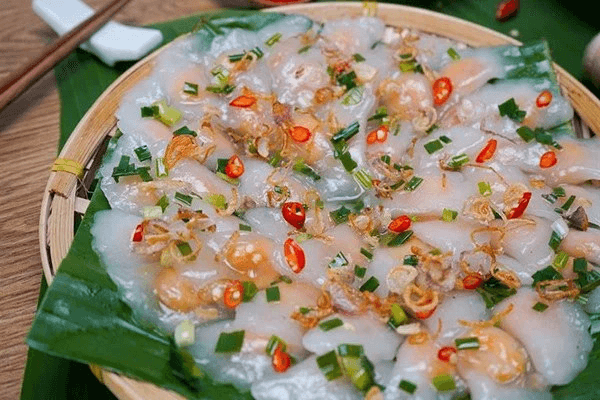 Source: Internet
Rang Muc Nuong (grilled squid teeth): Yes, squids do have teeth—centered between the tentacles like the receptacle of a flower which holds together the petals. And while the Vietnamese utilize it in many dishes, the stand-alone appearance of these marinated, marble-sized munchies on the streets of Mui Ne—skewered and grilled over coals—provides one of those "only in
Vietnam" experiences.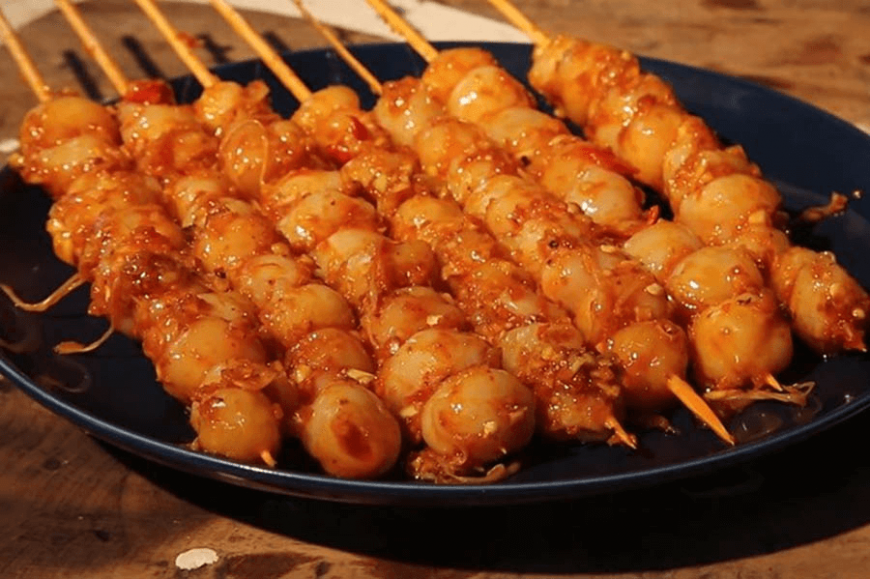 Source: Internet
Fish Spring Roll is unique to Phan Thiet and no one does it better than Mui Ne. Special rice paper is used to wrap fish and cassava before a light frying. Dipped in a spicy sauce, these dainties are packed with flavor and melt in your mouth.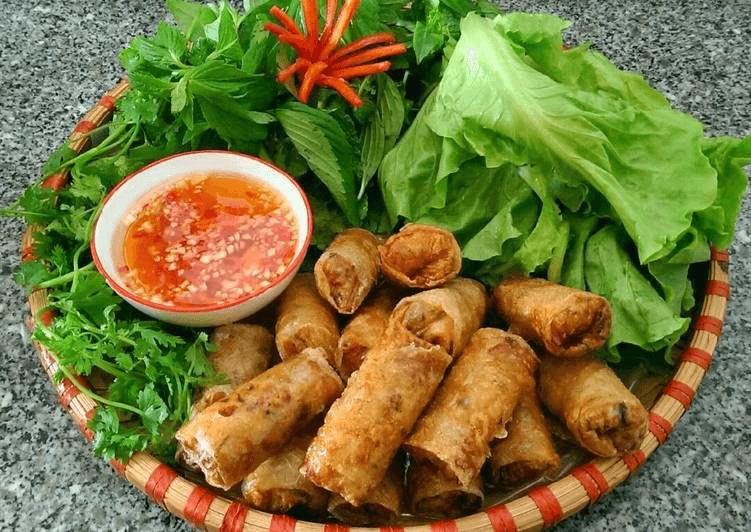 Source: Internet
Bear in mind, these are just a sampling of the disparate dishes offered up by mom-and-pop kitchens, street vendors and culinary chefs. Different cooks pull from various "old family" recipes, so no two venues serve up identical food. Therefore, you're truly on a culinary expedition.
So where to find these varied victuals? For starters, there's a strip of restaurants running from the center of Mui Ne to the fishing village. Nguyen Dinh Chieu Street and Tuyen Quang Street are loaded up. The range varies from cozy to cosmopolitan—something for every taste and budget. "Bo Ke street" runs along the beach near the fishing village and is chock-full of seafood eateries and street food venders with their scrumptious BBQ offerings. The Pit Stop Food Court on Nguyen Dinh Chieu Street (on the beach) is an assemblage of eateries. Not only can you feast on traditional Mui Ne favorites, but there's also a variety of foreign foods as well (Mexican, Italian, American BBQ, Hungarian and Vegan). There's also a smokehouse, a wine shop, a handmade chocolate shop, a cafe, a bar and even a nightclub.
Food is a major aspect of the Mui Ne experience. Food is found everywhere in Mui Ne. With such freshness and diversity, Mui Ne provides dining experiences of epic proportions. So, dig in!