On 3 July, Vietnam shined bright as the venue of the 10th Anniversary Conference of the Event Management Welfare Federation (EMF Global) of India and EMF ACE Global Convention & Awards 2023. The conference paved the way for the boom of event & wedding tourism in Vietnam in near future.
---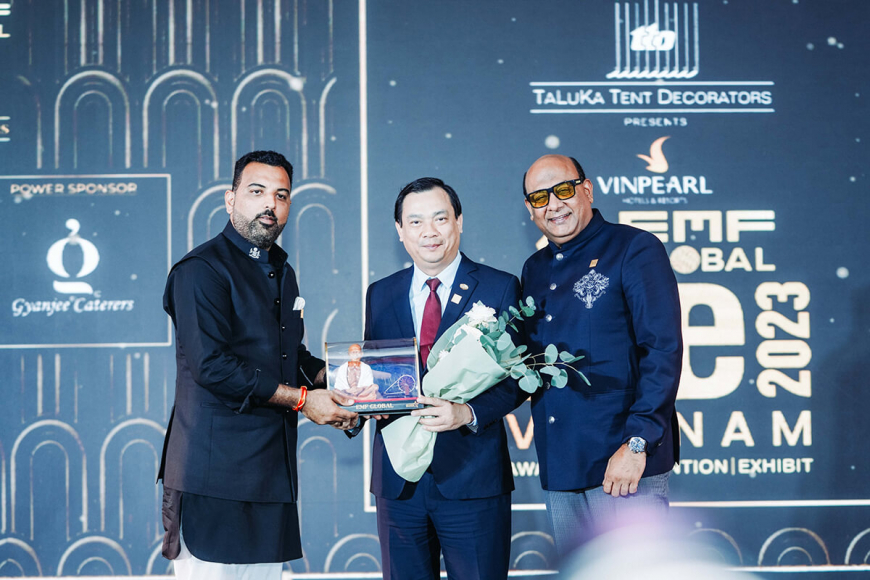 Prince Lakshyaraj Singh of Mewar in Udaipur & Executive Director-HRH Group and Dr. Jaydeep Mehta, Founder President, EMF Global welcoming VNAT's Chairman Nguyen Trung Khanh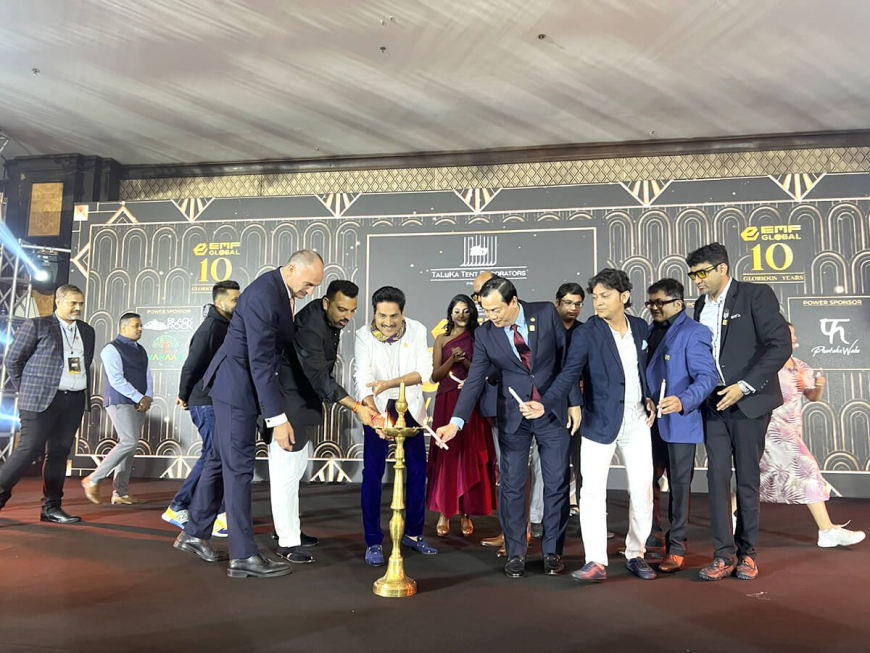 VNAT's Chairman Nguyen Trung Khanh and delegates processing the candle lighting ritual to kick off the event
EMF Global, the big potato in the Indian event & wedding industry, which represents more than 500 event management companies from all over India, has chosen Phu Quoc, Vietnam to be the venue for its prominent anniversary.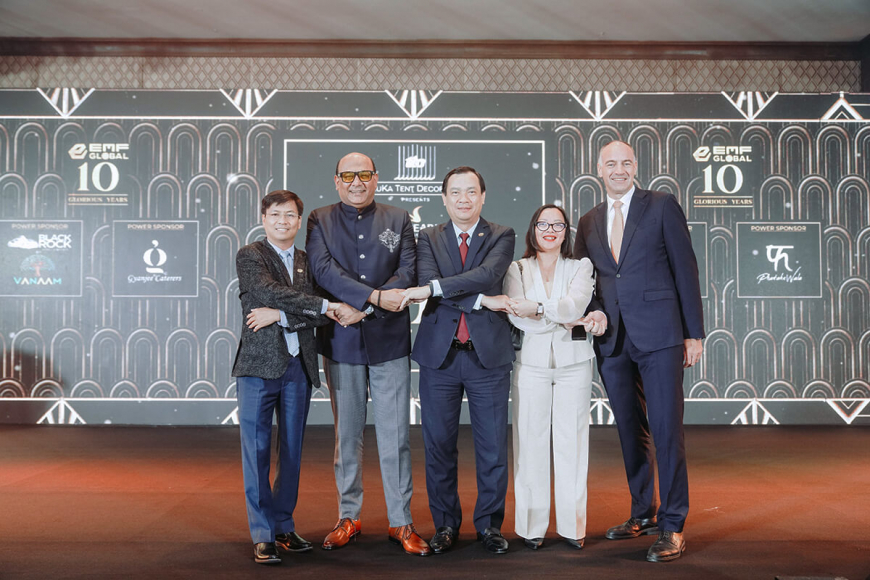 The celebration has the presence of more than 400 distinguished guests, including famous and influential figures of India such as: Prince Shri Lakshyaraj Singh of Mewar in Udaipur & Executive Director of HRH Group; Dr. Jaydeep Mehta, Founder President, EMF Global; Vice President, EMF Global Rajesh Ravani; Honorary Secretary, EMF Global Dipesh Sheth; famous Bollywood actors, costume designers, fashion stylists, writers, poets, singers, musicians...; businesses and organisations in the event and wedding industry.
Dr. Jaydeep Mehta, Founder President, EMF Global emphasised that this year's edition of EMF ACE 2023 is set to be special. It shall act as a conducive platform to further transform the industry that has immensely suffered due to the global pandemic. Moreover, it would introduce the Indian event fraternity to the most luxurious chain of hotels in Vietnam. The convention carries immense scope to act as a launching pad for Phu Quoc city and Kien Giang province, thereby also attracting opulent weddings and grand MICE events to the selected property.
Giving his remarks at the Opening Ceremony of the celebration, Vietnam National Authority of Tourism's Chairman Nguyen Trung Khanh stated, thanks to rich natural resources, beautiful beaches, developed tourist infrastructure, convenient direct flights, simple entry and exit procedures, hospitable people… Vietnam is a rising destination for Indian tourists, especially event and wedding tourism.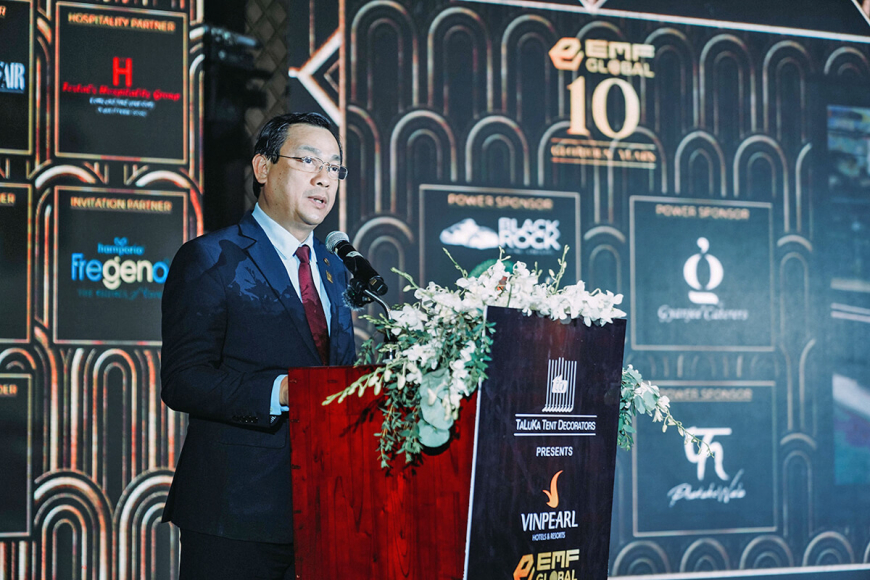 VNAT's Chairman Nguyen Trung Khanh giving speech at the event
Vietnam has been the venue for several grand wedding ceremonies of Indian billionaires. VNAT's Chairman believed Vietnam's famous attractions such as Phu Quoc, Nha Trang, Ha Long, Hoi An… would be beloved places of Indian visitors.
Regarding air connection, Vietnam Airlines, Vietjet Air of Vietnam and Indigo of India have respectively operated flight routes connecting the cities of Ha Noi, Da Nang and Ho Chi Minh City, Phu Quoc of Vietnam with New Delhi, Mumbai, Ahmedabad, Hyderabad, Bangalore, Kolkata of India, ensuring the most favourable condition to travel between the two countries.
Especially, Vietnam's National Assembly has approved to extend the validity of e-visa from 30 days to 90 days and allow multiple entry. Citizens of countries that are unilaterally exempted from visas by Vietnam will be granted temporary residence for 45 days (up from 15 days). This policy comes to effect from 15th August 2023.
The event of EMF Global is an open door for Vietnam to develop event and wedding tourism. Vietnam is more than ready to welcome visitors from India and all around the world to come, explore, relax and play in this beautiful country!