Theme parks may not be to every traveller's taste. But Sun World Ba Na Hills − the European-themed recreational complex in the Trường Sơn Mountains, about 30km from Danang – certainly draws the crowds. That's because it offers every visitor, of all ages , an entertaining day out in cool climes.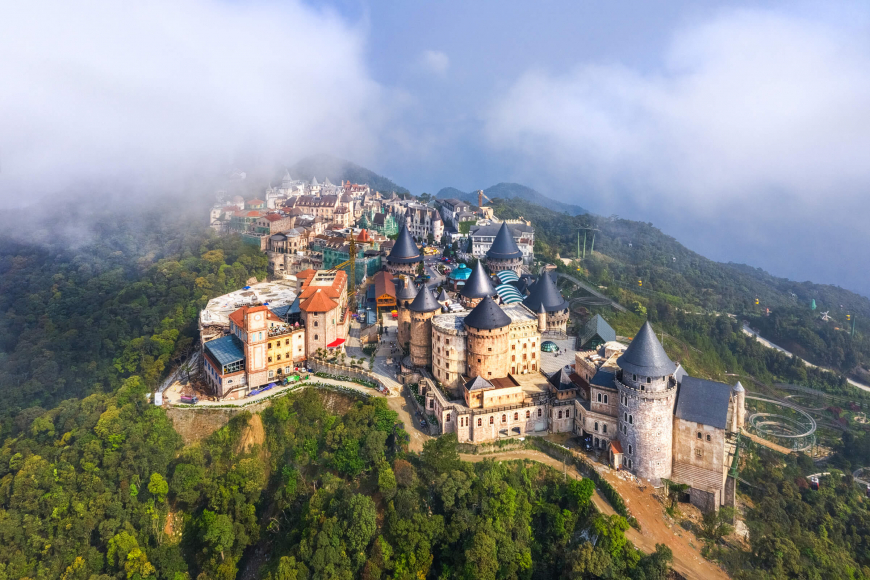 Ba Na Hills was formerly a popular vacation spot of the French, complete with villas and a resort. It fell into disrepair – until it was developed into the popular theme park it is today.
Families visiting Danang with kids should certainly visit, as its many activities and amusements will keep children happy. But friend groups or solo travellers will also enjoy going. Here are suggestions for things to see and do …
---
Savour stunning views from the award-winning cable-cars
The only way up to Ba Na Hills is via the cable-cars, so your entry includes a round-trip. CNN ranked this infrastructure among the 10 most impressive cable-car systems in the world, and it's won more than one Guinness World Record besides. There are various cable lines and stations, depending on where you want to reach. Want to start at the famous Golden Bridge? Take the Hoi An (05) ground station. Whichever one you choose, you'll be rewarded with a picturesque ride boasting incredible, 360-degree views. On a clear day, you can see as far as Danang and the sea.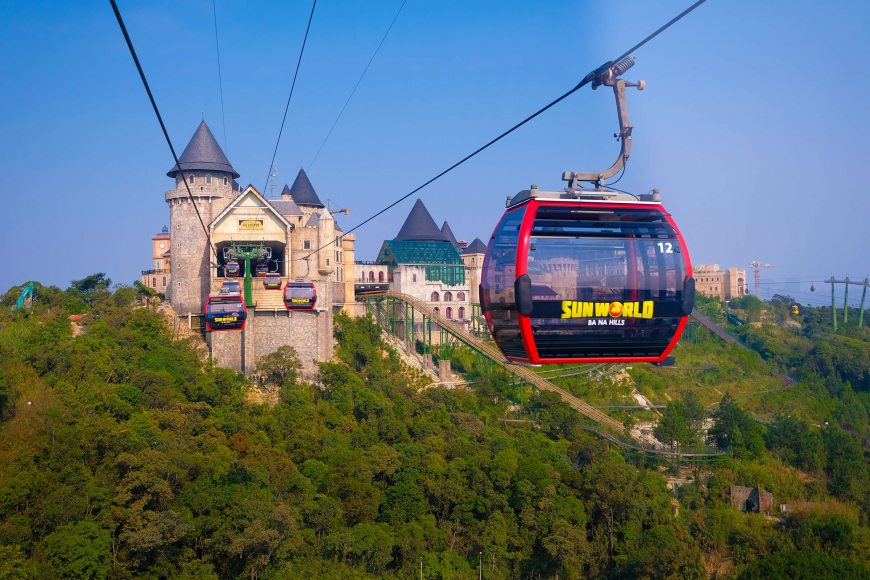 Stroll and stop for selfies
At the top, wander the French Village for photo opps aplenty. It has everything you'd expect from a medieval village – think a town square, cute cafes, a cathedral and fountain. It looks realistic, so as you walk the cobbled streets and hear the French music playing, you'll feel transported to Europe of yesteryear. Pose beneath archways, below balconies, beside vintage-looking bikes … or anywhere there, really, for your next memorable profile pic.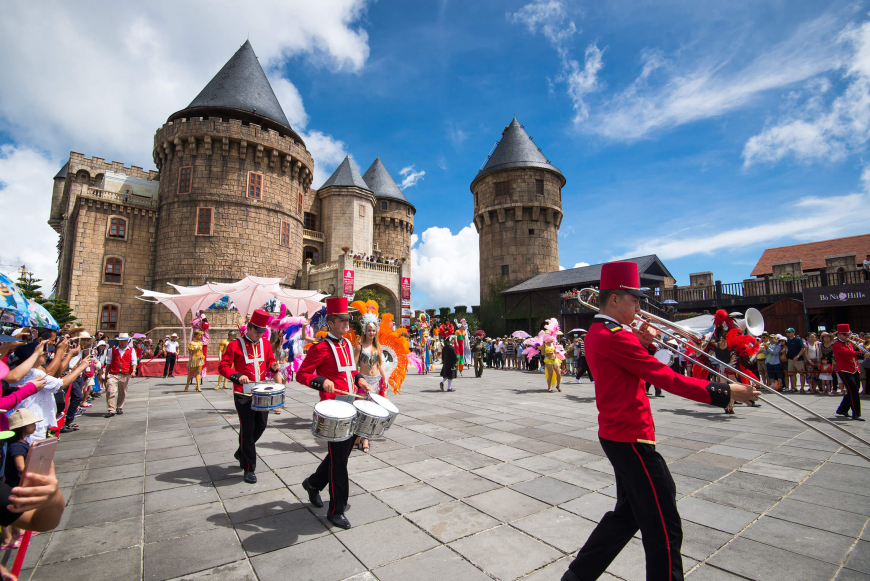 Walk Vietnam's most iconic bridge
Want to feel like you're skipping through clouds on a golden ribbon? See the Golden Bridge, which you've no doubt already admired online. The 150-metre-long bridge, which has two giant hands holding the walkway, has inspired many imitations worldwide. Most recently, Ian Markiewicz − visual effects supervisor for the Netflix series "The Sandman", based on the Neil Gaiman comics – said the bridge in the opening scenes was inspired by the Golden Bridge.
Note: This architectural marvel gets busy. To capture a shot without other tourists in sight, go early.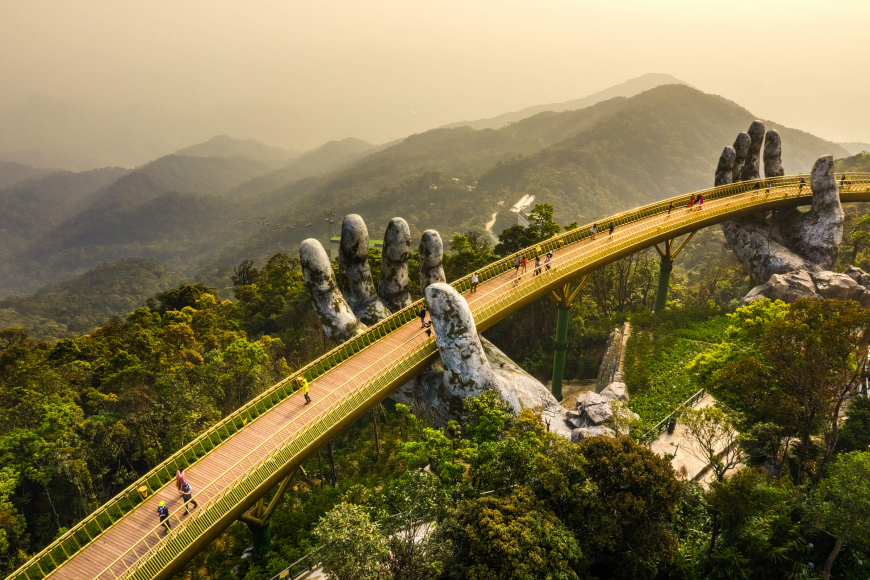 Tour the beautiful gardens
Want to take a romantic stroll among landscaped gardens? Hop on the one-of-a-kind funicular to get to Le Jardin d´amour. It comprises nine different gardens designed in different styles. There's a garden maze, a giant chessboard, and loads of hedges, balustrades and blooms for capturing beautiful pictures.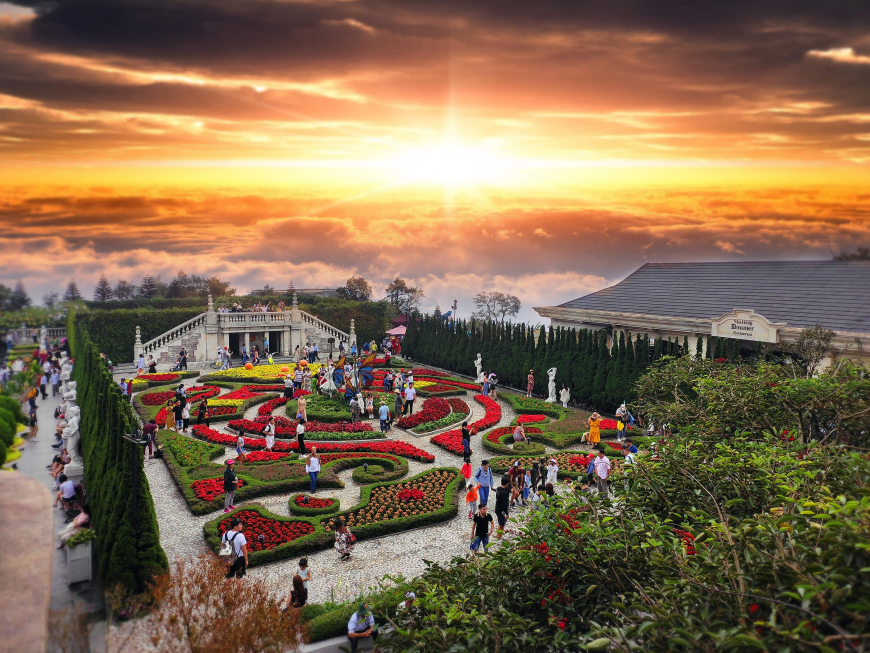 Enjoy thrilling entertainment
Kids (and adults alike) can get their kicks at the enormous Fantasy Park entertainment area, divided into three floors. Enjoy the video arcades on Level One ('Thrill Zone'), where you can also walk through the mirror maze or ride the bumper cars. Watch a film at the 3D, 4D and 5D cinemas on Level Two ('Spirit of Adventure'). Alternatively, there's a 3D, 360-degree mega-cinema on Level Three ('Mystery World'), for an immersive experience. Looking for a real thrill? Brave the 29-metre drop-and-twist tower – a ride that's not for the faint of heart. It was inspired by two classic adventure novels − "Journey to the Center of the Earth" and "Twenty Thousand Leagues Under the Sea"− so the whole ride feels like coursing through a story full of surprises. Another fun one is the outdoor Alpine Coaster, a roller-coaster with brakes that you can ride slowly or leave to race up to 40km/h.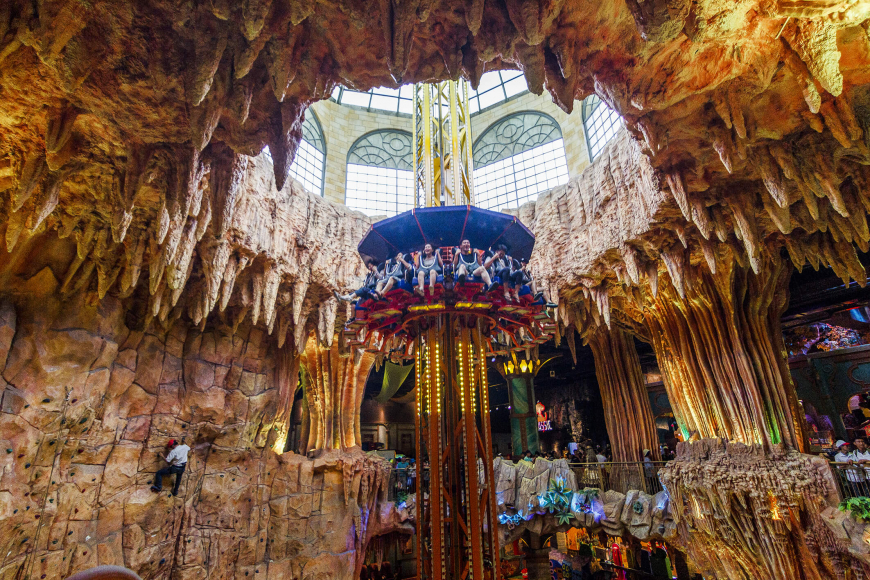 Marvel at the figures in the wax museum
Admire the work of Italian artists at the Wax Museum, where you'll see hyper-realistic wax figures of celebrities from many fields, such as sport and entertainment. Pose for a picture with singer Taylor Swift, former US President Obama, footballer David Beckham, martial art legend Bruce Lee, and others. They may not be real people, but they certainly look like them. In addition, you'll learn about the painstaking process of creating these lifelike figures.
See the spiritual sites
Vietnam is synonymous with spiritual structures adorning mountain tops. Catch your breath away from the crowds at the Linh Ung Pagoda. At 1,500 metres above sea level, it offers fantastic views. It also boasts one of the biggest Buddha statues in the land, which sits serenely on a five-metre wide circular base, and is 27 metres tall. Other spiritual attractions include the Linh Phong Zen Monastery and the Holy Mother Shrine.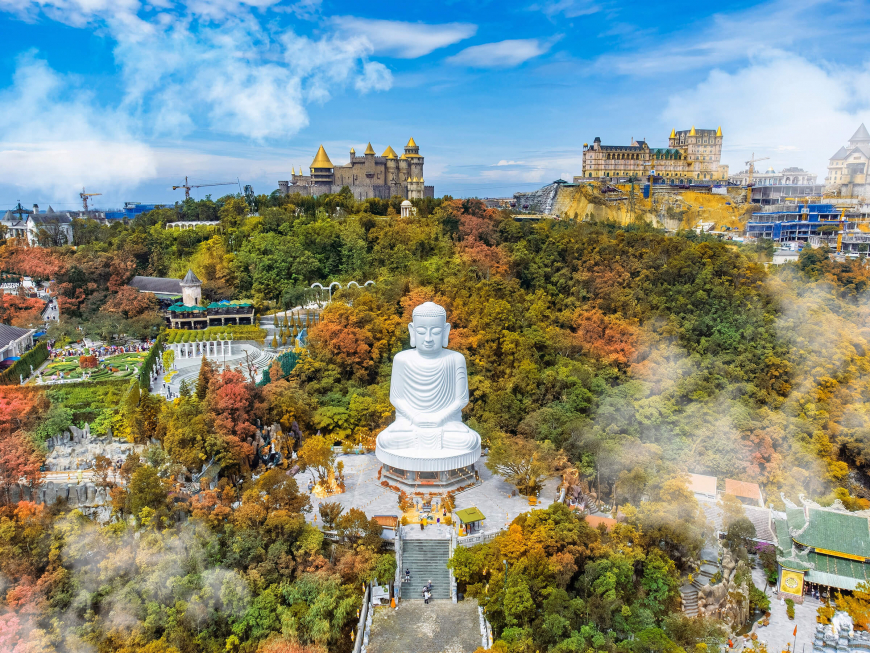 Go wine-tasting
The only part that remains from when Ba Na Hills was a French resort is the Debay Wine Cellar. It was built deep into the mountain in 1923, so that wine could naturally be stored at temperatures of between 16°C – 20°C. Learn how wine is produced, and sample some varietals. There's also an annual wine festival during May.
Take a tea break with a view
Vietnam's centuries-old tea culture is well known. If this is your beverage of choice, stop at the Tru Vu Tra Quan Tea House for a fresh cuppa. It's built in a traditional Vietnamese style, and is surrounded by soothing scenery.
Play a round of golf
At the bottom of Ba Na Hills there's a par 72, 18-hole Championship golf course designed by golfing pro Luke Donald. With non-stop greens, water features and the surrounding forest, this is one of Vietnam's most attractive courses. The best views are from the tee box at the par-3 12th hole.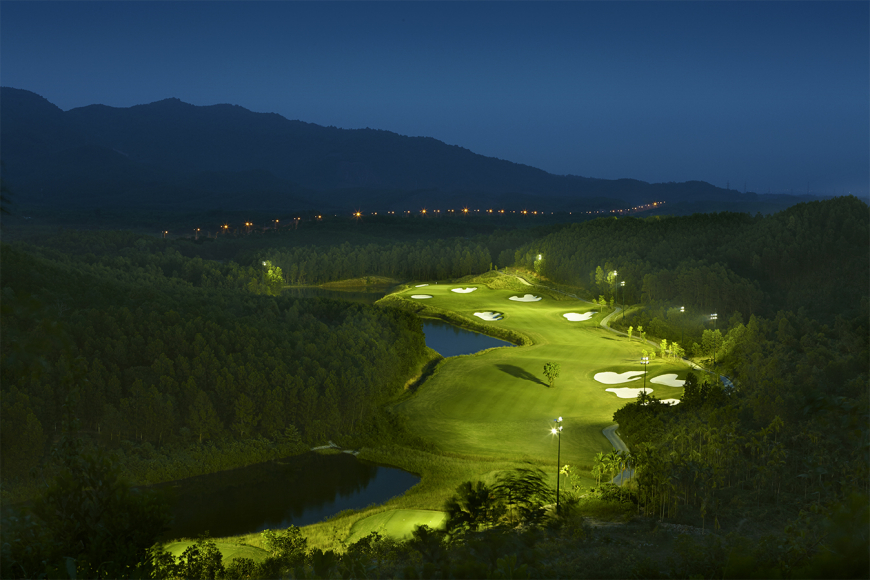 Source: Internet
Going to Ba Na Hills? Dress to potentially experience four seasons in one day. During the rainy season (September-October), bring an umbrella. The place gets packed in summer, so buy tickets before to avoid queues. Enjoy festivals? Several are held here annually, such as the flower festival, carnival, and winter festival.