Whatever you expect from Da Nang, you're in for a surprise. Framed by mountains and embraced by the Han River and the East Sea, Da Nang is a rising star in the region. There's a lot to take in.
The sandy sweep of My Khe beach — lined with new hotels, seafood halls and fishing boats — leads the eye to where the statue of Linh Ung stands serenely overlooking the waves. The old city centre with its overflowing markets and hushed pagodas still functions, just a few streets away from hipster cafes and design boutiques. Just when you think it's all breathless forward motion, a moment of local life peels back the paint to reveal Da Nang's easy, laidback culture. Here's how to nail your first visit.
---
Hit the beach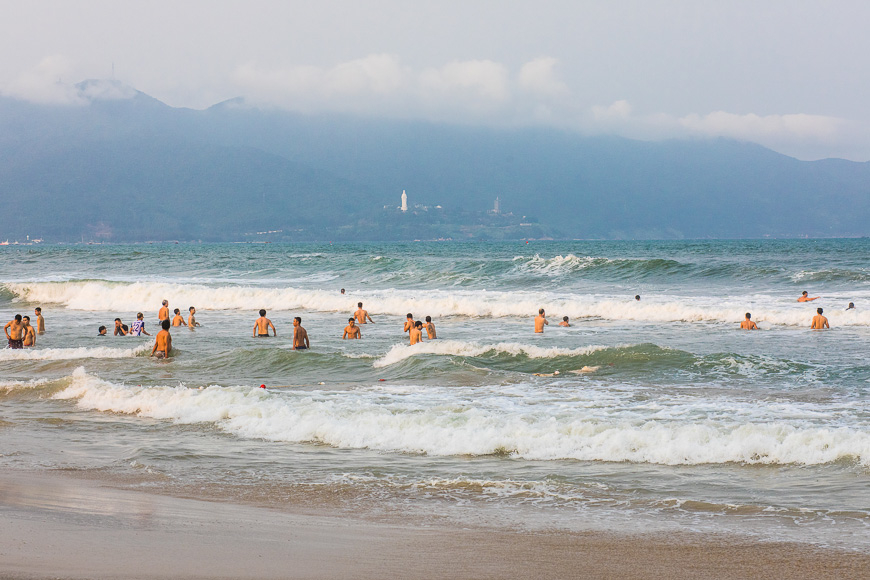 Start by getting some sand in your toes. Early morning or late afternoon are the best times to join or observe crowds of cheerful Vietnamese exercising and swimming in the soft sunlight at My Khe beach. At any time of day, you can test your balance with surfing, SUP and other watersports, or simply grab a lounger spread out — it's up to you.
---
Pay a visit to Marble Mountains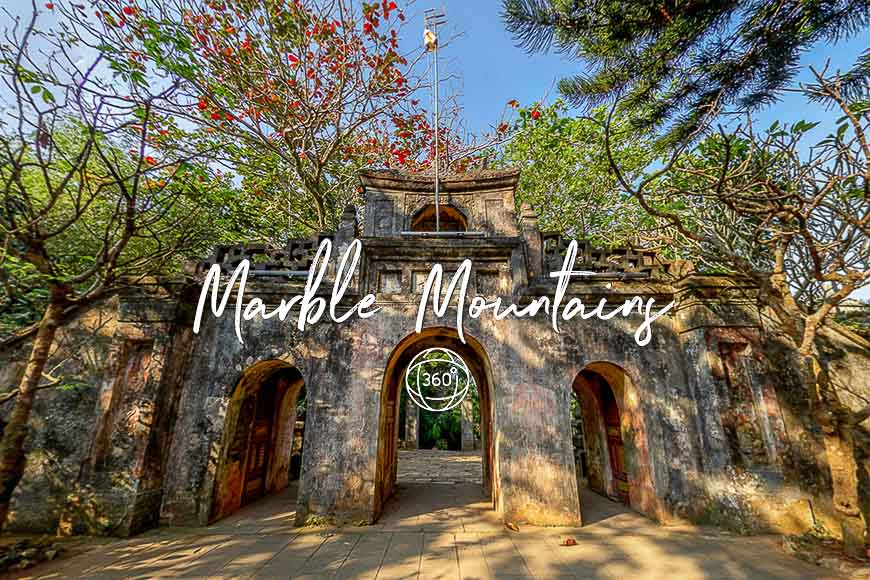 Just before 7am is the perfect time to make your way up the sheer steps at Marble Mountains. This compelling collection of pagodas set atop a marble will welcome throngs of visitors later in the day, but still feels fresh and sacred at sunrise. Wander around photogenic pagodas, feel cool currents of air in ancient caves, and climb to the lookouts for panoramic views. Click here to take a 360-degree tour of Marble Mountains ahead of your visit.
TIP: If you enjoy visiting pagodas, you may like to make the 15-minute drive out to Linh Ung Pagoda, an enormous complex with a towering statue of Lady Buddha which is said to protect Da Nang from storms and bad weather. For a unique local experience, search for Tuong Quang Pagoda in town.
---
Go cafe-hopping in town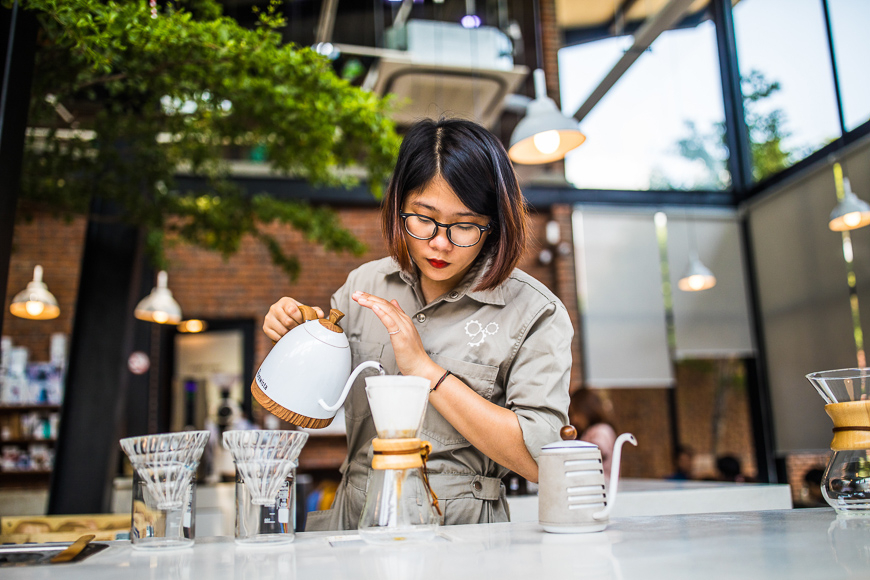 Every Vietnamese city has its favourite cafes. Some are for long, long catch-ups over cups of drip-filter coffee on the sidewalk, some are for long, long catch-ups over drip-filter coffee in a retro-chic setting, and some are for long, long catch-ups over artisanal coffee in cool industrial spaces. Check out Cafe Long, Nam House, and 43 Factory, for a sampler.
---
Soak up some culture at Cham Museum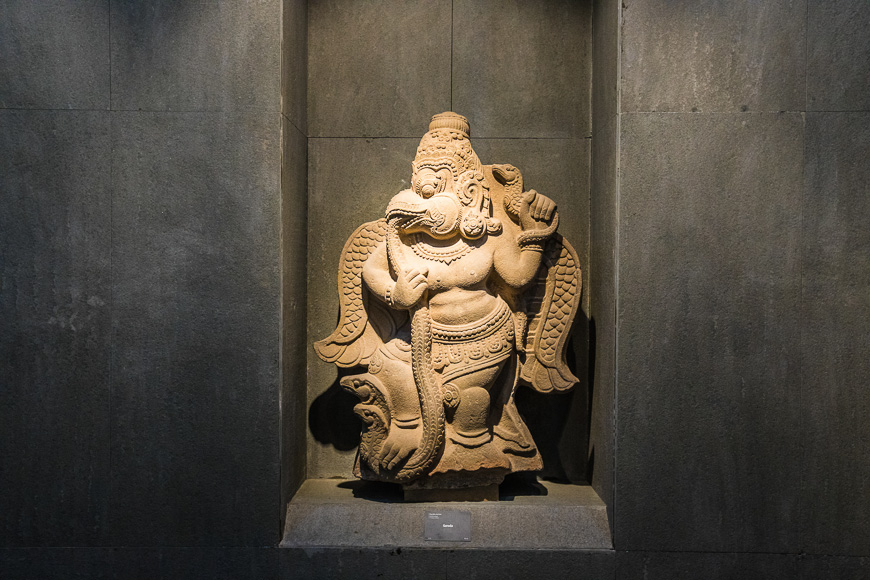 Museum lovers, you're in luck. The Cham Museum of Sculpture, one of the country's top museums, claims a breezy spot along the western Han riverbank. You don't have to be into archeology to appreciate the beauty of these stone pieces, sourced from former Champa sites in My Son, Tra Kieu, Dong Duong and Thap Mam. The original building, dating back to 1915 and expanded in the 1930s and 2002, is a work of art in itself.
---
Sample Quang Nam specialties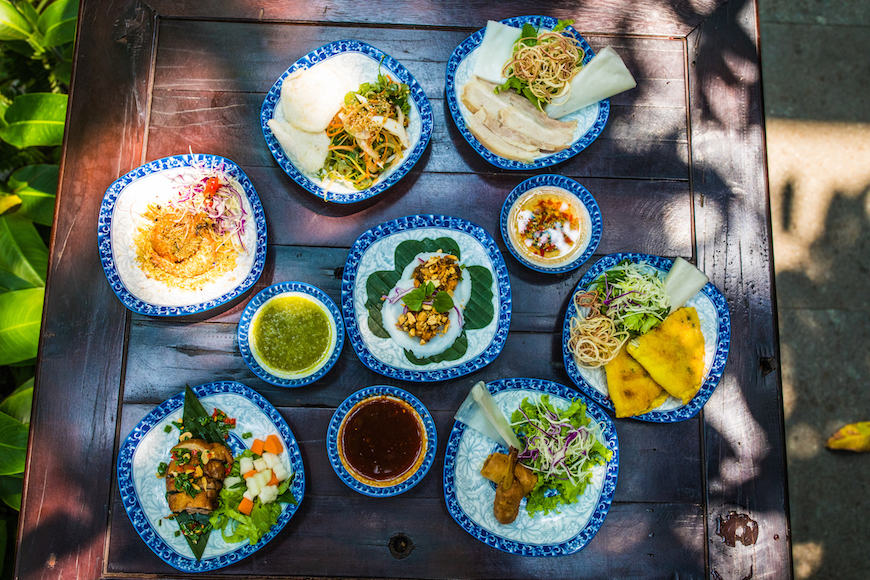 We hope you come hungry (or ravenous) because Da Nang's cuisine is a showcase of Central Vietnam's top hits. Don't miss a bowl of life-changing mì Quảng noodles in peanut and pork broth, savoury Hue dumplings such as bánh bèo and bánh nậm, and aromatic fish paddies and slurp-worthy noodles in bún chả cá.
TIP: Set in a beautiful green courtyard, Villa Ngon serves an excellent, all-you-can-eat menu of delicate Vietnamese dishes for lunch and dinner.
---
Take a stroll down Bach Dang St.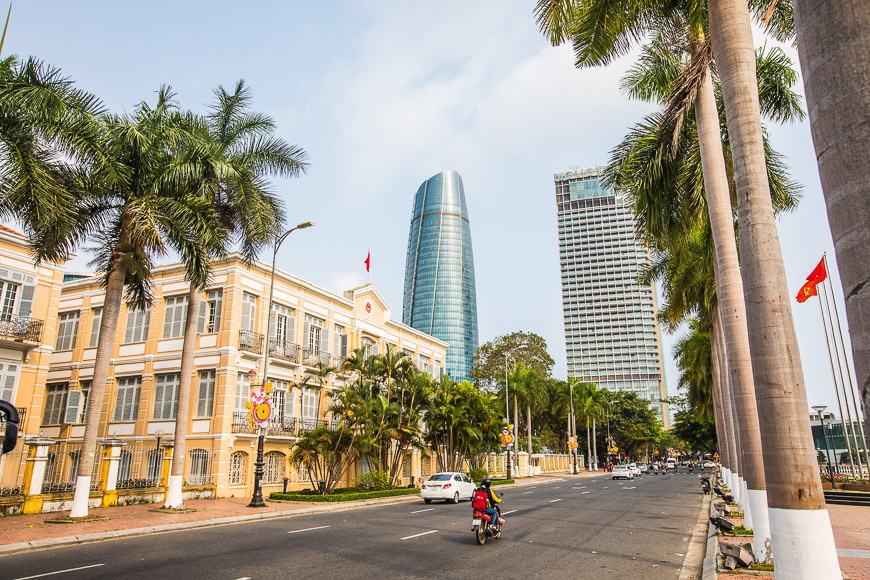 Here's a mini walking tour you can do yourself. Start from the junction of Bach Dang and the Han River Bridge just before sunset. Work your way along the water's edge, passing some of the city's most striking modern and colonial architecture, great souvenir shops, pavement cafes and marble sculptures on the way. After, treat yourself glass noodles with fresh crab for dinner at Madame Han.
---
Hoof it over Hai Van Pass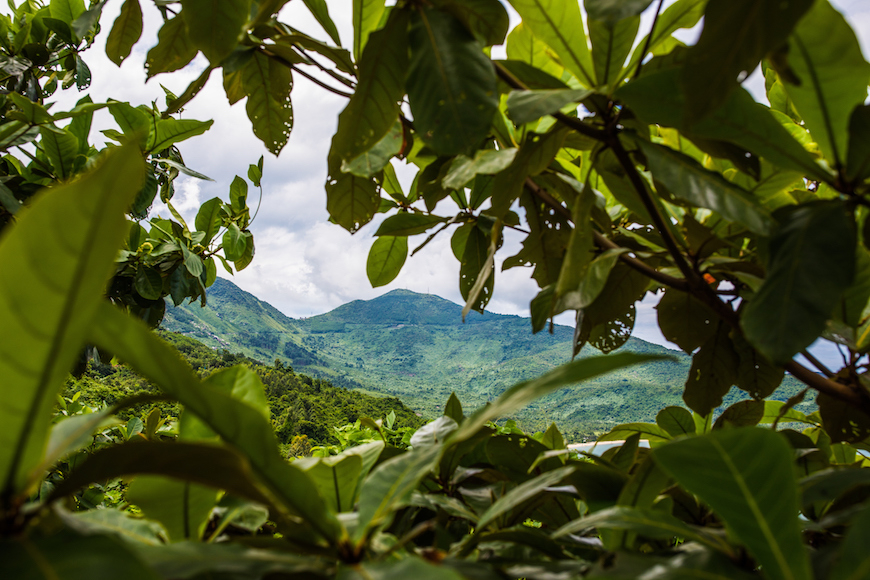 The name Hai Van translates into 'ocean cloud', so — surprise, surprise — you can expect a lot of ocean views and misty peaks on this 21km stretch of asphalt that climbs, twists and snakes its way over the mountains into Hue. At its highest point, Hai Van Pass reaches 496 metres above sea level. Motorbike is the ideal to take in the spectacular coastal scenery: jade seas, jungle-covered hills and rocky outcrops. Feeling adventurous? You can also cycle or ride the train.
---
Try avocado ice-cream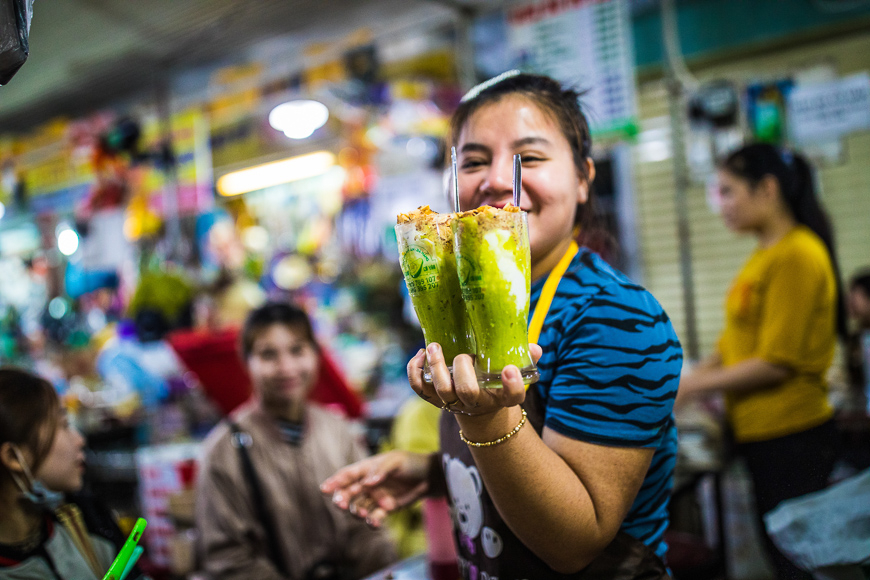 Cho Bac My An is a small-ish market in Da Nang filled with tidy stalls piled high with fruits, vegetables, dry goods and more. Duck inside the market to locate one special avocado ice-cream (kem bơ) stall, loved by Da Nang's youngsters for its creamy, cold coconut and avocado slush topped with jackfruit crisps.
---
See the city's best bridges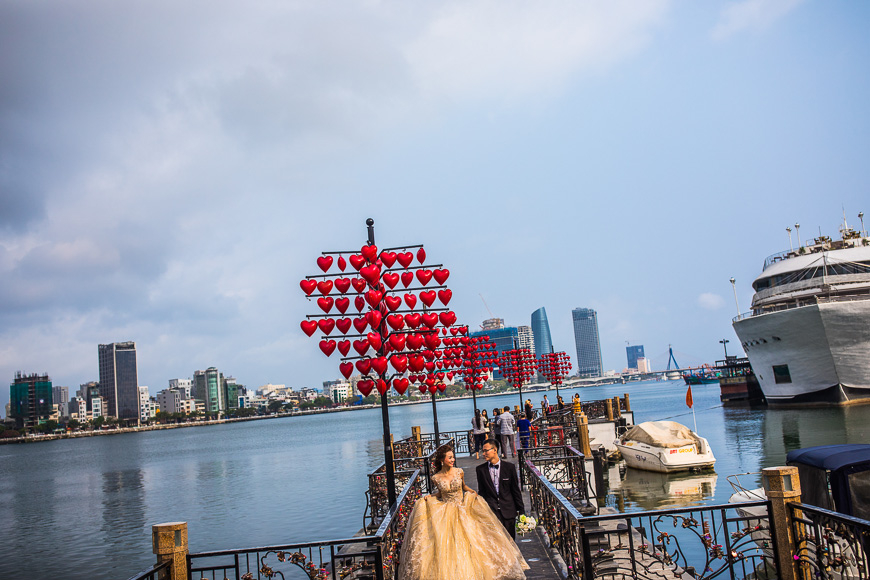 Da Nang is sometimes called the 'City of Bridges', and its seven over-the-water structures are an iconic part of the city's makeup. The striking yellow Dragon Bridge is the best known, however selfie enthusiasts may also like to strike a post on the Love Bridge: a wooden pier weighed with countless padlocks of every colour. Of course, the much-photographed Golden Hands Bridge tops them all, with its breathtaking views of Ba Na Mountains.
---
---
Sip sundowers at a rooftop bar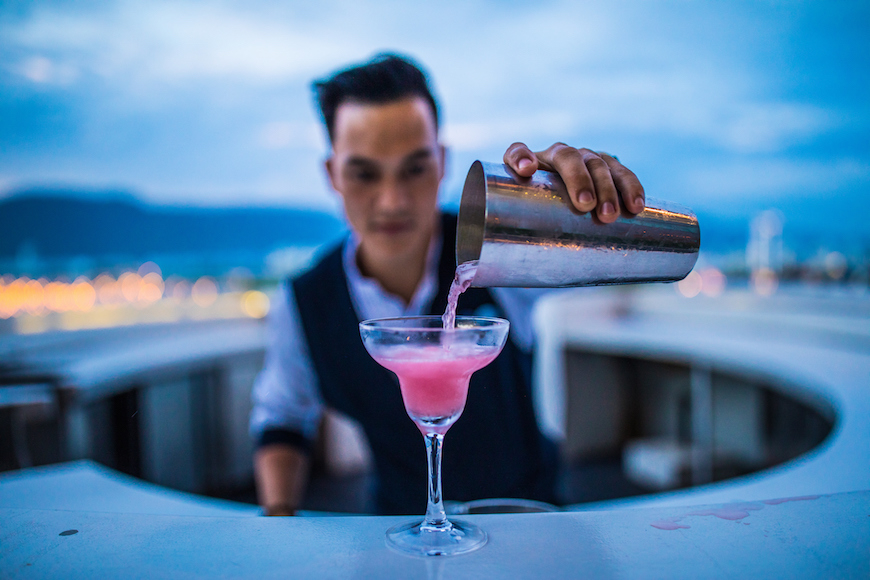 Da Nang has no shortage of breathtaking bars and swimming pools perched high above the beach and city skyline. After full day of exploring, a refreshing dip and well-mixed cocktail are a welcome tonic. After dark, the party continues at Da Nang's craft beer bars, rooftop clubs, and sidewalk bia hois. If you need some inspiration, head over to 7 Bridges or The Top Bar at A La Carte Hotel.
---
Want more Vietnam travel ideas? Sign up for our newsletter to receive our best stories in your inbox.