Cái Bè is an idyllic slice of the Mekong Delta, just two hours from Ho Chi Minh City. Although the rest of Vietnam uses the saying "thoải mái đi" (take it easy), the people of Cái Bè live by it. A town of mostly fruit farmers and river fisherman, Cái Bè operates on a relaxed schedule: the morning is for commerce and hard work, the rest of the day is about taking it slow.
Rise early to witness market life play out on the water, then kill time cycling through Tân Phong Islet, sipping cà phê sữa đá in a hammock, and floating down leafy canals. Here are some reasons you'll love your time in Cái Bè.
---
Boats and river life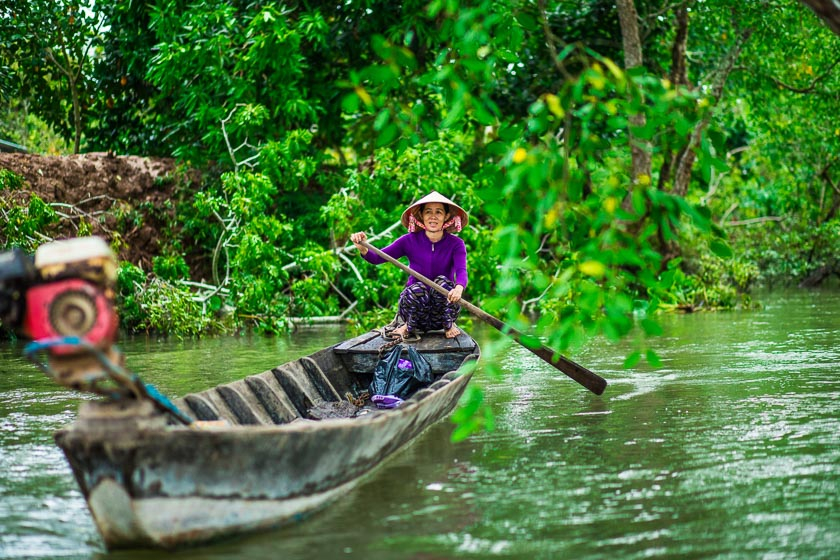 In the Mekong Delta, life is lived on the water. Rivers and canals wind through the region, and locals grow up paddling boats and travelling by ferry. Get a taste of this unique culture by taking a sampan to explore small channels and mangrove forests. Women typically row sampans standing up while skillfully navigating the currents and twists of each waterway. Wear a nón lá for sun protection as you float gently down the streams of Tiền Giang District, passing locals fishing for catfish, children playing on the banks and families doing household chores in stilt houses.
---
Farms and fruit orchards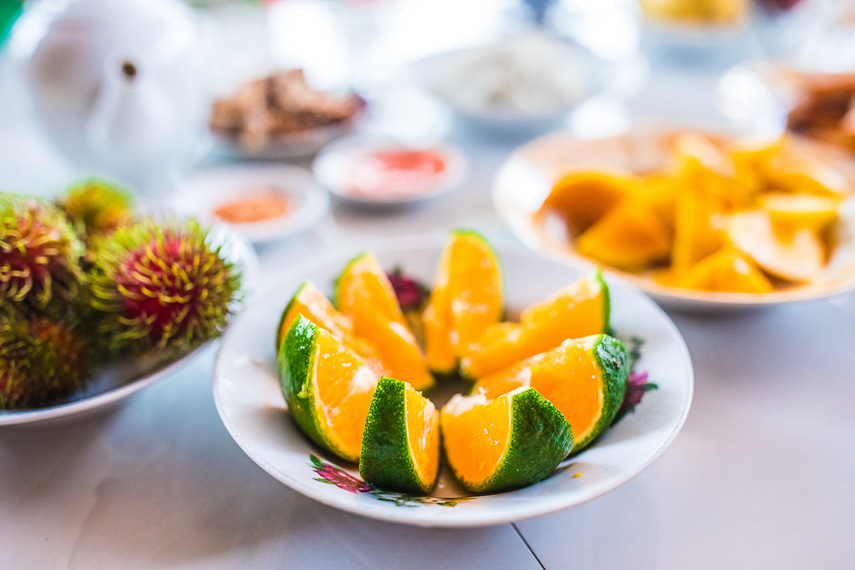 Tân Phong is an islet in the Mekong River accessed via a five-minute ferry ride. The island is a tropical haven. Narrow channels criss-cross the land, creating rich soil that Cái Bè farmers cultivate to grow delicious fruits. Plump jackfruits, rambutans, mangoes and mangosteens hang heavy from trees that cover every inch of the island. Give yourself an afternoon to explore the tiny lanes of the islet by bicycle. Ride over tiny bridges and along the water's edge, all the while surrounded by lush greenery.
TIP: Come tea time, pop into Hải Yến Bee Farm for a tour of their honey farm, and then relax with a delicious honeyed drink.
---
Colourful riverside commerce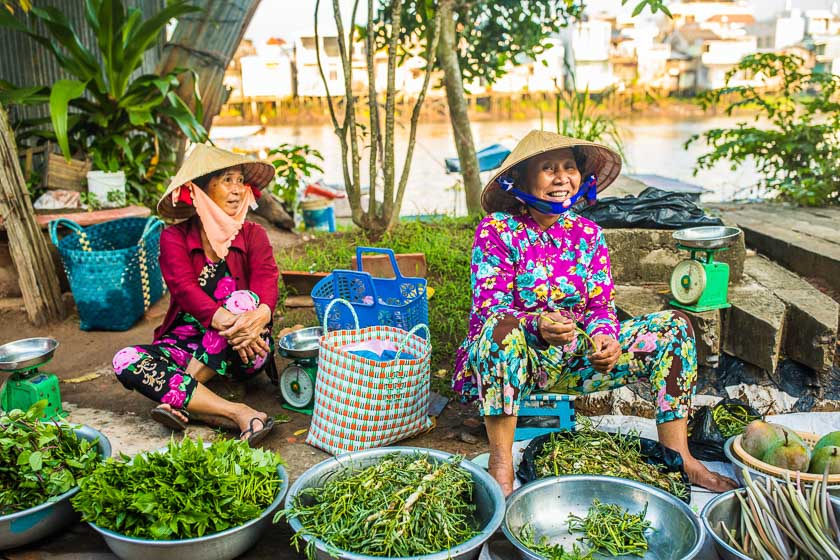 Cái Bè town gets started early, and you'll want to as well. Wake up at dawn for a magical ferry ride at sunrise, and ride a bicycle over the town bridges and through the morning markets. The Tiền riverside market is easily recognizable. Under the battered tarps, fresh fruit and flower vendors wait for customers while conversing with friends or playing Chinese Checkers. From there, head to Cái Bè Church, built by a Catholic German priest in the early 20th century. Look out for small pagodas, Buddhist shrines and Hindu temples scattered across town -- a reminder of the multi-cultural character of the Mekong Delta.
---
Memorable homestays
Experience firsthand the hospitality and warmth of the Mekong Delta people by choosing a family-run homestay in Cái Bè. Mekong Rustic is a sustainable operation with a homestay option or private bungalow option set in flowering gardens on Tân Phong Islet. Here your hosts will cook up fabulous local meals and spoil you with fresh fruit and Mekong Delta sweets throughout the day. Homestays such as Mekong Rustic also organise community-based tours to craft workshops and artisans in Cái Bè. Allow a few days to get into the local rhythm, and let yourself be fully refreshed by the abundance and beauty of Cái Bè.
---
Traditional folk music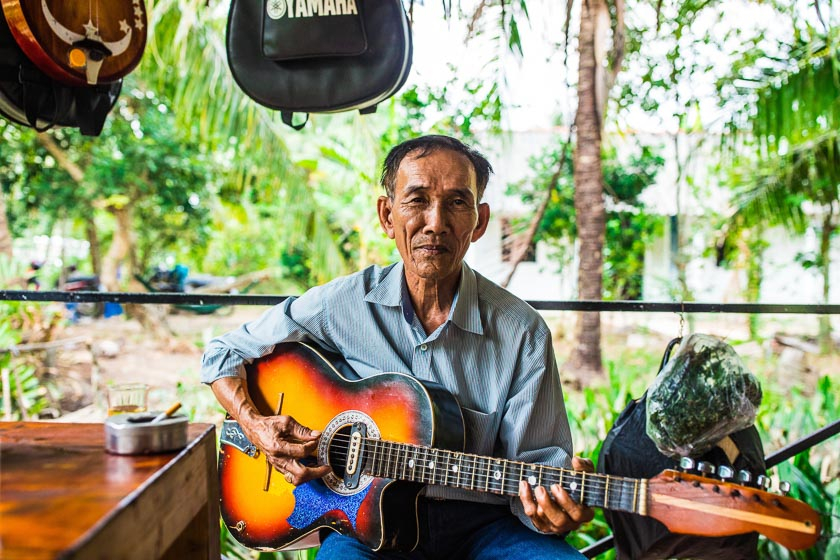 The people of the Mekong Delta are known for their love of music. Cải Lương, a Vietnamese style of folk opera originally from the Mekong Delta, is a mix of ballads and theatre accompanied by a musician playing a zither or, in modern renditions, a guitar. The amusing storylines are often set in Vietnam's countryside and can be lighthearted, sorrowful, or both. Regardless of language barriers, it's easy to enjoy Cải Lương, thanks to expressive acting and melodious singing. The Mekong Garden Restaurant, on Tân Phong Islet, is one of the places that performs Cải Lương music throughout the day and at dinner time.
---
Want more Vietnam travel ideas? Sign up for our newsletter to receive our best stories in your inbox.