The Chau Doc riverfront is the perfect scene for a 1000-piece puzzle. The pieces would have colourful stilt houses, olive water, lush green islets, floating fish farms, barges and motorboats, and of course the brilliant blue skies and cottony clouds of southern Vietnam.
If you're a traveller who likes to go deep into local culture, you'll love Chau Doc. Here you can encounter all the exotic tastes, sights, and sounds of a border town, and enjoy the soothing beauty of the Mekong Delta from morning to night. Read on to discover the best ways to spend your time in this vibrant riverside town.
---
Take a tour of the market

There's no way to prepare yourself for the sprawling Chau Doc Market, so just stroll right in. On the outskirts, vendors sell steaming bowls of fish noodles and strong coffee; and on the waterfront, boats pull up to unload produce from all over the region. Bushels of flowers, fruits, and vegetables are set out on the sidewalk in eye-popping displays. Look up to note the old lettering on the shop signs: a reflection of Chau Doc's multi-cultural heritage.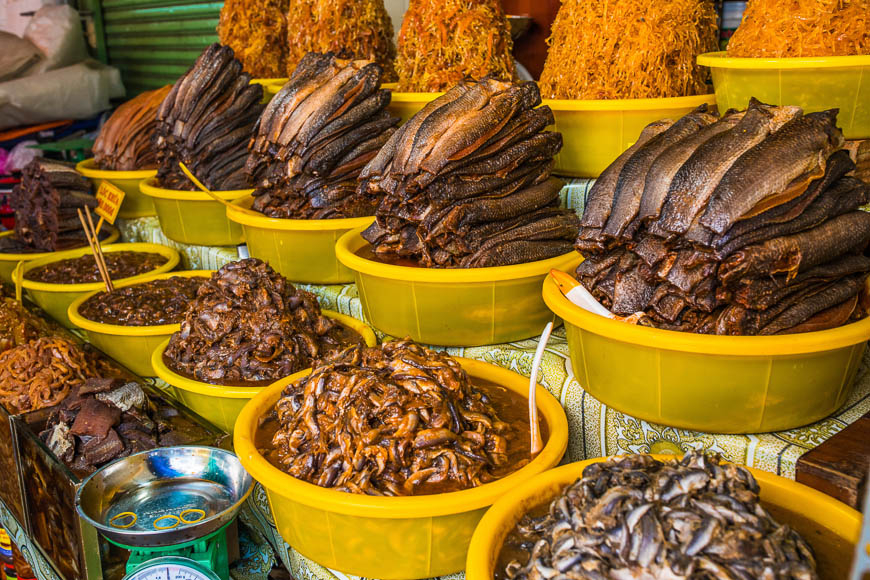 Before you know it, you'll get a whiff of mắm, the fermented fish that is Chau Doc's specialty. Wander around the market to admire stacks of fish — pickled in palm sugar, salt, chili, and garlic — fermenting in the open air. Towering mounds of tamarind, bowls of jellied sweets, and flapping fish are everywhere you turn. The market is a hive of activity, and the best place to get a close-up look at the Delta's bountiful produce.
---
Explore ethnic culture

Chau Doc's two islets, Chau Phong and Chau Giang, are fascinating places to learn about ethnic culture. When the Cham people settled along the Hau River decades ago the brought with them their own distinctive architecture and Sunni Islam religious practices. Cham women wear veils and Cham men don sarongs, and each community has its own mosque where prayers are held five times a day.
A walk around the islets reveals ancient stilt houses decorated with wooden motifs. Houses are connected by boardwalks, designed to float above the river's changing tides. Visit a weaving workshop to watch Cham women weave clothing on complicated looms. Light and versatile, the checkered Cham scarves are the perfect accessory for travelling in the Delta.
---
Taste Chau Doc cuisine

Chau Doc's cooks are experts in spotlighting freshwater fish from the river. Bún cá (fish noodle soup) made with rice noodles, turmeric, and crunchy điên điển flowers is a classic Chau Doc breakfast. Season your bowl with chilli and lime juice just like the locals do. Another must-try Mekong Delta dish is cá kho tộ, caramelised fish in claypot. Cooked for hours until the fish is tender and flaky, the salty taste goes perfectly with hot rice and greens.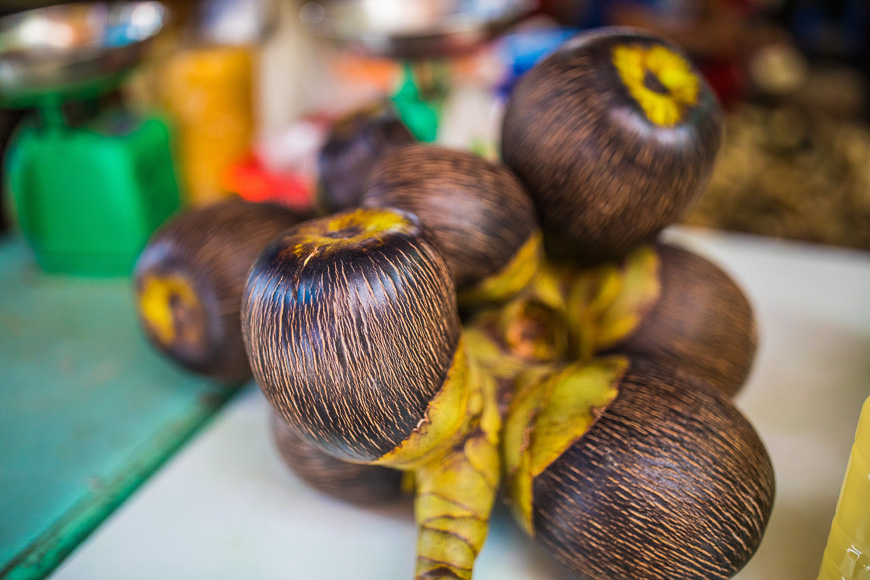 Palm nuts from the plains around the town are another unique Chau Doc ingredients. The nuts yield a clear jelly that locals mix with coconut cream and shaved ice to make chè. Try this sweet soup as an afternoon snack or a light dessert. For a satisfying shared dinner, order seafood hotpot: vegetables, mushrooms, noodles, and herbs blanched in boiling hot and sour soup.
TIP: When visiting Chau Doc, keep your eyes open for bánh bò Chăm, a soft yet crispy cake made with palm sugar and coconut milk. Each cake is cooked using hot clay lids and is eaten warm straight from the fire.
---
Bliss out on boat rides

Boats are an essential part of life in the Mekong Delta, and locals board ferries and sampans every day to get from one place to another. Wake up before dawn to see the floating market — a collection of brightly painted wooden vessels selling loads of sun-ripened fruit on the water. Or pay a visit Chau Doc's floating fish farms, a major source of income for local families.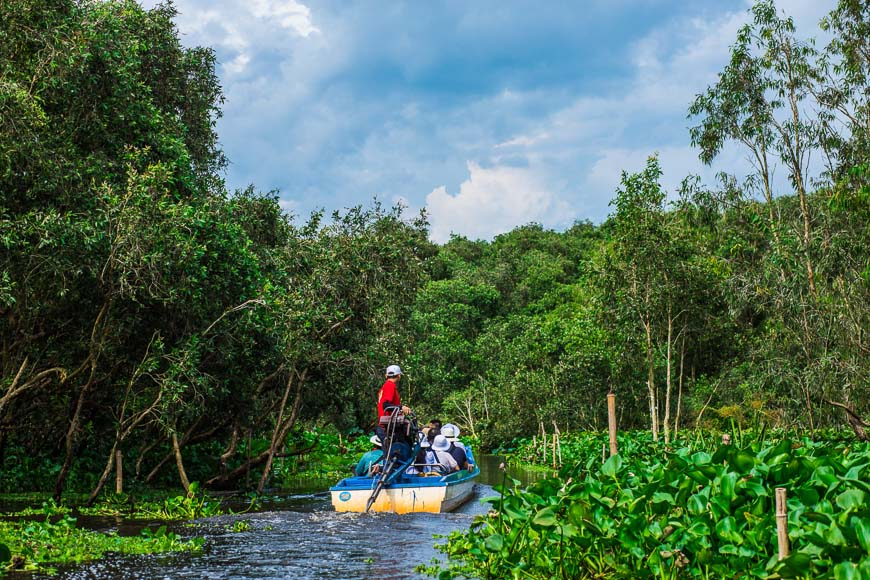 Just 23 kilometres outside of Chau Doc is a green oasis where you can spend an afternoon beneath a canopy of trees. The Tra Su Forest covers 850 hectares of cajeput trees, including a flooded mangrove forest which you can cruise through on small motorboats. Look out for birds as you as you glide over a green carpet of duckweed, lotus flowers, and floating hyacinth.
---
See sacred sites on Sam Mt.

Of all the gently rising hills around Chau Doc, Nui Sam (Sam Mountain) is considered the most sacred site. Its steep slopes are dotted with temples and pagodas. Climb the steps up to Chua Hang (Cave Pagoda) for breathtaking views stretching all the way to Cambodia. If you have time, you can explore a network of snaking caves that burrow deep into the mountainside.
TIP: Sleep in a terracotta bungalow on the mountain to wake up to fantastic views from atop Nui Sam at sunrise, and enjoy breakfast high above the plains and palm trees.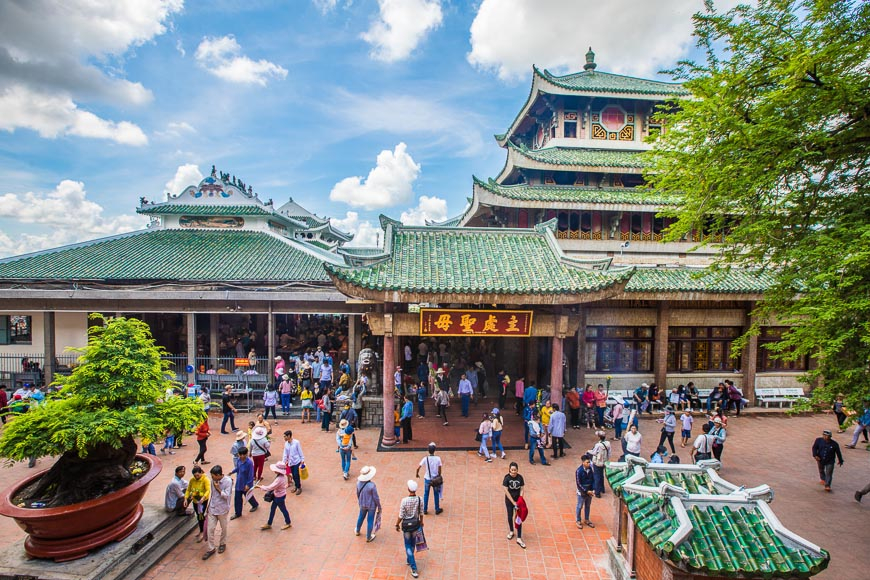 At the foot of Nui Sam, Mieu Ba Chua Xu is one of the busiest religious sites in Vietnam. On the steps outside, devotees prepare offerings of whole pigs and roast chickens, towers of fruit and rice cakes, and bundles of pink lotus blossoms. Inside the temple, locals light incense before a statue of Lady Chua, said to have been found atop the mountain 200 years ago.
---
Relax along the riverfront

When you've had enough of chaotic temples and markets, Chau Doc's serene waterways are there help you unwind. Set aside time to enjoy the Hau River's ever-changing scenery. An easy way to do that is to check yourself into Victoria Chau Doc Hotel, an elegant abode set right on the water. The hotel's lap pool, surrounded by loungers facing the water, is ideal for a dips after excursions in the hot sun.
All 92 rooms feature dark wood floors, modern baths, and invitingly soft beds. Of course, the real show happens outside. Draw the curtains in the morning to watch sunrise over the water. When it's time to eat, the tables on the terrace at Bassac Restaurant allow you to dine in on delicious cuisine while gazing at the scenery passing on the river.
---
Want more Vietnam travel ideas? Sign up for our newsletter to receive our best stories in your inbox.