From rich rainforests to rocky peaks, pastoral scenes to surreal landscapes Ha Giang will treat you to jaw-dropping sights at every turn. The 'Ha Giang Loop' links the visual highlights of the region, but away from the road, there are many rewarding experiences to be had. Make a note of these top adventures for your Ha Giang trip.
---
Humble homestays in Thôn Tha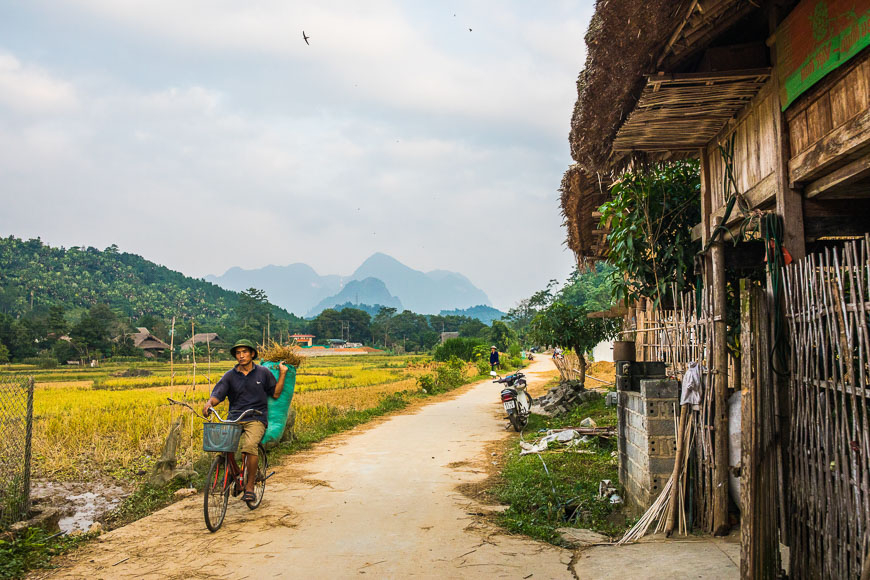 After the six-hour transfer from Hanoi, stop to rest in Thôn Tha village. Just a few minutes outside Hà Giang City, Thôn Tha gives a taste of everyday life in Hà Giang. Kind hosts offer travellers comfy lodging in traditional stilt homes. Come mealtime, you can look forward to delicious family-style spreads of crispy spring rolls, fresh greens, tender pork ribs, and rice.
TIP: Responsible tour operator YESD (Youth Employment and Society Development) is a social enterprise that connects travellers with rural communities, such as Thôn Tha, on multi-day tours of Hà Giang. YESD tours can be customised to your interests, and taken by car or motorbike.
---
Coffee with a view in Quản Bạ Pass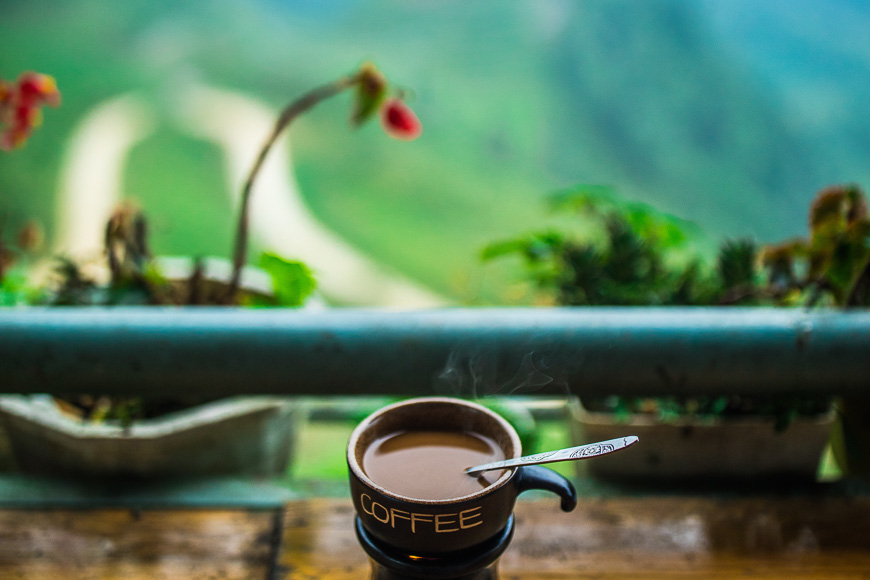 A hot cup of coffee with a view is one experience you must have in Hà Giang. Get your fix of robusta at Quản Bạ Pass, the entrance point to the Đồng Văn Geopark. Here, Cafe Cổng Trời serves coffee on a veranda overlooking the winding pass. The cafe also has a speciality shop, where you can find Red Dao essential oils and herbal bath products from Northern Vietnam.
---
Incredible hikes on the sky path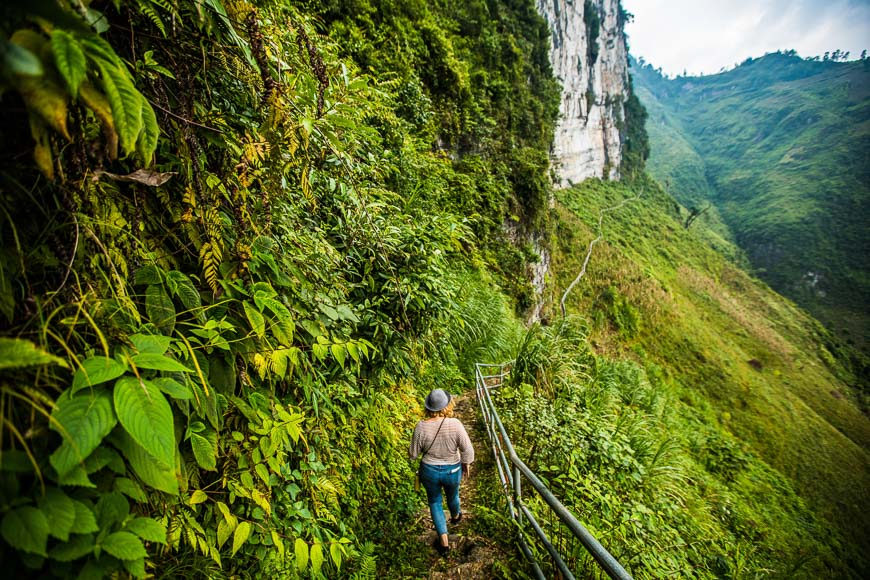 The Nho Quế River Viewpoint is one of Hà Giang's most famous attractions; but the best way to see it comes with a climb. The sky path is a steep, small road that snakes uphill through Flower H'mong villages, before curving up the side of the mountain to the neighbouring peak. Prepare sturdy shoes for the hike on the sky path, which covers a total of 500 metres on a breathtaking two-hour walk. The views along the way are unlike any other, overlooking mountain ranges, the Nho Quế River and the historic Happiness Road, which took 1,300 volunteers seven years to build.
TIP: If you're looking for more great panoramic vistas, try the 20-minute hike from Đồng Văn to Đồn Cao Fortress.
---
A local breakfast in Đồng Văn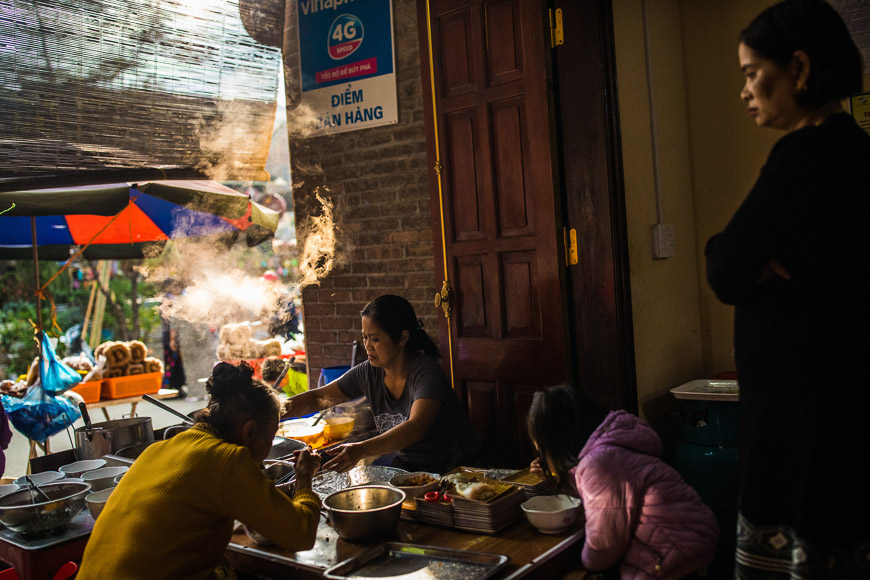 The largest town along the Hà Giang loop is the perfect place to sample a northern speciality: bánh cuốn. These steamed rice rolls with pork, wood-ear mushrooms and egg are served alongside a bowl of piping hot broth with chives and pork sausage (chả). This traditional breakfast is the perfect way to start your day. Try it at Bánh Cuốn Gia Truyền on Phố Cổ St.
---
Fascinating history at the H'mong Palace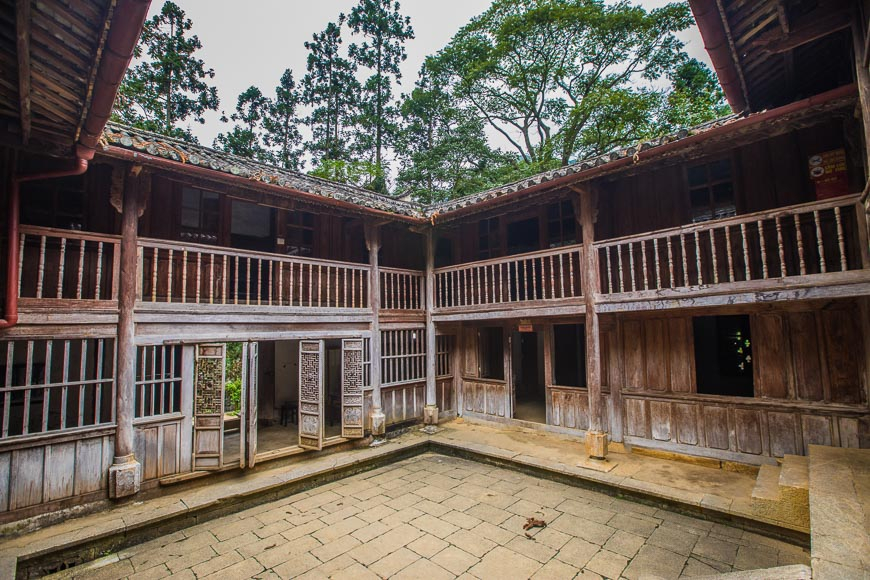 In the valley town of Sà Phìn you'll find one of Hà Giang's best cultural attractions: the H'mong King Palace. Surrounded by towering pines, the entrance to this fortress is marked by ornately carved wooden doors which open to three interconnected courtyards. The H'mong king Vương Chính Đức rose to power at the turn of the 20th century. He invested his fortune in building his dream home, complete with an immense stone bath for bathing in goat's milk.
---
Ethnic cultures at Phố Cáo Market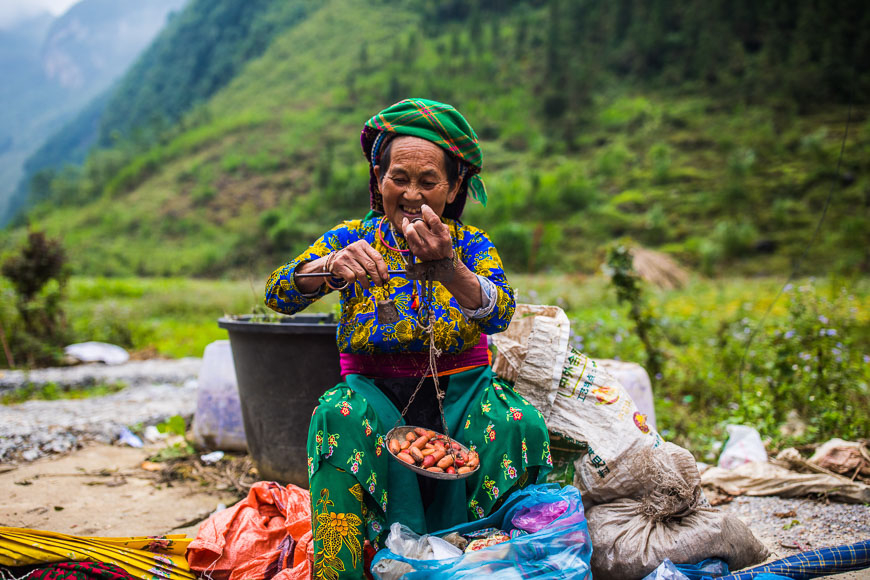 Minority groups from all over the province meet once a week at Phố Cáo Market to sell or buy a wide range of goods, from household appliances to clothing and exotic spices. Keep an eye out for people in traditional dress, such as colourful Flower H'mong skirts to tight-laced Black H'mong tunics. This market is a fascinating window into the diverse cultures of the deep north.
TIP: Ask your tour guide or homestay hosts about the schedule of the local markets and the best times to visit, as timetables can be difficult to pinpoint.
---
Sustainable souvenirs in Lùng Tám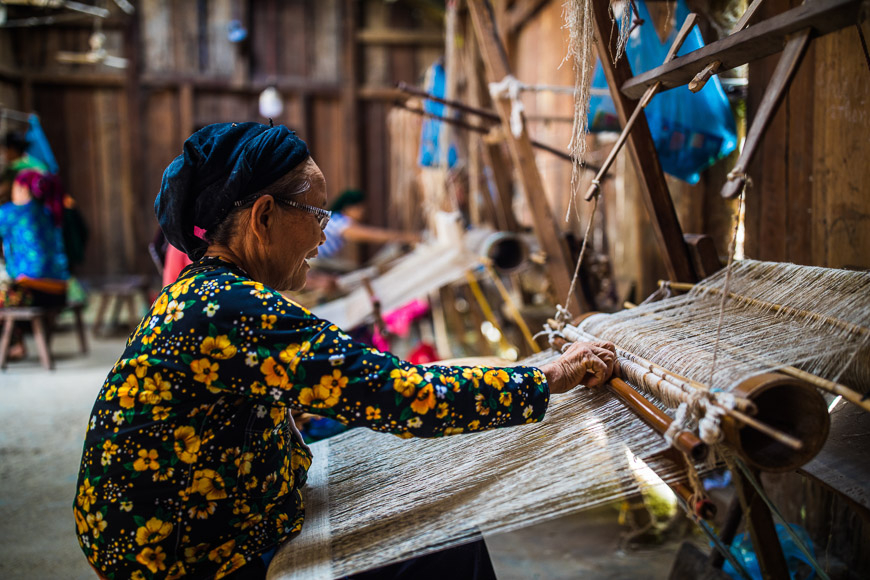 Lùng Tám Linen Co-op is a social enterprise run by the ethnic Flower H'mong, located in the foothills of Quản Bạ District. Pay a visit to the workshop to see how community-grown hemp is spindled, stretched, dried and dyed with plants, before being handwoven on looms into linen fabrics. Next door to the workshop is a gift shop, where you can have a chat with founder Ms. Mai about sustainable fashion.
---
Want more Vietnam travel ideas? Sign up for our newsletter to receive our best stories in your inbox.