Phu Quoc is an outstanding choice for the nature explorer, offering white beaches, clear blue water, wild landscapes and diverse activities. Read on to learn about some of Phu Quoc's most inspiring and exceptional beaches.
---
Sao Beach
If you were to close your eyes and visualize the most exquisite beach on the planet, Phu Quoc's Sao Beach would surely match the description. Sao Beach is a step into paradise with white sandy beaches, coconut palms, green rolling mountains, and crystal water. Located at the lowest tip of Phu Quoc, you can spend a day or more exploring everything that area has to offer, including a ride on the world's longest cable car ride over the southern islands in neighbouring An Thoi. Sao Beach provides multiple activities, including jet skis, a water park, and parasailing. Click here to see underwater activities on Phu Quoc. For dining, an abundance of Western and Vietnamese food is served up and down the beach, nestled in charming tropical restaurants. The beach is plentiful, so finding a secluded area is accessible on foot. Sao Beach is also the most impressive portion of the island to witness Phu Quoc's breathtaking sunrises.
---
Cay Sao
Cay Sao is a relatively new area for tourists and has only had an access road and amenities for a few years. As a result, the backdrop to Cay Sao is similar to an adventure movie or novel. Huge enigmatic mountains fringe the landscape, overlooking the crystalline waters below. Located on the island's eastside, Cay Sao is accessible from several directions, but the north offers the most beautiful driving vistas. Upon arrival at Cay Sao, there are several options for activities. Take a dip in the saltwater rockpool and have lunch at Phu Quoc's famous Rory's Bar, or take a hammock at one of the many local food and beverage stops along the way. Immerse yourself in the picture book Cay Sao, try your hand at sailing, or take an organized hike up the mountain.
---
Thom Beach
One of the most relaxing and timeless areas of Phu Quoc is Bai Thom Beach. As you find your way onto one of the hidden beaches, you can find the perfect place to stop for a refreshing coconut, a hotpot on the beach, or a seafood platter. Go here to see seafood specialities on Phu Quoc - hyperlink. Bai Thom has still yet to see development, and wherever you stop, you are likely to be met by a friendly extended family, delighted to share the beauty of their home with you and watch the sunset. Bai Thom is also the most northern tip of Phu Quoc, and you have the perfect vantage point to view Cambodia in the near distance.
---
Long Beach
Long Beach has everything; sunbathing, swimming, water activities, socializing, music, great food and incredible sunsets. There is no better option for food and drinks than here. As its namesake suggests, the beach is long, with an extensive array of nightlife options. In addition, the west coast of Phu Quoc, where Long Beach is located, is one of the only places in Vietnam to view the dazzling sunset over the ocean. With that in mind, Long Beach offers a vast array of exquisite food and cocktail options, eclectic live music, DJ's and fire shows.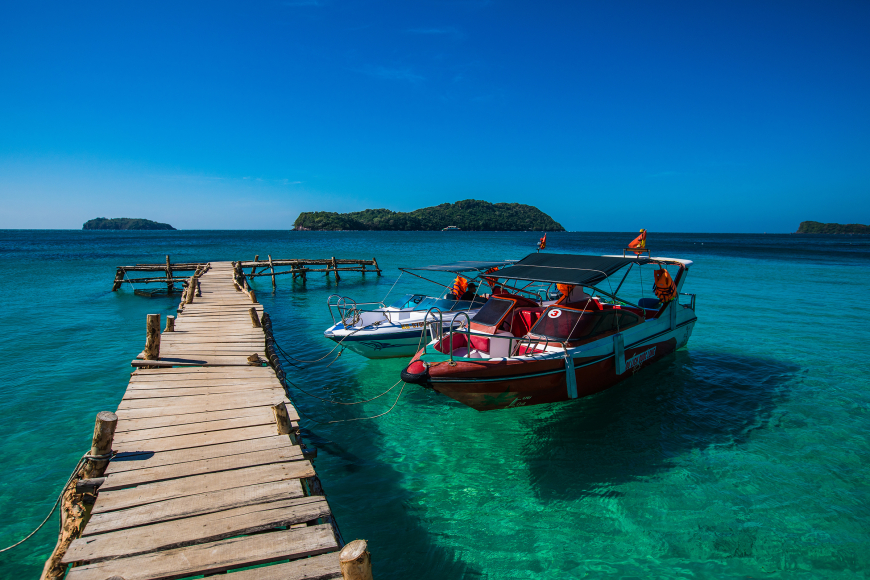 ---
Starfish Beach
A trip to Phu Quoc isn't complete without a trip to Starfish Beach. A long and rustic road eventually opens up to one of Phu Quoc's open yet rare secrets. This pristine white sandy beach is home to hundreds of fascinating starfish. The sand is white, the sea clear, and the area quiet, allowing you to swim in the shallow waters and view the magnificent creatures in their natural habitat. For dining, the floating restaurants on Rach Vem Beach, the village next door is a must-do. Lie in the hammocks, enjoy the sea breeze, and experience the freshest seafood cooked straight from the ocean onto your plate as you watch the sun fall around you in a panorama.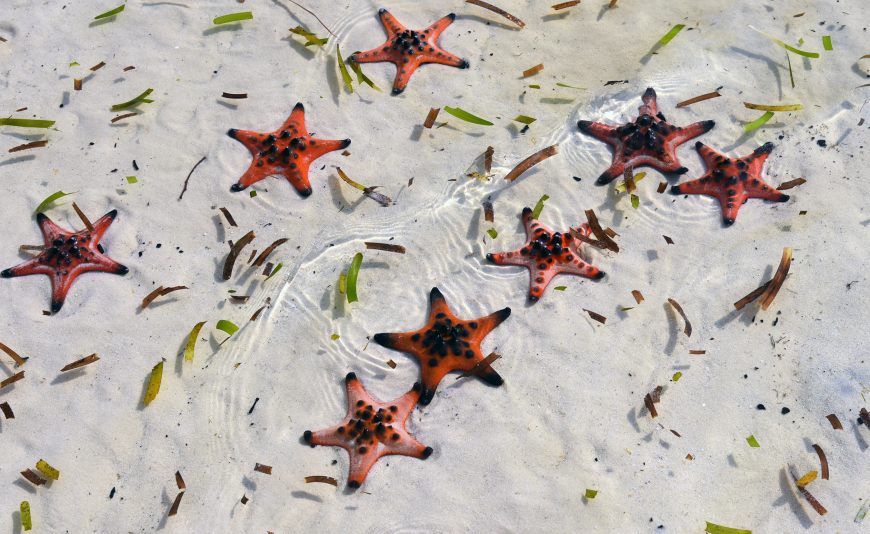 ---
Fingernail Island
A short boat ride away, Fingernail Island is an An Thoi Archipelago and a great stop on a south island snorkelling tour. Click here to see underwater activities on Phu Quoc. With white sands, turquoise water and a jungle backdrop. It's a perfect stop for some swimming and sunbathing, and if you're hungry, there is a little spot to get some tasty seafood.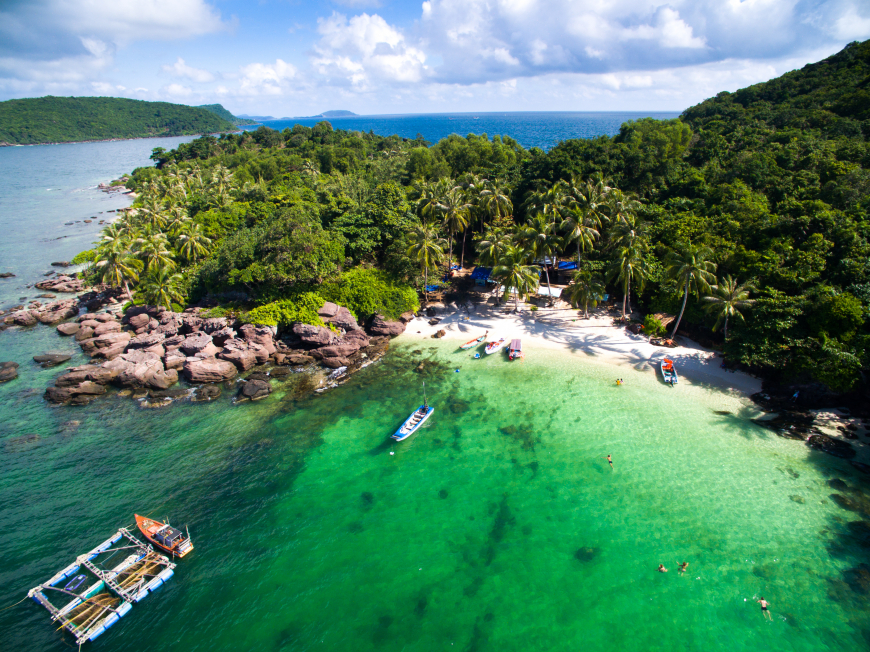 ---
Transport around Phu Quoc
Methods of transport to explore the island are easy to acquire, and include motorbike rental, local taxi, minibus, and coaches. You can book day tours to all of the locations listed above at most travel agencies, who can offer a variety of transport options.
---
Want more Vietnam travel ideas? Sign up for our newsletter to receive our best stories in your inbox.