Phu Quoc is the ideal destination for water activities, with warm crystal waters, pristine white sand beaches, and an unrivaled ecosystem across SE Asia. Due to Phu Quoc's wide variety of terrain, beaches, and exquisite coral reefs, an abundance of activities can be enjoyed here.
---
Snorkeling
Amidst its calm and shallow waters, Phu Quoc offers some of the most elite snorkeling across Vietnam and Southeast Asia. With many untouched islands above the north and the south tip, a quick boat ride can take you to an array of ancient natural coral reefs. You can take a speedboat, a large fishing boat, or for an extra local experience, you can take a small angling boat. All group sizes can be catered for, and it is accessible to everybody, regardless of age, health, and swimming prowess.
You can organize an entire day trip on the dock, with everything catered for, including masks, snorkels, and life jackets. Because of the abundance of islands, we suggest that you make a small tour, explore the variety of stunning reefs, all of which offer unique scenes, and stop for a delicious seafood lunch on one of the white-sand beaches. Click here to see our suggested seafood specialties.
We would recommend making either a full-day or a half-day, as you will need to set off back to shore by sunset – one of Phu Quoc's most spectacular sights. Go here for our island hopping suggestions.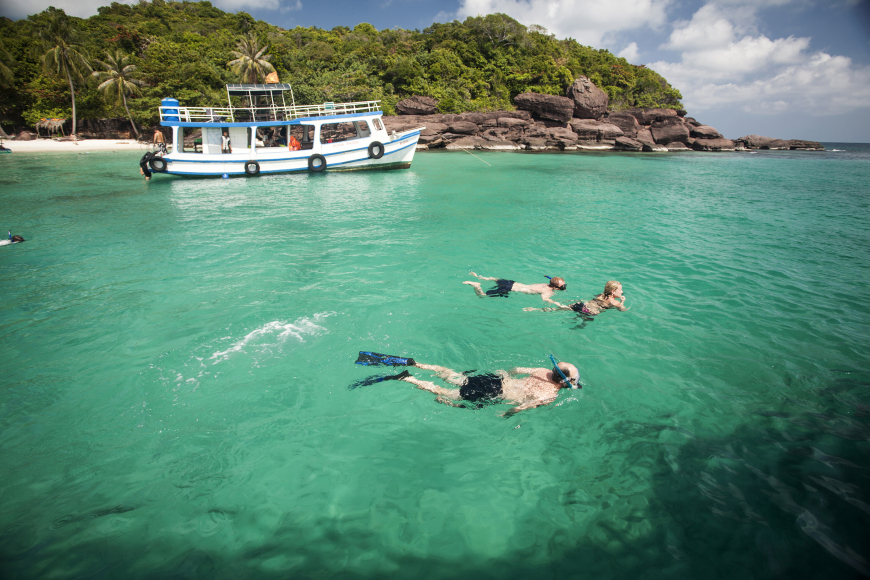 ---
Scuba Diving
Scuba diving is one of the most exciting and memorable activities you can enjoy on Paradise Pearl Island, as Phu Quoc Island is home to the best coral reefs in Vietnam. The coral is particularly exquisite thanks to the beautiful calm conditions and the coral's multi-layer structure. Scuba diving on Phu Quoc presents the opportunity of a lifetime to explore the bright, colorful, and downright awe-inspiring underwater world. Teeming with life, Phu Quoc boasts almost 400 species of hard coral and an abundance of soft coral.
There are two main areas to scuba dive on Phu Quoc, either on the north or the south islands. Both trips offer unique qualities, such as spotting the octopus in the north or swimming in corals that have developed diverse and vibrant ecosystems in the south. Click here for our island hopping suggestions.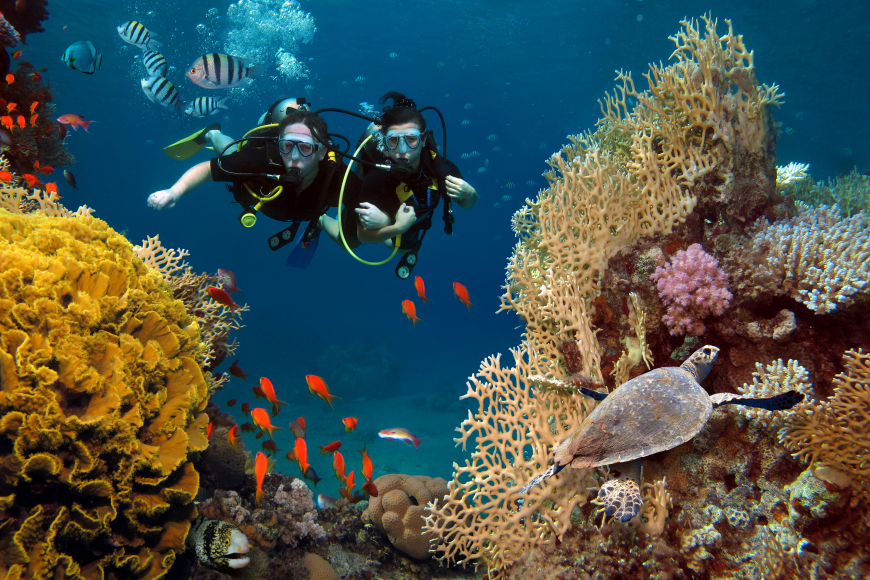 ---
Night Squid Fishing
A must-try activity on Phu Quoc is the rare opportunity to join local fishers and catch squid as night falls. Squid is one of the most popular seafood dishes on Phu Quoc, and as evening descends, so does the soft green glow on the skyline. Of course, the green lights mean lots of squids, and consequently, you will observe many local fishers lying in wait for their catch.
On the boat, you will be given a 1.5-meter bamboo fishing rod and bait. The tour guides will explain the various types of bait and the different techniques. The primary method is to release the fishing line into the water and shake the rod around every three seconds.
The best time for squid fishing is on calm nights, and the darker the night, the more successful you are likely to be. A sunset dining cruise is also an option, or after the tour, you can take your catch back to shore and enjoy a delicious squid meal.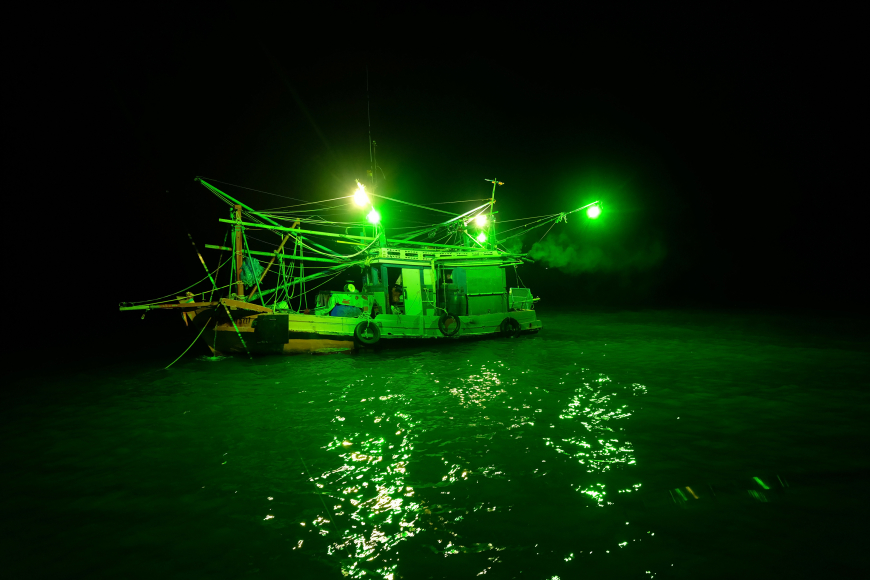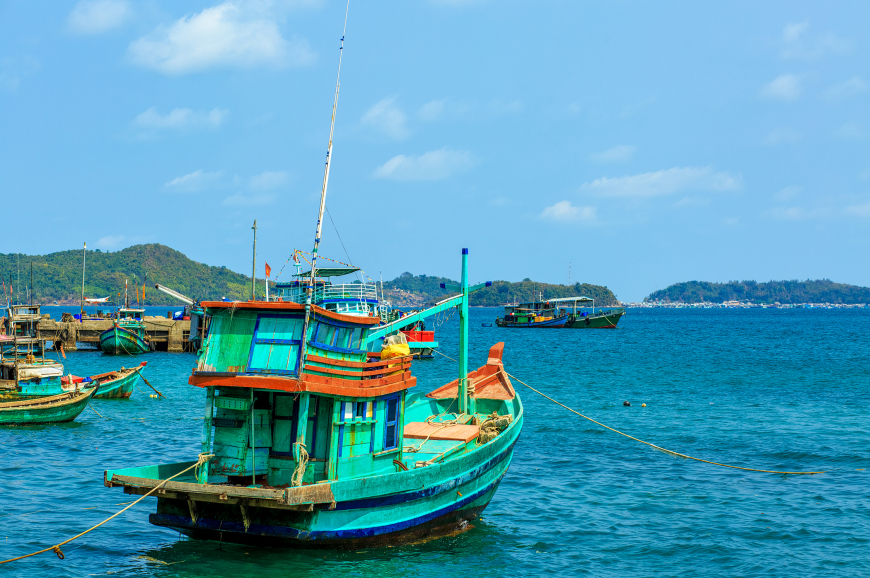 ---
Sailing
A novel life-enhancing experience is now available to enjoy on Phu Quoc Island. Previously devoid of sailboats, the island now offers a couple of options for the aspiring sailor.
Whether you are new to sailing or a salty dog, there is nothing quite like the experience of the wind in your hair as you observe stunning Phu Quoc island sail by. You will learn your port from your starboard and discover how to tack and steer to change the direction of the ocean powered by the winds. Sailing can be enjoyed at any time but is most enjoyable with a light breeze and a small current. So make sure you bring your Go Pro for an experience of a lifetime.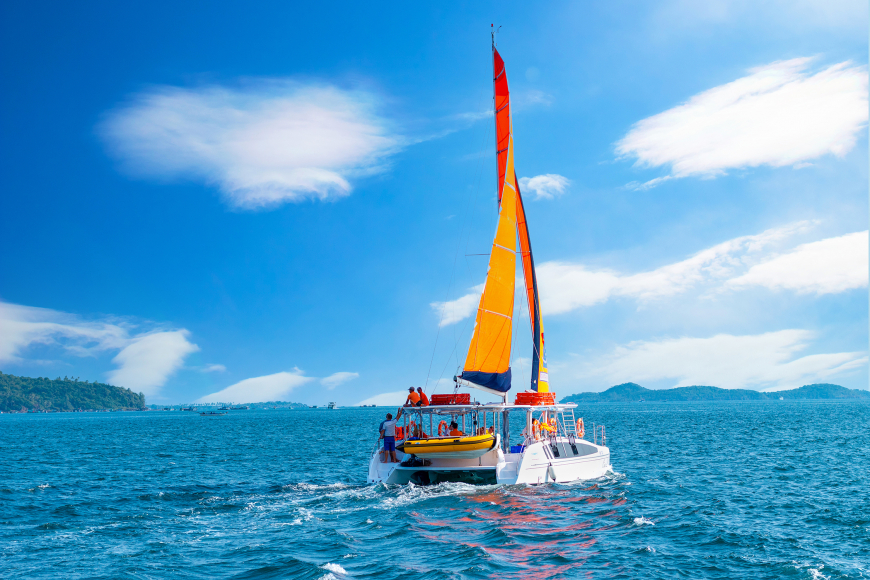 ---
Fishing
Fishing on Phu Quoc is an unforgettable experience, and the island is ideal for seasoned anglers or those simply wishing to give it a try. Because fishing is the most vital source of income, it is one the most fun and engaging means to have an immersive local Phu Quoc experience. There are many ways to experience fishing on Phu Quoc, whether with a large group of fishers on a big boat or a local guide on a smaller boat. Each offers an authentic and memorable Vietnamese fishing experience as you encounter the lifestyle of the local people. Various fishing options, including angling, cast-net, and night fishing, are all possible year-round on Phu Quoc. After your fishing trip, you will feast on your bounty of tasty seafood with your fellow fishers. Go here to see what seafood options we recommend. We suggest talking with a travel agent to book your Vietnamese fishing trip of a lifetime.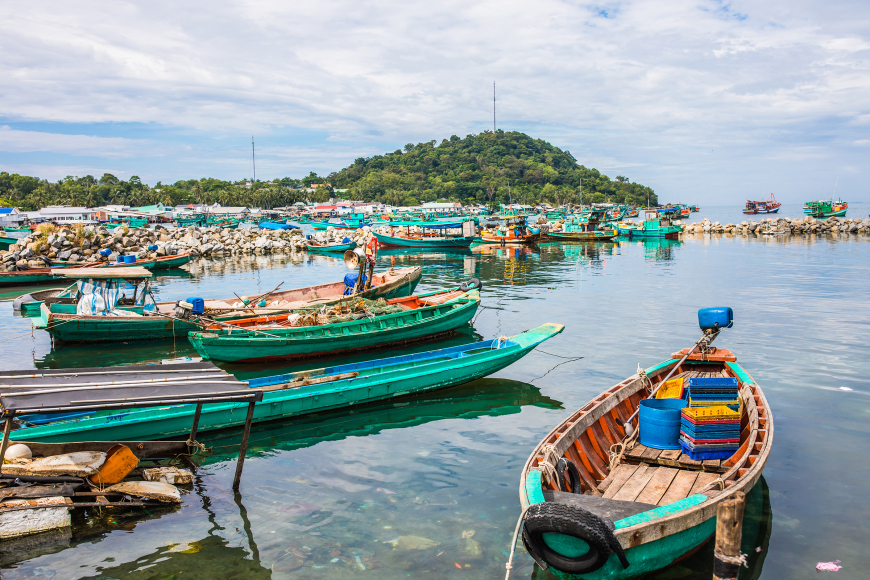 ---
Want more Vietnam travel ideas? Sign up for our newsletter to receive our best stories in your inbox.