Vietnam is a rising star in the world's tourism map not only for its amazing natural landscape, great heritage values, but also its excellent food. Being a cradle of wet rice culture, rice is the ionic symbol and an irreplaceable food in Vietnamese's daily life. From rice, people can create tons of delicious feast. And one of the delicacies that is made from this magical food is noodles. The transparency and chewy texture of the noodles have captured many hearts and become one of their favs once they are in Vietnam.
---
For first time travellers to Vietnam, these are noodles dishes you should not miss. Plus the Michelin Guide 2023 to lead you to enjoy full Michelin restaurants and food in Vietnam.
Phở
It's obvious, Phở is in no.1 in the list since it has been the most famous noodle soup dish of Vietnam. It's warm, tasty, flavourful and above all, it contains all the quintessence of Vietnamese gastronomy.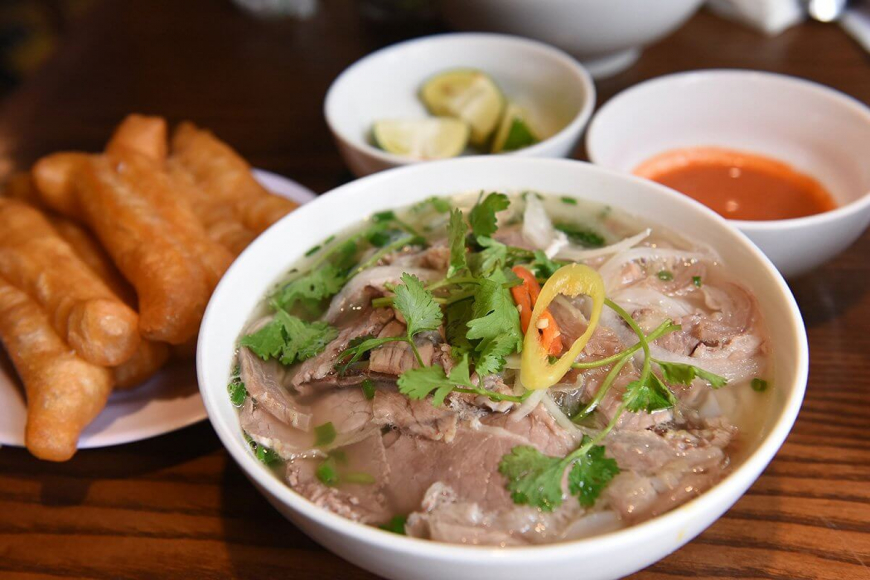 Vietnamese Phở is a noodle soup made with rice noodles, beef or chicken clear broth, and various herbs and spices. For the most savoury flavour broth, beef or chicken will simmer in a noodle soup for many hours along with dried spices such as cinnamon, star anise, cloves, cardamom, and coriander. Then, slices of beef or chicken, lime wedges, and fresh herbs, including cilantro, basil, and mint, will frequently be added to the bowl of phở.
Vietnamese people often have Phở as breakfast, it is a truly simple but great food to start your day.
Grilled Pork Meatballs with Vermicelli Noodles (Bún chả)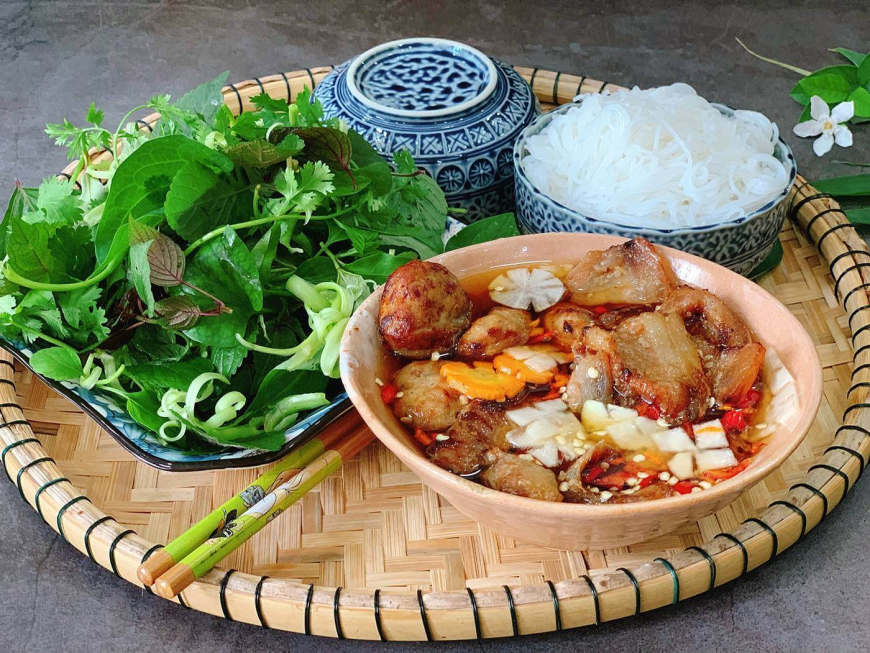 Fragrant and greasy grilled pork, served with soft vermicelli, herbs such as mint and coriander, and a rich dipping sauce (also known as nước chấm) creating a blend of texture and flavour that makes diners crave for more. Bún chả is a real delight for both locals and international visitors looking for an authentic Vietnamese dining experience. Bún chả holds cultural significance as a symbol of Ha Noi's vibrant street food culture and the spirit of communal dining in Vietnam. Visitors can enjoy Bún chả with Crab spring rolls (Nem cua bể) - a perfect accompaniment to bún chả, will be a great extra added to this flavourful dish. Crispy, greasy fried spring rolls, in the filling are full with attractive pieces of white crab meat.
Quang-Style Noodles (Mì Quảng)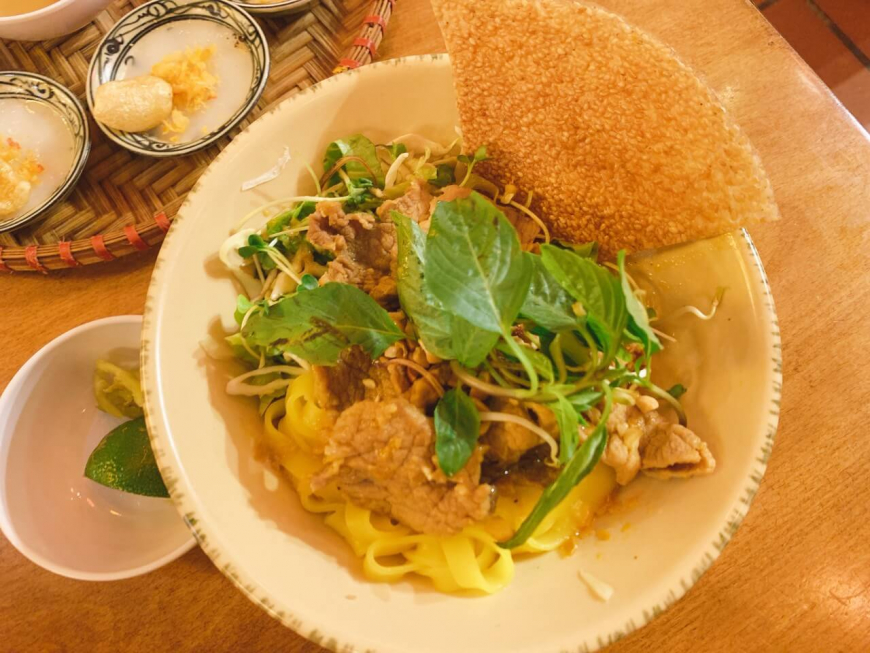 Rice noodle dishes appear in all of Vietnam. Quang noodle bowl is a famous one that originates in Central Vietnam. This Vietnamese classic consists of a combination of flat yellow or white rice noodles that are served with a small amount of flavorful meat broth and crispy fresh vegetables and herbs such as banana blossoms, lettuce, cilantro, scallions, and Vietnamese coriander.
The dish is incredibly versatile and usually comes topped with pork belly, chicken, shrimps, fish, boiled eggs, roasted peanuts.
Bún Bò Huế (Hue Spicy beef noodle soup)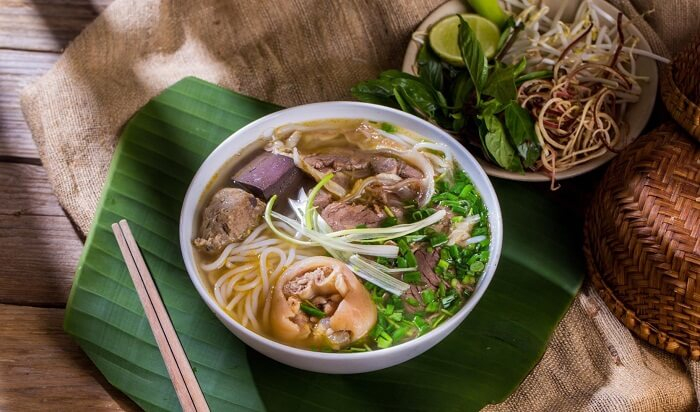 Hue - a city in Central Vietnam, used to be the seat of Nguyen Dynasty emperors and once the national capital. The city is famous for its unique cuisine inherited from royal families. Bún bò Huế consists of pork and beef bones broth, bun (vermicelli), lemongrass, shrimp paste, lime juice, and a variety of herbs. It is a spicy soup dish and its flavour is often described as rich and complex. You might find some slight variations of Bún bò Huế but the usual additions will have sliced brisket or crab meat balls.
Bánh canh (Vietnamese Thick Noodle Soup)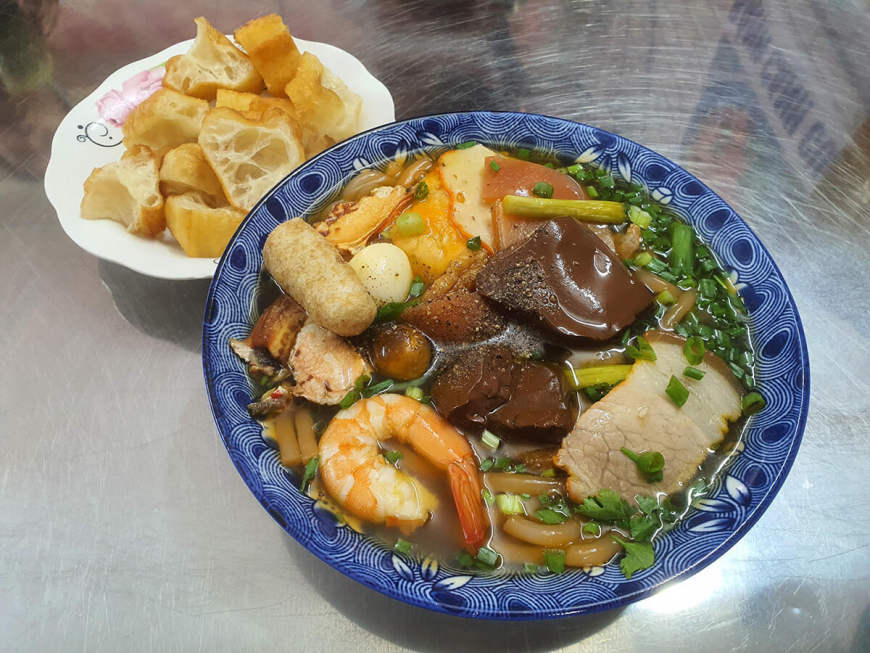 The thick noodles are made from tapioca or rice flour, while the soup is prepared with different kinds of ingredients such as pork trotters (bánh canh giò heo), snakehead fish (bánh canh cá lóc), or crab (bánh canh cua). You will find the noodle soup is thicker than other Vietnamese noodle soups and the noodles are also chewier. The liquid is more similar to a gravy than a brothy soup. The base is typically made from pork bones or sometimes chicken.
This dish is a typical snack of Southern people. You can find Bánh canh in any corner of the street in Ho Chi Minh City.
Other noodle dishes include Cao Lau of Hoi An, Bun mam, Bun quay of Phu Quoc...