Among hotels in Vietnam, there's luxury -- and then there's The Reverie Saigon. It took seven years, 3,000 tons of marble, and a small troop of top Italian design houses to create the hotel. The result? A place where it feels like anything can (and just might) happen. Take a look inside and you may be surprised to find The Reverie is not only boldly extravagant, but also fanciful; not just ultra-luxe, but also whimsical. Here are seven highlights from inside Vietnam's most buzzed-about hotel.
---
Rolls Royce Phantom Dragon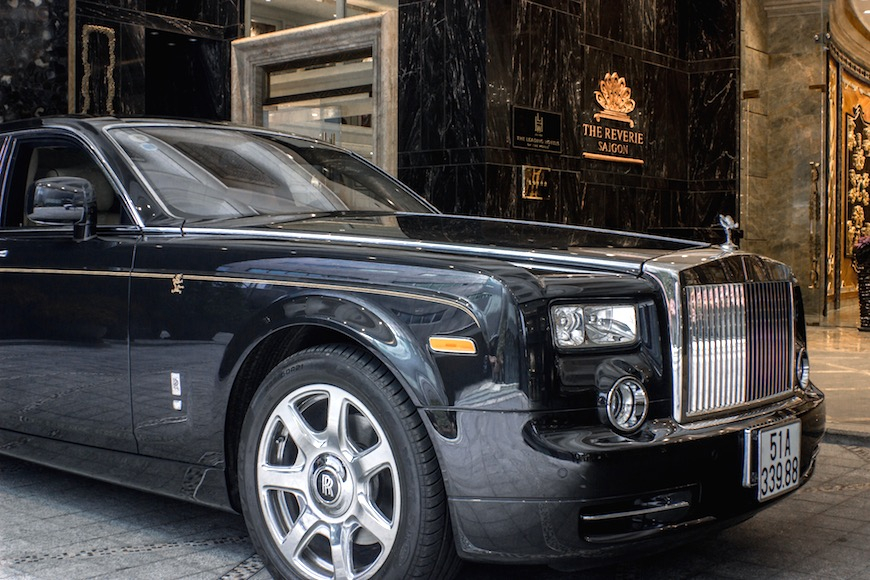 If there's an Arab sheik, a world leader, or a Hollywood star rolling up to the reception of the Reverie, chances are they're doing so in the limited edition Phantom Dragon. Rolls Royce manufactured just 12 of these impressive vehicles to mark the Year of the Dragon in 2012. The Reverie's Phantom is a sleek black submarine of a car: smooth and spacious from the inside, head-turning from the outside.
---
Main Lobby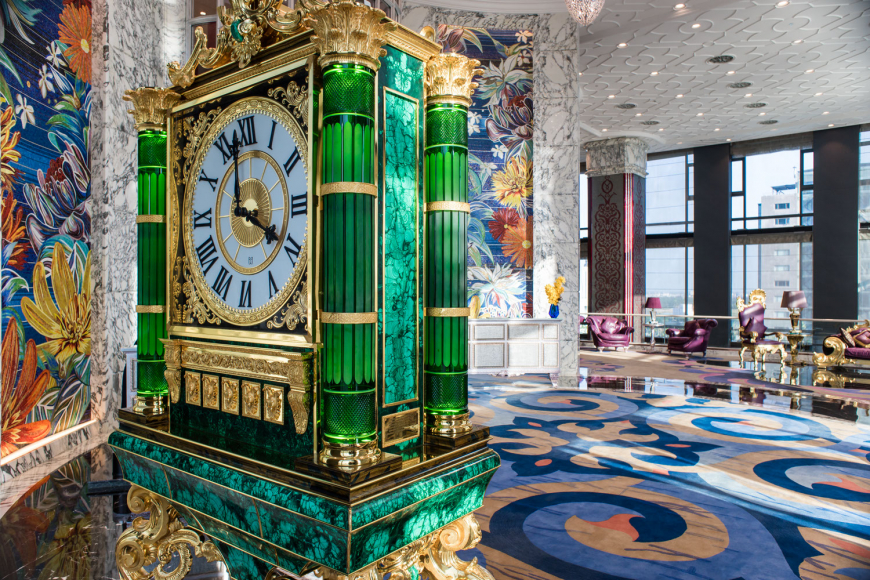 The main reception area is where the Reverie really makes a splash. Even the most lengthy of limb could not hope to occupy the entire five-metre 'Esmeralda' sofa – upholstered in purple ostrich leather and set with a rare amethyst -- from Colombostile. But it's the space itself that's most impressive. Soft blue carpeting and soaring walls of cool white-grey marble create an airy effect, while windows just as tall allow jaw-dropping views of Saigon's skies, buildings and curving river inside.
An exotic mosaic in tropical hues climbs the walls. Egg-like crystal chandeliers sparkle from the ceilings. And to top it all off, there's an ornate Baldi Frienze clock that looks like it could get up and dance a jig if it didn't weigh nearly 1,000 kilos and wasn't covered in malachite and 24K gold-plated bronze.
---
Saigon Suite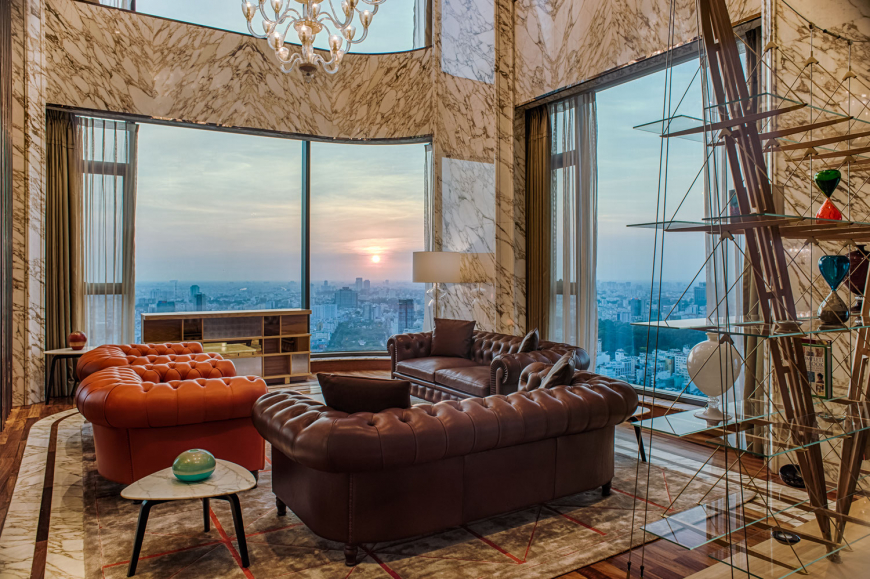 Whatever you expect from the second most-expansive suite at the Reverie, you're probably wrong. Intrigue is something the Saigon Suite does incredibly well. On first glance, the suite is handsome, open, and contemporary. Poke around a little more though (you only have 218sqm to explore) and you'll find style built into every corner. The Saigon Suite is likely home to more statement furniture pieces than any other residence in this part of the world.
You can't turn around here without being drawn to some provoking piece of craftsmanship: in the dining room, Barrel chairs by Frank Lloyd Wright; in one bedroom, a lounge by Le Corbusier; in another, a Feltri chair from Poltrona Frau, in the living area, a Veliero bookshelf; in the reception, an Isidro traveling liquor cabinet… the list goes on. Yes there are scenic showers and goose-down duvets and five-star views as well, but the enjoyable design pieces are the highlight.
---
Marble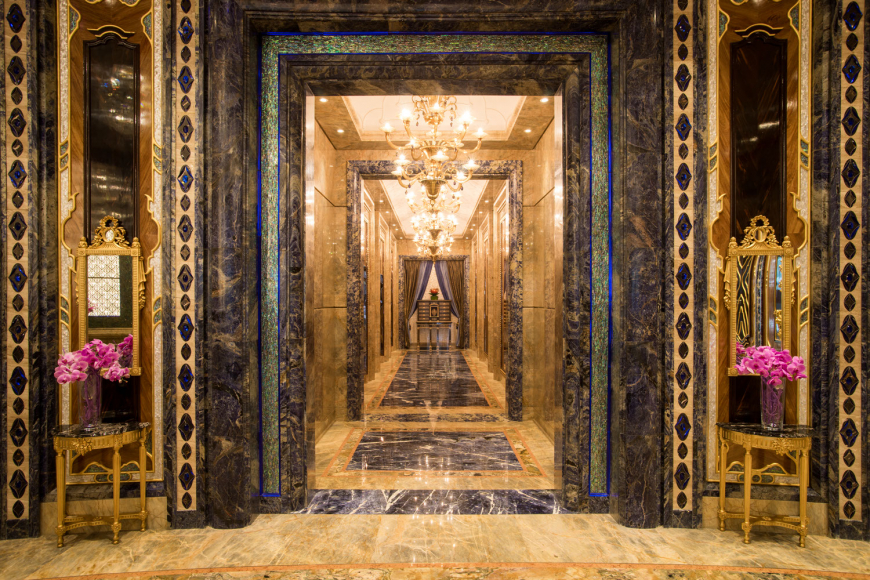 Rumour has it that more than 3,000 tons of marble was quarried for the interiors of the Reverie Saigon, most of it from Italy, but some from Bolivia. Only a fraction was actually used to create specific design patterns throughout the hotel. If you didn't love marble before, you just might become a fan of it now. The hotel's halls and floors are a showcase of polished marble: marble with flecks of brown and green, black marble, speckled blue marble, gold-brown marble, iridescent blue marble, deep indigo marble – you get the picture.
---
The Spa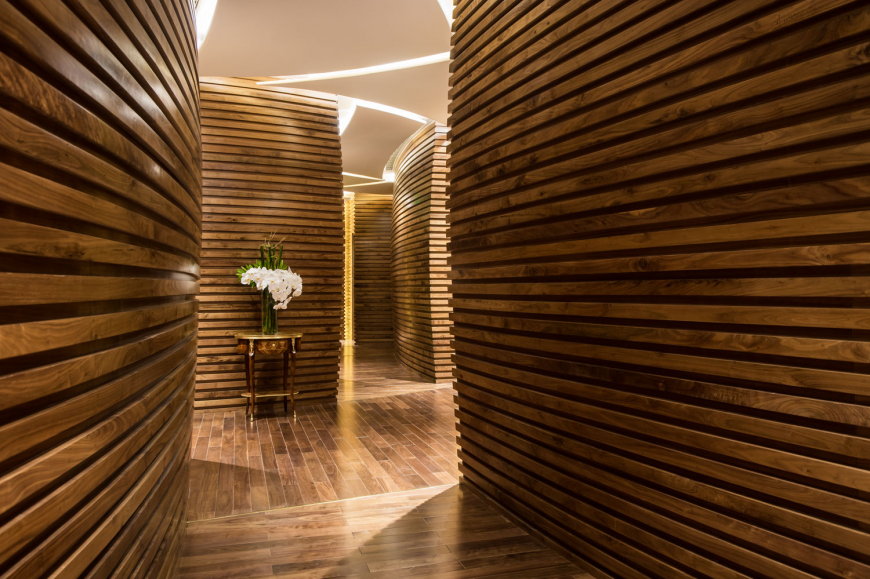 Ah, the spa! A high point at any property, an elevated experience at The Reverie. Set on the 6th and 7th floors, the Spa is naturally one of the most soothing spaces in the hotel. A fragrance of jasmine, lavender, rose and vanilla washes over as you enter. The women's areas feature a pink Himalayan salt sauna, a color therapy steam room, and a shower with a perfumed rinse. Upstairs, 10 treatment rooms and private mani-pedi corners are tucked away in a labyrinth of slatted walnut walls.
The Spa uses organic products from ila and VOYA to perform world-class treatments such as the harmonizing 5 Elements massage from Tibet, and the restorative Serenity Deep Tissue Massage, created by ila exclusively for Reverie guests. Afterward, come back to earth with bites of fresh fruit and cups of tea, enjoyed in a plush armchair overlooking the city.
---
R&J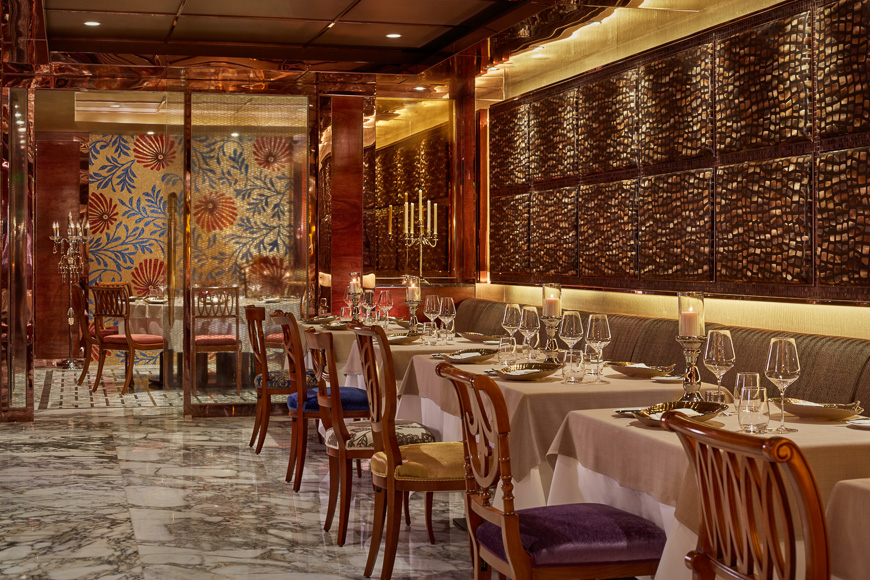 Can a restaurant be elegant, but also light? Sophisticated, but endearing? R&J (Romeo and Juliet) answers in the affirmative, with a dining experience that oozes romance and exclusivity, but leaves enough room for guests to be themselves. Located in the basement of The Reverie Saigon, R&J doesn't take itself too seriously, but it does set out Italian cutlery and German crystal. And it does serve delicious home-style Italian dishes (with a creative touch, of course.) Deliberately mismatched dining chairs, fairytale candleholders, and curtained booths all come together to create an atmosphere that instantly feels special.
---
Swimming Pool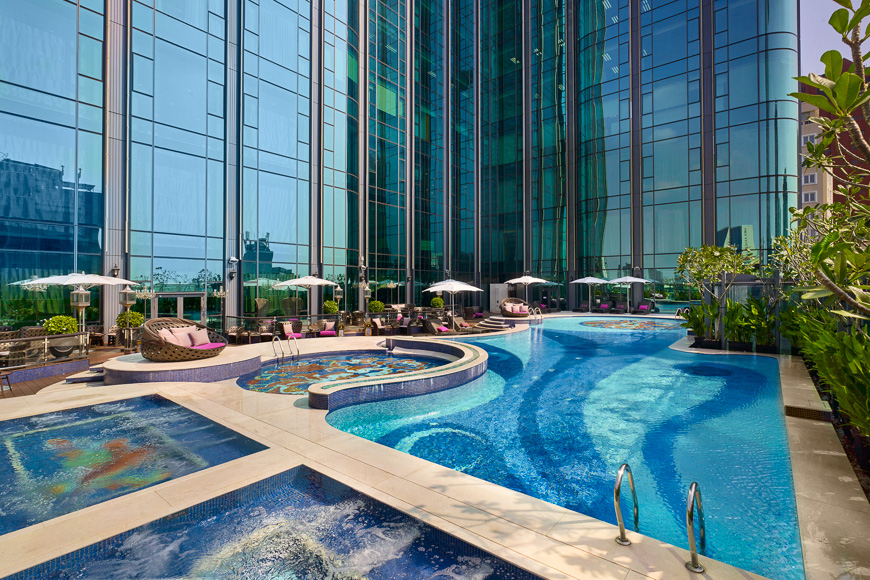 As far as city pools go, this one intends to make a splash. Surrounded by black B&B Italia loungers, The Reverie's 24m free-form pool is a beauty in itself. But there are surprises under the surface: an intricate tile mosaic by Sicis of Italy, and a symphonic light and music show that changes with the time of day. Dive in any time after 6pm to see what we mean. At one end of the pool, two bubbling Jacuzzis are pre-heated to 35 degrees, perfect for a steamy soak high above the city lights below.
---