Phu Quoc Island has long been Vietnam's popular beach getaway for foreign tourists and well-heeled Vietnamese alike. But Phu Quoc has a fabulous duality which makes its appeal alluring to visitors with multiple agendas. While it has all the amenities of a full-fledged resort—pristine white-sand beaches, clear-blue waters, a hip nightlife, high-end hotels, palm trees and stunning sunsets. Half the island is a UNESCO-protected National Park—mountains, lush jungle, hiking trails, wildlife and waterfalls. Simply put, Phu Quoc checks all the boxes, from relaxation to adventure—from nature to nightlife…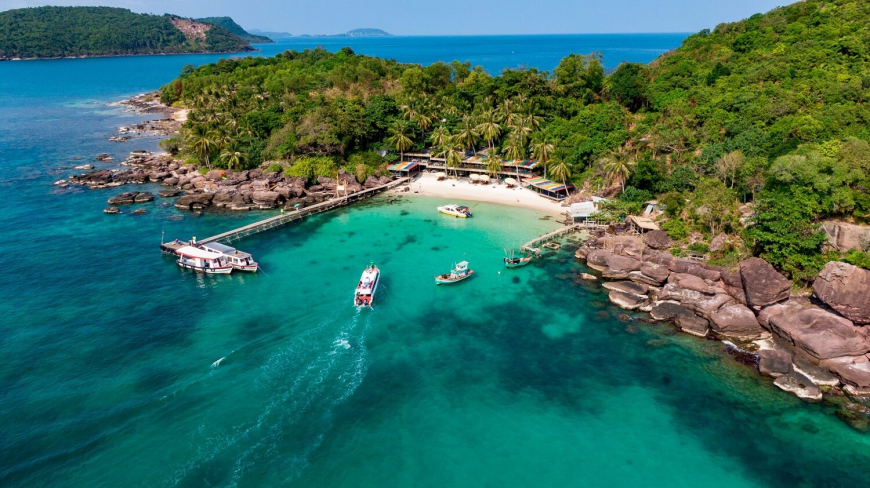 Source: Internet
The island paradise is located off the southwestern coast of Vietnam. Local culture is very much part of its draw—from the thriving night market to fishing villages to pagodas and pepper plantations. So, while Phu Quoc Island is a bounty for beachgoers, there really is something for everybody—leisure being the underlying theme.
With 150 kilometers of coastline, beaches abound. Sao Beach (aka Star Beach) offers swimming, snorkeling, coral reefs and a vast array of sea life. Long Beach is also popular for those who like to laze, lounge and indulge in water activities. To the north, you'll find more remote stretches of tree-lined beaches, accessed by dirt roads and pockets with hidden-away resorts. Beaches such as Ganh Dau and Bai Thom manage to maintain a certain anonymity.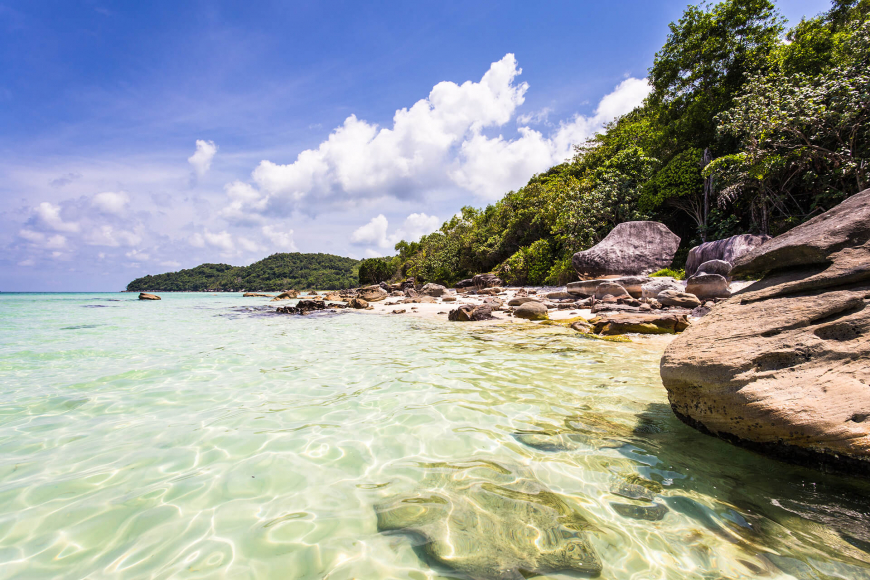 Beneath a dense jungle canopy, visitors can trek to Tranh Waterfall. The falls spill gently from numerous ledges of rock shelves. It's a small fall: surrounded by flowers, foliage and streams—an idyllic spot for swimming.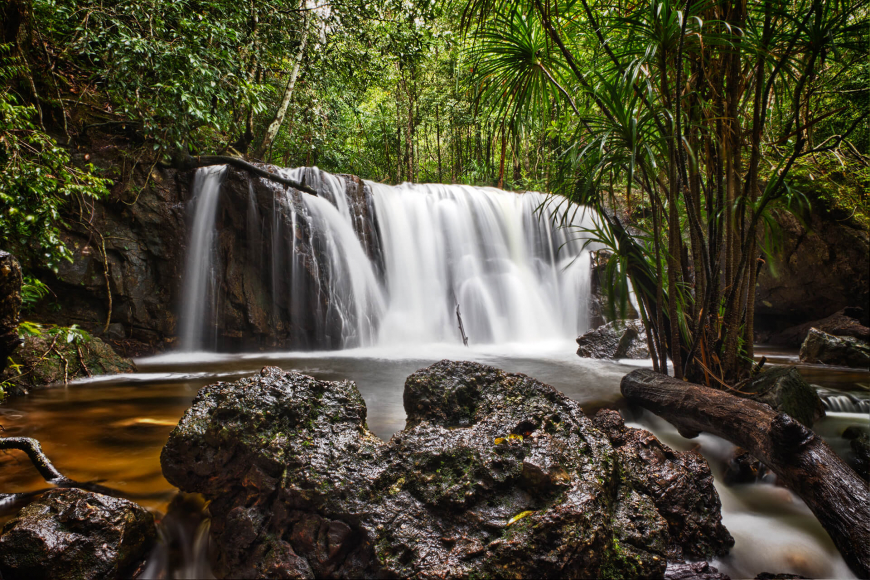 While there are multiple fishing villages on Phu Quoc Island, the most famous (and one of the oldest in all of Vietnam) is Ham Ninh. Set against the backdrop of the majestic Ham Ninh Mountain, this thriving fishing village allows visitors to indulge in the freshest of seafoods while witnessing ancient seafaring practices in action.
From sea to air: Phu Quoc Island also offers the world's longest aerial cable car. The ride takes fifteen minutes and overlooks the turquoise gulf, numerous islets and the lush green canopy of the island itself. Travelers are deposited on Hon Thom Island (Pineapple Island), where you'll find a nature reserve, beaches and a waterpark.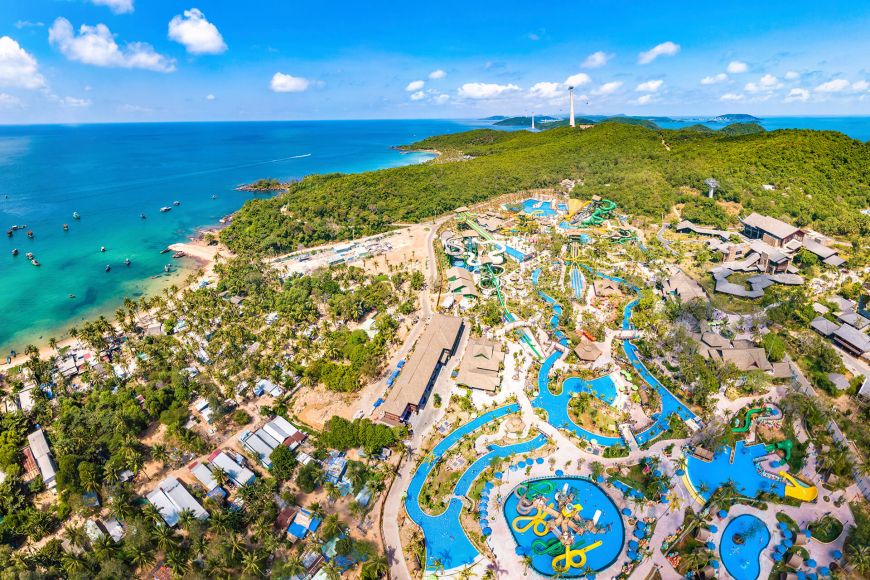 There are a few foodie-type excursions to tantalize and titillate. As you traverse the island, you're bound to notice lots of pepper plantations. Phu Quoc pepper is known as the best in all of Asia. And you are speaking of spicing up your life. Wherever you dine in Vietnam, you will experience its famous fish sauce: nuoc mam. The sauce is on every table, at every meal—it's the country's signature dip. Phu Quoc's version is in such demand that it's exported globally. You can visit a factory—see how it's made, fermented and bottled. Buy some and take it home.
There is so much to see and experience in Phu Quoc that renting a motorbike is a good option for puttering around. Rentals can be procured at almost every hotel or at any number of dedicated bike-rental businesses. For multiple island exploration (after all, Phu Quoc is just one of many in the gulf), there are island-hopping excursions—and they're inclusive, with food, swimming and snorkeling options.
Nightlife is very much a part of the Phu Quoc experience—everything from drinking in the sunsets to strolling the night market to catching and feasting on squid…
The bustling Phu Quoc night market offers over 100 stalls, serving traditional cuisine, seafood delectables, street food and souvenirs. It's a lively, colorful carnival vibe—quintessential Vietnam.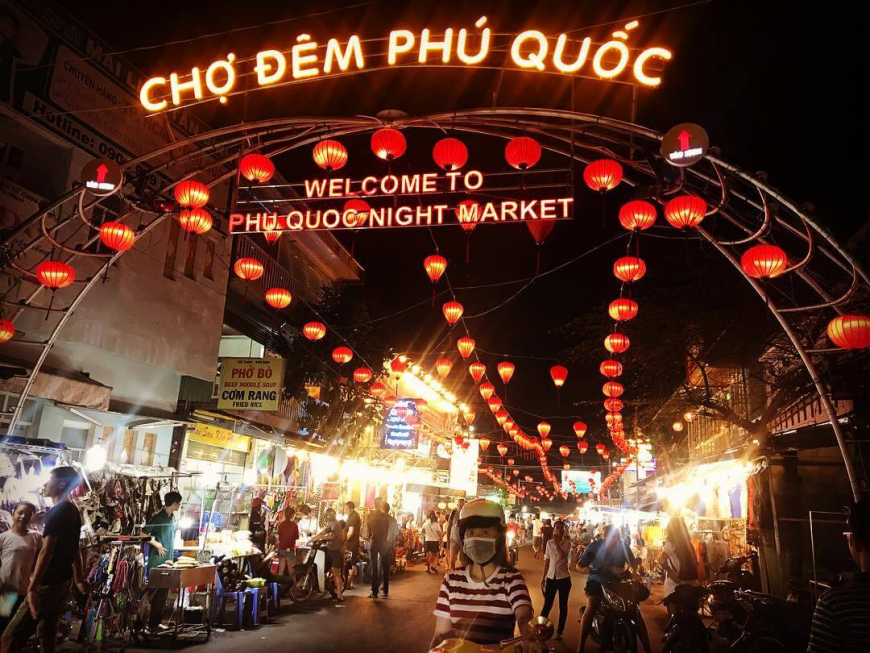 Source: Internet
Another popular nightly pastime is squid fishing. Visitors can experience the age-old practice and savor their fresh catch right onboard the boat.
Of course, if it's a night of liquid relaxation you're after (having swum, hiked, snorkeled and biked), Phu Quoc provides an abundance of options. You can find some of the most notable roof-top and beachview bars and pubs here.
For a more cerebral experience, Phu Quoc also offers a few museum options. Phu Quoc Prison (Coconut Tree Prison) was built by the French in 1948, it's now an historical site and open to the public—a macabre reminder of a heroic and unbroken Vietnamese spirit.
Source: Internet
The Coi Nguon Museum features artifacts and antiques dating as far back as the 15th century. The collection includes a vast array of traditional paintings, ceramics, stone axes, important historical documents...
Phu Quoc has earned its reputation as Vietnam's premiere island getaway—rich in culture, history and especially for its breathtaking natural attributes—white-sand beaches, forests and jungles. Phu Quoc provides visitors with a chance to chill, be pampered and explore. Phu Quoc Island offers the ultimate in leisure travel.