You don't have to be a child to be entertained by water puppets. Vietnam's water puppetry opens a window into local culture, and is a fully realised art form enjoyed by young and old. Watch scenes of village life on an ever-changing stage, learn about festivals and traditions, and get to know quirky characters inspired by Vietnamese personalities. Here's a brief introduction to Vietnam's wonderful water puppets.
---
A short history

Every year during the annual rice harvest, farmers in Vietnam's Red River Delta region would gather for folk singing and dancing at village festivals. About one thousand years ago, water puppets were added to the list of performances at these festivals. The first shows were hosted in the harvested rice fields, which could be filled with water to create a watery stage.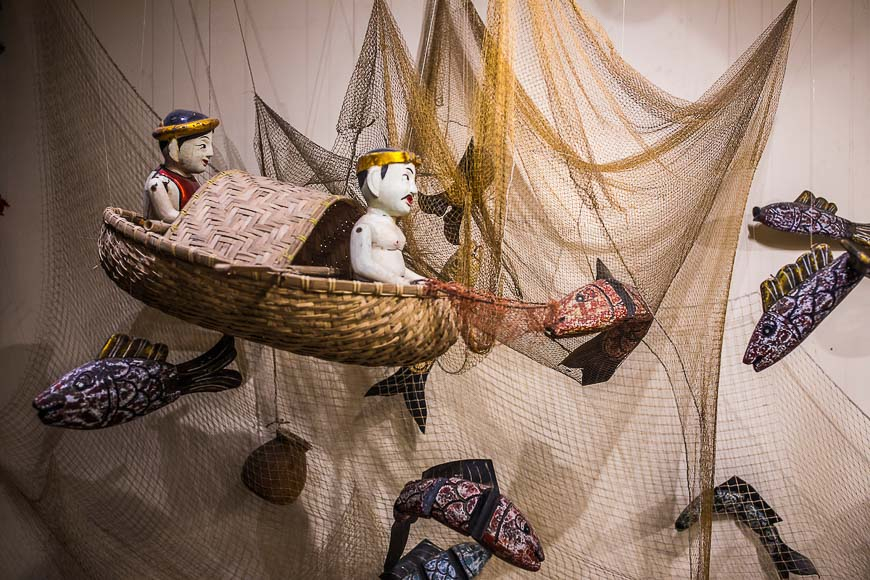 Water puppetry as a folk art form evolved from serving everyday people to a show for royalty. Under the reign of the Lý Dynasty in the 12th century, the country's best water puppet troupes were chosen to entertain the king and guests, marking a new high for the art's social status. Many centuries later, water puppetry (múa rối nước) still fascinates audiences, and is a cherished intangible cultural heritage of Vietnam.
---
Setting the stage

Múa rối nước is a physically demanding craft. Puppeteers stand in water throughout the show, and use the movement of the water to create drama, perfect the illusion, and tell a story. The puppeteers' secret lies in the material of the puppets themselves, which are made of buoyant fig wood and painted with lacquer. The puppeteers skillfully maneuver the puppet's arms using bamboo sticks and strings. It takes decades to become a master water puppeteer.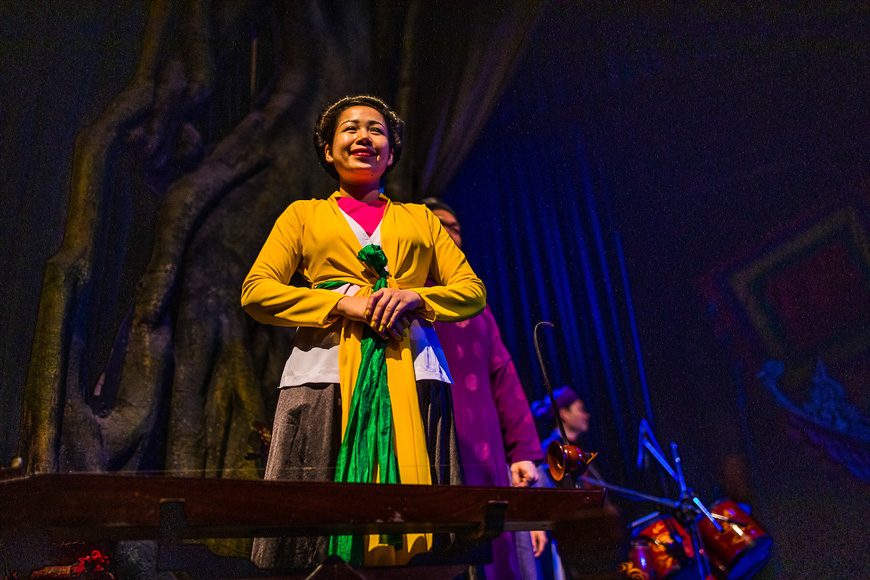 Today in Vietnam, water puppet shows are not presented in flooded rice paddies but in pools of water. These pools are decorated with red tiered roofs, flags, and parasols to resemble an altar inside Vietnamese communal houses. On both sides of the stage sit the musical ensemble who bring the stories to life using their voices and traditional instruments.
---
A water puppet show

A traditional show always starts with an introduction to Tễu, the comedic host. Tễu is an iconic character, a whimsical storyteller who will lead you through different scenes and stories as they unfold on stage. The brightly coloured puppets recreate daily life in Vietnam's northern villages, including duck herding, fishing, rice planting, boat rowing, and royal parades. Some shows include depictions of Vietnamese folktales, which always carry a moral.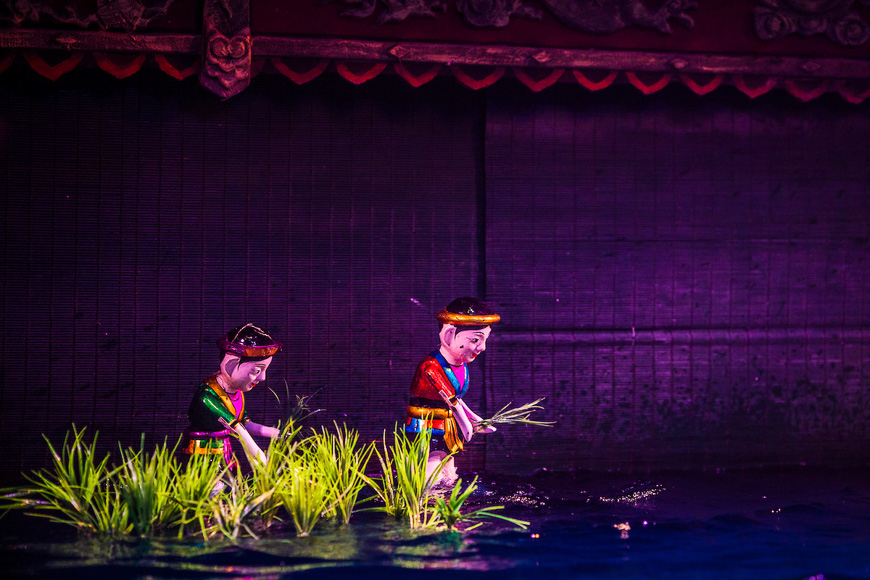 ---
Where to watch

For a deeper understanding of the Vietnam's water puppets, visit Đào Thục Village on the outskirts of Hanoi. Here you will find one of the last remaining water puppet workshops in Vietnam and learn about the making of the puppets. A beautiful outdoor stage hosts fantastic shows worthy of the village's 300-year-old tradition.
Within the cities, you can find several water puppet theatres presenting traditional and modern performances. Below are some of the best places to enjoy a show across the country:
Thăng Long Water Puppet Theatre
57B Đinh Tiên Hoàng St., Hoàn Kiếm District, Hanoi
Vietnam Puppet Theatre
361 Trường Chinh St., Thanh Xuân District, Hanoi
Hội An Theatre
548 Hai Bà Trưng St., Hội An
Huế Water Puppet Theatre
8 Lê Lợi St., Vĩnh Ninh District, Huế
Golden Dragon Water Puppet Theatre
55B Nguyễn Thị Minh Khai St., District 1, HCMC
Museum of Vietnamese History (outdoor)
2 Nguyễn Bỉnh Khiêm St., District 1, HCMC
---
Want more Vietnam travel ideas? Sign up for our newsletter to receive our best stories in your inbox.