Huế is a city chock-full of stories. The Kings of the Nguyen Dynasty built their feudal capital along Huế's fertile riverbanks and atop its forested hills, but their imperial legacy is just one of many reasons to visit. Huế's refined cuisine is the stuff of legend, and its leafy streets are lined with mossy pagodas, art déco mansions, and eye-popping markets. Through the whole scene flows the Perfume River, setting a languid pace the rest of the city is happy to follow.
Click the image below for a 360-degree tour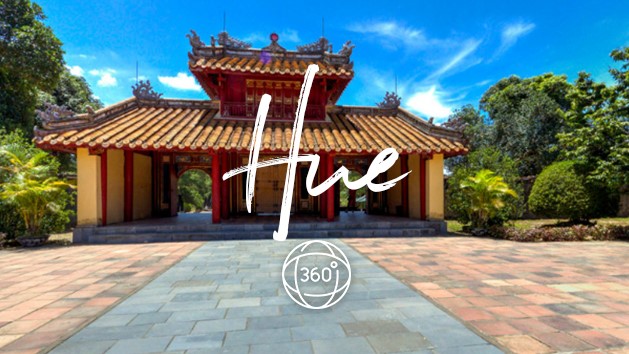 TOP THINGS TO DO IN HUẾ:
See Imperial Vietnam
Get acquainted with Vietnam's last royal dynastic family by exploring what survives of their 143-year reign. The Complex of Huế Monuments, featuring the Huế Citadel is a hugely significant territory. Roam its palaces, pavilions and theatres, and you may still catch echoes of life in the Imperial Court. Journey along the river to the tombs of Tự Đức, Minh Mạng and Khải Định. Enveloped in greenery and guarded by fierce mandolins, these tombs evoke a striking harmony between nature and architecture.
Eat like a king
You're never far from a world-class meal in Huế. Nose around the flapping-fresh produce at Đông Ba Market for a teaser, then whet your appetite with Huế's much-loved snacks, such as bánh khoai and bánh bèo. Roving vendors can roast you a bánh mì or whip together a swoon-worthy bowl of bún thịt nướng in seconds. There's even a 'vegetarian street' in Huế, evidence of the city's devout Buddhist roots. Foodies can't miss the chance to try bún bò huế in the city of its origin.
Explore the city's Buddhist roots
Nowhere is Huế's serene atmosphere more penetrating than in its pagodas and monasteries. Từ Hiếu Monastery is where Buddhist author and activist Thích Nhất Hạnh spent his days as a novice monk. Here, tombs of imperial eunuchs rest alongside footpaths and lotus ponds, and the monks play football in the late afternoons. See the iconic seven-tiered tower of Thiên Mụ Pagoda and park your bicycle outside the Diệu Đế Pagoda for a glimpse inside.
Cycle in the ride paddies
Huế's photogenic streets and lush countryside are a wonderland for casual cyclists. The ride to the tile-roofed Thanh Toán Bridge is one of Huế's most captivating, winding past vegetable farms, footbridges, and flocks of ducks. In town, cycle Lê Lợi and Bạch Đằng–one of Huế's classic streets–for scenes of local life. For a more leisurely option, hail a xích lô (bicycle rickshaw) for a tour around the city.
Revisit colonial history
Travellers with an eye for architecture will enjoy seeing what remains of French influence in Huế. Stroll down Lê Lợi to encounter five enduring colonial structures. You can't miss the nautical, art déco lines of La Residence Hotel, the stately crimson buildings of the Quốc Học High School, the Gustave Eiffel-designed arches of Trường Tiền Bridge, and the over-the-water veranda of Le Cercle Sportif.
Head for the hills
Grab a gulp of fresh air and stretch your legs in the hills nearby. Pine-covered Thiên An is the perfect spot for a long and lazy picnic lunch. Come sunset, join the locals admiring the view from Vọng Cảnh. For a real workout, challenge yourself on the lofty trails at Bạch Mã National Park.
---
Watch My Hue with Huong Lan
---
Hue Itineraries
24 Hours in Huế
Start off as early as possible to see Thien Mu Pagoda, then take your time at one or more of the Imperial tombs of Minh Mạng, Tự Đức, or Khải Định. Refuel with a bowl of Bún thịt nướng at Huyền Anh, before taking on the sprawling Huế Citadel. Later in the afternoon, have a calming walk around the Tu Hieu Monastery, then climb aboard a cyclo for a ride at dusk.
48 Hours in Huế
Fill up on a supremely satisfying bowl of Bún bò Huế before delving into the chaos at Đông Ba Market. Spend your morning either cycling to Thanh toán Bridge, or hire wheels to see the impressive tomb of Emperor Gia Long. Back in the city, lunch with the locals at Hanh restaurant, then pick up some cultural insight at An Dinh Palace and Tu Cung Residence. If you have time, walk the length of Lê Lợi street, stopping for a café sữa đá and any sights that catch your eye. Watch the sunset from Vọng Cảnh Hill, or take an evening cruise on the Perfume River.
Hue Weather
Huế's springtime months, from February to the end of April, show the historic capital in its best light. In June and July, prepare for scorching days. The rains come in August and can last all the way through January. It's worth noting Huế experiences some flooding, usually from October to late in the year.
Transport to Hue
Domestic flights from Hanoi and Ho Chi Minh City touch down in Huế's Phu Bai Airport, a 30-minute drive from the city. Travelers also can hitch a train to Huế on the Reunification Express line, ride the open bus or hire a private car from the international airport in Danang, two hours away.
---