For many, the seascape of Halong Bay is synonymous with Vietnam. Cruises lazily sail emerald green waters among thousands of rugged islands and islets, stopping at some of the most spectacular caves through which visitors can wander, viewing impressive, centuries-old formations. Halong Bay's mystical beauty has made it a bucket list attraction within the country, but it's still possible to find secluded corners to call your own.
Click the image below for a 360-degree tour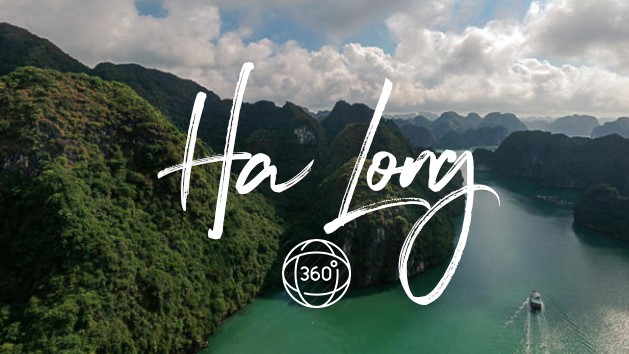 ---
TOP THINGS TO DO IN HALONG BAY:
Cruise the bay
Nothing beats spending watching the sun set over the calm waters of Ha Long Bay, and waking up to a serene morning surrounded by karsts. Relaxing on a sun deck surrounded by magnificent panoramas is the highlight of many a trip.
Try your hand at rock climbing
There are enough different routes in the bay to keep climbing junkies entertained, and there are also many beginners routes on smaller islands. Deep water soloing (DWS), is a form of rock climbing that needs no ropes, and is becoming increasingly popular in beautiful Halong Bay, especially on Butterfly Island.
Explore Cát Bà Island
Cát Bà Island lies just south of Halong Bay, its densely jungled interior offers the opportunity to spot some of the 32 animal and 70 plus bird species that call it home. Those who trek in the island's interior have a small but more realistic chance of seeing one of three macaque species, civets, deer and squirrel. Hiking opportunities abound, with the chance to climb to the island's highest peak or trek to a remote village before taking a ferry ride back to Cát Bà town. Another great pleasures of a Cát Bà trip is hiring a motorbike or bicycle and exploring. Head up to the Cannon Fort, not far from town for a slice of military history together with awe inspiring views over Lan Hạ Bay.
Ha Long Itineraries
24 hours
With just 24 hours, it is possible to take a day trip from Hanoi and cruise out among the bay's fable limestone karst islands before arriving back in the capital in time for a nightcap.
48 hours
Those with 48 hours to play with have a decision to make: indulge in an utterly relaxing overnight cruise on Halong Bay, or opt for the more active choice, splitting the time between some trekking on Cát Bà Island and a kayak, or perhaps boat trip out onto the waters of Lan Hạ Bay.
Ha Long Weather
The months of April and May offer sunshine and a refreshing breeze, while September to October are favoured for their cooler temperatures and clear skies.
Transport to Ha Long
Most visitors to Cát Bà or Halong Bay opt for the most relaxing and by far the simplest option of a package including all transport from Hanoi, but it is possible to travel independently to Halong City or Cát Bà Island.
---