Vietnam is where the curb comes to life. Here, the sidewalk has been claimed on every corner, and it's used for much more than just walking. The best way to get a sense of street life in Vietnam is to join the community on the pavement. Don't worry about fitting in: everyone is welcome. Here are seven ways to immerse yourself in Vietnam's buzzing sidewalk culture.
---
Stretch it out on the sidewalk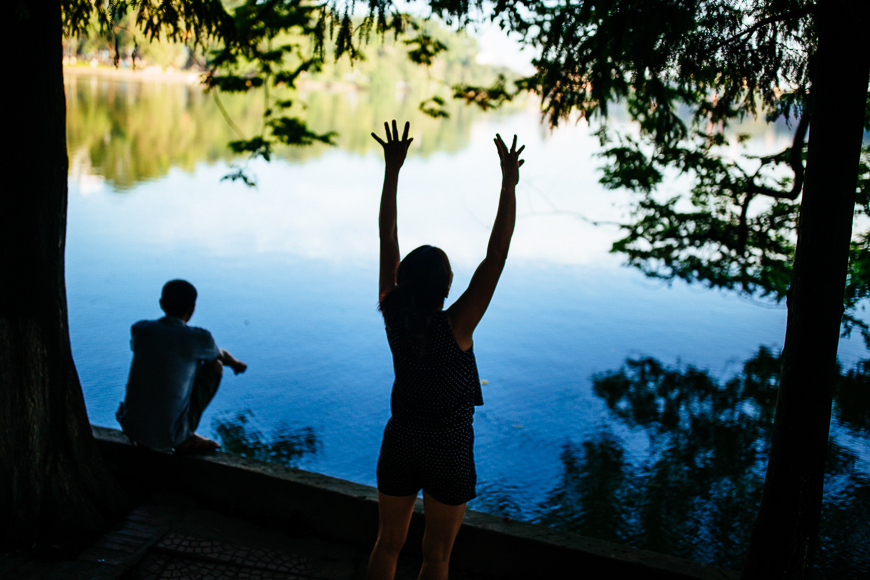 Vietnamese love to start the day by exercising together. To be part of this local ritual, wake up early and head to the nearest lake, river or park at 6 am. As dawn breaks, hundreds of Vietnamese of all ages move through their favourite routines in the morning light. You'll see spirited games of hacky sack, curious warm-up sequences, and groups practicing qi gong, zumba, and even laughing yoga.
TIP: In Hanoi, head straight for Hoan Kiem Lake or Truc Bach Lake, or the banks and bridges of the Saigon River in Ho Chi Minh City to watch Vietnam's cities wake up.
---
Have a hit of robusta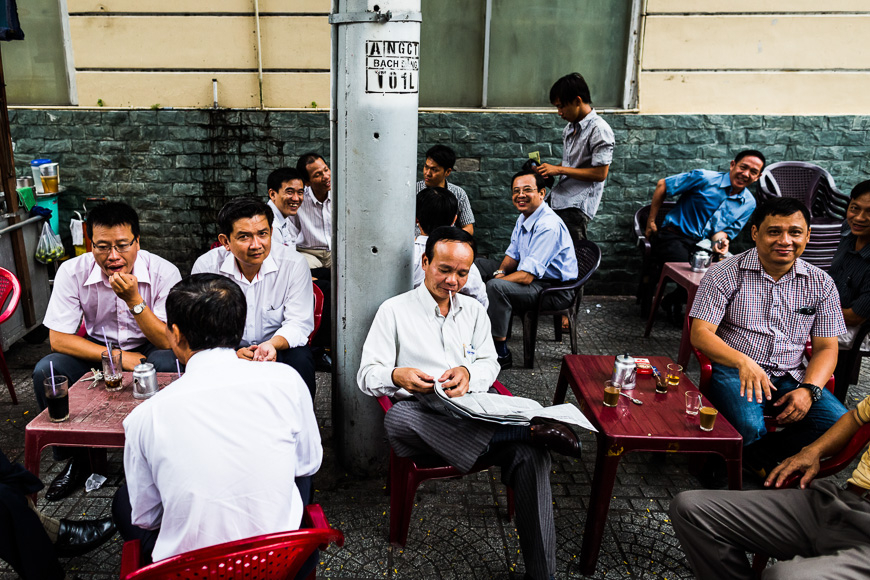 Vietnam is the world's second-largest producer of coffee, and Vietnamese spend long hours together sipping brews on the pavement. In every city, you'll see locals catching up with friends on the curb, as coffee drips slowly from tin filter to cup. Enjoyed black or with condensed milk, hot or over ice, this addictive beverage is a perfect excuse to sit back and do some people-watching.
TIP: If you can't take the potent Vietnamese blends, ask for a cold nước ép (fresh juice), nước mía (sugarcane juice) or dừa tươi (fresh coconut) instead.
---
---
Try a sidewalk shave and trim
On a stroll in Vietnamese cities you may come across a worn chair facing a mirror strung up on a wall, often in the shade of a leafy tree. These are Vietnam's curbside barbers, at your service. Vietnamese men regularly pay a visit these makeshift barber shops for a quick shave, trim and complimentary ear-cleaning. It's a fun and inexpensive way to freshen up your look, at a bargain price of 50,000VND.
---
Give your feet a break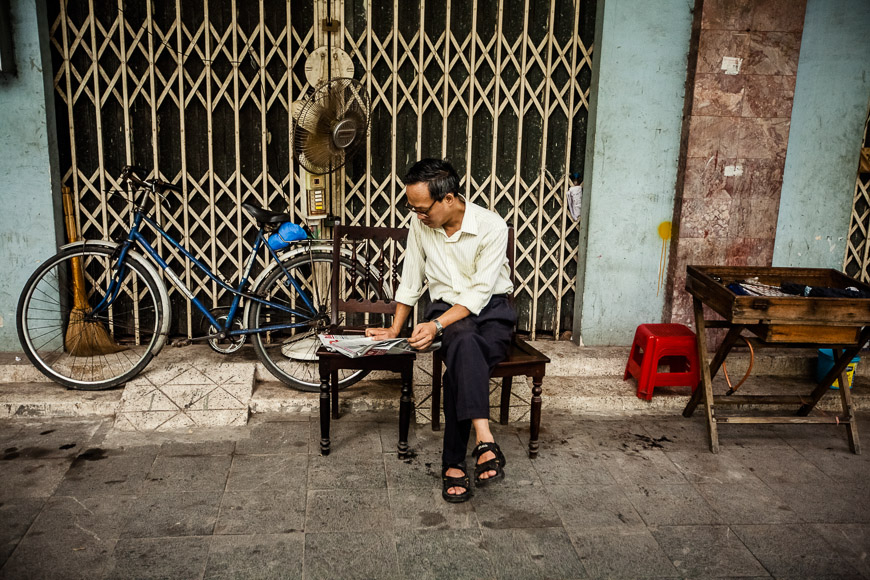 When sitting on the sidewalk in Vietnam, you may be approached by mobile cobblers. Usually these cobblers carry a basket of tools, and will point to your feet as a way of asking if you'd like a shoe shine. For the small fee of a dollar, they'll restore your kicks to their former glory in a matter of minutes. In many ways, waiting for your shoe repair while while wearing a pair of plastic slippers is a classic snapshot of life in urban Vietnam.
---
Let lunch come to you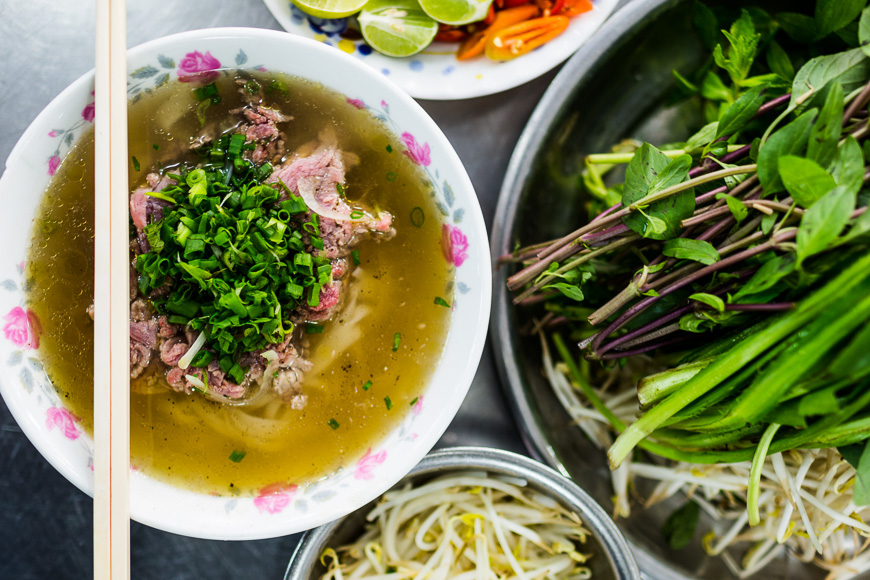 Vietnam can boldly claim some of the best street food in the world. From sticky-sweet coconut snacks to extraordinary bowls of noodles, you'll find countless enticing treats served on the street. Order a bánh mì and watch as it's assembled curbside, or look for the steam from a simmering pot of broth to tell you where to pull up a stool. The busier the stall, the more likely it's worth the wait.
TIP: Many sidewalk vendors open for specific times, just a few hours a day. Breakfast may run from 6am to 9am, and lunch starts around 11am and is over by 1pm.
---
Cool down with a cup of chè
Vietnam's sweltering summers call for resourceful ways of staying cool. Do as the locals do and stop on the sidewalk for an icy bowl of chè. You'll find chè sold at hole-in-the-wall spots, pop-up carts and from roving vendors on the sidewalk. There are infinite varieties, including chè made with colourful jellies, fresh fruit, and sweetened beans. The common denominator is shaved ice and coconut cream. Mix it all together for a delightful tropical treat.
---
Bond over beer and barbecue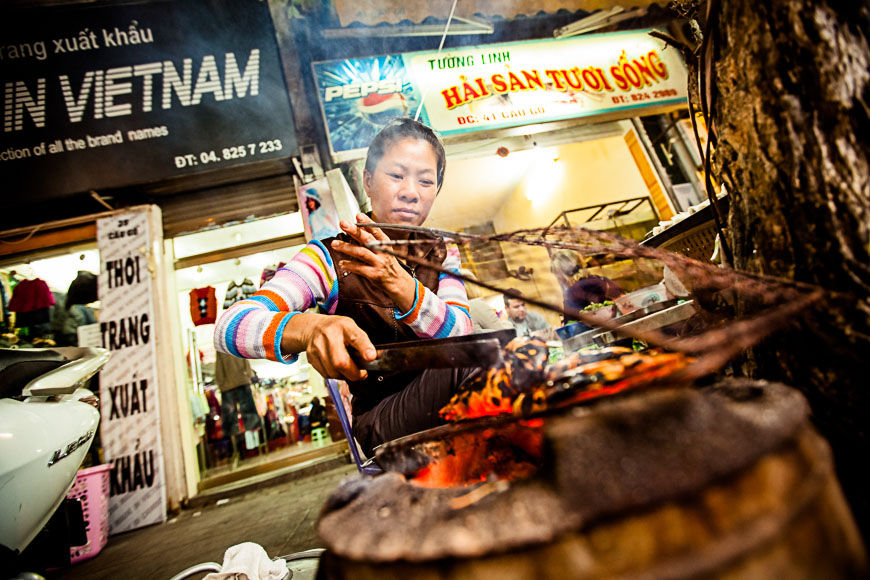 At the end of the day, Vietnamese people love to unwind with cold beers and smoky barbecue. After dark, city sidewalks are crammed with friends, businessmen and hip urbanites gathered around bia hơi venues. With a non-stop flow of drinks and delicious bites, there's plenty of time to chat, debate, and toast together. Bring some travel pals, get a round of drinks and don't forget to practice your cheers in Vietnamese: 'Một, hai, ba, dô!'
TIP: In Hanoi, pop by Ly Van Phuc for perfectly grilled chicken and honey bread. For seafood lovers, a stop at Snail Street (Nguyen Thuong Hien) in Ho Chi Minh City is a must.
---
Want more Vietnam travel ideas? Sign up for our newsletter to receive our best stories in your inbox.