Fancy a break from the heat of the city and leave all the stress behind but not too far from home, consider Pu Luong (Thanh Hoa Province), where you can immerse in the wild beauty of mountains and forests, get some fresh breezes and admire all the charming combination of nature.
About 160 km southwest of Hanoi, Pu Luong is a popular weekend getaway among travellers with its rice fields, palm groves, waterwheels and cascading waterfalls.
When is the best time to visit Pu Luong
Going during late May and early June to enjoy the lush green of young rice, to feel a peace in mind and soul. Even in a hot summer, Pu Luong is favoured by the comfortable temperature thanks to its location on a low limestone mountain area, with many tropical rainforests and a sparse population. September and October are the harvest time, all the terraces on the uphill mountains will turn a glorious yellow and make the place an opulent and dreamy area. Or, you can visit Pu Luong at any time of the year to relax and be embraced by nature.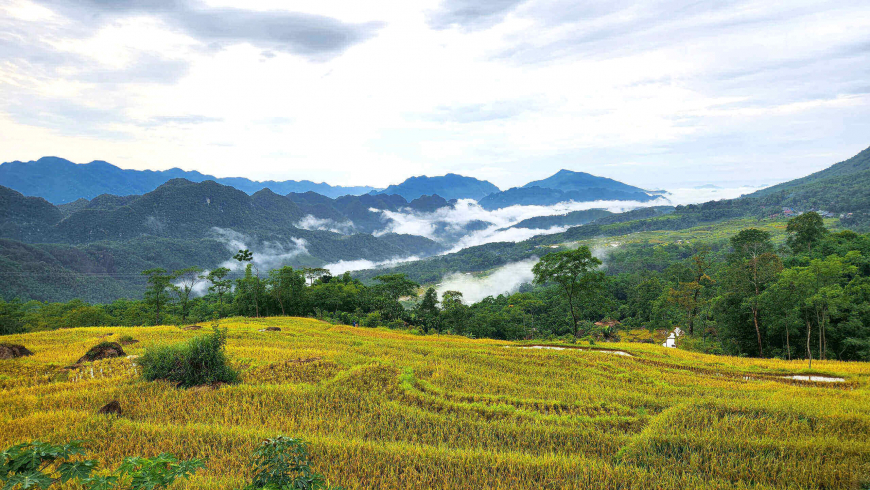 How to get to Pu Luong
The most popular way to get to Pu Luong (Thanh Hoa) is either by motorbike or car. You can easily hire one in Ha Noi. Or you can hop on a limousine from Giap Bat and My Dinh stations. It will take you about 4.5 hours to Pu Luong. It is highly recommended to break the journey either in Ninh Binh or Mai Chau to explore more the beauty of Northern Vietnam.
Things to do in Pu Luong
Hiking
There are some beautiful country roads that you can climb to the hilltops in Pu Luong. On the way, you can visit small villages and walk through villagers' plantation areas. The views of mountains and the valleys are breathtaking. Early birds will be the ones who catch up with the sunrise on the hilltops. Seeing a thick mist around the mountains being chased off by the sunlight is what will make the hike worth it.
Biking
Unlike the bustling streets in the city centre, visitors will occasionally see a local on a motorbike in Pu Luong. The main means offered here is bicycles. Riding a bicycle around the pretty decent road around Pu Luong, get in fresh air and the tranquillity. There are certain mountain roads that may challenge cyclists to conquer. Homestays in Pu Luong often offer bicycles free of charge.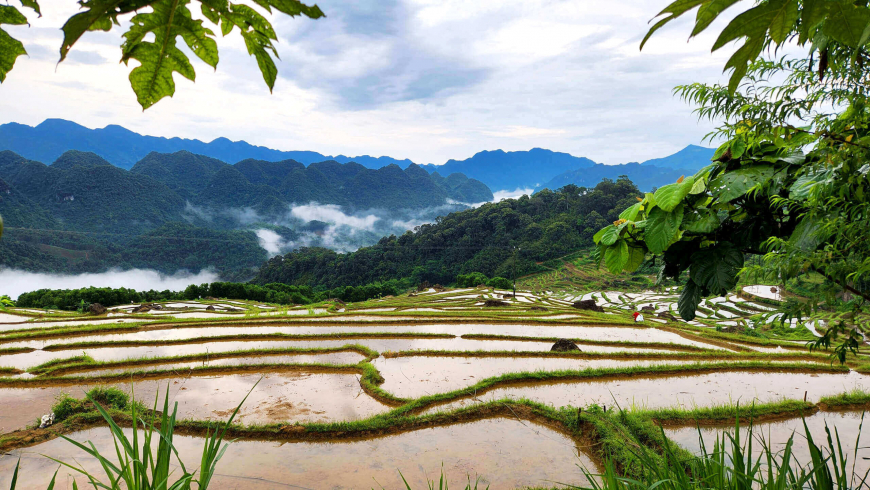 Visit ethnic villages in Pu Luong Nature Reserve
Pu Luong Nature Reserve, one of the country's lesser-known ecotourism and trekking spots. Pu Luong Nature Reserve was established in 1999 to protect the area's biodiversity. With a total area of more than 17,600 ha and a diverse flora and fauna system, you will find not only a mix of pristine forest and cultivated rice terraces, but also cute little villages of ethnic people. This destination is the residence of the Thai and Muong people. On your visit, you can admire their built-on-stilt houses, observe them harvesting crops, working on the terraced rice fields and enjoy ethnic typical cuisine. Pu Luong peak, Don Village, Son, Ba, and Muoi Village are some featured spots to explore in Pu Luong Nature Reserve.
Explore Pho Doan market
Visitors can take time to pass by Pho Doan market to experience the local market of ethnic people. It is located in Lung Niem Commune, Ba Thuoc District, Thanh Hoa Province. There take place trading activities, purchasing local products of Kinh, Muong, and Thai minorities from surrounding areas such as Tan Lac District, Lac Son District (Hoa Binh Province)... They are quite simple but prevalent in kinds of products such as traditional silk costumes, tube wine, mountainous vegetables, and fresh fruits,...
Admire the full-range scenery on Pu Luong mountain peak
Challenge lovers will love to conquer the peak at 1,700 metres high. Clouds floating at the peak of the mountain with dotted stilt houses, and terraces in the valley on the mountain foot are the combination that you may get a dreamy moment, everything stays still, nothing moves, time stops, just the quietness of the landscape exists.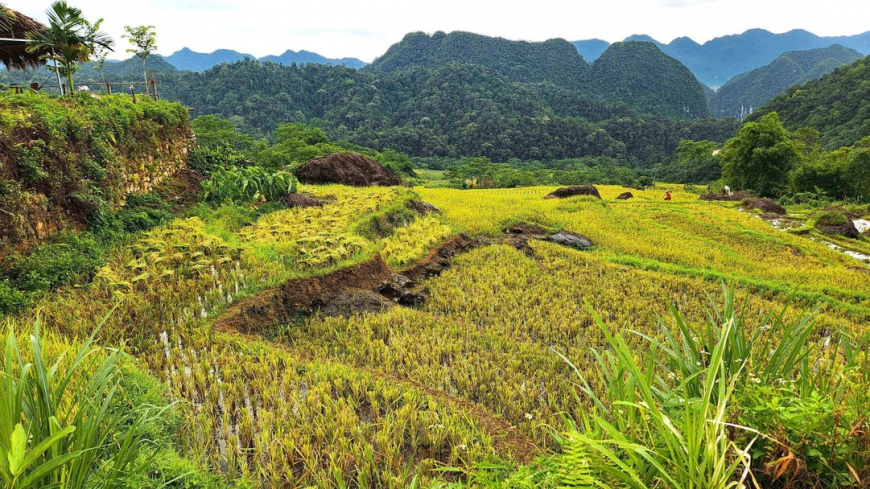 Hieu waterfall
Hieu waterfall in Hieu Village in the Co Long Commune is a community-based ecotourism destination. The waterfall consists of five small waterfalls. The water has a beautiful blue-green colour and it can be enjoyed year-round. You can occasionally swim here.
Rather than that, you can see bamboo water wheels that appear around Pu Luong. They are a symbol for the area as well as Thai ethnic people. The water wheels play an important role in agricultural development in Pu Luong. They are used to extract water from the streams and rivers to irrigate the surrounding rice terraced fields.