Phu Quoc lures travellers with its sparkling beaches, underwater corals, and enticing resorts. Lately though, a new attraction is getting attention. Just steps from the soft sands of Long Beach, Sailing Club Phu Quoc is becoming a destination in its own right, offering hours of fun in a relaxed, sophisticated setting. Here are seven reasons you may want to visit.
---
Infinity pool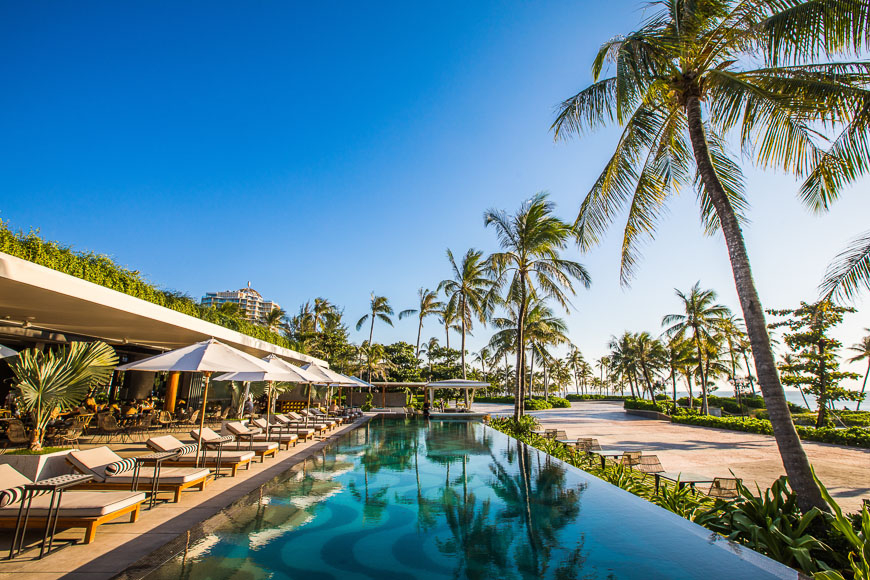 The first thing you'll notice about Sailing Club is its amazing rim-less pool facing the beach. Surrounded by chic sun loungers, and sporting its own swim-up bar, the pool is the perfect place to do some reading and sunbathing while you soak up Phu Quoc's island breezes. Throw in a few cute floaties and a chilled coconut and the beach club vibe is complete.
---
Minimalist design

Created by Garry Fell of Gfab Architects, the photogenic interiors of Sailing Club are one reason travellers love spending time at this upmarket beach club. Earthy materials such as grass, hanging vines and bamboo warm up the minimalist spaces and lounge areas. Make yourself comfortable on a range of rattan armchairs, cushioned booths and inviting daybeds.
---
Amazing cuisine

Whether you're in the mood for a satisfying brunch, an island-inspired lunch or a full-on feast, the menu at Sailing Club delivers. You may be tempted to stay the whole day, nibbling off the five-star selection and unwinding by the pool. The kitchen's sumptuous Asian, Italian and veggie platters, smoothie bowls, and steamed bao buns are a good place to start.
TIP: Have a taste of Phu Quoc's freshest ingredients in the Black Pepper Gin and Tonic and the Asian Duck Salad with Phu Quoc Fish Sauce.
---
Beach bumming

You can't spend all your time in the pool when one of Vietnam's best beaches is right in front of you! Long Beach is blessed with the softest sand you'll find on Phu Quoc Island. Take a swim in gentle currents to cool off, and let your worries melt away as you stroll the warm sand and float in the turquoise water. There's nothing a little Vitamin Sea can't make better!
---
Photo opps

From food flat-lays to sunset snaps, chances are you won't be able to resist taking pictures and selfies at Sailing Club. Look smart because you'll find places to pose in every corner. The rope swings on the beach, painted angel wings on the walls, and the trendy loungers by the pool are favourite spots for Instagrammers.
---
Sunsets and cocktails

Phu Quoc's golden hour lives up to its promises. When the honeyed rays of sunlight start pouring over the swimming pool and tables, order a cocktail and claim a spot with a prime view. At dusk, Sailing Club is the best spot to watch the island's famed sunsets. Glowing pink and indigo hues go on and on, creating silhouettes of the tall palm trees on the shore.
TIP: Craft beer lovers can enjoy a range of original Vietnam-inspired brews from Winking Seal, a creative craft beer house based in Saigon.
---
Fire dancing and DJ sets

After dark, Sailing Club Phu Quoc picks up the beat, with toe-tapping, hip-swaying DJ sets and contemporary tunes that underscore the island's carefree vibes. Weekends and evenings come with drink specials that make 'just one more' an irresistible prospect. Stick around until the sun goes down, when sparks fly in a breathtaking fire dancing show on the sand. At least, it starts on the sand. The party soon moves to the dance floor where the beat goes until late.
---
Want more Vietnam travel ideas? Sign up for our newsletter to receive our best stories in your inbox.