In Vietnam's spectacular Gulf of Tonkin, travel doesn't just mean following the itinerary. These days, you have more options for exploring all three bays – Hạ Long, Lan Hạ and Bái Tử Long – your own way. Riveting seascapes will always be the highlight, whether you're coming for a romantic cruise, active adventure, or something completely different. Here are some unique ways to experience Vietnam's most beautiful bays.
---
Delightful day trips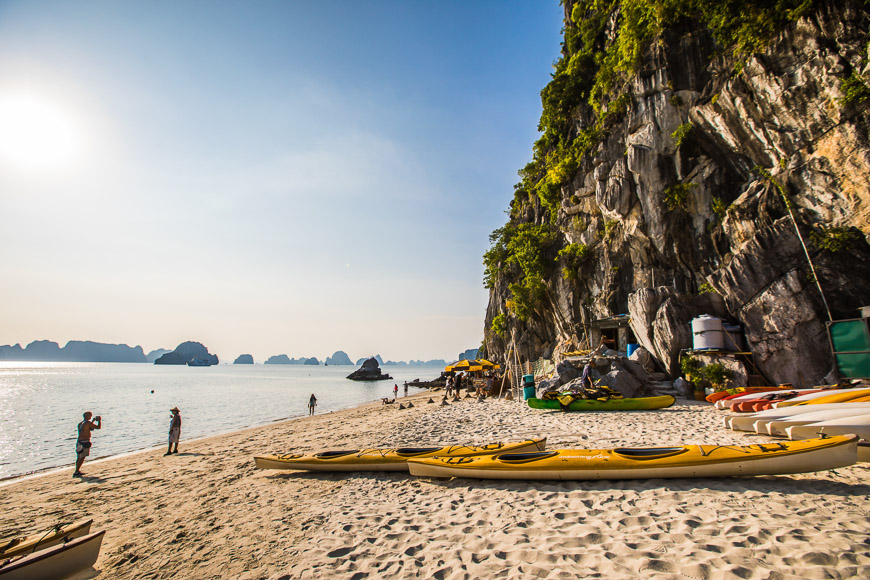 If you only have a day to spare, you can still take in the world-famous seascapes in Hạ Long Bay, thanks to excellent new roads that make the journey from Hanoi under just two hours. Pick from a range of three-star to five-star cruises for a value-packed five-hour excursion on the water. A delicious Vietnamese lunch is served on board as you cruise past Hạ Long's magnificent karsts. There's time for a cave visit and even a bamboo boat tour of a floating village before catching the sunset on your way back to the harbour.
---
Scenic seaplane tours

It's up, up and away -- in under two minutes -- when you're strapped into Hai Au Aviation's VIP seaplane tours. To really take your Hạ Long trip to new heights, climb in for one of the scheduled 25-minute seaplane tours that depart each day. After a speedy check-in, you'll be treated to a thrilling takeoff on the water and breathtaking view of the jungle-covered karsts and sparkling waters below. Seaplane tours give an entirely different perspective on Vietnam's most lauded UNESCO Heritage Site. Don't forget to charge your camera!
---
Unforgettable kayaking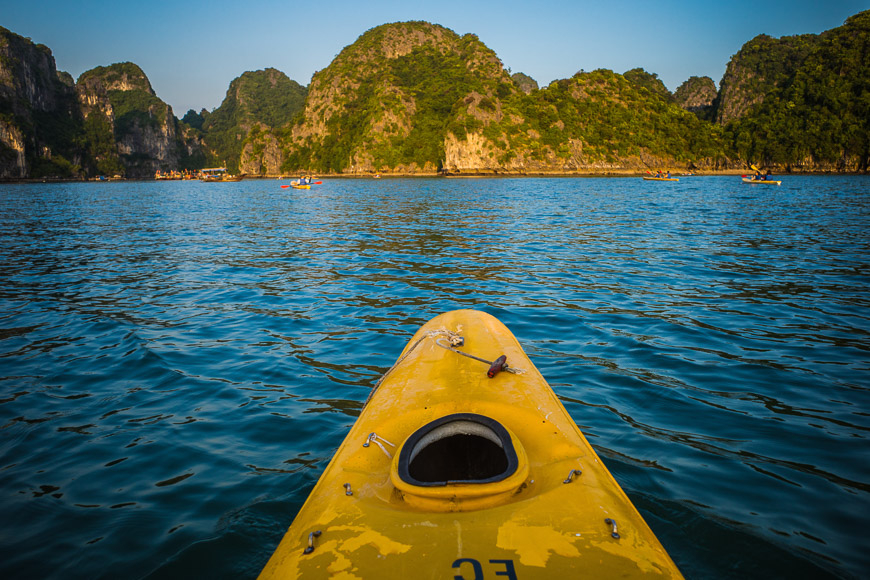 If there's one thing everyone must do when in the Gulf of Tonkin, it's having your own self-guided kayaking experience on the water. Depending on what you choose, you may like to wake up early to paddle around the floating villages and pearl farms in Hạ Long Bay, or push off just in the late afternoon to watch the sun sink behind the karsts. Better yet, venture into Lan Hạ Bay to explore pristine lagoons and empty beaches. In Lan Hạ Bay you'll find amazing lagoons where you can paddle peacefully to nothing but the sounds of birds and insects.
---
---
Overnight cruises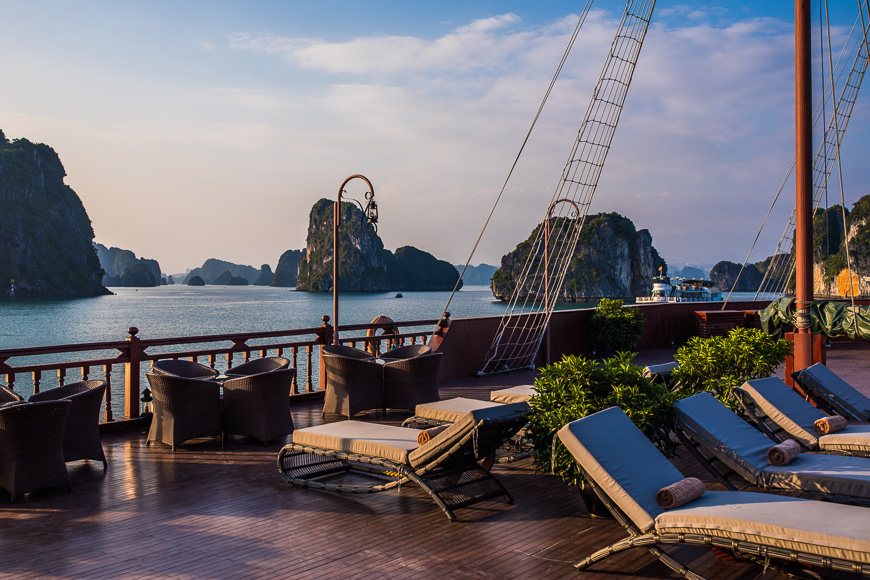 For many travellers, spending 24 hours on the water in Ha Long Bay is still the quintessential Vietnam experience. There's nothing like waking up and stepping outside to the fresh sea breeze and an inspiring panorama of turquoise water, tiny fishing boats and rocky karsts. Choose a traditional wooden junk to tick off all the essential boxes: warm and elegant cabins, delicious Vietnamese food, and insightful excursions. Couples looking for a truly private getaway can charter a boutique cruise and plot their own route within the bay.
---
Island adventures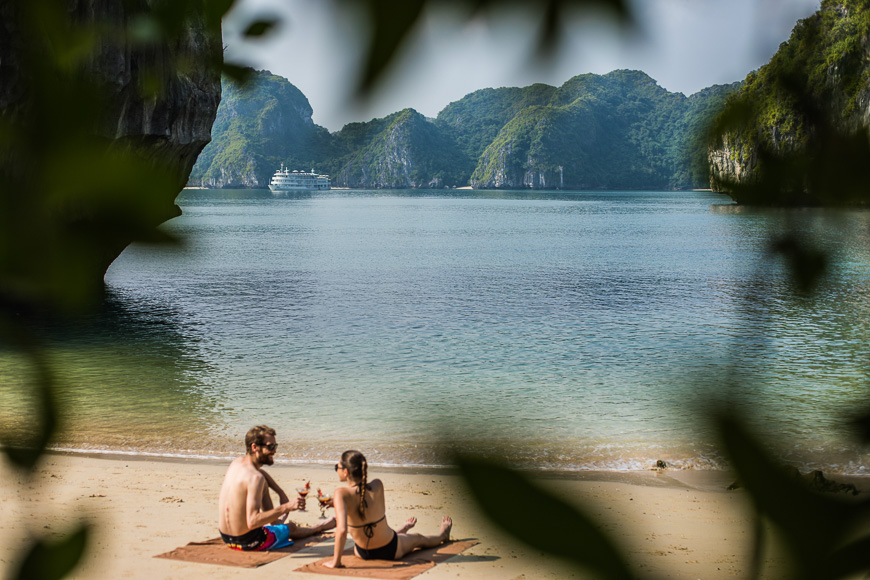 You don't have to be on the water all the time to get up close with the best of Lan Hạ Bay. Only a short drive from Hanoi, Cát Bà Island is quickly becoming a favourite spot for adventure lovers and beach bums, who come for the island's striking beauty and soothing shores. Book a homestay on Cát Bà and spend your days visiting farming villages, hiking to the hilltop cannon fort, and cycling along pretty lanes. You can even go rock-climbing on the karsts, or sleep under the stars on a deserted beach on a multi-day tour.
---
Out-of-the-way escapes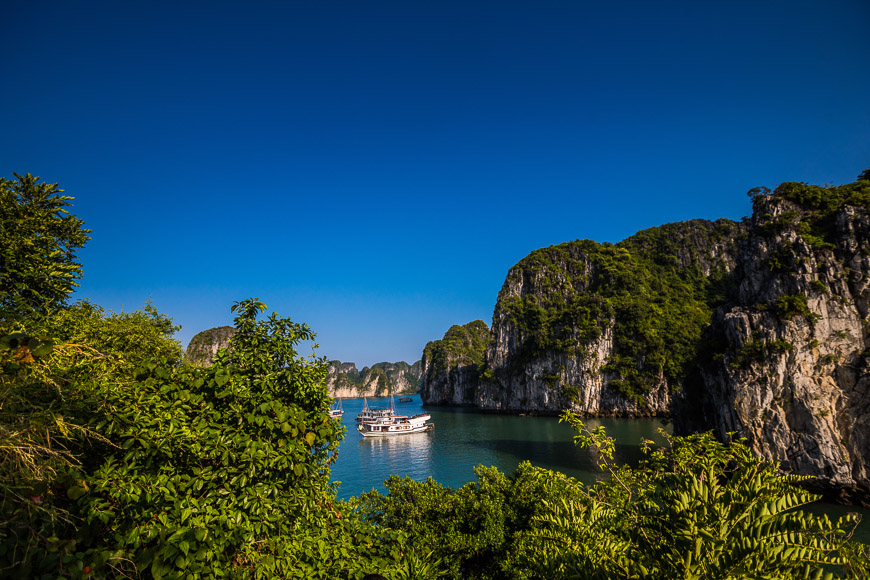 If your main goal is to have the bay all to yourself, then skip Hạ Long Bay and opt for a cruise in Bái Tử Long Bay just northeast – instead. This lesser-explored bay has slightly smaller karsts than Hạ Long and Lan Hạ, but it makes up for it with endless unspoiled views of the sea and sky. You won't find anything to complain about as you chug through Bái Tử Long's stunning seascapes, watching flocks of birds and row after row of karsts pass on the horizon. Claim a lounger on the sun deck and order a Vietnamese coffee to really take it all in.
---
Want more Vietnam travel ideas? Sign up for our newsletter to receive our best stories in your inbox.