Across the world, Vietnamese cuisine is famous for its subtle flavours and ultra-fresh ingredients. Vietnamese sweets are not only a refreshing treat on a balmy day, but an adventure in texture and flavour. From puddings to pastries, here are 15 sweet snacks you must taste on your travels in Vietnam.
---
Chè Chuối

Those who are bananas for bananas will like this concoction of tapioca pearls, coconut cream and grilled bananas. This smooth, creamy pudding is easily found at cafes and street stalls.

Try it at: Lutulata Desserts & Drinks, 39 Hàng Cót, Hoàn Kiếm, Hà Nội
---
Chè Trôi Nước
Eaten on special occasions, these mochi-esque rice flour balls have mung bean paste at the centre, and are drizzled with ginger syrup and sesame seeds. Served with a dash of coconut cream, each order will set you back about 15,000VND.

Try it at: Chè 'đợi', 48 Lý Chính Thắng, District 8, Ho Chi Minh City
---
Bò Bía Ngọt

An excellent snack, these rolls of thin rice paper contain a layer of nougat, coconut shreds and sesame seeds. Each bite of bò bia is light yet satisfying. You can buy it from bicycle vendors throughout Vietnam for 5,000VND a roll.
Try it at: Thanh Niên street, West Lake, Hà Nội
---
Bánh Chuối Chiên
Fried banana fritters are a popular street snack throughout the country. With a crispy exterior and soft gooey interior, these fritters can be found in alleyways and around markets for 5,000VND a piece.

Try it at: Public Market in Hội An
---
Chè Bắp

A mix of corn, coconut cream and tapioca pearls, this pudding is a creamy and nourishing dessert in winter months. Be sure to try in Hoi An where it's made with fresh, locally grown corn.

Try it at: Quán Ăn Bến Tre, Xuyên Trung, Cẩm Nam, Hội An
---
Sữa Chua Nếp Cẩm

Bold flavours and textures meet in this sticky rice pudding. A generous scoop of yoghurt is the star of this adventurous dessert, available in many cafes for about 35,000VND.

Try it at: Che Bobo Chacha, 92 Cửa Bắc, Quán Thánh, Ba Đình, Hà Nội
---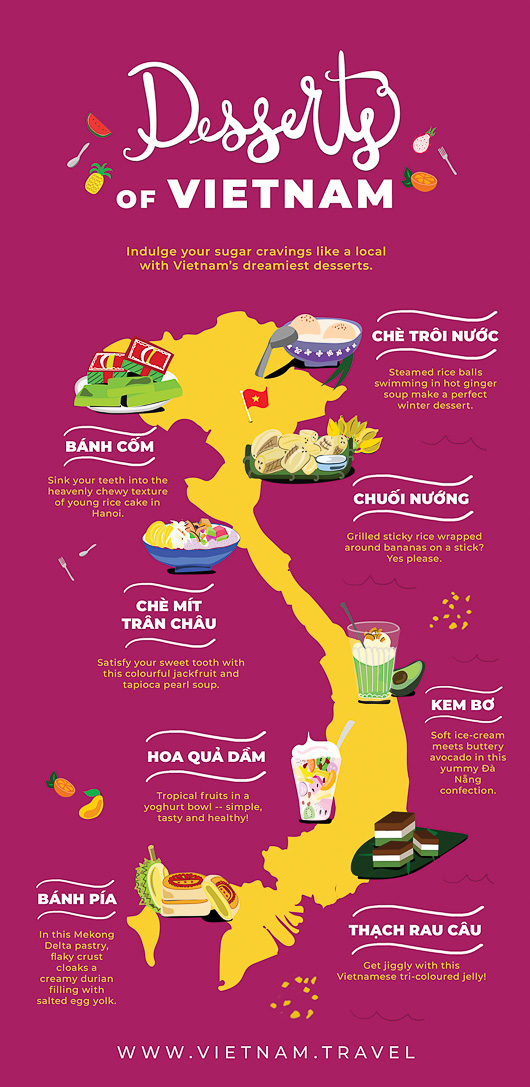 ---
Kẹo Lạc
Vietnamese peanut brittle is a scrumptious vegan treat. A sprinkling of sesame seeds adds extra crunch to each nibble. You'll find this snack sold at transportation hubs and roadstalls across Vietnam.

Try it at: Transfer points nationwide (airports, bus stations and train stops)
---
Chè Sương Sa Hạt Lựu

Translated to, 'rainbow dessert', this chè is served in a tall glass showcasing each vibrant layer. Red kidney beans, pandan jellies, mung bean paste and more goodies are stacked together and topped with ice and thickened coconut cream.

Try it at: Nhà Hàng Ngon, 26 Trần Hưng Đạo, Hoàn Kiếm, Hà Nội
---
Hoa Quả Dầm

This healthy snack brings together fresh mixed fruit, coconut cream and shaved ice. Anything fresh is invited to the party, including jackfruit, kiwi, watermelon, apple and even avocado! You can also add on pandan jellies or tapioca balls for more texture.

Try it at: Hoa Quả Dầm Hoa Béo, 17 Tô Tịch, Hoàn Kiếm, Hà Nội
---
Kem Thái Dừa
The Vietnamese version of an ice-cream sundae, kem thái dừa is ice cream served in a coconut with any topping you can imagine (peanuts, jellies, caramel sauce, beans, biscuits, fresh fruit.) This trendy snack costs about 40,000VND plus extra for toppings.

Try it at: Kem Cong Truong, 10 Phạm Ngọc Thạch, District 3, Hồ Chí Minh City
---
Bánh Đa Kê

These sesame-encrusted rice crackers with mung bean, millet paste and sugar sprinkles are one hearty treat. It's commonly sold on curbsides by bicycle vendors for 5,000 or 10,000VND.

Try it in: Hanoi's Old Quarter
---
Chè Khúc Bạch
Mildly sweet and aromatic, with an intriguing balance of textures, this dessert can be considered a Vietnamese panna cotta. The custard comes in bite-sized pieces with lychees and almonds in a bowl of crushed ice.

Try it at: Quán Chè Hiển Khánh, 718 Nguyễn Đình Chiểu, District 3, Hồ Chí Minh City
---
Caramen Hoa Quả

The Vietnamese version of creme caramel is topped with fresh fruit, jellies and a splash of coconut cream. This dessert is true decadence for just 20,000VND.

Try it at: Caramen Duong Hoa, 29 Hàng Than, Ba Đình, Hà Nội
---
Bánh Su Kem
Who doesn't love a cream puff? Easy to find at bakeries nationwide, this pastry ball is filled with smooth vanilla custard. A set of six of these fluffy bites will cost you about 10,000VND.

Try it at: Any local bakery in Vietnam
---
Kem Xôi

Green pandan-flavoured sticky rice meets coconut ice cream in this surprisingly perfect pairing. Both satisfying and refreshing on a hot day, be sure to try it when in Vietnam.

Try it at: Che 95, 95 Hàng Bạc, Hoàn Kiếm, Hà Nội
---
Want more Vietnam travel ideas? Sign up for our newsletter to receive our best stories in your inbox.