Like many great cities, Hanoi is best seen on foot. Narrow alleys, tree-lined boulevards and pretty lakes are just the beginning of the capital's charms. Set your own pace and get lost in the city's hidden treasures — old and new — with any of these three do-it-yourself walking tours.
---
Hoan Kiem and the French Quarter
Just south of the Old Quarter are spacious streets, verdant parks and French colonial architecture. With restored cathedrals and villas, insightful museums, and lovely lakes, this walk with show you the heart of the Hanoi.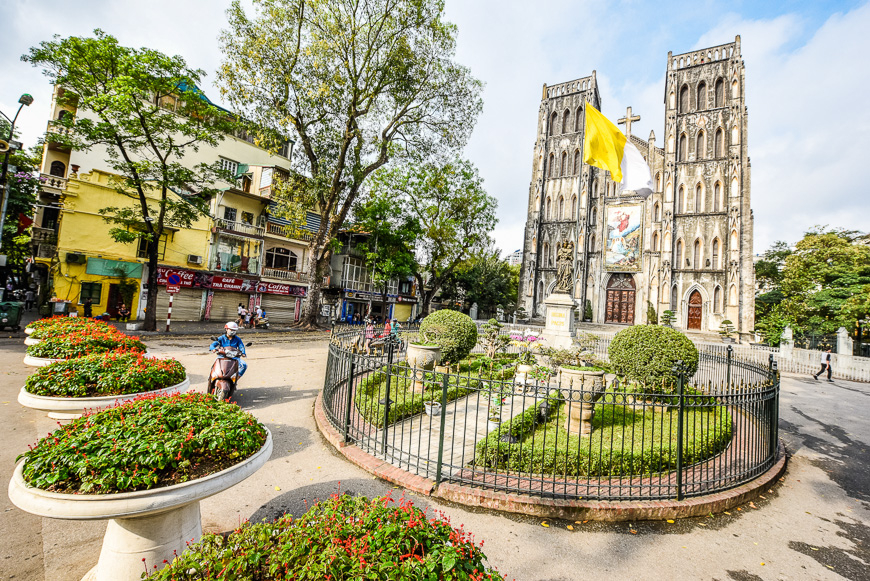 Begin at Hoan Kiem Lake in downtown Hanoi. The lake is an attraction in itself, ringed with trees and home to a legendary tower. Head to St. Joseph's Cathedral on Ly Quoc Su where you'll have a snapshot of local life: street side bustle, kids playing, and women selling fruits from bamboo baskets. The picturesque yellow villa at Hang Trong Gardens on the same street is worth a look, before you stroll on to the Vietnamese Women's Museum — one of the best in the country.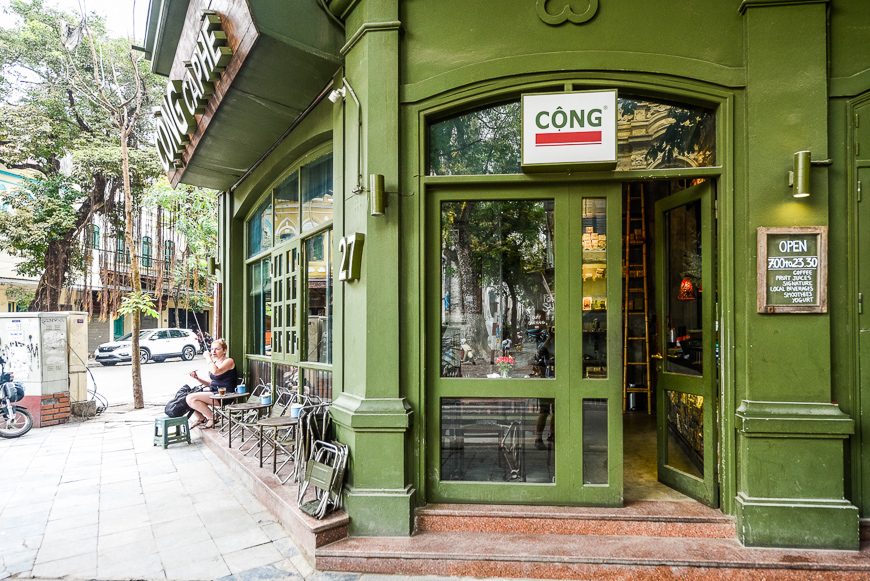 Feeling peckish? Walk a block to 29 Ba Trieu, a street-side restaurant that serves a near-perfect cơm rang gà (quarter roasted chicken with fried rice.) Continue down Ba Trieu st., hanging a right on Nguyen Du street to reach the lovely Thien Quang Lake. Stroll beneath rows of centuries-old trees, observing the action on the sidewalk, until you reach a quaint temple and old banyan tree on your left.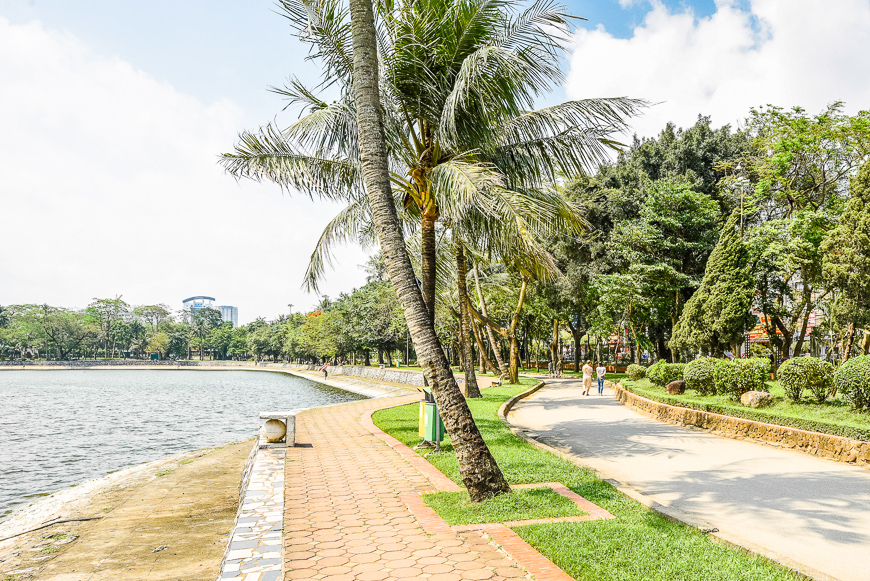 Walk down and cross Tran Nhan Tong st. and enter Reunification Park. Hanoi's largest green space will show you paved paths where locals love to exercise. Sip a coconut by the water, or pedal out in a swan boat. Afterward, exit on the eastern side of the park on Tue Tinh st. Take in the variety of buildings and business along the road, before turning left on Lo Duc st. and heading toward the ornate Hanoi Opera House.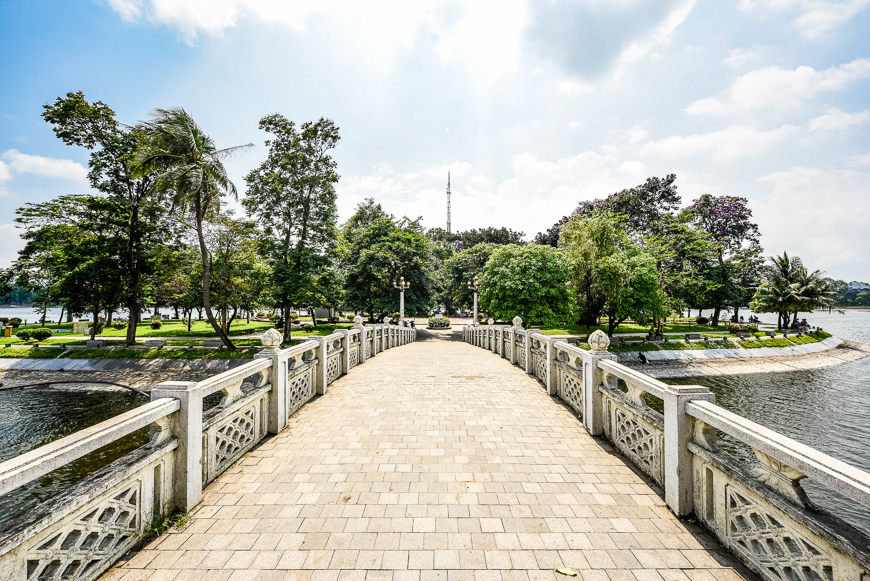 This part of Hanoi is known for high-end stores and French architecture, a fascinating contrast from the crumbling and colourful buildings you passed earlier. Finish your stroll with a well-earned coffee on the terrace of the Metropole Hotel.
---
Markets, Bridges and Banana Island
From a tucked-away cafe in the Old Quarter, head through a colourful local market before reaching a historic bridge, surrounded by urban agriculture. Enjoy a mix of peaceful scenery and bustling street life on this adventurous walk.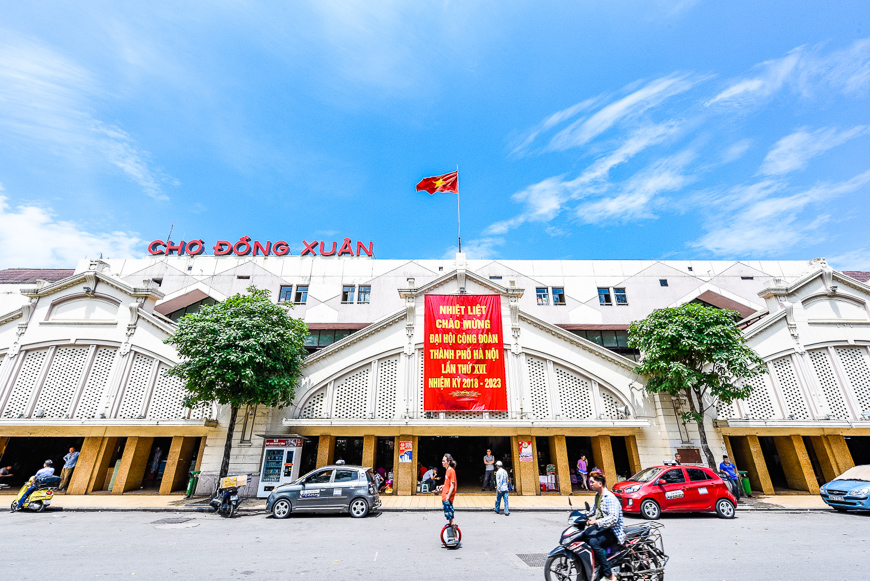 Set off towards the Red River, to explore another side of the city. But first, head to Café Pho Co, a hideaway in the Old Quarter, for some indulgent egg coffee. To find the cafe, look for a silk shop at 11 Hang Gai st. Walk past the textiles into the alley behind and you'll find courtyard where you can have an egg coffee and a view over the lake.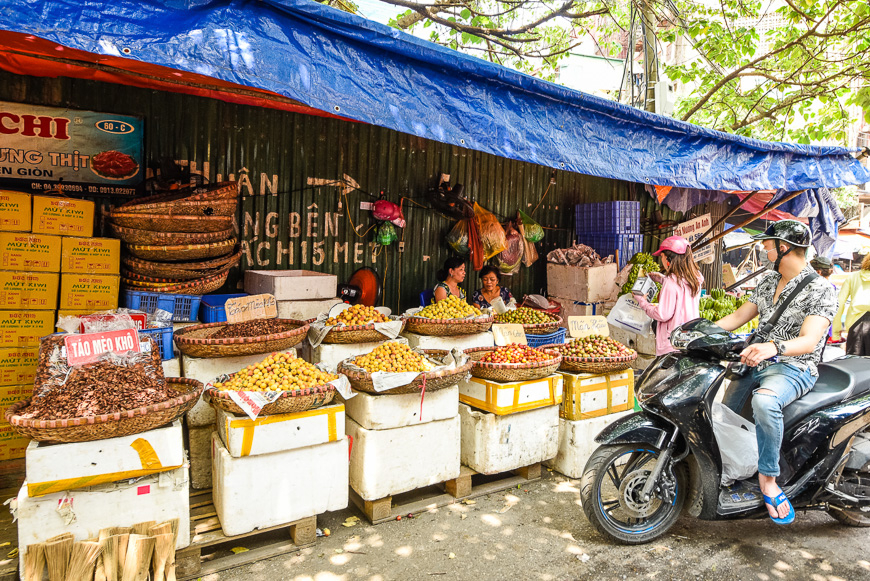 Newly energized, head down Hang Dao st. toward Dong Xuan Market. Turn right on Cau Dong, then turn left to a side street where wholesale spice and fruit vendors peddle an array of exotic goods, from dried squid to fried shallots. If you'd like to nab an ingredient to bring home, this is the place.
Next, make your way to the historic Long Bien Bridge. Turn right on Hang Khoai st. before reaching a busy freeway, then turn left to Xuong Cau, a small road that leads up to Long Bien Bridge. Walk up, passing the old Long Bien train station, and cross the iconic iron bridge that was Hanoi's main supply lifeline during wartime. From the narrow sidewalk on the bridge, you'll see urban agriculture and small homes clustered along the sides of the bridge.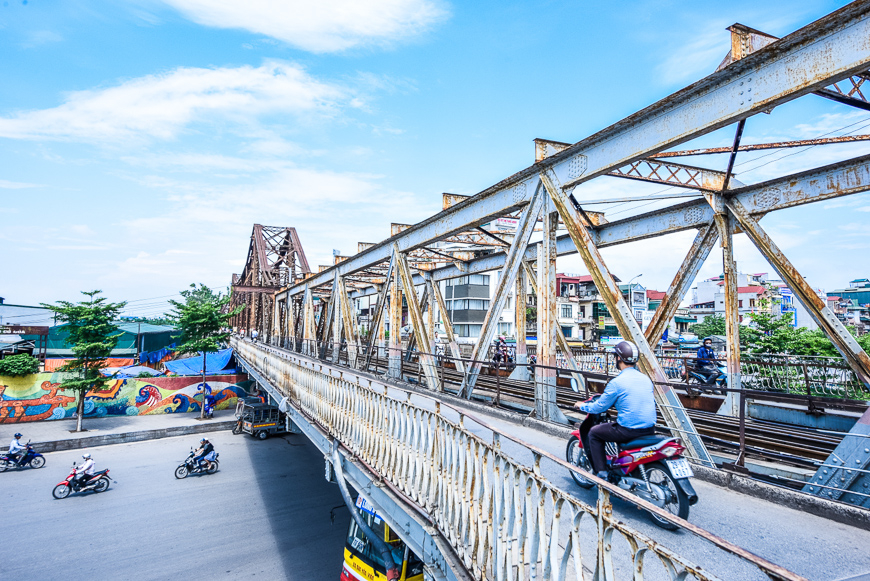 Take the stairwell down to Banana Island. This picturesque patchwork of farmland and floating settlements is so tranquil, the chaos of the city seems a world away. To return to civilisation, go back the way you came, walking along the other side of the bridge for a different perspective.
---
Historic Hanoi and Truc Bach Lake
This Instagram-worthy route takes you past train tracks, detailed murals, and lakeside life. Have a memorable day checking out historic sites, watching urban life, and tasting some of the city's best street food.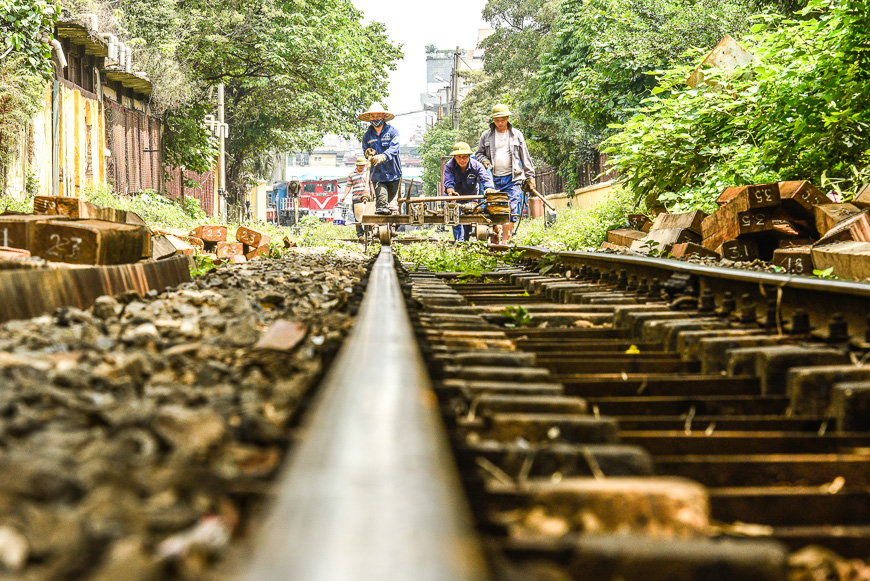 Start your walk where the train tracks meet Dien Bien Phu st. Homes and small businesses are nestled right next to the tracks, revealing a small slice of city life. Once you reach Tran Phu st., following the tracks northward up Phung Hung st. Here there's ample space to enjoy a leisurely walk. As the road curves, you'll find immense mural paintings, depicting scenes from Hanoi's past — a great spot to snap a photo.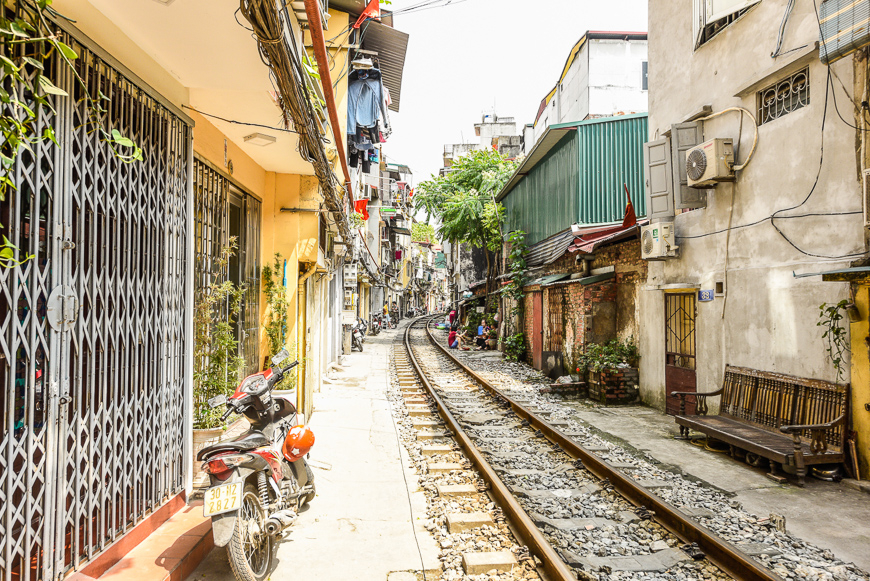 Make a left on Hang Cot st., passing a small park, then find your feet on tree-lined Phan Dinh Phung, considered one of the most beautiful boulevards in the city. Stop at the Northern Gate of the Hanoi Citadel (still peppered with bullet holes from the war), and the yellow-hued Cua Bac Church across the road.
Continue down Phan Dinh Phung until you'll reach Hung Vuong st., where you'll turn right toward Truc Bach Lake. Despite its battle-scarred history, Truc Bach is one of the most scenic corners of Hanoi, with plenty of interesting sights. Stop at the 11th century Quan Thanh Taoist temple before strolling on the man-made land bridge that separates Truc Bach from West Lake. Turn right onto Truc Bach st. passing chic cafes and restaurants.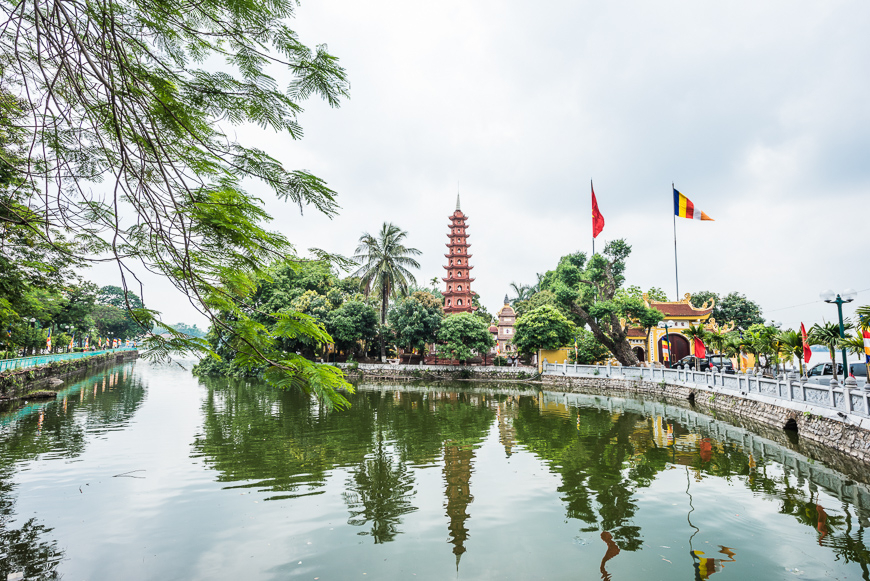 Follow this street all the way to Ngu Xa bridge on your right, and cross the bridge to Truc Bach Island. This is a famous foodie area, where you can feast on local favourites phở cuốn (fresh rice noodle rolls with grilled pork) and phở chiên phồng (fried rice noodle squares with rich gravy, beef and vegetables). Walk it off around the island and make your exit via Tran Vu st., circling the bottom of the lake and returning to Hung Vuong st.
Head back to Phan Dinh Phung st. to make your way to the famous Ho Chi Minh Mausoleum, or walk along Nguyen Tri Phuong Boulevard, to see the ancient Citadel of Hanoi.
---
Want more Vietnam travel ideas? Sign up for our newsletter to receive our best stories in your inbox.