Having been an intercontinental port city for more than five centuries, Hoi An is now a patchwork quilt of culture. This global-facing heritage is reflected in its architecture and its handicrafts as well as its cuisine. Hoi An has perfected the art of adaptation and innovation, taking the tastes it likes from what it's been introduced to and "Vietnamese-ing" the rest.
Hoi An today is a paradise for foodies, and it's possible to spend days wandering through its maze of golden-yellow alleyways snacking on street food stalls scattered throughout the Old Town. It's hard to get a bad meal here in general, but there are a few local specialties that should be considered "must try" Hoi An dishes.
---
Cao Lầu (Pork Rice Noodle)
Cao lầu is Hoi An's answer to a rice noodle dish, but it's as different as can be from relatives like bún or phở. Cao lầu rice noodles are soaked in lye water and wood ash, giving them a distinctly firm and springy texture. In fact, true Cao lầu noodles are supposed to be made with water from Ba Le well and with ashes from Cham island trees! Though it is unlikely that Hoi An restaurants are still using this purist's recipe, Cao lầu's hyper-local ingredient requirements mean that the dish is rarely found outside of the city, so don't miss the opportunity while you're here.
The chewy rice noodles are served in a thick sauce with marinated and roasted pork. The rich and smoky flavors are tastefully balanced by lighter notes from fresh lettuce, crispy pork skin croutons, and crunchy bean sprouts and greens.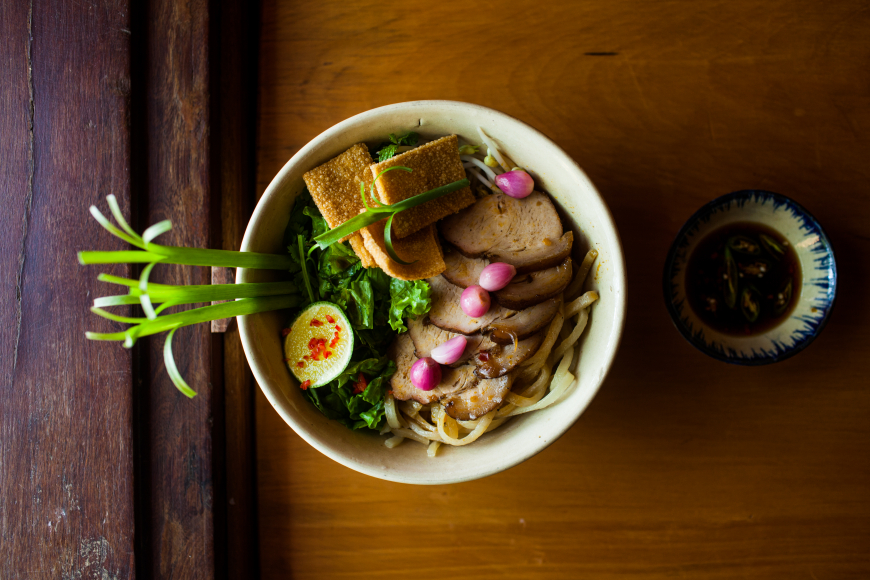 ---
Bánh Mì Hội An (Vietnamese Baguette Sandwich)
The bánh mì's ancestor may be the French baguette, but the Vietnamese bread is now a legend in its own rite. The word "bánh mì" translates literally to "bread," but a bánh mì refers to a sandwich that can be stuffed with various fillings, from grilled meat or sausage to fried eggs. There are many different bánh mì varieties, and different bánh mì sellers have their own specialties. Whatever the sandwich stuffer, the bánh mì is spread with pate, fresh and pickled vegetables, butter, and sweet chili sauce. The baguette can be toasted or grilled and is served in a portable paper takeaway bag. Because they are so cheap, convenient, and reliably delicious, bánh mì is a wildly popular breakfast, lunch, and snack for Vietnamese locals and foreign travelers alike.
Banh Mi Phuong and Madam Khanh - The Banh Mi Queen are the best bánh mì spots and, as luck would have it, they both are within walking distance from the river, from the central Old Town market, and from one another.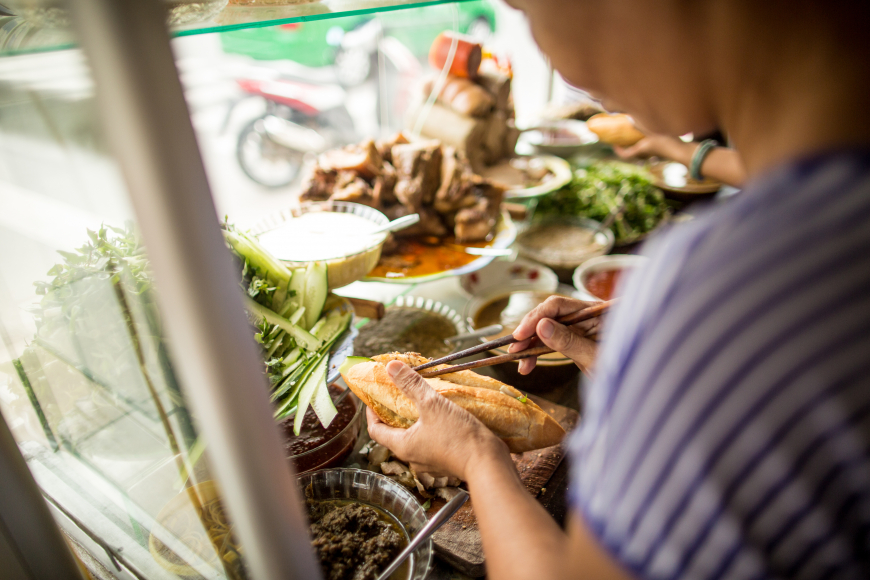 ---
Cơm Gà Hoi An (Hoi An Chicken Rice)
Hainanese chicken and rice spread its roots throughout Southeast Asia, and variants of the classic dish can be found in Malaysia, Singapore, and Thailand, as well as Vietnam, where it is called simply "cơm gà," or chicken rice. The dish is especially popular in Hoi An, where it is known as cơm gà Hoi An.
Cơm gà Hoi An is made with shredded chicken mixed with onions or scallion. The shredded chicken is served on top of spiced yellow rice cooked in turmeric and chicken broth and, of course, paired with salad greens and herbs like coriander and mint. The sticky yellow rice, glossy broiled chicken, and crunchy fresh green vegetables make a pretty trio combined -- a light yet hearty comfort food that fills the stomach and the soul without being over-rich or heavy.
There are probably hundreds of restaurants that serve this classic dish, but the best cơm gà Hoi An is served at Cơm Gà Bà Buội on 22 Phan Chu Trinh. Ba Buoi spent the latter half of the 20th-century cooking cơm gà Hoi An from a stall in the market. Her legacy lives on more than 60 years later through her two grandchildren, who have perfected their grandmother's recipe and expanded her business to a restaurant where the cơm gà still tastes like grandma's cooking.
---
Nước Mót
Named after its young creator, nước Mót translates to "Mot water" but is really a kind of herbal tea. Steeped in a symphony of herbs like ginger, lemongrass, cinnamon, licorice, and lemon as well as green tea, chamomile, and monk fruit, nước Mót is considered to be beneficial to the health. This added medicinal benefit is fortunate because the drink is addictively refreshing.
Stop by for a cold nước Mót to wash away a hot Hoi An day, or a hot one to warm cold bones in wet and chilly winter. Mr. Mot, the drink's namesake, has long since transitioned from a street stall to an indoor shop with seating options. Even so, most people still prefer take-away. Grab a nước Mót to go and continue wandering through the alleys of the city or relaxing by the river, drink in hand topped with a pink lotus petal to set the scene.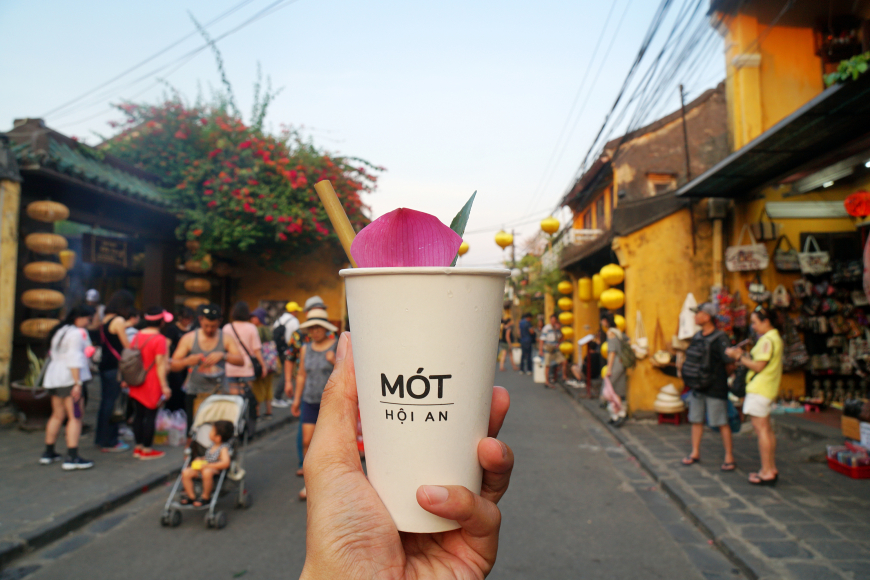 ---
Want more Vietnam travel ideas? Sign up for our newsletter to receive our best stories in your inbox.