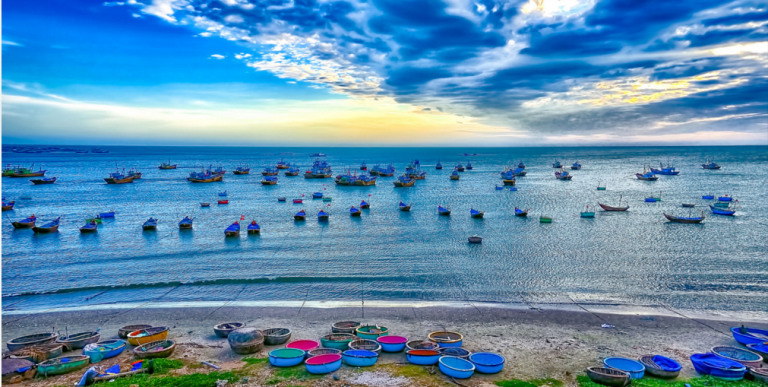 Source: Internet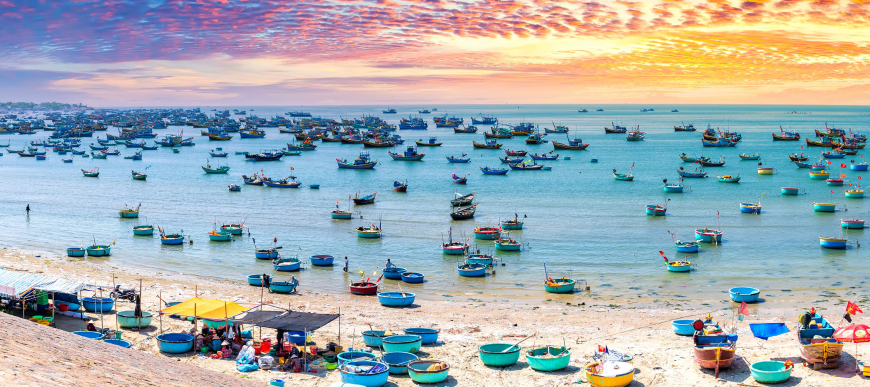 Binh Thuan is a province in South Central Vietnam, home to a 192-kilometer coastline and backed by a spine of mountains. Nearly half of the province is covered by forest, and much of the rest of it is agricultural land, offering welcome natural hospitality to travelers seeking to escape the typically well-developed tourist route. The coast is warm and windy enough for windsurfing and kitesurfing, and hot air balloons can be rented to fly above the landscape for other-worldly views of mountains, ocean, and sand dunes. The province is one of the driest in all of Vietnam, even in its rainiest season, making it an ideal holiday destination year-round.
Binh Thuan is a historical treasure, having been part of the Cham Kingdom until the late 17th century, and Cham culture is still prominent in the living community as well as in architectural ruins. Poshanu Tower is one of the most famous ancient Cham landmarks of Binh Thuan, and local fishers still come to pray to the Gods for a safe journey into the sea and an abundant catch.
For travelers wishing to escape from Ho Chi Minh City, Binh Thuan Province offers fresh seafood, sand dunes that look like they were transplanted from the moon, beaches with bizarre rock formations, and lush luxury resorts that provide every amenity. Here are some of the best.
---
Best Beaches in Binh Thuan
Bai Rang Beach
Bai Rang is a ten-kilometer stretch of yellow sand beach just 15km north of central Mui Ne City, making it as accessible as it is beautiful. The name actually translates to "Dead Beach" due to the beautiful rock formations and sculpture-like arrangements of bleached coral reefs. Nearby streets teem with hotels, restaurants, and shops, and the tall coconut trees providing shade to Rang Beach shield a row of luxury resorts.
Even with its impressively modern development, Rang Beach has retained its village charm. Rang fishing village is just nearby, and locals haul in boats full of fresh seafood early every morning, tugging writhing baskets of fish and shrimp out of the seafoam. Come in the evening to watch the sunset over a freshly caught meal.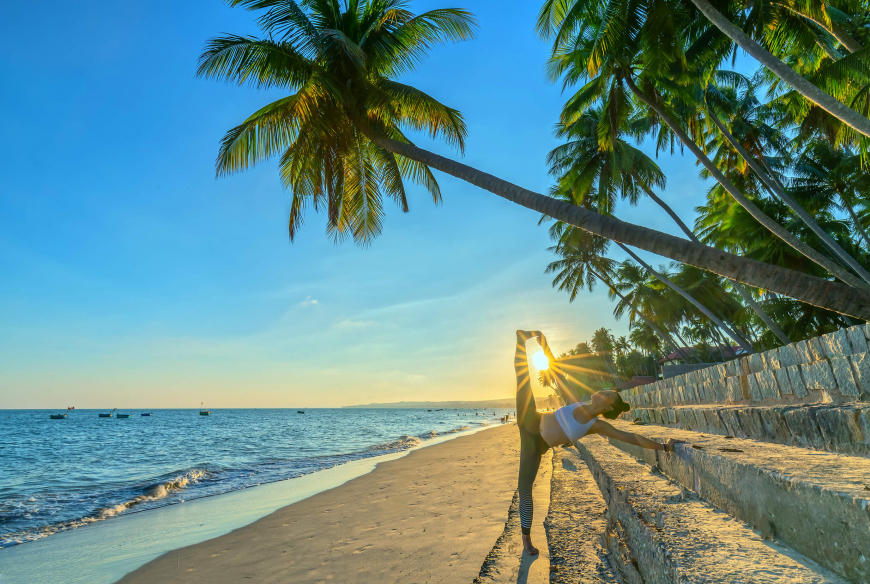 Thuan Quy Beach
Thuan Quy Beach is as rustic, remote, and untouched as Rang Beach is urban, accessible, and developed. A smooth asphalt road ribbons its way along the coast North to South, embraced by poplar trees and agricultural land. The lack of development has kept the beach pristine and quiet – no hordes of tourists or construction sounds mar the atmosphere here.
The white sand beach and clear blue sea are themselves inviting, but Thuan Quy is one of Binh Thuan's best-kept secrets for nature lovers and photographers. The landscape is shaped by cliffs and strange rock formations of different colors and sizes. Some have noteworthy shapes – keep a lookout for the landmark "Hand of Buddha," as it is affectionately named by locals.
Co Thach Sea
Co Thach is a geologists' wonderland. Rather than sand, the beach is formed of enormous, smooth, and strangely shaped rocks, pitted and flattened by eons rolling in the waves. The landscape is truly unique in the country, its "seven-colored stones" even boasting recognition by the Vietnamese government. This beach is hundreds of years in the making, and looks like nowhere else on the planet.
Large rock formations bend and twist into abstract and animalistic shapes. Tiny multicolored pebbles cover the ground with their myriad pink and yellow, brown and black striations. As the tides roll in and out, the pebbles take on the sheen of the salt water, glittering like gemstones under the sun. Come at low tide in March to see the rock floor covered in a spectacular coat of green moss-like forest floor.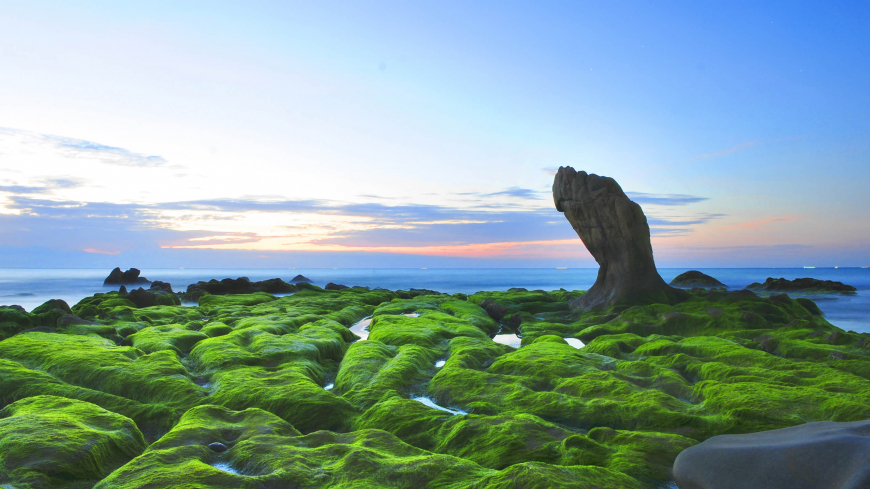 ---
Luxury Resorts in Binh Thuan
Anantara Resort
Anantara Resort sprawls over 25,000 square meters, a rolling green oasis tucked away from civilization. The entire 5-star resort is designed according to traditional Vietnamese architecture, combining earthen walls with red tile roofs. There are only 69 rooms and 20 villas on the entire property, allowing for significant privacy and long, solitary walks through tropical gardens on the spacious grounds.
The property itself sits on 10 kilometers of private beach. Spend the day at the ocean or just look out over it – every room has a sea view. Enjoy fresh-caught seafood at a table overlooking the beach in the evening, then slink back to an air-conditioned room to get ready to hit the spa.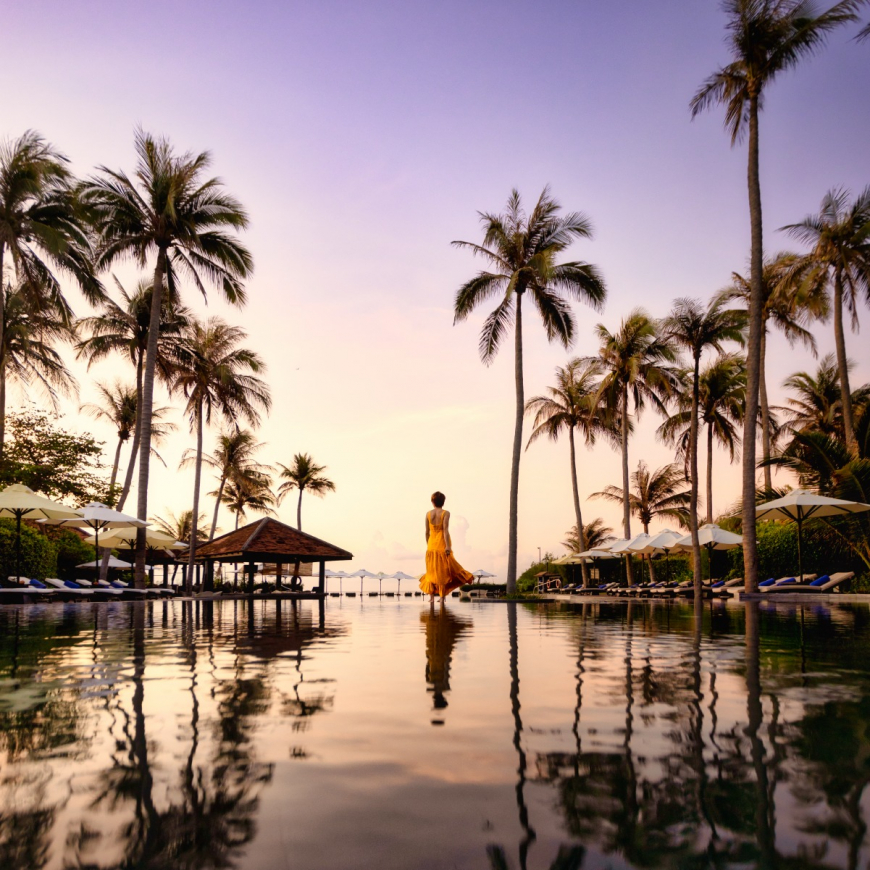 Source: Internet
Mui Ne Sailing Club
The Mui Ne Sailing Club combines modern architecture with elements of the rustic Vietnamese countryside, pairing straw-thatched rooftops with tall, wide windows and chic tile, marble, and hardwood floors. All furniture is made from rich brown wood or rattan and bamboo.
There are only 30 hotel rooms in the entire resort, each complete with a balcony, a front porch, and a sea or garden view. The family rooms are styled more like homes than hotels, including full kitchens, living rooms, and dining tables. This small detail adds a huge amount of comfort to the experience. Settling into Mui Ne Sailing Club feels more like settling into home while on holiday.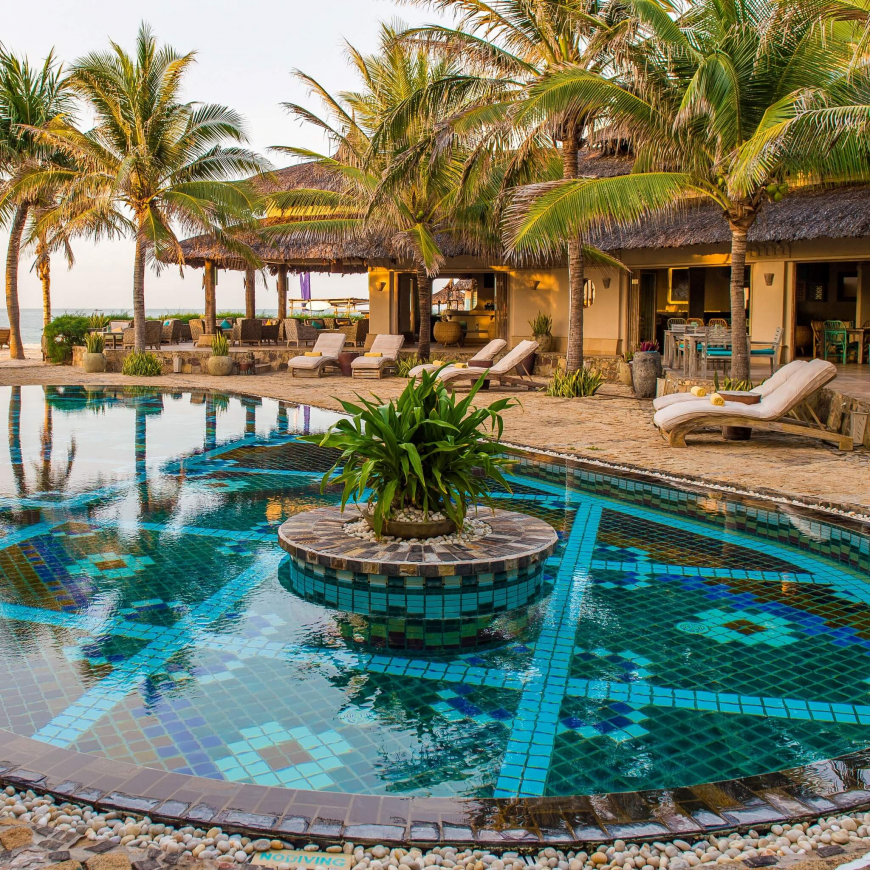 Source: Internet
The indoor bathrooms feature bathtubs (as well as showers, of course), and lovely pearl shell washbasins. On top of this, many of the rooms also feature outdoor showers. Rinse off the sand in the fresh ocean breeze, or bathe at night to gaze at the stars.
NovaWorld
If Anantara and Mui Ne Sailing Club are for travelers seeking rustic, earthy luxury, then NovaWorld is for travelers seeking the highest-of-high-end accommodation – all the bells and whistles.
Novaworld is a 1,000-hectare development sitting more than 50 meters above sea level, with a panoramic view of Phan Thiet Bay. The design focuses on open space and harmony, with more than 20,000 square meters dedicated to open green space. Views between villas are minimized by rotating doors and gates, maximizing privacy and expansive views of nature.
Guests of the villas are entitled to the use of the on-site theme park, covering a tireless 25 hectares, as well as golf courses, tennis courts, and football fields for the athletically inclined.
Source: Internet