'Giải khát' signs are all over Vietnam, inviting people from all walks of life to 'quench their thirst'. The country may be known as a foodie haven, but its beverages are just as delicious as its dishes. Stopping for a drink is an event in itself: time to take a break on the curb and chat. Wherever you go in Vietnam, a revitalising pick-me-up is not far away. Here are seven winning beverages for your list.
---
Cà phê sữa đá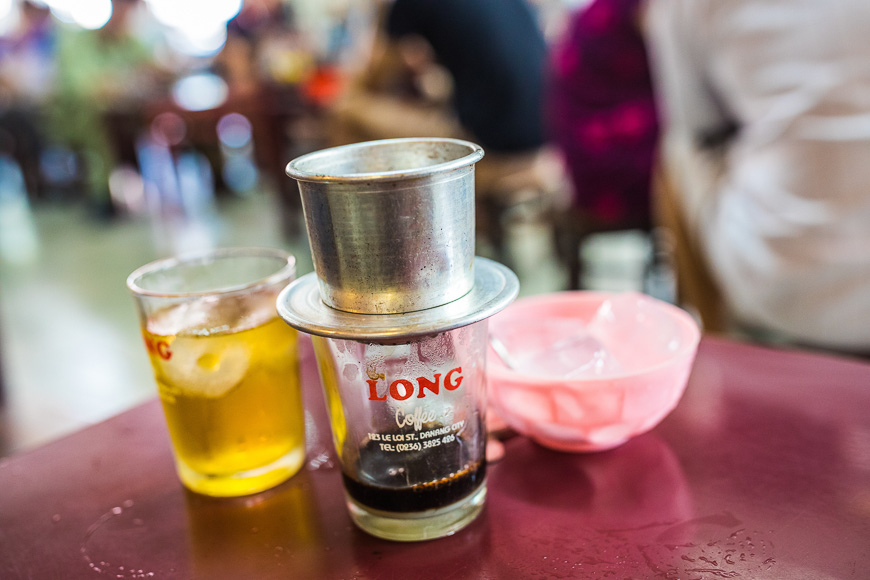 A cup of coffee, Vietnamese style, is bound to get you up and running. Vietnam's robusta beans make a powerful brew, with an intense and heady flavour that quickly becomes addictive. Cà phê sữa đá mixes drip-filter coffee with a glug of condensed milk and lots of ice to mellow the taste.
---
Nước mía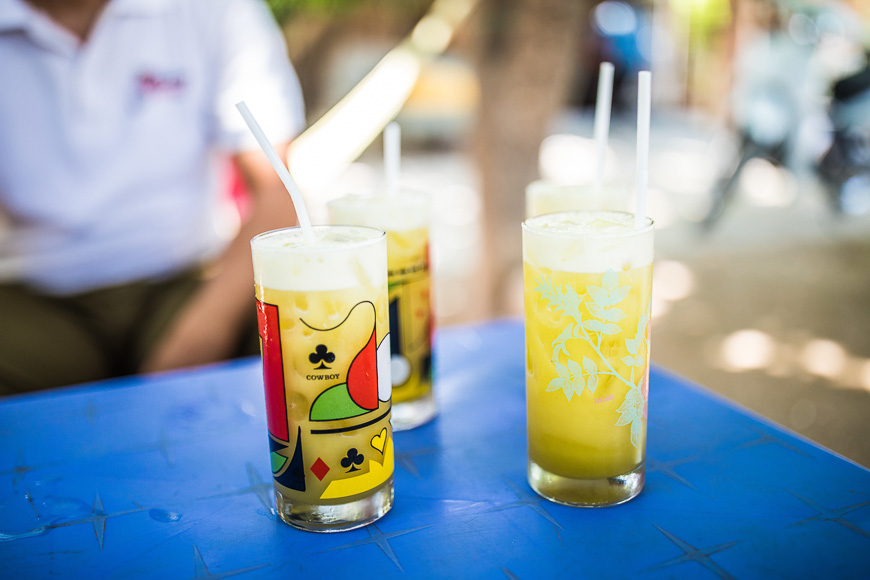 A sugary beverage that's also healthy? Nước mía or sugarcane juice is a pleasant surprise for most travellers. Vendors slowly push sugarcane stalks through a press to extract the sweet liquid. Squeeze some calamansi and enjoy over ice for a natural re-energiser.
---
Trà quất
After sightseeing in the sunshine, take a break at a cafe with a cup of trà quất. A simple ice tea flavoured with calamansi and honey, this flavourful drink will revive you in a flash. You can even find it in cafe chains such as Cong Ca Phe and The Coffee House.
---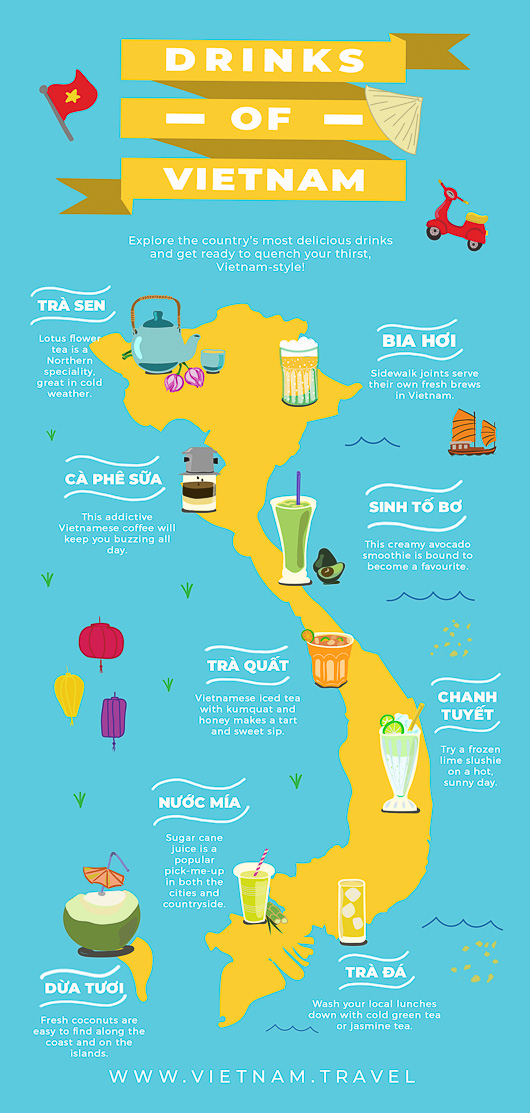 ---
Sinh tố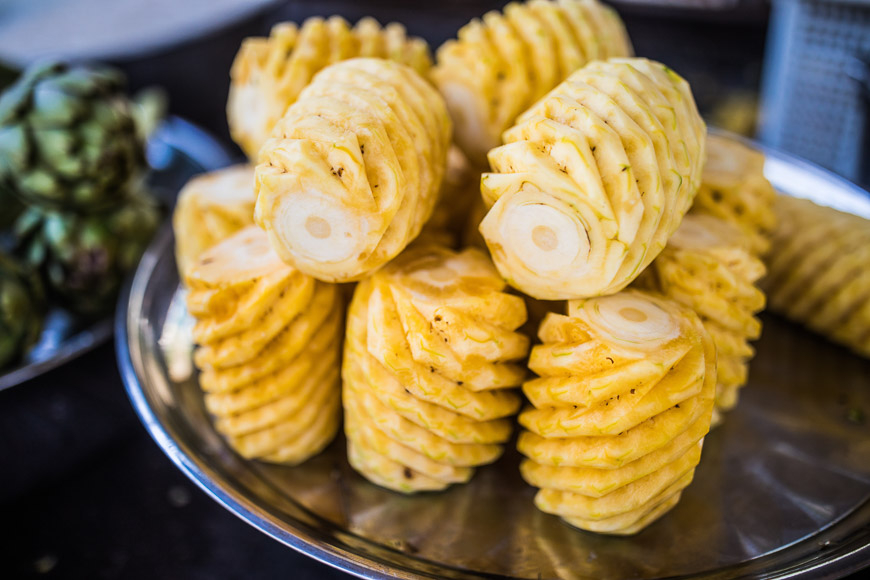 Vietnamese are experts at transforming fresh ingredients into special culinary treats. The sinh tố is an example of this: A hearty blend of tropical fruits -- dragon fruit, bananas, pineapples, mangoes, avocados and others -- blended with ice and a swirl of condensed milk.
---
Chanh tuyết
A frosty glass stacked as high as possible with sweet and sour 'lime snow' is what makes a chanh tuyết a divine delicacy. Made with ice, lime juice, zest and a touch of sugar, it's served with a straw and a spoon to help you dig in. Find it at cafes nation-wide.
---
Trà đá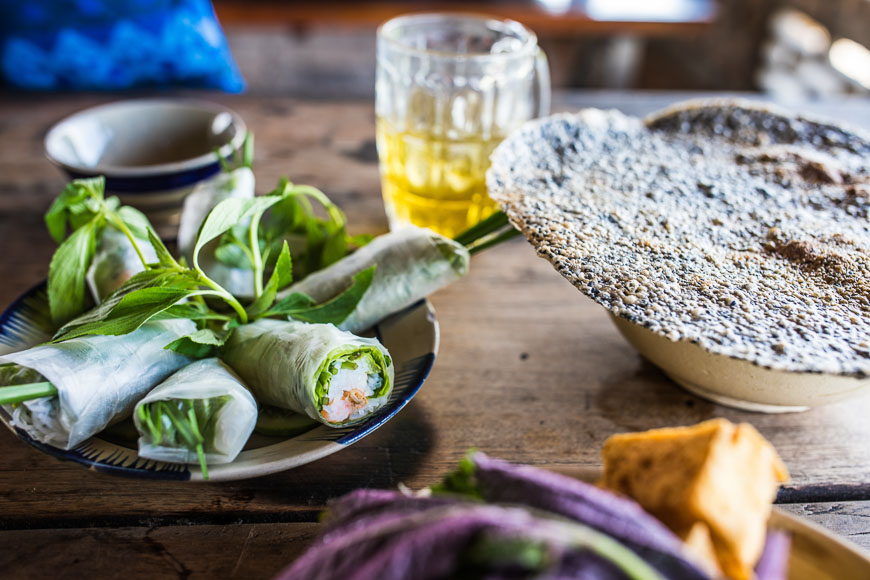 Wherever you are, a trà đá stall is just around the corner. If you see a small assembly of plastic stools and glasses in Vietnam, you can be sure they serve this iced green tea. To really enjoy it like a local, order a glass with your street food at lunch or dinner.
---
Bia hơi
Pull up a chair at any beer hall in Northern Vietnam and you'll be handed a heavy cup of foamy, golden bia hơi. This fresh, unpasteurised beer, is perfect paired with peanuts, fried snacks or big family-style dinners. Best of all, a frothy glass will only set you back 8,000VND. Cheers!
---
Want more Vietnam travel ideas? Sign up for our newsletter to receive our best stories in your inbox.
---