Mang Den town sits on a plateau in the Central Highland region of Viet Nam. At an altitude of 1,200 meters, Mang Den is an idyllic setting, accessible through a snaky mountain pass, surrounded by pine-laden forests.
Mang Den is often compared to Da Lat because of its mountainous location, an abundance of waterfalls, and cool, crisp, sunshiny weather. But unlike the ever-popular Da Lat, Mang Den is a bit like Cinderella before the ball, not yet discovered. However, this well-kept secret is slowly emerging, like a butterfly from a chrysalis.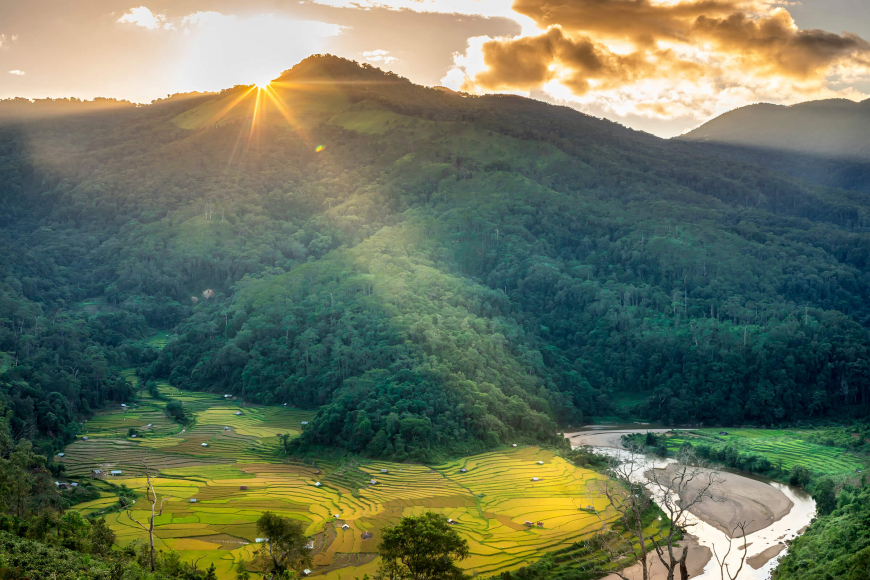 Ethnic minority groups have dwelled in Mang Den for ages, including the Mo Nam, Ca Dong, Xe Dang, and Hre. Each group self-sustains through farming, gardening, hunting, and raising cattle. The ethnic people of Mang Den are welcoming. Visitors may witness traditional ceremonies. Perhaps you'll be invited to join in drinking homemade wine through a long bamboo straw while singing and dancing to gongs, drums, flutes, and assorted string instruments.
Mang Den's nature is as alluring as its people. For nature enthusiasts, Mang Den offers a bounty. There are seven lakes, three waterfalls, forests, plantations, farms, and a sprawling mountain pagoda. Even getting to Mang Den is a bit of an adventure.
The closest airport to Mang Den is in the city of Pleiku (roughly 100 km away). There are plenty of buses, and cabs, or you can hop on a motorbike taxi for a breezy excursion. You also might consider renting a motorbike.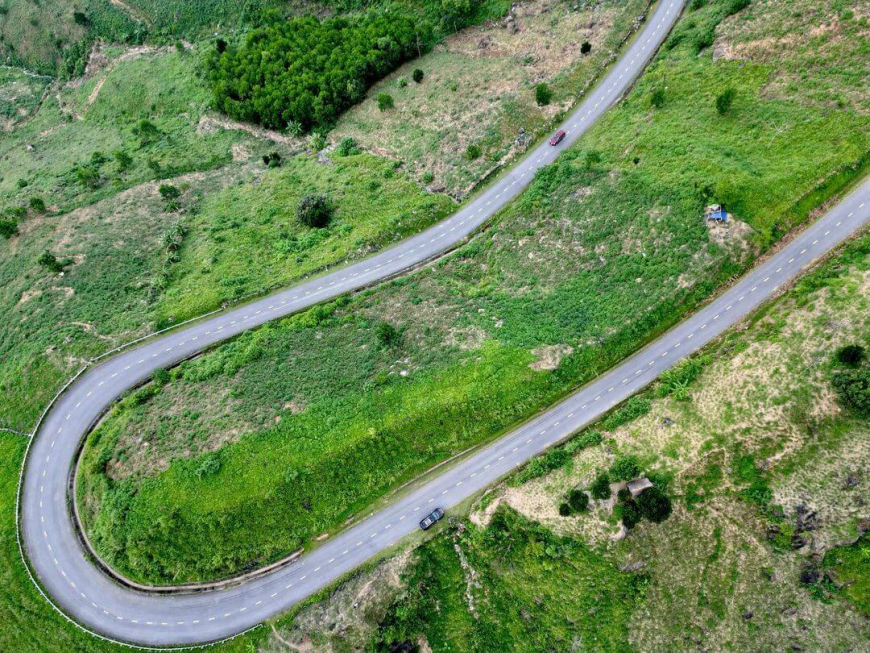 Source: @nanghomestaymangden.insta
Once in Mang Den, lodging won't be a worry. There are plenty of homestays and no-frills hotels. Another option is camping. There is lots of user-friendly forest space, Mang Den Pine Forest, for instance, to pitch a tent or sack out beneath the stars. Another option is taking a homestay with one of the local ethnic minority groups. You can immerse in their culture firsthand. For those who demand greater creature comforts, fear not, there are a few resort-type accommodations in Mang Den.
---
Here are a few recommendations for your Mang Den adventure:
Mang Den Pass
Trekkers alert! Fantastic panoramic views of the Central Highland forests, villages, farms, and plantations.
Pa Sy Waterfall
Three large streams merge to form the Pa Sy Waterfall (in local vernacular, Pa Sy means 3 streams coming together). Situated in a lush jungle habitat, the waterfall is visually stunning—otherworldly in its natural splendor.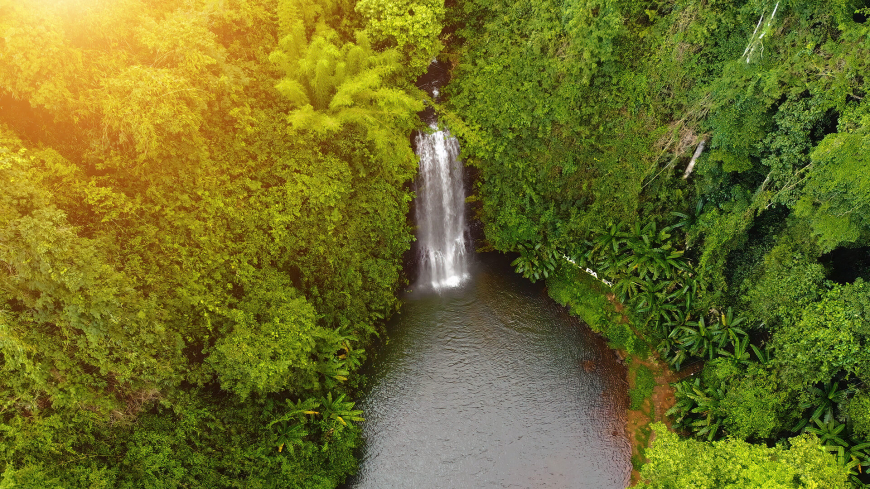 Dak Ke Waterfall
Smaller than Pa Sy but even more remote. Once you unearth this little hidden-gem, you can swim in the natural pool created by the cascading waters.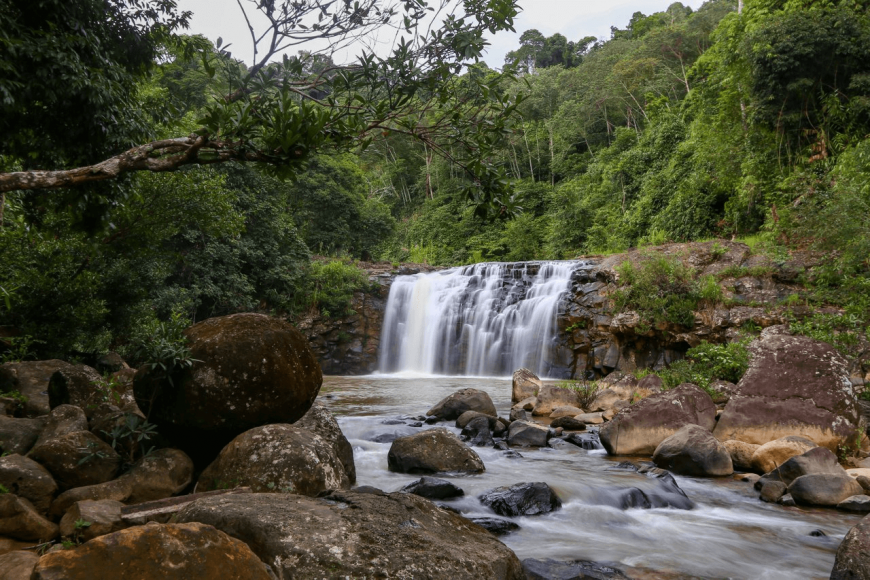 Source: dodo.balo
Dak Ke Lake
Dak Ke is the most famous of the 7 lakes. An idyllic setting with walking paths along the lake's edge. Canoeing and fishing are available. As are horse-drawn carriage rides.
Khanh Lam Pagoda
Sitting atop a mountain and surrounded by forest, is Khanh Lam Pagoda. Visitors ascend 200 stone steps to reach this vast, spiritual enclave. The sloped roofs and Asian tiered towers seem to shoulder the sky.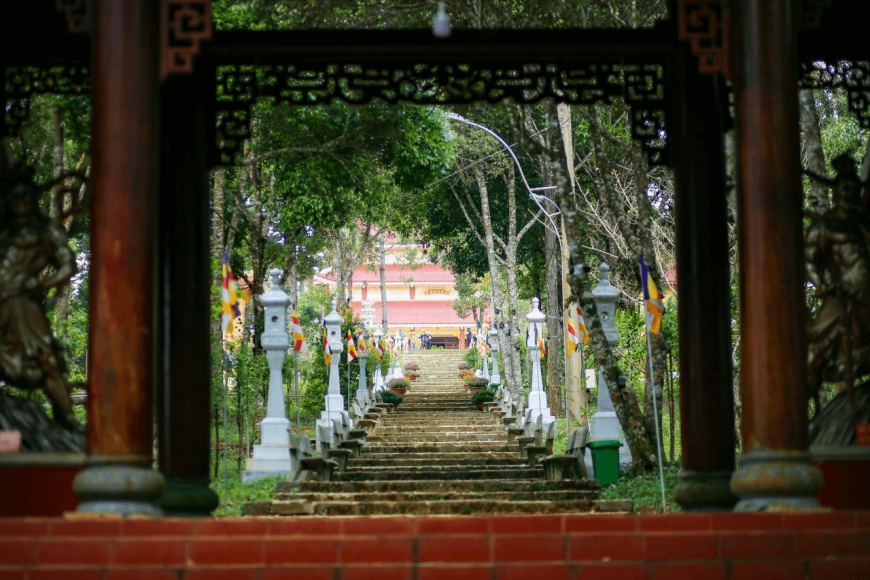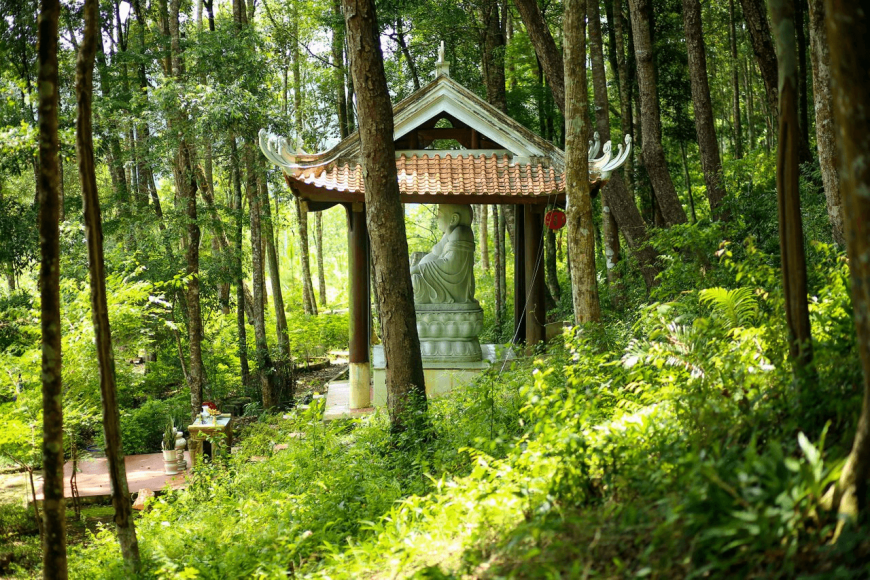 Source: dodo.balo
E Ban Farm
With more than 30 hectares wide, located not far from Mang Den Town, here lies a famous agricultural barracks with colourful flowers. Visitors do feel free to admire and immerse themselves in its magnificent panoramic scene and take as many photos as they can.
Konbring Village
The village is one of the four community-based cultural villages of Mang Den. This small village holds the typical traditional culture of the Central Highlands such as Rong house, traditional home-made wine, gong performance, etc.
Cloud hunting in Konplong
For visitors who have never experienced cloud hunting in Ha Giang, it is your chance to experience it in one go in Mang Den. Up in the early morning and admire the scenery of this small peaceful town being embraced by the sea of clouds. Why not have yourself a cup of hot coffee and enjoy the sunrise also.
Mang Den town is well-suited for hiking or biking, but for those who prefer a four-legged mosey, horseback riding is also available!
Mang Den is also Foodie friendly. The cuisine rivals the topography as a drawing point. Its unique, specialty dishes are known throughout Viet Nam.
---
Here are a few suggestions:
Grilled Chicken (Ga nuong com lam)
The first thing to remember is that everything you eat in Mang Den is fresh off a farm or from a garden. But the grilled chicken has become known as Mang Den's signature dish. Free-range chicken, feed with natural foods—grilled and seasoned in the traditional mountain style.
Lam Rice
Made from sticky rice and placed into baby bamboo tubes and then grilled over a fire. Served with peanut salt. This dish is found in restaurants but also sold on the street by vendors.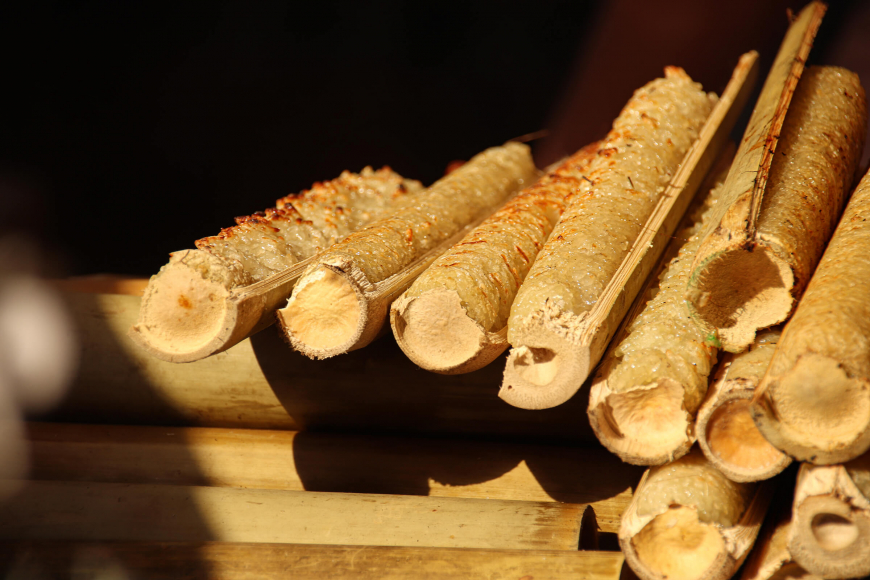 Grilled Pork Skewers
The people of Mang Den love to grill and their domesticated pigs are nourished on a natural diet. Plump chunks of perfectly grilled meat on a skewer…
Porcupine meat is considered a delicacy in Mang Den. It's very nutritious, lean and thus served in myriad ways. From grilled, to stuffed in bamboo shoots, put in soup or packed with dong leaves.
Fried Crickets
It's a snack, like bar-food at a pub. Crunchy, full of protein, nicely spiced. Goes great with beer or Vietnamese wine.
Vegetable Salad
Now that may not sound as earth shattering as fried crickets or porcupine, but it becomes instantly exotic when you consider that the typical vegetable tray consists of 40 or so different kinds of indigenous vegetables, leaves, sprigs and roots.
Forest Banana Salad
Made from wild banana flowers (which owns to its sweet taste). The flowers are diced and mixed with sweet and sour broth, chicken, pork or beef ears (yep, you heard me right!), herbs and roasted peanuts.
Mang Den is off the beaten path. As a result, it might be considered uncommon in every way. From the vibrant, thriving cultures of the ethnic communities, to the quirky, healthy food. Mang Den is a rural, wilderness frontier. A true, step-back-in-time experience.