The awe-inspiring beauty of North Vietnam's Halong Bay makes it a bucket-list destination for people all over the world. That's why the UNESCO World Heritage site has long been the number-one spot chosen by tourists visiting the country.
It's been named one of the 7 Natural Wonders of the World several times because its distinctive, otherworldly geomorphic topology is truly something to behold. But how, exactly, did this fantastical seascape come to be?
The 1,600 islands and islets began forming millions of years ago. The limestone hills jutting out from the bay's emerald waters were once mountains. Over the years, the limestone eroded away, leaving only the harder outcrops behind. The result? A spectacular assortment of jungle-covered pillars, secluded bays, and sandy beaches look like something out of a mythical fairy-tale.
Without a doubt, the best way to experience the feeling of living within this ancient heritage site is to glide across its smooth waters on a boat. Sailing between the jutting outcrops is a once-in-a-lifetime experience that few others can beat. The rock formations offer protection, so the sea is still. There's greenery as far as the eye can see. And then there's the power of those ancient rocks. As you move towards and away from outcrop after outcrop, your imagination drifts far from the stressors of everyday life.
Thankfully, there are a plethora of boat tour options to suit every preference, budget and length of stay. Many boats are 'hotels on the sea' – from traditional junks to luxury cruise liners. Here are just some of the things you'll get to enjoy…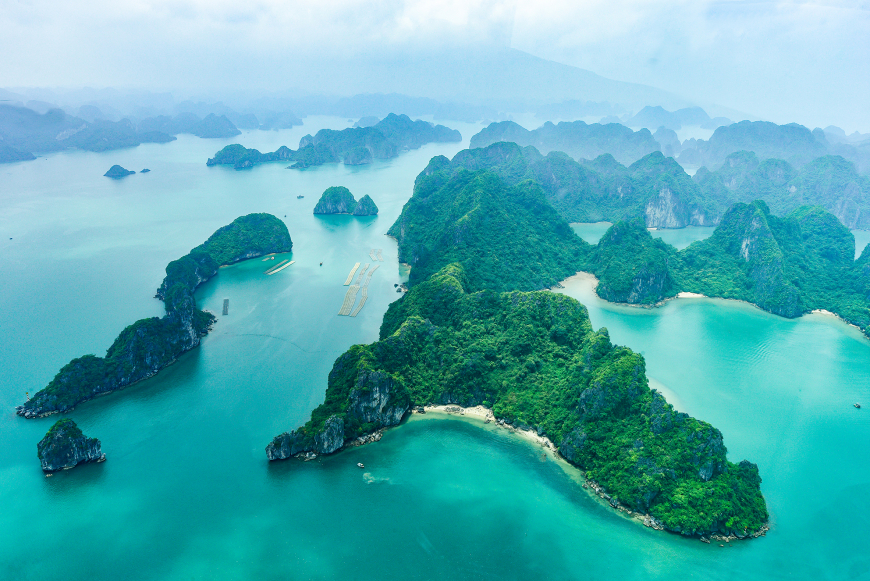 ---
EXPLORE THE SAFE WATERS OF A WORLD HERITAGE SITE
If you're one of the many fans of 'wild swimming', you'll love being able to jump off deck into the deep-blue waters of this famous bay. As you go island hopping, you'll be able to do this again and again in various bays and waters. Swim to secret beaches, snorkel among coral reefs, or kayak to see the limestone cliffs and hidden grottos in greater detail. Staying on a boat provides many opportunities to enjoy the calm, safe seas of Halong Bay.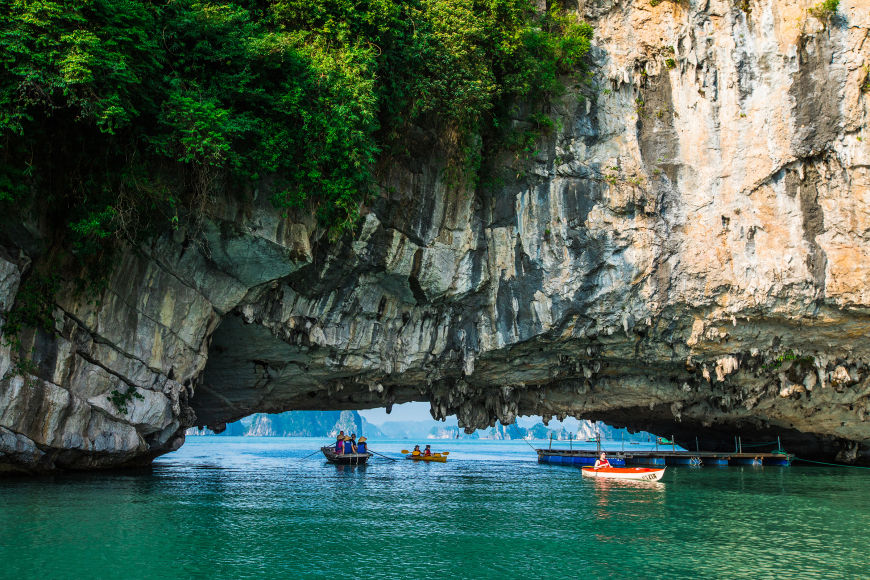 ---
GO CAVING
There's something so mysterious and alluring about caves. This karst topography is known for having many caves, which both seasoned and novice spelunkers will be keen to explore. Notable caves at Bon Hon Island include Virgin Cave and Sung Sot (Surprise) Cave. The shrine at Virgin (Trinh Nu) Cave commemorates a legendary tragic love story. Stone formations inside Surprise Cave resemble a general and his sentries all lined up. Another well-known cave is the Bewitching Grotto (Me Cung Cave). Its narrow entrance opens into winding tunnels and a chamber featuring stunning stalagmites and stalactites.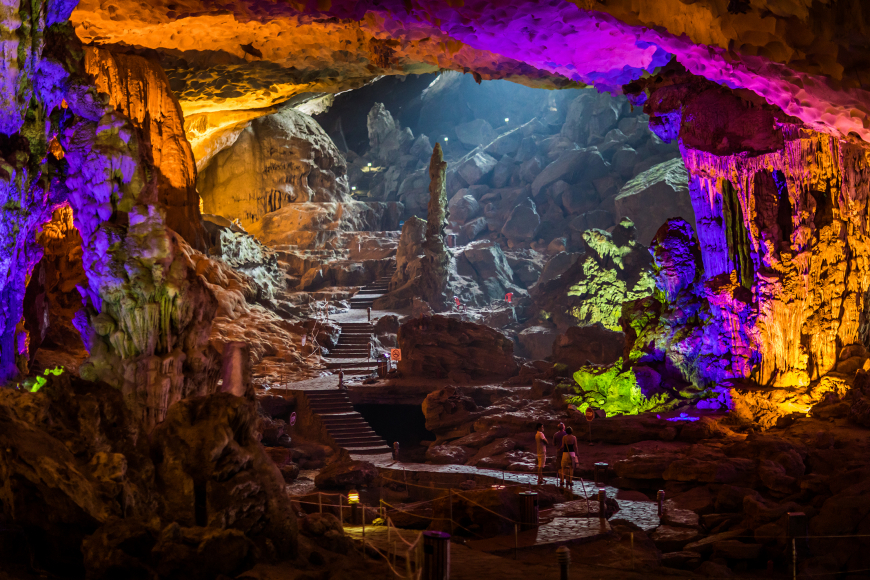 ---
DINE WHILE FLOATING BETWEEN THE MOUNTAINS
Fancy a feast surrounded by panoramic views of the breathtaking scenery? Each ship usually makes the most of the views, by offering sumptuous Vietnamese and Western cuisine from various vantage points. Think candle-lit dinners on the deck, luxury picnics, and seafood beach barbeques. There's plenty of fresh squids, lobster, and crab available in the bay. Enjoy!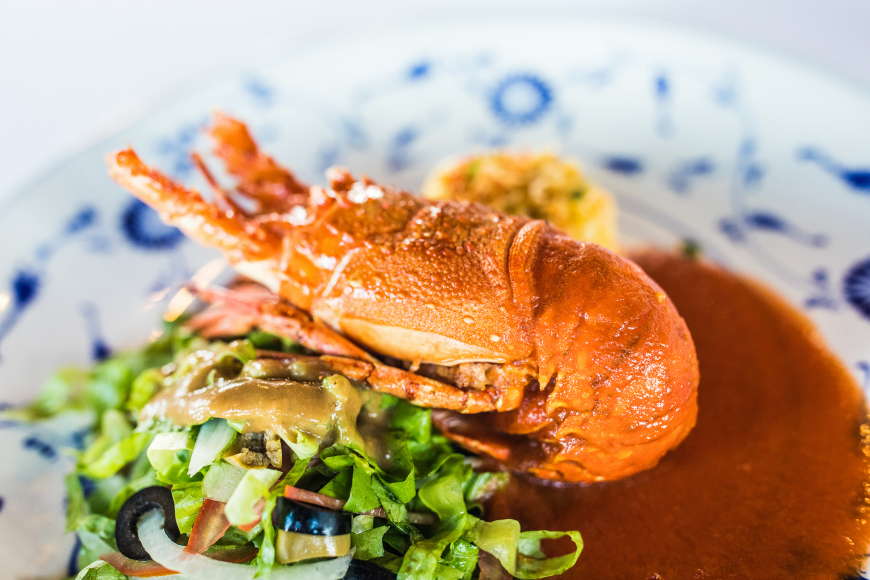 ---
GO SQUID FISHING AT NIGHT
The waters of Halong Bay are rich with squid. So, during squid season on nights when the moonlight is dim, you can try to catch your own dinner. Under the stars, beside the inky-black still water, you'll be given a basic bamboo rod with a shrimp-shaped hook. Lights are used to lure the squid to the surface, so there's a good chance you'll make a catch. This fun activity is increasingly popular with tourists wanting to experience what local fishermen do on many nights.
---
PRACTICE YOGA IN THE MORNING
Halong Bay is a beautiful place to enjoy the sunrise. What better way to do so than by doing some yoga? Many boats offer classes led by trainers. But you could also practice on your own on deck. You'll be calmed by the sea, energized by the fresh air, grounded by the imposing rock formations, and uplifted by the sounds of birds overhead. After such a start, a great day is guaranteed.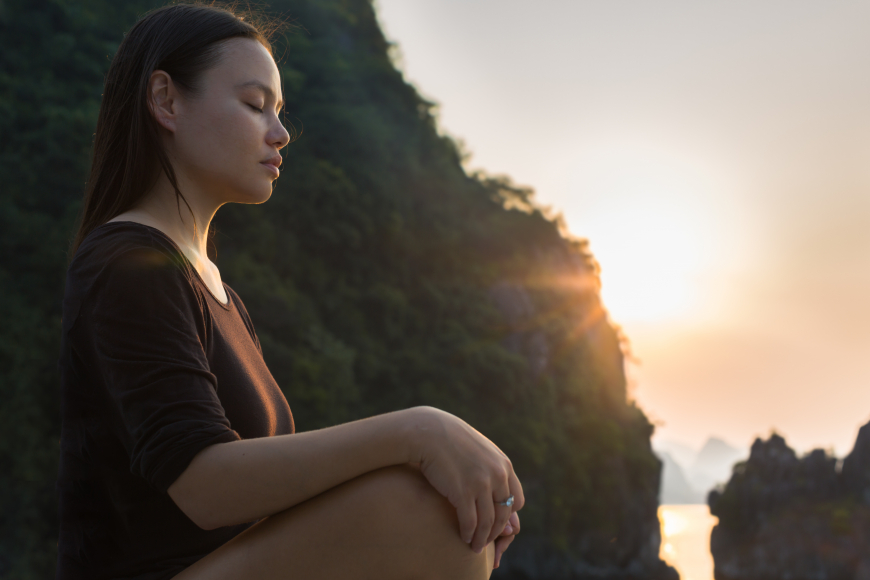 ---
SEE LOCAL FLOATING VILLAGE
One of the most fascinating aspects of life gone by in this bay is the settlements that developed on the sea. As people were so reliant on the sea for their livelihoods, whole communities of boats tethered together formed fully functional floating villages. Boats functioned as restaurants, schools, houses, and shops. There are four floating villages in Halong Bay: Cua Van; Vung Vieng; Cong Dam; and Ba Hang. While people no longer live on them full time, they're still used for fishing-related work tasks and remain intact for tourists to experience. If your boat heads to Lan Ha Bay, you may see the Cai Beo floating village near Cat Ba Island. Around 600 to 1,000 people still live on boats there, going to the mainland via water taxi. The colorful boats − complete with little balconies, plants and dogs − offer plenty of unique photo opportunities.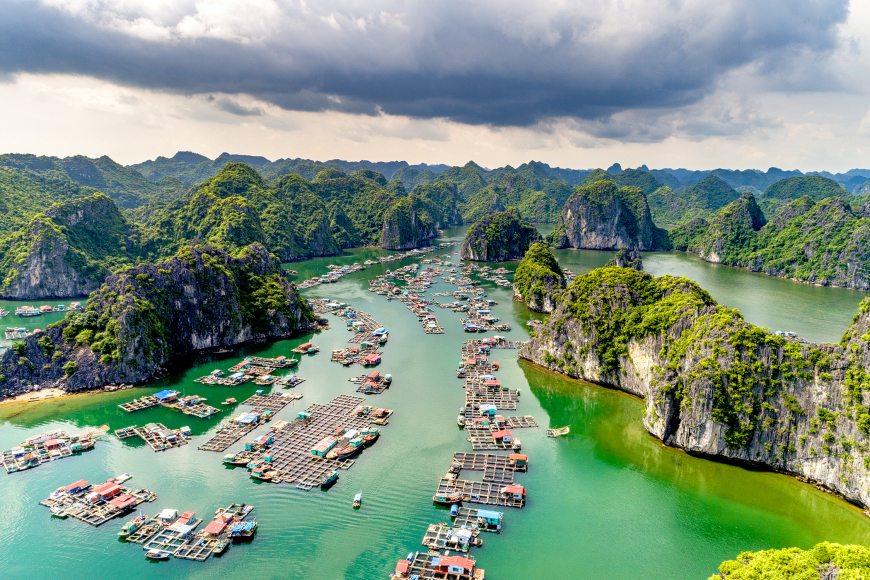 ---
ENJOY ENTERTAINMENT ON-BOARD
Being surrounded by one of the world's most epic natural wonders doesn't mean sacrificing any of the creature comforts you can get on land. If you and your family enjoy watching films together, you'll be pleased to know that many tour boats have cinemas on board. If live music is your thing, you'll appreciate the musical entertainment on offer, too.
---
TAKE A COOKING CLASS
One of the best ways to experience a holiday destination is to sample its cuisine. But to tangibly remember the trip, time and time again, you should learn how to cook some key dishes. These days, many cruises offer cooking classes. The resident chefs will show you how to make classic Vietnamese recipes, simplifying each step. Love Vietnamese spring rolls? Share the love: Learn how to make them, so you can give friends and family a taste of Vietnam when you return home.
---
Want more Vietnam travel ideas? Sign up for our newsletter to receive our best stories in your inbox.