Lonely Planet magazine says one of the '15 best things to do in Vietnam' is visit Mỹ Sơn Sanctuary. The complex of stunning, red-brick temples and towers near Hoi An give insight into the architectural temples of the Champa civilisation crystallised in long-lasting material relics. My Son Sanctuary reveals historical, cultural, architectural and artistic values developed over a long period over nine centuries (from the 4th century to the 13th century).
Today, tourists visiting Hoi An can drive to the temples, 40km away, for a spiritual journey into a peaceful jungle setting that transports them way back in time. Sunrise tours are recommended, to snap those atmospheric, golden shots.
Awe-inspiring architecture
Most of the architectural styles of the Cham are present at My Son, and the tower-temples at My Son themselves create the basic criteria for identifying the Cham architectural style.
The My Son sanctuary is considered significantly unique and rare among Cham towers' architectural forms. Visitors will be amazed by the towers at My Son. There are walls, yards and roads linking the towers together in groups with the main temple in the centre.
Parts of a complex of the Cham towers can be seen in Nha Trang. To see sculptures and other relics from this era, you can also head to the Museum of Cham Sculpture in Danang.
The significance of Mỹ Sơn Sanctuary
My Son tower-temple complex is situated in a mountain valley in the west of Duy Xuyen District, Quang Nam Province. There is a stream flowing across the complex, which joins the Thu Bon River, not far from Hoi An Ancient Town.
The diversity of architecture is recognised as a unique site in Southeast Asia and exists in relation to local cultural factors. Due to the impact of time, the tower-temple complex became degraded. Therefore, painstaking restoration was done on the remaining structures, so their integrity has been well preserved.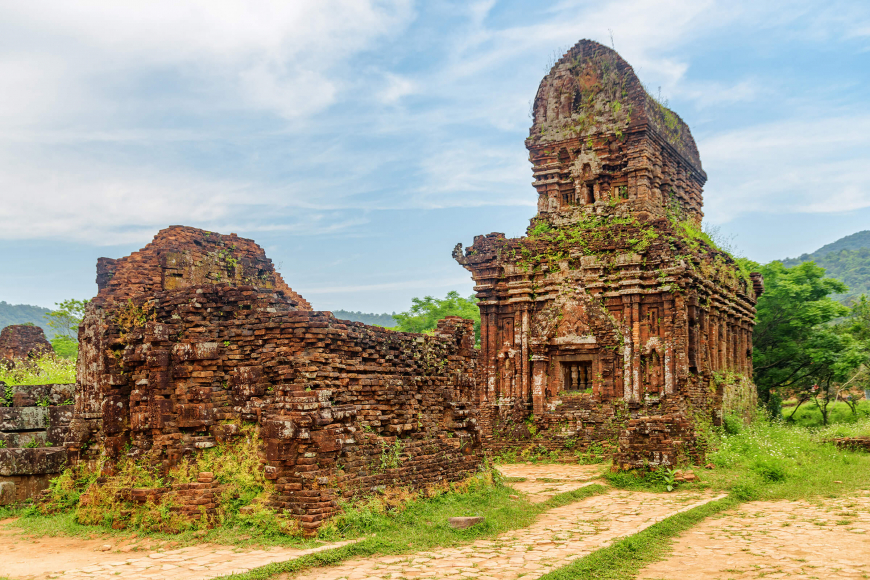 This UNESCO World Heritage Site includes over 70 structures and extensive buried archaeology. The temples differ in structural style, reflecting the various eras of the Cham Kingdom over a period of 10 centuries. These abandoned and partly ruined structures are a popular tourist attraction for photographers, and people interested in ancient civilizations and their spiritual architecture.
On their website, UNESCO state:
"The tower temples have a variety of architectural designs symbolizing the greatness and purity of Mount Meru, the mythical sacred mountain home of Hindu gods at the center of the universe, now symbolically reproduced on Earth in the mountainous homeland of the Cham people. They are constructed in fired brick with stone pillars and decorated with sandstone bas-reliefs depicting scenes from Hindu mythology. Their technological sophistication is evidence of Cham engineering skills while the elaborate iconography and symbolism of the tower-temples give insight into the content and evolution of Cham religious and political thought … The monuments are unique and without equal in Southeast Asia."
What's most impressive? The fired bricks were held together without any mortar or holes, yet they've lasted until this day. In contrast to the surrounding green plant life, their reddish colour is beautiful to behold.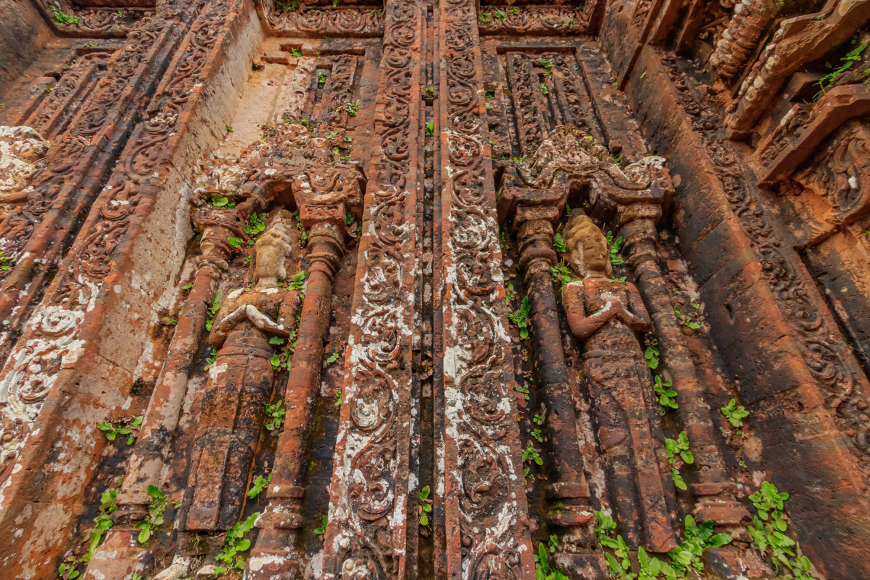 About 2km from the My Son relic area, to the northwest, there's the My Son Museum. It provides general information about the My Son relics to help visitors visualise them before visiting.
My Son Sanctuary is open to tourists around the world and offers several services and activities. Visitors coming here will be taken to places by various means. Cham festivals, royal and religious dances are choreographed and performed on site to help visitors better understand the unique value of this intangible heritage of the Champa civilisation. In addition, guests can take photos of Cham costumes and restaurant ready to serve visitors.
As this is a sacred site, visitors should behave respectfully and not wear revealing clothing. Wear comfortable shoes and a hat, too, as there can be a fair bit of walking involved.
Want to enjoy the surrounding scenery after your temple tour? There's a nearby lake that's great for kayaking.