UPDATED: October 22, 2020
Since the start of the novel coronavirus (COVID-19) outbreak, Vietnam has closely monitored the situation and installed a series of proactive, comprehensive measures to combat the spread of the virus within the country and prepare its public health facilities. Past experience with other epidemics places Vietnam in a strong position to protect its population as well as visitors passing through.
Travellers in Vietnam may have questions about the spread of the virus in Vietnam, as well as which policies are in place in Vietnam. Below is a full overview of the COVID-19 situation in Vietnam as it relates to travellers.
---

Vietnam has announced it will resume international commercial flights to six destinations: Guangzhou, Taiwan, Seoul, Tokyo, Phnom Penh, and Vientiane. At this time the country is only offering entry to diplomats, experts, investors and their respective family members, and Vietnamese returning home. All visitors must meet specific health regulations and bring the required paperwork in order to be granted entry into Vietnam.

Vietnam has automatically extended its free temporary residence until Oct. 31, 2020 for foreigners who have entered Vietnam on tourist visas on or after March 1, 2020. Foreigners in the country during this time must fill out medical declarations online (https://tokhaiyte.vn/) and temporary residence declarations with their hotels or landlords.
Foreigners and residents in Da Nang, Ho Chi Minh City, Dong Nai, and Hanoi are required to wear masks in public and may be fined for failure to comply.
---
Current snapshot of COVID-19 situation in Vietnam

| | |
| --- | --- |
| Confirmed infections | 1145 |
| Recovered cases | 1046 |
| Deaths | 35 |

The first confirmed cases of COVID-19 appeared in Vietnam on Jan. 23, 2020. Since March 22, the country's borders have been closed to foreign travellers. Only Vietnamese nationals, foreigners on diplomatic or official business, and highly skilled workers allowed to enter Vietnam at this time. Anyone entering Vietnam will need to undergo medical checks and 14-day quarantine upon arrival.
Read more: New COVID-19 tourism policies in Vietnam
---
Visa policies for travellers to Vietnam

To staunch the spread of COVID-19, Vietnam is not allowing entry or issuing visas to foreign nationals, except for those travelling for official or diplomatic purposes, who must undergo medical checks and 14-day quarantine at their own cost upon arrival in Vietnam. Those whose visit is for less than 14 days are not required to quarantine, but must comply with specific health regulations in order to be granted entry.
Vietnam's Immigration Department has announced that all foreigners who entered Vietnam after March 1 on visa exemptions, e-visas or tourism visas will be given automatic stay extensions at no charge until October 31, 2020. Travellers still in the country should declare their temporary residence to local police, through their landlords or hotels, and must complete Vietnam's online health declaration here.
Visitors who entered the country before March 1 may be considered for the extension, provided they can show an official letter from their embassy or consulate stating they were unable to leave the country due to objective reasons. Foreigners who have undergone quarantine or treatment for Covid-19 in Vietnam are also eligible for the extension. They must bring their certification documents to show immigration officials when leaving Vietnam.
For questions about the new policy, please call Vietnam's Immigration Department at 024 3938 7320.
Vietnam has officially suspended all visa exemptions for citizens of South Korea, Belarus, Russia, Japan, Sweden, Denmark, Finland, Norway, UK, France, Germany, Spain and Italy. Travellers who have entered the country on visa waivers or tourist visas are given automatic visa extension until October 31, 2020. Those who have entered Vietnam for business, visiting relatives, or purposes other than travel should contact a visa agent to address their visa concerns.
Read more: Vietnam visa requirements
---
Flights changes related to COVID-19 in Vietnam
All passenger flights to Vietnam on all airlines are suspended from April 1, 2020. Since February 1, all flights to and from mainland China on all airlines have been indefinitely suspended by the Civil Aviation Administration of Vietnam. Vietnam Airlines has announced it will suspend all its two-way international flights from March 25 until further notice.
Read more: A traveller's guide to Vietnam's airports
---
Closures and cancellations due to COVID-19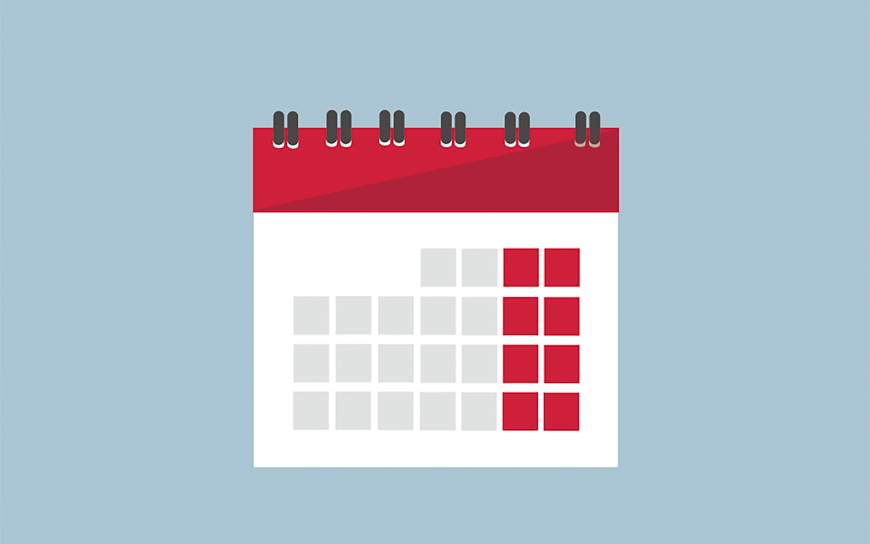 A number of festivals and events in Vietnam have been cancelled or postponed in alignment with the government's directive to avoid public gatherings:
Huế Festival 2020 - Postponed to 2021
F1 Vietnam Grand Prix - Postponed
Da Lat Sufferfest - Postponed
Quang Binh Marathon - Postponed
Techcombank Ha Noi Marathon - Postponed
Sunrise Sprint - Postponed to 2021
Da Nang International Fireworks Festival 2020 - Cancelled
---
Preventative steps by the Vietnamese government
Vietnam's Prime Minister officially declared COVID-19 an epidemic in Vietnam on Feb. 1, 2020. Although confirmed cases remain low within the country, authorities are taking swift and strict preventative measures to contain the virus. The government has formed a National Steering Committee for COVID-19 Prevention and Control to direct efforts and communicate to the public.
The National Steering Committee has launched an online management and administration centre for COVID-19 diagnosis and treatment, and on March 6, Vietnam announced it will produce 10,000 COVID-19 test kits daily.
Below are the key actions taken by Vietnam to prevent the spread of COVID-19: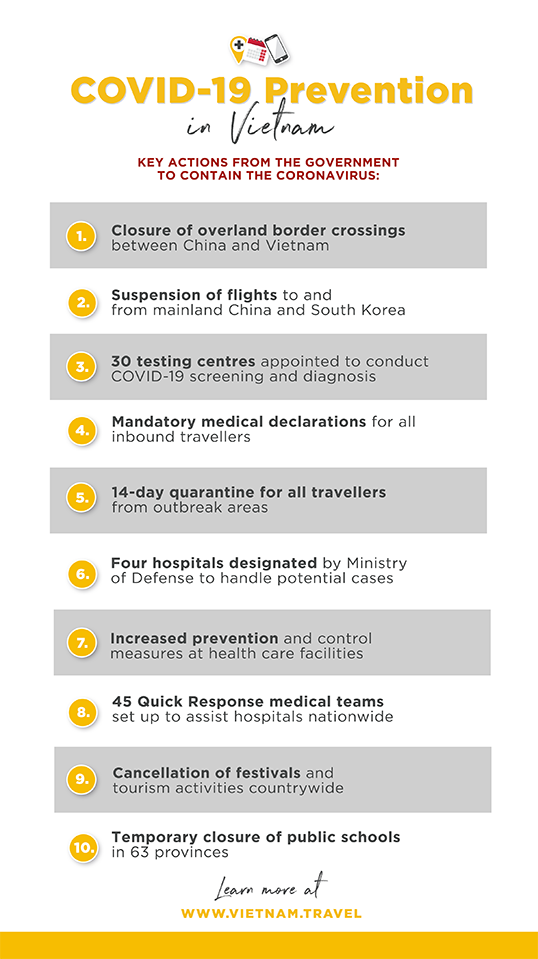 In addition to these, many private Vietnamese businesses, residential complexes and tourist accommodations have installed their own preventative measures to keep customers safe.
---
Health and safety precautions for travellers
Travellers in Vietnam are encouraged to take sensible precautions against COVID-19 during their trips.
The World Health Organization outlines these basic practices to keep yourself and your loved ones safe:
Avoid travelling if you have a fever and cough. If you have fever, cough, and difficulty breathing, alert health care services and share with them your recent travel history.

Maintain social distancing. Stay a metre or more away from others, especially those who are sneezing or coughing, or have fever.

Wash your hands regularly with soap and running water. You can also use an alcohol-based hand-sanitizer to spray your hands as often as you like.

Cover your mouth and nose with tissue when you cough or sneeze. Dispose of dirty tissues immediately and wash your hands after coughing or sneezing.

Avoid contact with live animals. Wash your hands with soap and water if you touch live animals or animal products in markets.

Eat only well-cooked food. Make sure your meals especially animal proteins and dairy products are thoroughly cooked and prepared in a sanitary environment.

Discard single-use masks. If you choose to wear a single-use mask, ensure it covers your nose and mouth, avoid touching the mask, and wash your hands after removing it.
Any travellers experiencing symptoms of the virus — fever, cough and difficulty breathing — should immediately call Vietnam's health hotline: 19003228.
Read more: Health and safety in Vietnam
---
Online trackers and official government sites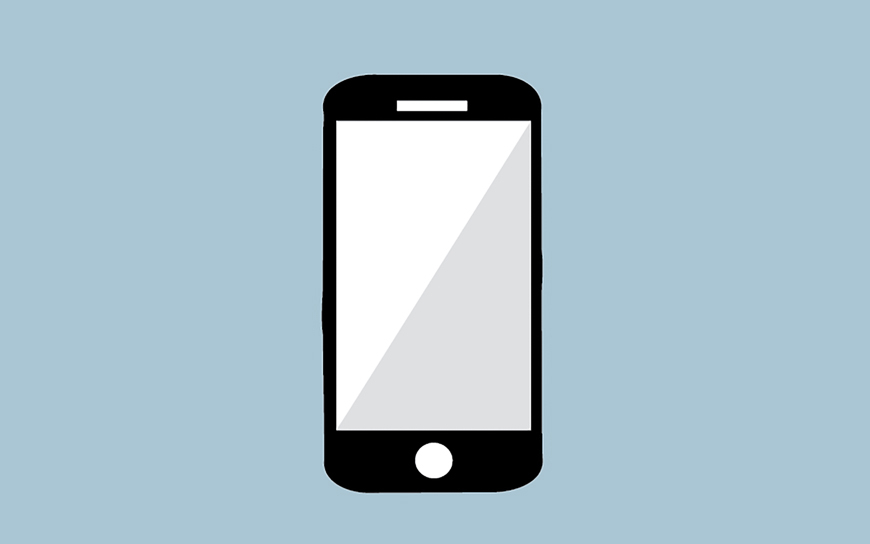 Travellers looking for updated statistics on COVID-19 can use the Coronavirus app.
Updates from the Vietnamese government: https://ncov.moh.gov.vn
News updates from Vietnam Tourism: https://vietnam.travel/media-industry
---
The information above is compiled by the Vietnam Tourism Advisory Board as a public service for travellers in early 2020. This article will be updated daily with new information from Vietnam's health, tourism and aviation authorities.