Just two hours from Hanoi, Ninh Binh, is one of Vietnam's most striking destinations. Breathtaking boat rides and lush countryside are just half of the appeal: the area is also rich in cultural treasures and is listed as a UNESCO Heritage Site. See the highlights of Ninh Binh with this itinerary in a single adventurous day.
---
See ancient history in Hoa Lư
Your first introduction to Ninh Binh is the historic site of Hoa Lư. These grounds were the seat of Vietnam's first feudal dynasty and saw an assassination plot, two reigns and a transfer to Hanoi 42 years later. Today Hoa Lư is surrounded by limestone karsts and natural moats.
Take a few minutes to wander around this centuries-old site, and admire its temples, pagodas, and artefacts. Your guides will fill you in on the fascinating details of Hoa Lư's history and offer tidbits about local life in the area.
---
Drift with the current in Tràng An

Your next stop is the Tràng An Scenic Landscape Complex. Clamber aboard a rowboat and settle in for a stunning ride. With impressive, jungle-covered karsts towering above, listen in as your guide shares stories about the people that lived in these mountains in prehistoric times, as well as those who still farm the area.
You'll need to duck down in parts as the boat glides beneath cool, dark grottoes. Along the way, you'll encounter tranquil pagodas on the river banks, and a set from the film 'Kong: Skull Island', which you can explore on foot.
---
Indulge with a local lunch

Once you emerge from Tràng An, hop into the van for a quick ride to lunch near Tam Cốc. Lunch may be an array of local specialities, including a Ninh Binh favourite: goat meatballs. Take in the lovely scenery all around as you enjoy an authentic Vietnamese meal, complete with fish cakes on lemongrass skewers, stir-fried greens and steamed rice.
---
Learn about Bích Động Pagoda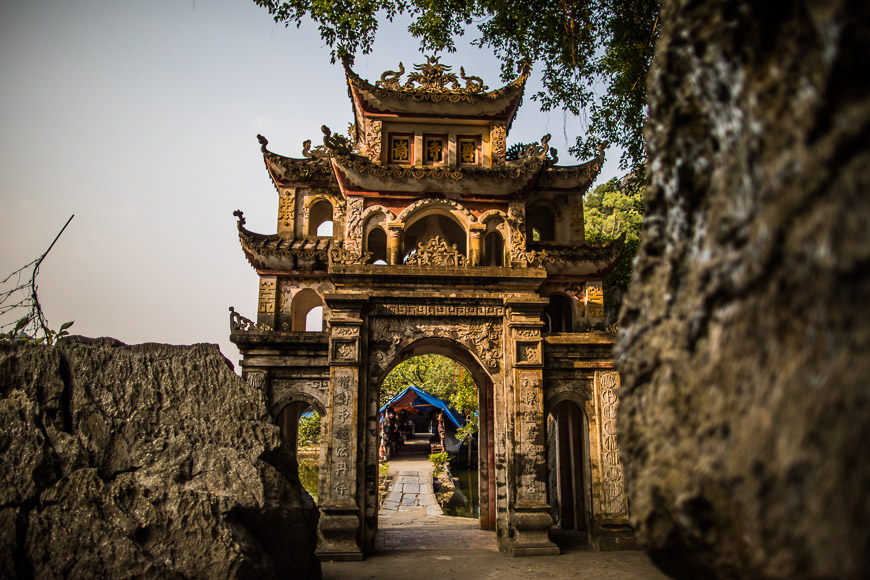 Newly energized, it's time to continue your Ninh Binh adventure at the 15th-century Bích Động Pagoda. A small, photogenic path between lotus ponds leads you to the first gate of the pagoda. From here, you'll need to hike up the stairs along the mountainside to reach the top tier of the pagoda. Your guide will fill you on the history of the pagoda, as you soak up the peaceful atmosphere. You may like to leave a coin from your home country as a token offering before descending.
---
Soak up panoramic views at Hang Múa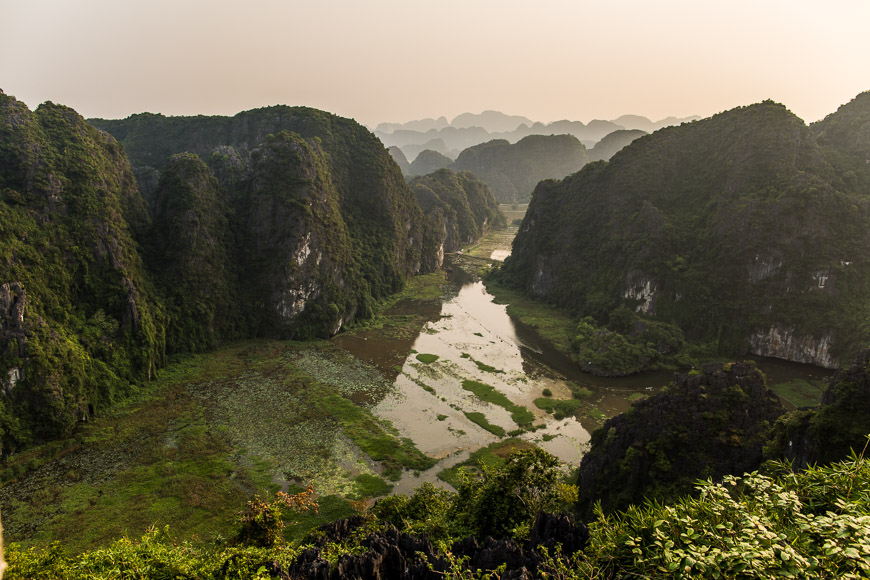 There's one more stop on your Ninh Binh itinerary: Hang Múa Peak. It's 500 steps up, but the steep hike is worth the effort. From the top, you'll be rewarded with sweeping panoramas of Tam Cốc valley below, with the faint outlines of karsts stretching toward the horizon. After taking pictures, wander around and you'll find statues of Vietnam's four sacred animals. Back at the base of the mountain, treat yourself to an ice-cream in Hang Múa cave.
---
Want more Vietnam travel ideas? Sign up for our newsletter to receive our best stories in your inbox.