No visit to Binh Thuan province is complete without heading to Dao Phu Quy, which means "island of riches". (Thanks to its stunning greenery and clear ocean waters, it's also been referred to as "the little Bali" or "Maldives" of Vietnam.)
As the island is quite far out, situated about 120km from Phan Thiet city in the East Sea, it has that remote, wild allure. At the moment, it's mostly young Vietnamese travelers 'in the know' who visit. So this is an up-and-coming destination that's worth visiting while it remains rather undiscovered.
The small island (16−18km2) is home to approximately 30,000 people, who live mainly within three settlements: Tam Thanh, Ngu Phung, and Long Hai. It remains quite untouched by commercial tourism, so it's less developed than other islands around the country. But it has good infrastructure, some affordable small guesthouses and homestays, abundant seafood and friendly locals.
Other reasons to visit include stunning seascapes, remote natural beauty, and rustic charm. Think big bays, volcanic-rock cliffs, crystal-clear waters, sacred sites, flourishing fruit orchards and wild green forests. Hikers and snorkelers will be in heaven here, as there are viewpoints to climb to and coral reefs to explore. Read on to discover what to eat and do on the island…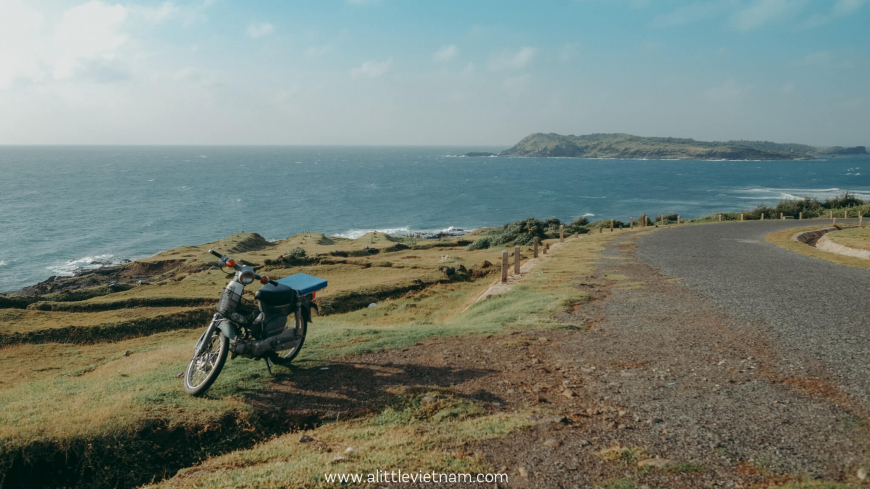 Source: Instagram: hydukyvn (Hy Du Ky).
How to get there
To get to Phu Quy island, you need to get to Phan Thiet City first. There's no airport there, so fly to Nha Trang, Ho Chi Minh City or Dalat. Then get a bus or train to Phan Thiet. Then you'll need to get to the port to catch a boat to the island. Depending on the type of boat, the journey will take 2.5 to 3.5 hours. Travelers prone to getting sea-sick are advised to take motion-sickness medication beforehand. On the island, you rent a bicycle or motorbike, or arrange a taxi through your accommodation host.
So, what's the best time to plan your trip? You can go during the dry season, between December and June. But the ideal swimming months are March through April, when the seas are calm.
Please note: ATMs are in short supply, so withdraw cash before your trip. Consider your environmental impact by clearing up your trash and avoiding single-use plastic while there.
What to eat
Naturally, since the island relies on fishing as its mainstay, Phu Quy is a paradise for seafood-lovers. There are plenty of seafood restaurants. And a really fun thing to do is to eat super-fresh catch on a fishing raft. In particular, you must try king crab, moon crab, lobster, grouper, squid and snails.
The king crab is a plump crab known for its firm, sweet flesh. Given its size – and the fact that it's not easy to catch – king crabs are on the pricey side. Go ahead and treat yourself.
The moon crab is another indulgence that's notoriously hard to catch. It's apparently so named because of the round red dot pattern on its shell. (Others say it's most delicious when caught and enjoyed during a moon rise.)
Lobster-catching has long been a traditional occupation here, where the lobsters are larger – and cheaper – than in other places. They can be enjoyed in many ways. One rare delicacy is lobster-blood soup. The blood − a salty and milky-clear liquid − is mixed with other ingredients including shrimp meat, veggies and herbs like perilla and coriander. It's typically served with rice paper, greens, peanuts, and slices of banana and star fruit. Simply divine!
Other healthy and unique seafood delicacies include snail salad, grape seaweed, and sea cucumbers. But Phu Quy has another dish that's not seafood-based at all: "hot beef" (bo nong). Cows are reared organically on the island, and the "hot" refers to how fast the beef is sold and served – within a day, so it's as fresh as it gets.
With your food, try the local alcoholic brew − pineapple wine (ruou dua). It's made from a coastal screwpine fruit (pandanus tectorius) you'll see growing across the island. To take a taste of Phu Quy with you, pick up some dried squid before heading home.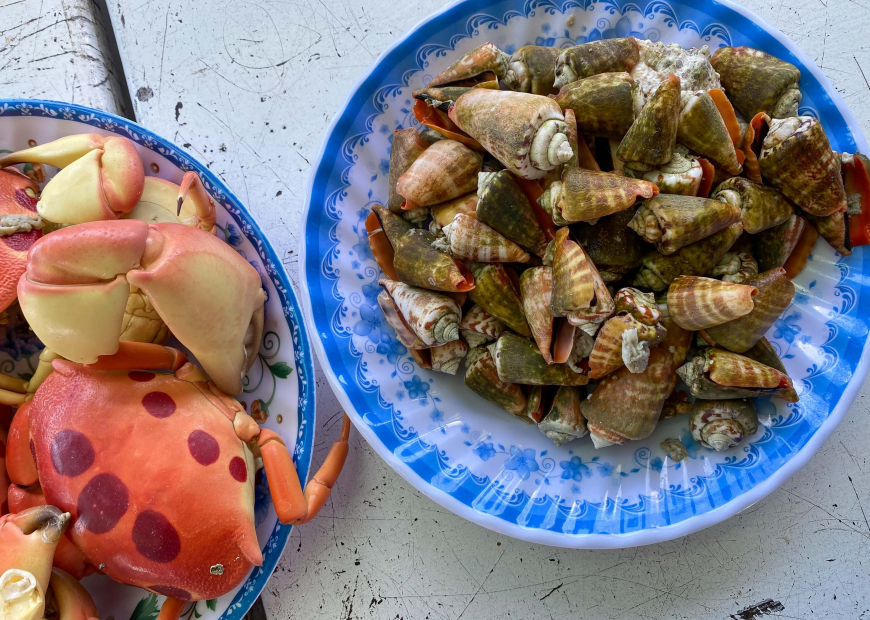 Source: Internet
Best beaches
There are many beaches to enjoy swimming or snorkelling. Highlights include:
Small Beach (Bai Nho), Ganh Hang: Picture a crescent of white sand between jutting rocky cliffs with waters so clear you can see to the bottom… That's Small Beach, possibly one of the prettiest on the island, situated southwest. There aren't many boats here, so it's safe for swimming and snorkelling. Popular selfie spots nearby include the 22.6m concrete flagpole and the natural 'infinity pool' at Ganh Hang hill (about 650m away). The flagpole is one of seven such poles erected across Vietnam. While the 'infinity lake' is a stream of water spilling into the sea, resembling a hotel pool.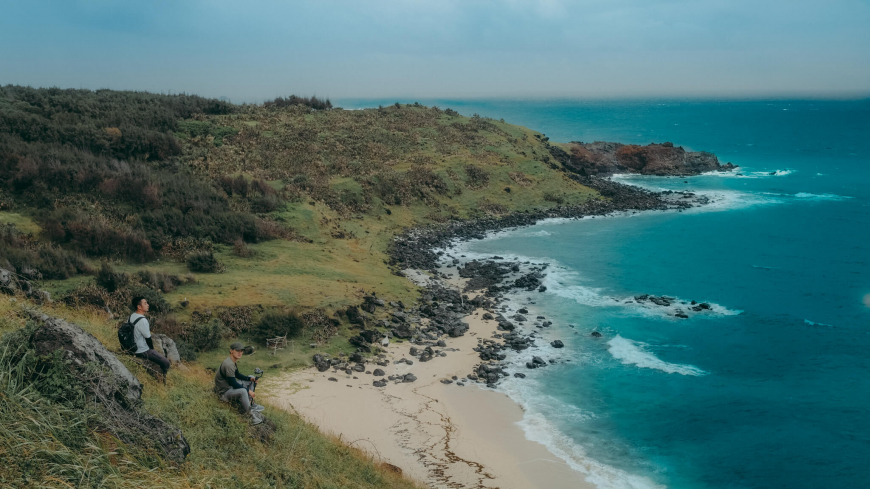 Source: Instagram: hydukyvn (Hy Du Ky).
Trieu Duong Bay: This is another great swimming spot, where you can spend a whole day. It boasts a long, wide stretch of white sand backed by Casuarina trees. Their shade is perfect for indulging in a lazy, peaceful picnic.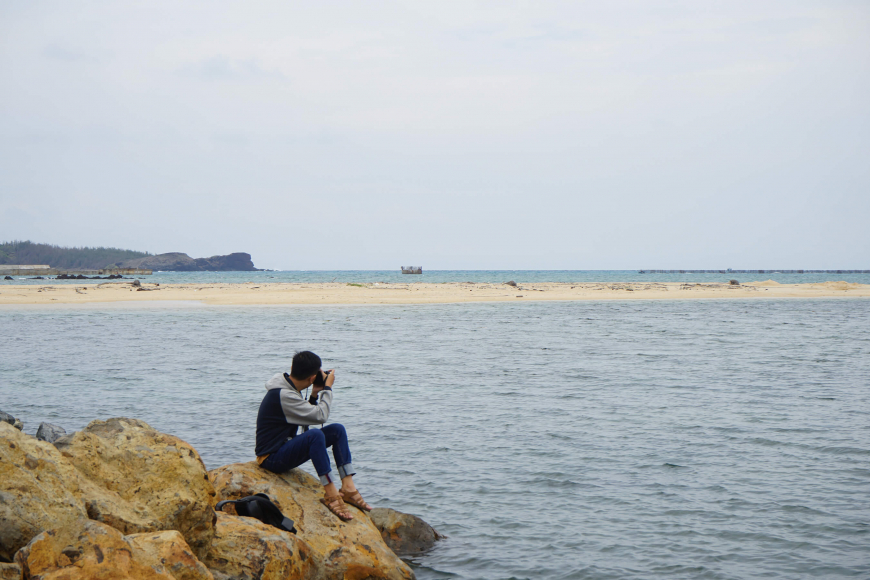 Source: Instagram: hoangminh.dg (Duong Hoang Minh).
Dong Hai Beach: Northeast, you'll find the fishing village of Dong Hai. Wind through its fascinating, charming alleyways to reach a beautiful beach enjoyed by the local community. Be sure to pack your snorkelling gear. There's plenty to appreciate under the surf.
Beaches on surrounding islets: To enjoy more sparkling seas and soft sands, arrange a boat trip to some of the small islets around Phu Quy. These include Hon Tranh, Hon Den, and Hon Hai. For an all-round memorable 'sea experience', get your host to arrange a tour where you catch fish to eat on a raft house for lunch.
Check-in spots on the island
Phu Quy island may be small. But there are plenty of places to check out − and check in. Notable places include:
Cao Cat Peak: At 106m above sea level, this sacred mountain is one of the highest spots on the island. Over time, the volcanic rocks have eroded to form deep grooves featuring visually arresting horizontal lines. Climb to the top to see why it's dubbed, "the Grand Canyon of Vietnam". This is also the location of the Linh Son Pagoda, a monastery boasting a particularly majestic statue of Buddha. Worshippers pilgrimage here to pay for peace. But there are plenty of benches and lookout points for simply enjoying an epic sunset.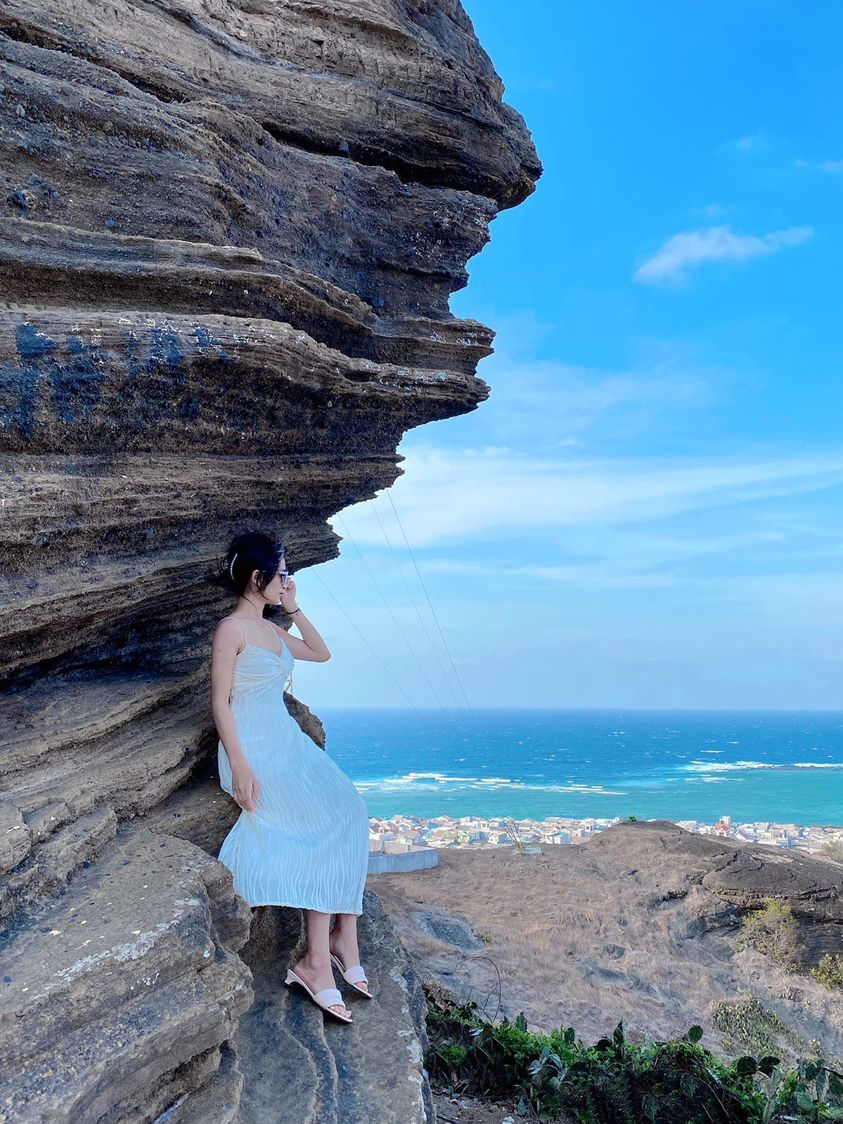 Source: Instagram: __sorasu09 (Thanh Huong).
Van An Thanh whale temple (Lang Nam Hai): This oceanographic museum near the main port displays skeletons of marine animals, including that of a 20m whale. The incense lit near its jawbone attests to the centuries-old tradition of Vietnamese fishermen reversing this sacred sea mammal. Be sure to phone ahead, though, as the museum isn't always open.
Phu Quy lighthouse: Another stunning vantage point is from the lighthouse, at the foot of Cam mountain west of the port. Climb the stairs to enjoy the kind of sweeping views that make you marvel at the vastness of this beautiful world. Entry is free. But be sure to leave a donation to contribute to the upkeep of this attractive landmark.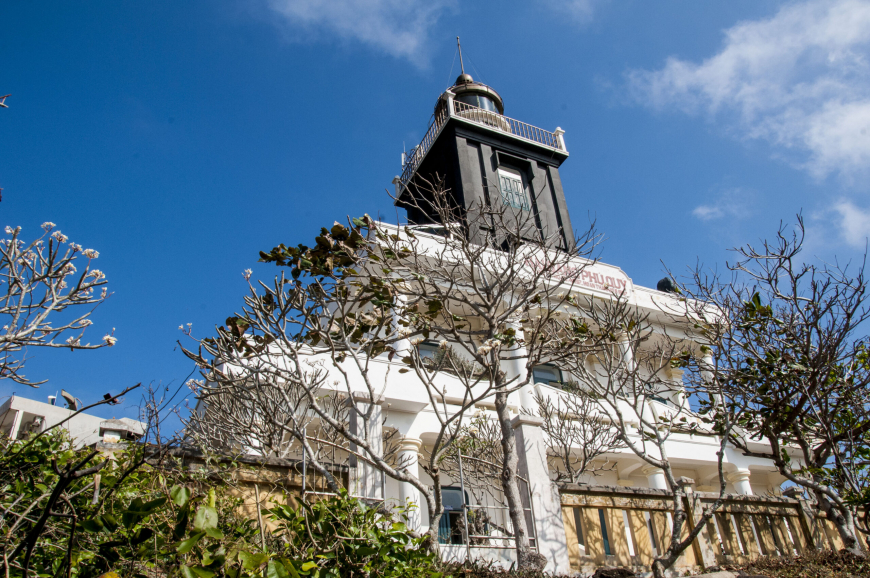 Source: Internet
Temples and pagodas: For its size, Phu Quy has a significant number of spiritual sites. In addition to the Buddhist Linh Son, Linh Quang and Linh Buu pagodas, there's the Thanh Lam Pagoda. Built in the 18th century, it's noted for housing nearly 30 serene Buddha statues made from various materials. Then there's the Temple of Princess Ban Tranh. This historical relic was built by the Cham people towards the 15th century, to honour a Champa princess who was apparently banished to the island.
Master Nai's Palace (Dinh Thay Nại): Another notable historical figure who lived on the island was a Chinese merchant. According to legend, he landed on the island after his boat was caught in a storm. He decided to stay and used his medicinal knowledge to help unwell islanders. After his death, a tomb was built in his honour. Apparently, he's still believed to protect the island. So traditional rituals are carried out here annually, on the fourth day of the fourth lunar month.
Phu Quy wind turbine field: The island has adopted some renewable energy. Notably, it's home to one of three wind-power farms in Binh Thuan province. Check-in to this location for shots of the pretty 'fan field' featuring three massive turbines.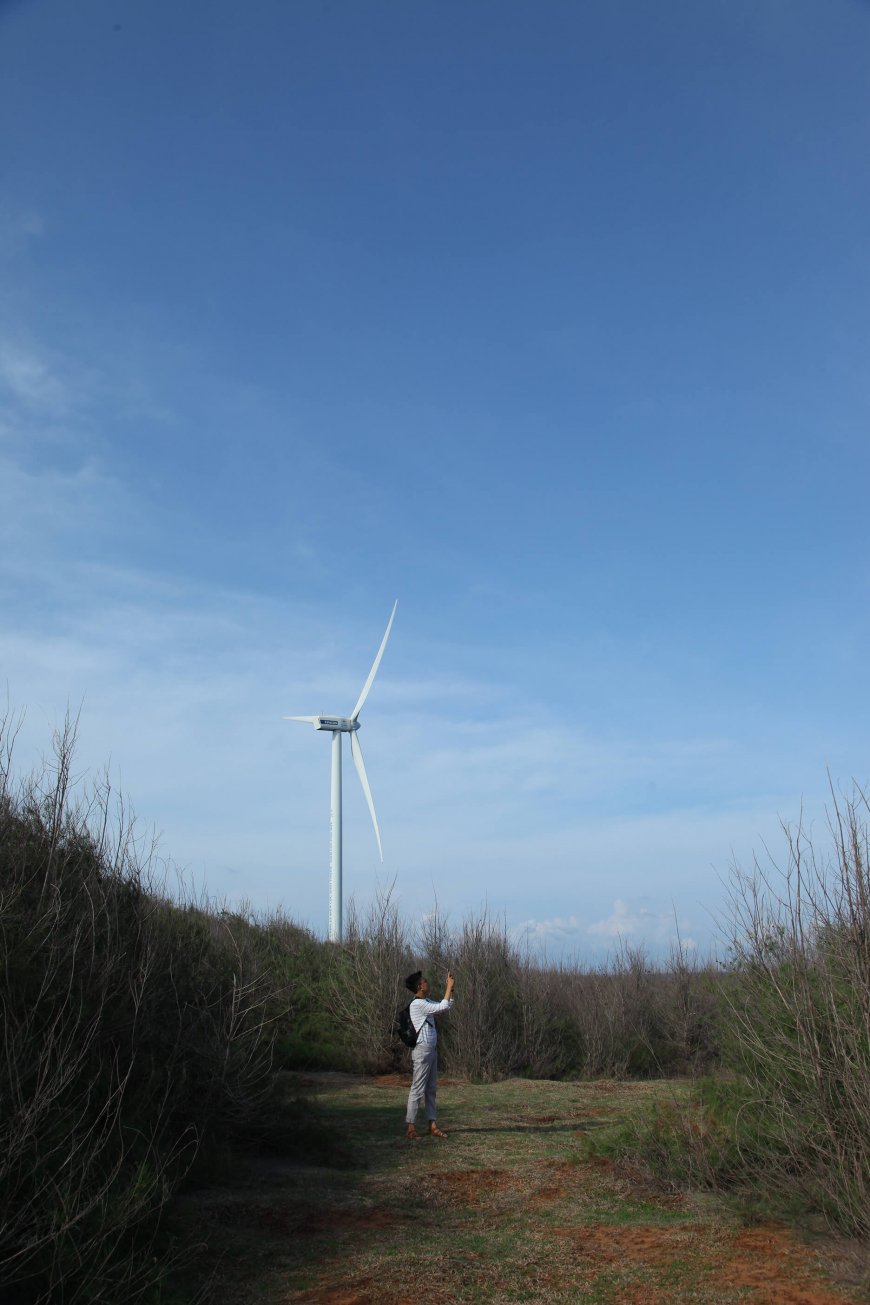 Source: Instagram: hoangminh.dg (Duong Hoang Minh).
Lang Duong aquarium: Also known as Lang Duong Fish Pond or Ganh Hang Dam, this abandoned 'fishery' is now an informal aquarium. Long ago, stone walls were built to capture seawater, but trap small fish and shrimp. Walk the low walls to explore the ruins, spotting small sea creatures along the way.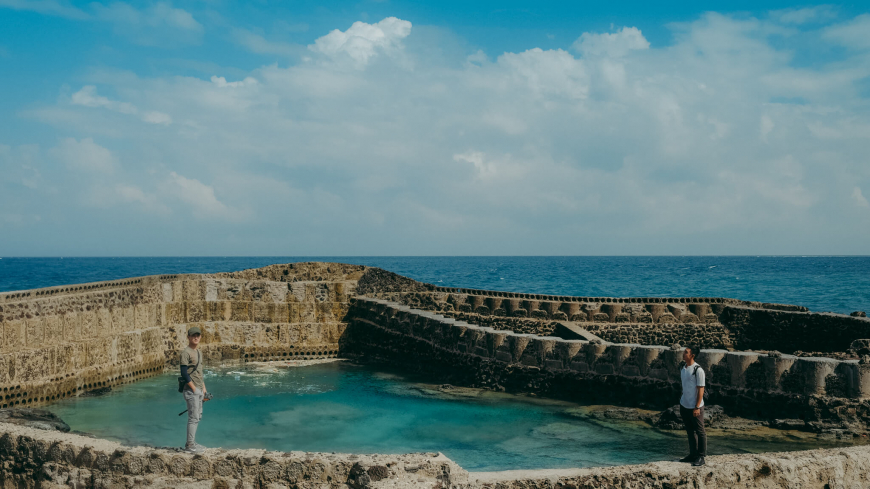 Source: Instagram: hydukyvn (Hy Du Ky).