At the 29th edition of the prestigious World Travel Awards, Vietnam bagged a bunch of awards for the nation and its destinations. Several Vietnamese tourism and travel brands were honoured, too.
---
The awards were presented at the World Travel Awards Asia & Oceania Gala Ceremony 2022, held on 7 September at a glittering event hosted at the GEM Center in Ho Chi Minh City. This was the second time Vietnam acted as host country for the awards, which are known for recognising global excellence in the travel and tourism industry.
In previous years, Vietnam won several World Travel Awards, including Asia's Leading Destination in 2021. In 2022, the country was nominated for many categories. In the end, the nation emerged as a regional champion, winning an impressive number of trophys and titles.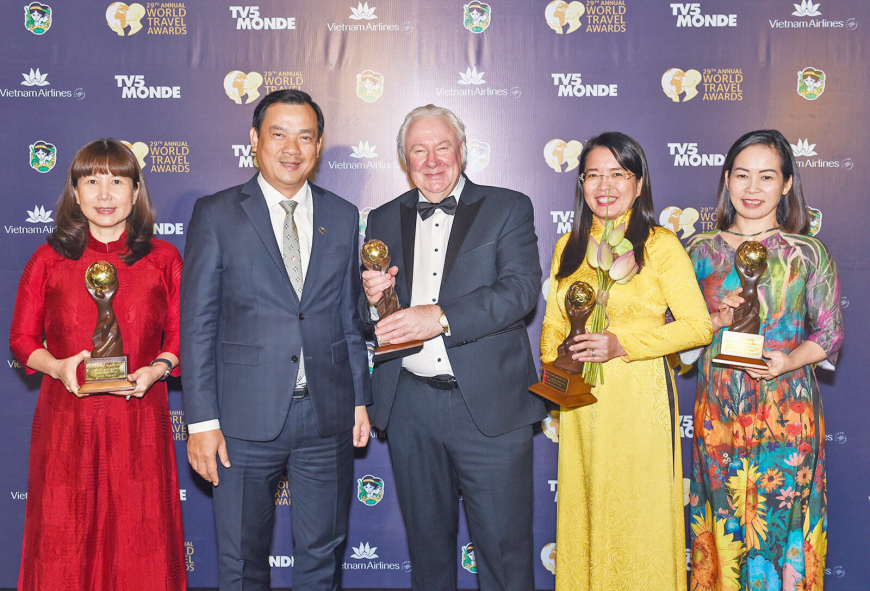 VNAT's Chairman Nguyen Trung Khanh (second from the left), President and Founder of WTA Graham Cooke (middle) and other Vietnam's winners at the 29th World Travel Awards Asia & Oceania Gala Ceremony organised in Ho Chi Minh City (Photo: WTA)
Mr. Graham Cooke, President, Founder of World Travel Awards said: "Ho Chi Minh City is an impressive cosmopolitan destination, rich in history and culture but with a dynamic, forward-thinking outlook. Vietnam is not only a tremendously exciting destination within Asia, but I believe it will soon become a tourism epicentre on the global stage. We foresee an era of unprecedented growth as more brands and tourism development products are attracted to the nation"
THE BIG WINS
For its "amazing natural beauty combined with world-class levels of hospitality", Vietnam nabbed the coveted Asia's Leading Destination 2022 title yet again. The country's claimed this accolade three times before: in 2018, 2019 and 2021. But this 2022 honour attests to the all-round optimism that the nation will bounce back after the COVID-19 pandemic and see full tourism recovery in the coming year.
In another coup for the country, Vietnam was named Asia's Leading Nature Destination 2022 for the first time since this category was introduced four years ago. This award will boost efforts to market Vietnam as an ecotourism destination that protects biodiversity and promotes conservation. From the majestic mountains and steep rice terraces of the northwest to the forests, caves and beaches of Central Vietnam and the bountiful rivers and orchards of the South, Vietnam has incredible scenery for travellers to appreciate.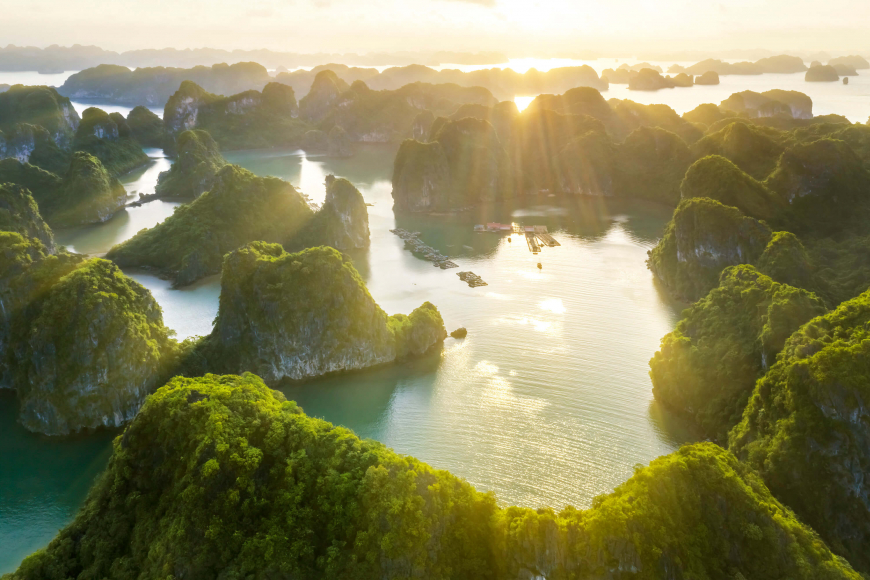 For the sterling work they've been doing, the Vietnam National Administration of Tourism (VNAT) was crowned Asia's Leading Tourist Board 2022 – for the third time. Previous wins were in 2017 and 2021. What's more, Ho Chi Minh City's Department of Tourism was named Asia's Leading City Tourist Board for 2022.
DESTINATIONS IN FOCUS
Recognition was also given to specific locations. The northern capital, Hanoi, won Asia's Leading City Break Destination. Indeed, with its ancient relics and colonial architecture alongside mega-modern development, the city well meets the category criteria of offering an attractive short leisure vacation and urban experience.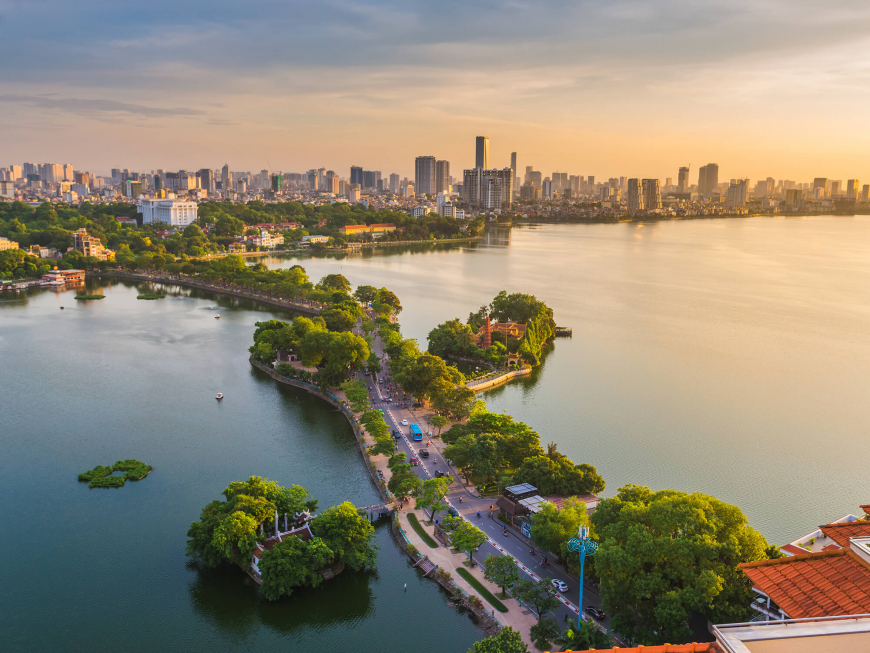 The Cuc Phuong National Park in Ninh Binh, 120km southwest of Hanoi, was again named Asia's Leading National Park. The oldest national park in Vietnam is renowned for its majestic limestone mountains, ancient history and rich ecosystem. Further north, Moc Chau (Son La province) was honoured as Asia's Leading Regional Nature Destination for the very first time. The region wows visitors with its ethnic villages, lush green tea plantations, and the longest glass-bottomed bridge in the world.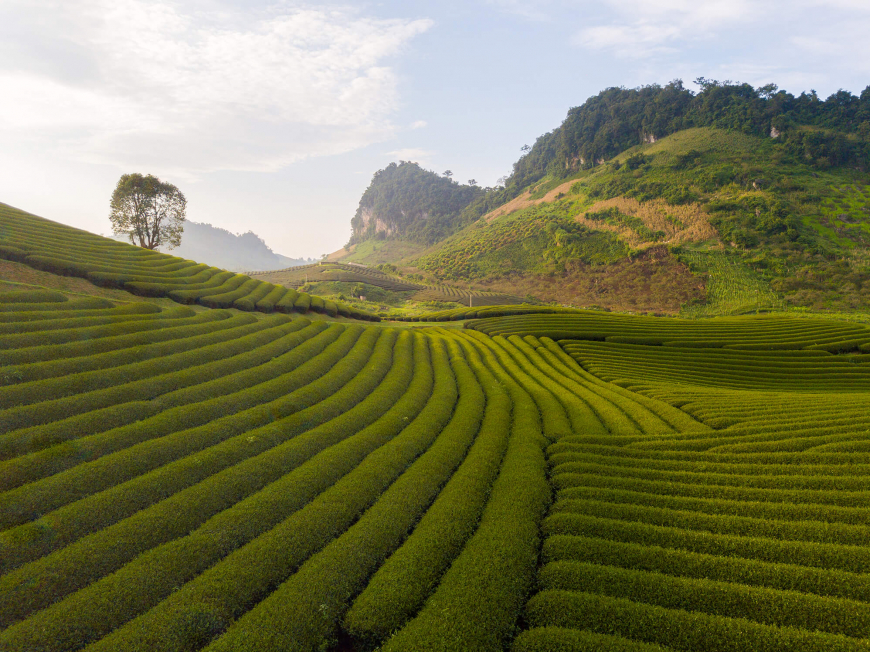 In Central Vietnam, Hoi An claimed the Asia's Leading Cultural City Destination title for a third time. The UNESCO World Heritage Site has a long, fascinating history, which has been beautifully preserved. Hoi An plays host to many events throughout the year and offers tourists many opportunities to enjoy cultural activities. Nearby Danang also came out tops. The city beat eight other nominees – including Seoul, Beijing and Singapore − to become the Leading Festival and Event Destination in Asia in 2022.
Down south, commercial hub Ho Chi Minh City was honoured with the Asia's Leading Business Travel Destination award.
AWARDING INDUSTRY EXCELLENCE
Facilities, airlines and hospitality brands also emerged as winners. Van Don International Airport was named Asia's Leading Regional Airport 2022. Halong Bay's port was named Asia's Leading Cruise Port. National airline carrier Vietnam Airlines won in two categories: Asia's Leading Airline Brand, and Asia's Leading Airline - Economy Class. Viettravel Airlines and Bamboo Airways also nabbed prizes.
For fun activities, Sun World Ba Na Hills was crowned Asia's Leading Theme Park; while Aquatopia Water Park was crowned the Leading Water Park.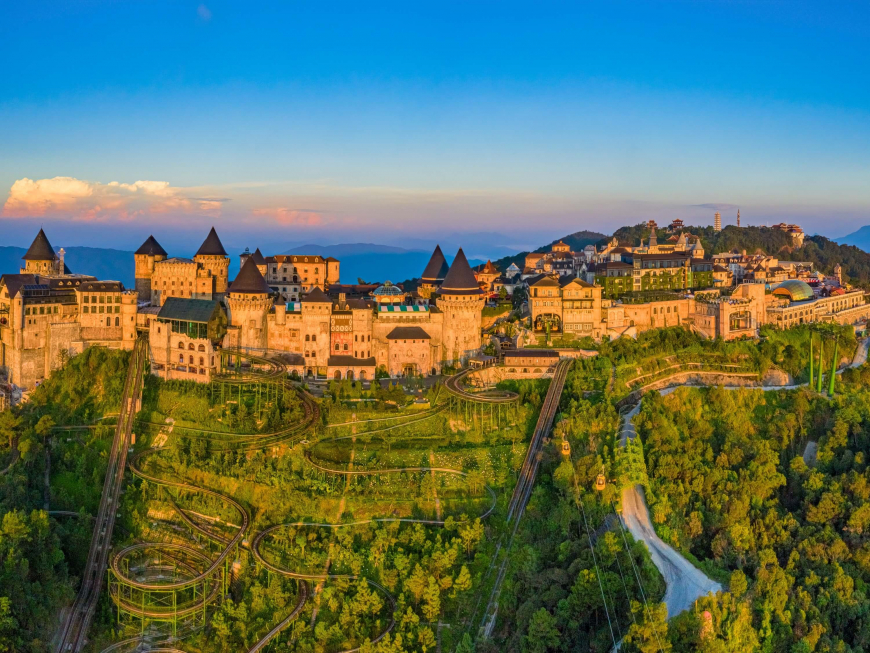 Among the resorts categories, the luxurious Amanoi Resort, in Ninh Thuận, became Asia's Leading Boutique Beach Resort. Hoi An Memories Resort & Spa is 2022's Leading Entertainment Resort in Asia. New World Phu Quoc Resort, meanwhile, won in the Leading Family Beach Resort category.
Other resort winners were: InterContinental Danang Sun Peninsula Resort (Asia's Leading Luxury Resort); Regent Phu Quoc (Asia's Leading New Resort); Banyan Tree Lăng Cô (Asia's Leading Luxury Beach Resort); InterContinental Phu Quoc Long Beach Resort (Asia's Leading Luxury Family Resort); JW Marriott Phu Quoc Emerald Bay Resort & Spa (Asia's Leading Luxury Wedding Resort); Mercure Danang French Village Bana Hills (Asia's Leading Themed Resort); Premier Village Phu Quoc Resort (Asia's Leading Villa Resort); and Six Senses Ninh Van Bay (Asia's Most Romantic Resort).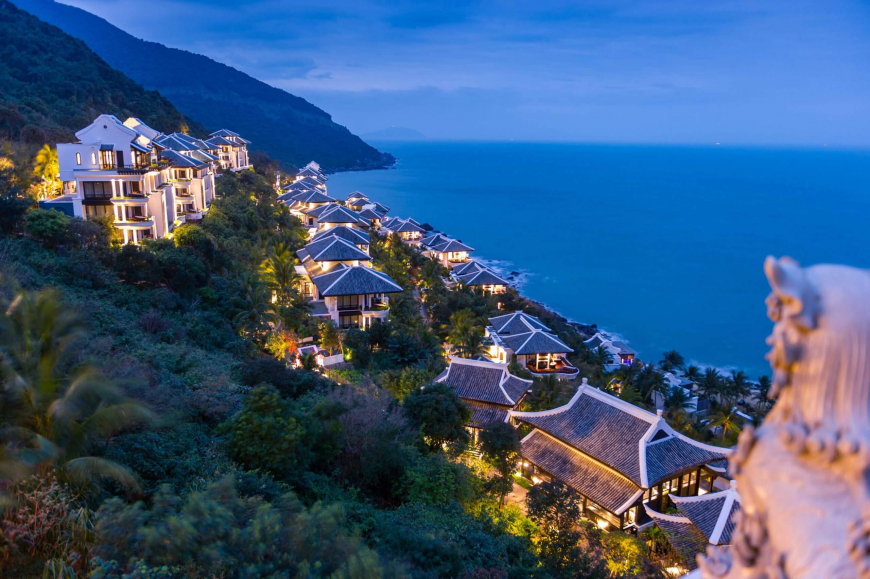 Source: InterContinental Danang Sun Peninsula Resort
Hotel winners included: Ville De Mont Mountain Resort, Banyan Tree Lăng Cô, Bai Bac Bay Villa @ InterContinental Danang Sun Peninsula Resort, Anana Retreat, Vinpearl Luxury Landmark 81, and more.
For a full list of winners, visit the World Travel Awards website.