In Vietnam, before eating we say "Chúc ngon miệng!"-- meaning 'enjoy your meal' (but of course you will.)
---
While Vietnamese cuisine abroad still flies under the banners of phở and bánh mì, the full spectrum of Vietnamese food is a symphony of delightfully textured, bright and piquant flavours.
The Vietnamese love their food and cooks make the most of each region's abundance produce and special ingredients to make their meals. Northern food is known for its simplicity; the dishes of central Vietnam are generous in spice and quantity; Southerners add sugar to much of their cooking -- and across the country, you're sure to eat well.
1. Phở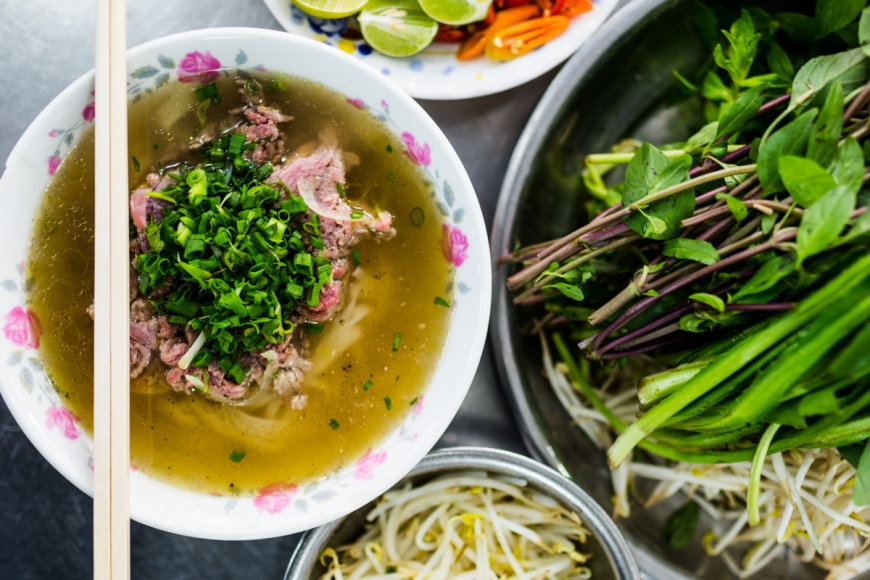 Phở is the quintessential Vietnamese dish, the word phở referring to the type of noodle used in the recipe. Flat rice noodles dance around with medium-rare slivers of beef or boiled chicken in a hearty beef stock. The more popular of the two widely known varieties is Phở Hanoi. Originally from the north, it is distinguished by a clear broth and dressed only with a squeeze of lemon and slices of bird's eye chili. The southern iteration, Phở Nam, has a murkier broth and is served with a bouquet of fresh herbs like bean sprouts, basil and mint.
The secret to a good bowl of phở lies in its stock. The broth is usually infused with fragrant star anise, clove and cinnamon to lend a natural sweetness to the mix. This dish is found on almost every street corner and is actually consumed for breakfast, unbeknownst to outsiders.
Try it: Pho Thin, 13 Lo Duc, Hai Ba Trung District in Hanoi or Pho Hoa, 260C Pasteur Street, District 3 in Ho Chi Minh City
---
2. Bánh Mì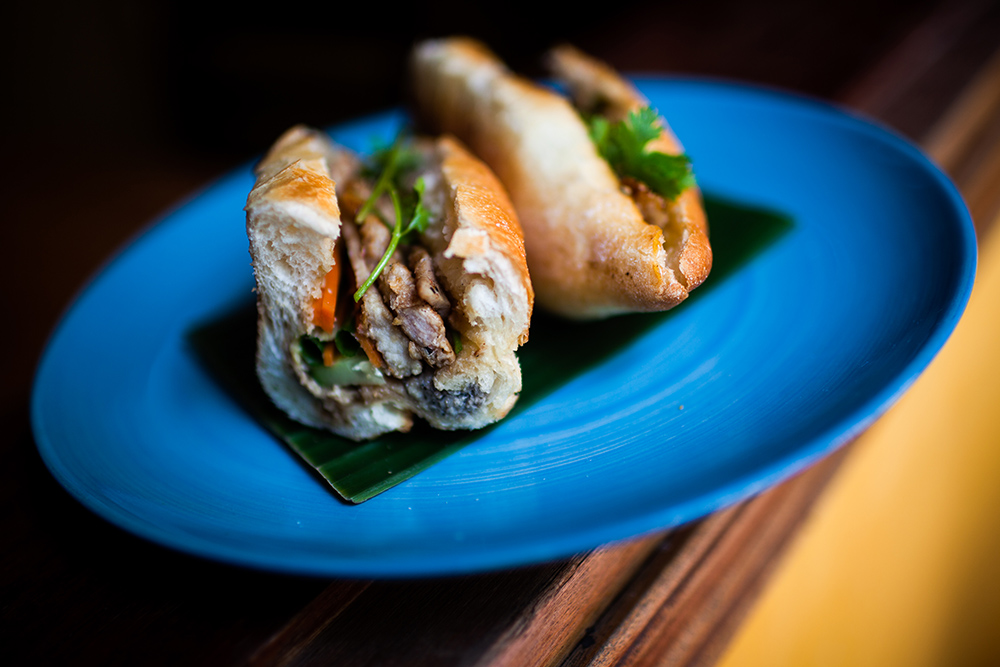 Baguettes may have been adopted from the French, but bánh mì is as Vietnamese as it comes. Paté and margarine are spread swiftly across the soft, chewy interior of a baguette and later, the sandwich is loaded with pickled vegetables, fresh cilantro, pork belly, pork floss and cucumber. Sink your teeth into the crunchy crust and watch the warm roll give way to a whole scheme of textures.
Try it: Banh My Phuong, 2B Phan Chau Trinh, Hoi An, Quang Nam
---
3. Cơm Tấm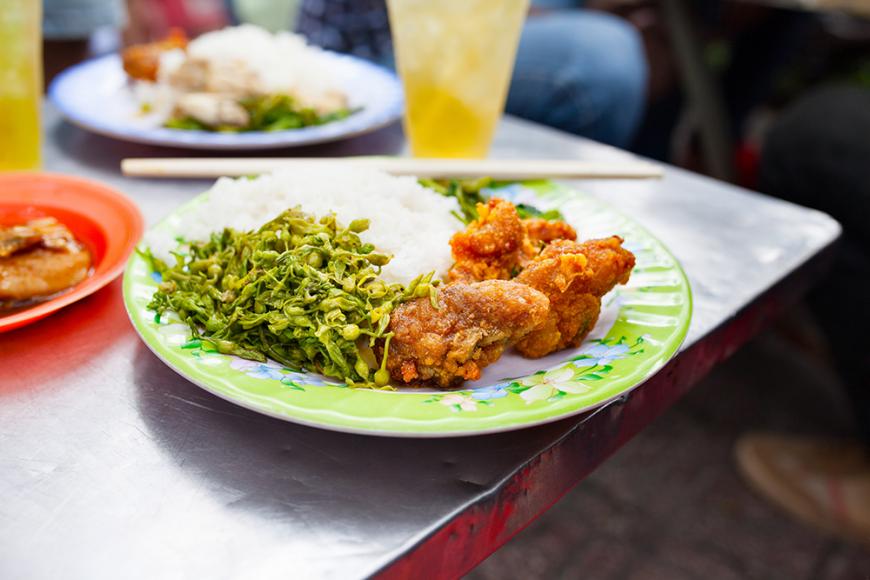 Back in the day, Vietnamese farmers would eat the fractured rice grains they could not sell. Nowadays, "broken" rice is a food staple for the everyday working class citizen. For a meal of humble origins, the preparations for cơm tấm can get very decadent. While it is prepared in a number of ways, the most popular is cơm tấm sườn nướng ốp la. A fried egg is paired with caramelised grilled pork chop and laid out on a generous heap of broken rice. The dish is then slathered with nước chấm, a mixture of chili, fish sauce and sugar, and a drizzle of green onion oil. The final touches include a side of shredded pickled carrots and daikon, slices of cucumbers and tomatoes, and crushed fried pork rinds and shallots for garnish.
Try it: An unnamed family-operated stall on 260 Vo Van Tan, District 3, Ho Chi Minh City
---
4. Bún Bò Huế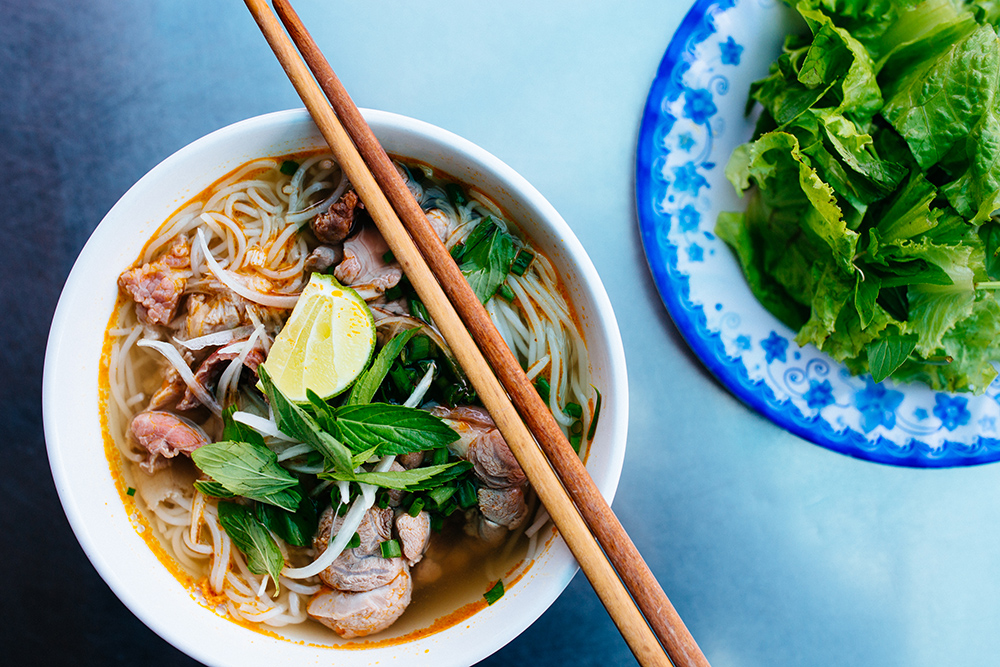 Representing the legendary royal cuisine of Hue, bún bò huế is a mighty demonstration of both beauty and taste. The alarmingly red broth is the first signal of its striking flavour—the result of hours spent simmering beef bones and stalks of lemongrass to produce a citrusy concoction. Flash boiled vegetables paired with tender beef shanks give this dynamic affair added vivacity. This may be a beef soup—the word bò is Vietnamese for beef—but don't be surprised when you see sausage lurking in the bowl. Chả lụa is a sausage made of ham paste that has a texture reminiscent of tofu.
Try it: Quan Bun Bo Hue, 19 Ly Thuong Kiet Street, Hue
---
5. Cao Lầu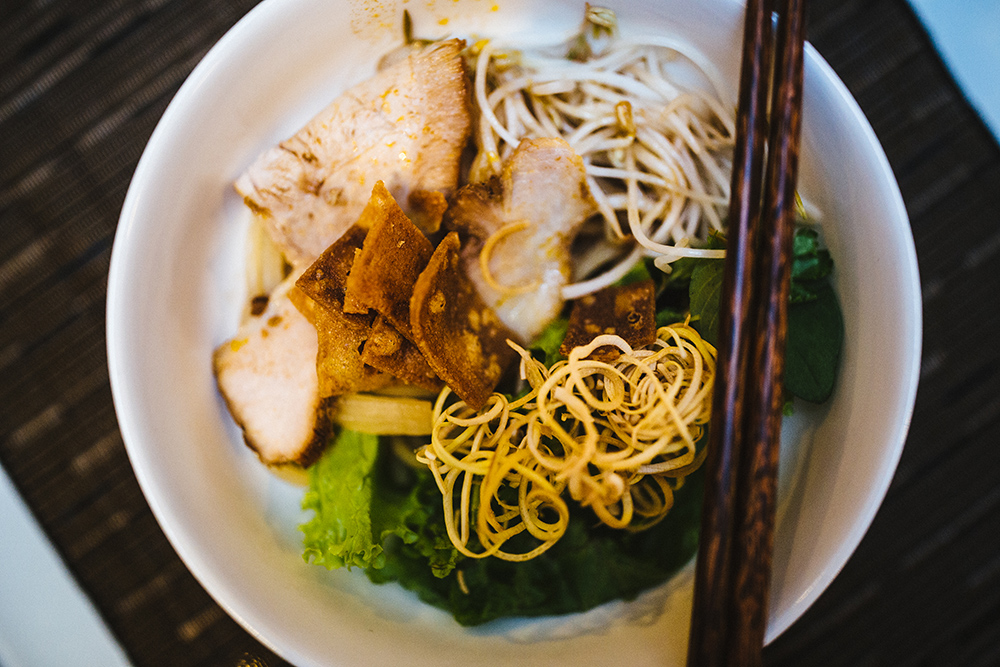 A dish unique to Hoi An, cao lầu is beyond compare. Saluting the history of the coastal trading port from where it originated, this sensuous bowl of noodles is a fusion of Japanese, Chinese and Vietnamese influences. Slices of Chinese barbecued pork are fanned over cao lầu noodles. These thick noodles, with the same heft as Japanese udon, are then doused with a spice-laden broth and topped with fresh herbs and crushed pork cracklings. Authentic cao lầu is said to be made from the water found in the thousand-year-old Ba Le well in Hoi An, rumored to have magical properties.
Try it: Thanh Cao Lau, 24 Thai Phien St, Hoi An
---
6. Mì Quảng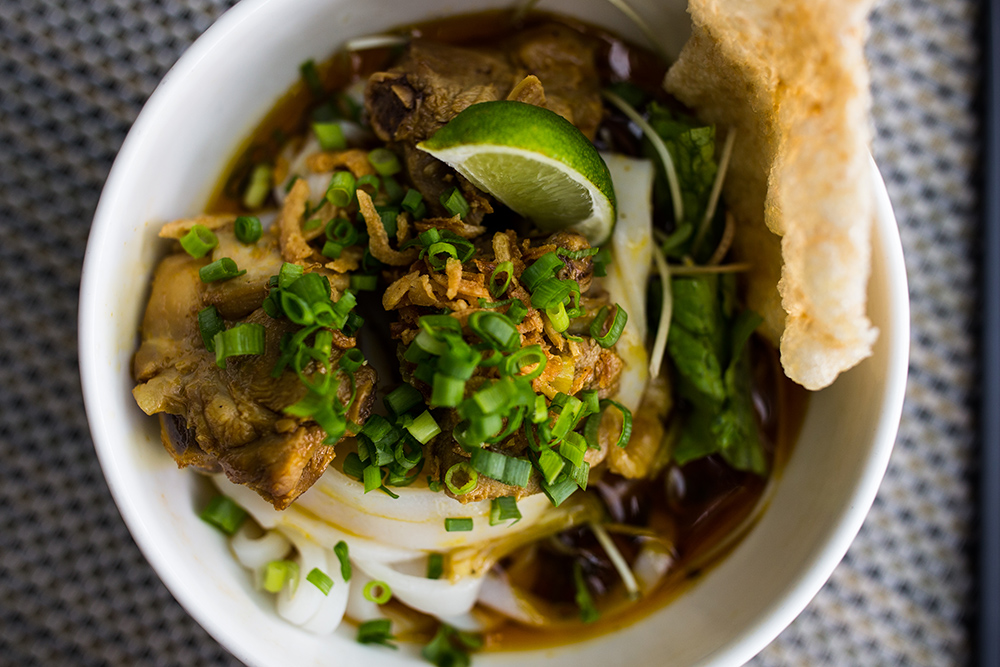 Part soup, part salad, mì quảng gracefully pulls off an identity crisis. That being said, don't let the elegance of mì quảng fool you. This light and springy noodle dish from the Quang Nam province in Central Vietnam is street food. The vibrantly yellow noodles owe their rich colour to the turmeric-infused broth made rich with peanut oil. Only a ladleful is used in the making of this "soup", which can be topped with anything from shrimp and chicken to pork belly and snakehead fish. Eat mì quảng with sliced banana flowers, Vietnamese coriander, basil and bánh tráng me, toasted sesame rice crackers.
Try it: Quan Mi Quang Ba Mua, 95 Nguyen Tri Phuong, Chinh Gian, Thanh Khe, Da Nang
---
7. Bánh Xèo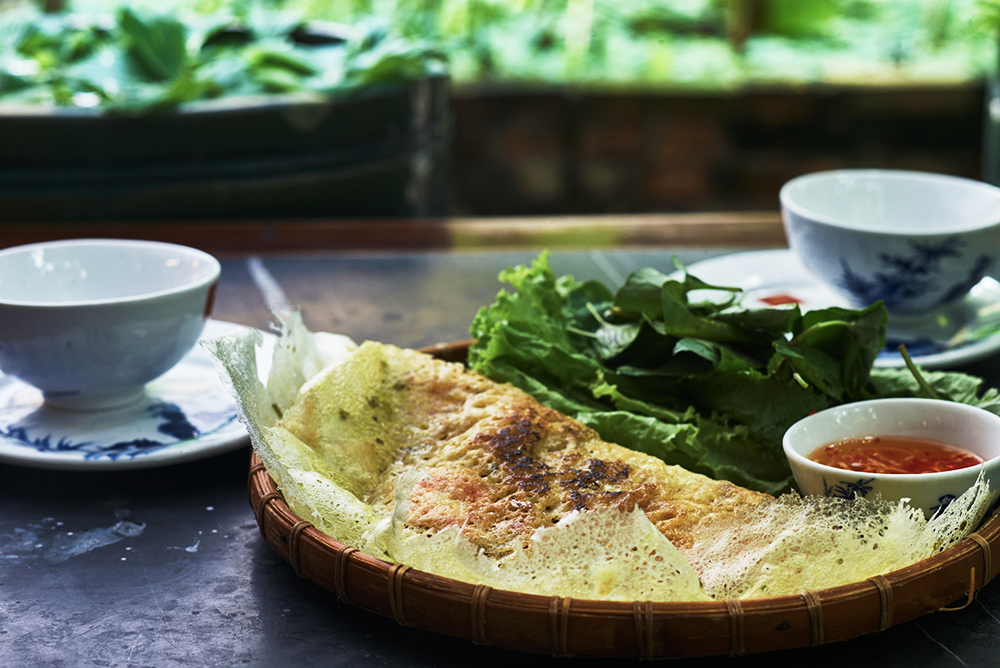 A Mekong Delta creation, bánh xèo is widely eaten around south and central Vietnam. Watching the crispy crepe being assembled is an audio-visual experience: the batter crackles loudly when it hits the hot pan—xèo meaning sizzling—and the edges gradually curl and golden as the skilled xèo maker deftly swirls the pan to evenly spread out the dense batter. The batter, traditionally made from rice flour and coconut milk, owes its yellowish hue to the addition of turmeric. Another French inspired delight, the savoury pancake is filled with slices of boiled pork, minced pork, bean sprouts and shrimp and then folded in the manner of a crepe. A bánh xèo shouldn't be too soggy and is best appreciated fresh off the skillet.
Try it: Banh Xeo 46A, 46A D Dinh Cong Trang, District 3, HCMC
---
8. Bún Chả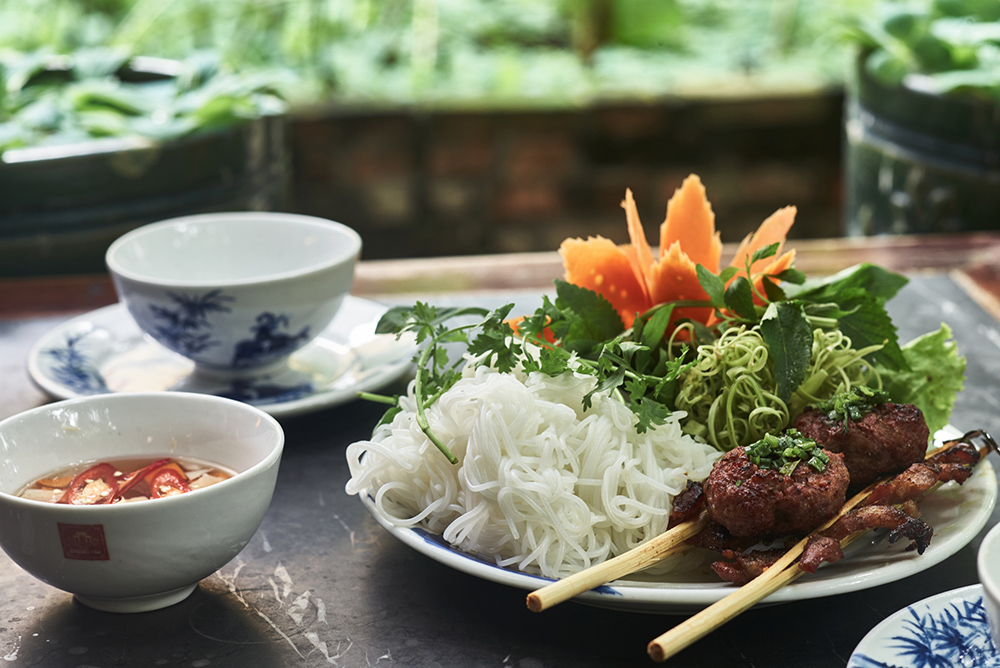 Bún Chả became an overnight sensation after President Obama was pictured scarfing down a bowl of these grilled pork sliders with Anthony Bourdain. But this specialty of the Old Quarter in Hanoi has always been popular among the locals. Around lunchtime, the scent of pork grilling over hot charcoal wafts down the sidewalks, filling the noses of hungry Hanoians.
This classic northern dish is comprised of cold bún (rice vermicelli); slices of seasoned pork belly; a mountain of fresh herbs and salad greens; and last but not least, medallions of minced pork swimming in a bowl brimming with a fish sauce-based broth. The go-to approach is to scoop small bundles of bún into your broth bowl and rotate between eating the noodles, the pork and the greens.
Try it: Bun Cha Huong Lien (also known as Bun Cha Obama), 24 Le Van Huu, Phan Dinh Ho, Hai Ba Trung, Hanoi
---
9. Xôi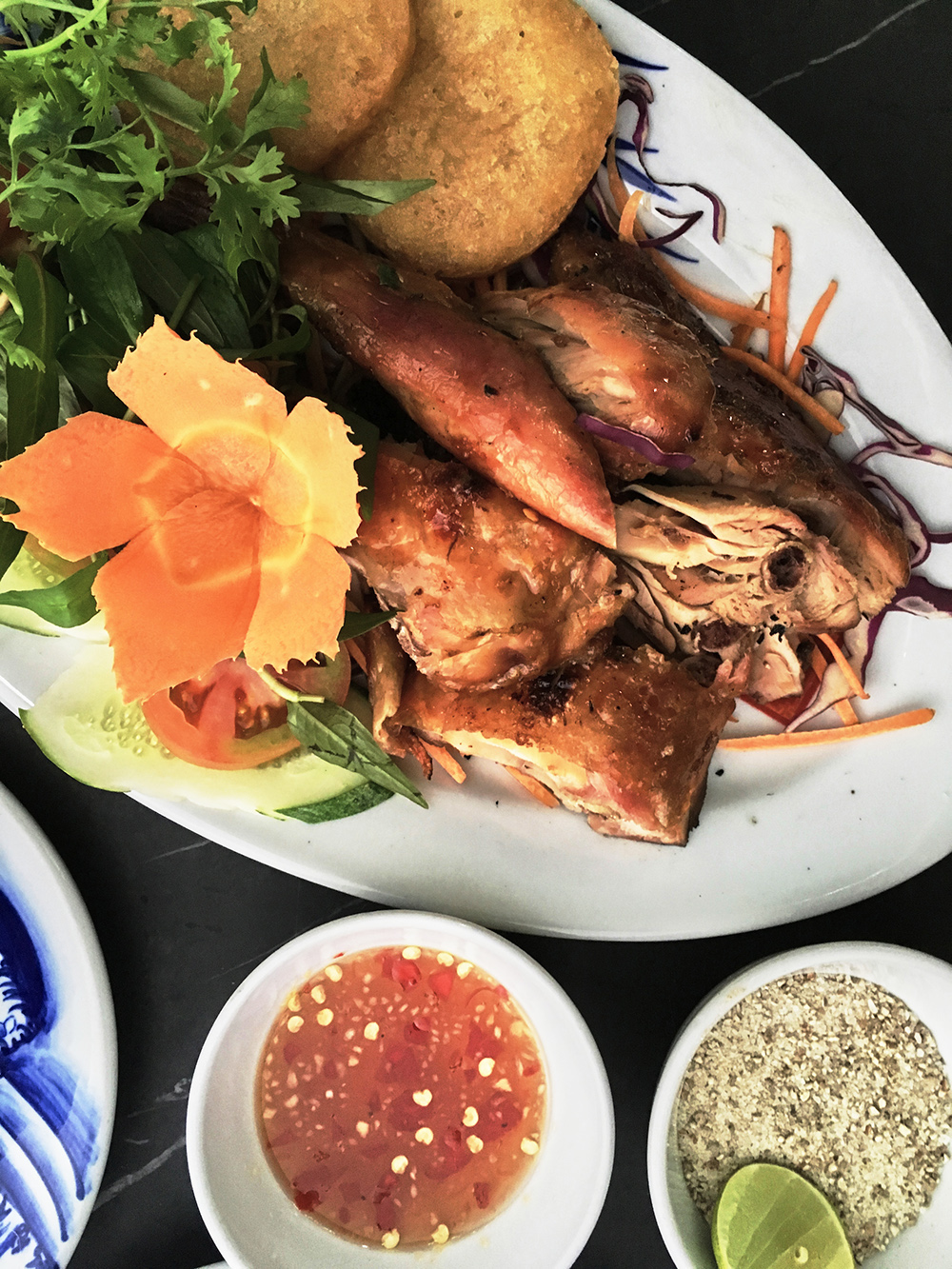 Xôi, Vietnamese sticky rice is a departure from other sticky rice interpretations in the region. The weighted, more dense glutinous staple is comes in a savoury or a sweet option. Xôi mặn, savoury xôi, is a popular, inexpensive breakfast fix. Hankering for something sweeter? There are over 20 types of xôi ngọt; but if you're hoping to mesmerised, you're in luck. Xôi ngũ sắc, the five-coloured xôi, is a psychedelic swirl of purple, green, red, yellow, and white, pigmented using natural plant extracts.
Try it: Xoi Yen, 35B Nguyen Huu Huan, Ly Thai To, Hoan Kiem, Hanoi
---
10. Bánh Bèo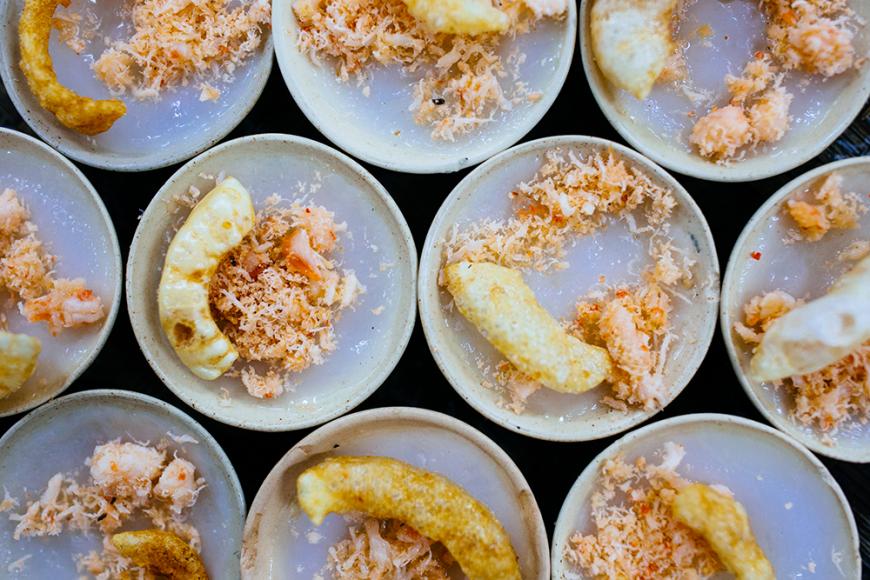 More of an appetizer, bánh bèo is a quick fix from Hue City. These steamed rice cakes come in bite-sized servings, akin to Vietnamese tapas. Each delicate, chewy disk is topped with a spoonful of creamy mung bean paste and toasted shrimps. The cakes are then trimmed with a either croutons or the more indulgent tép mỡ—crunchy fried pork fat. At the center of a good bánh bèo should be a dimple, signaling a well-steamed batch. This is paired nicely with nước chấm.
Try it: Quan Hanh, 11 Pho Duc Chinh (South Bank), Hue
---
11. Bún Riêu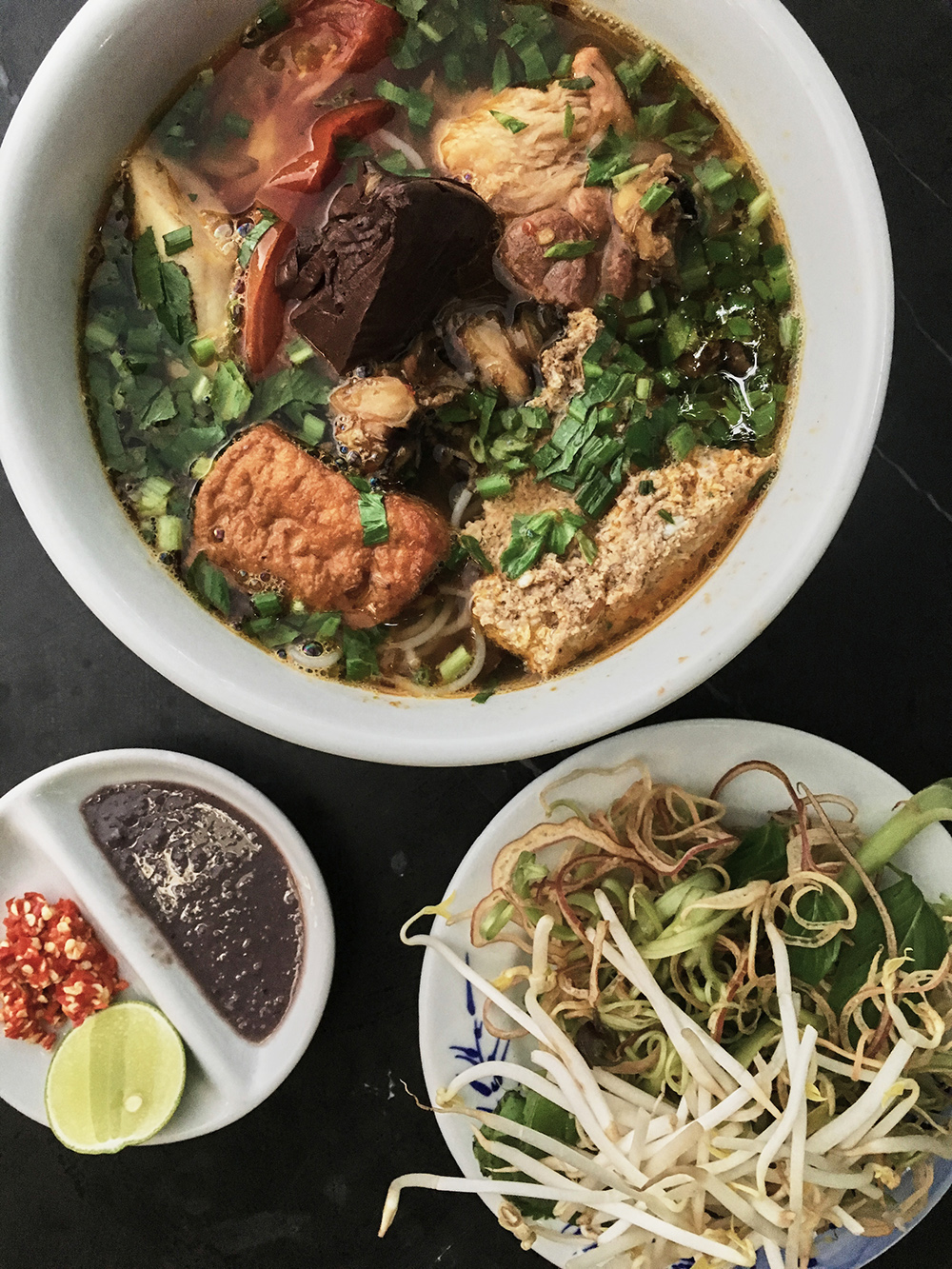 The interplay between crab and tomato makes bún riêu a truly standout dish. A hearty soup bursting with acidity, the components of this meal include slippery bún, fresh crab meat, blocks of tofu and stewed tomatoes. Cooking an authentic bowl of bún riêu is a labour-intensive process. After the crab meat is separated from the body, the shell is then pulverized using a mortar and pestle and then strained through to form the base of the broth. Floating around the bowl are pillowy clusters of minced crab combined with ground pork and egg that melt in your mouth.
Try it: Quan Bun Rieu Cua, 1B3 Tran Huy Lieu, Hanoi
---
12. Gỏi Cuốn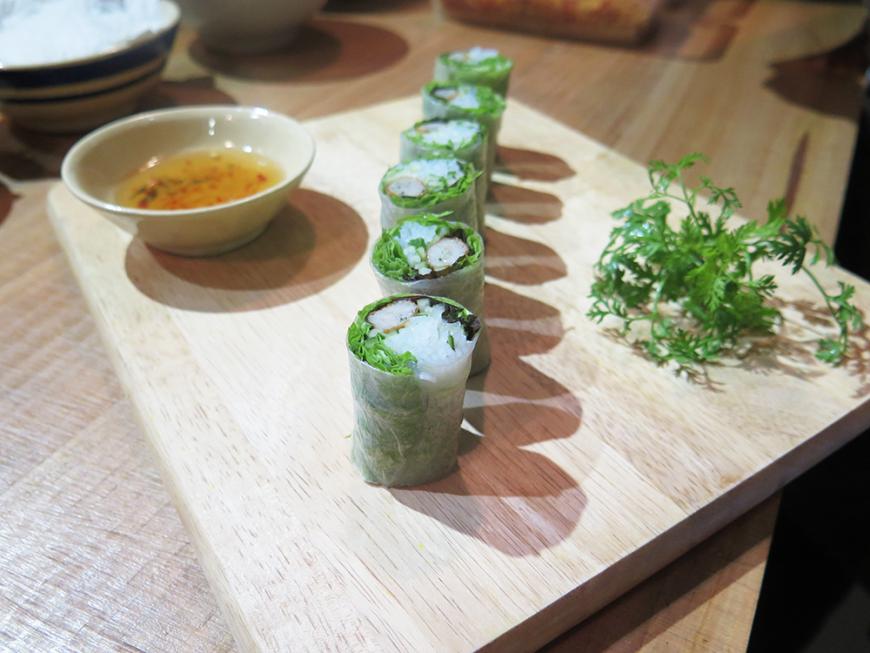 An action-packed salad roll, gỏi cuốn is bursting at the seams with freshness. The semi-transparent skin is made from softened sheets of rice paper. Encased within is a stack of leafy greens, mint, coriander, some form of protein and a stalk of garlic chive poking out from the snugly wrapped roll. The most common variety of gỏi cuốn is a surf and turf combo of pork tenderloin and shelled shrimp. The roll is either dunked in a bowl of nutty hoisin sauce or nước chấm.
Try it: Quan An Ngon, 18 Phan Boi Chau, Hoan Kiem, Hanoi
---
13. Bánh Cam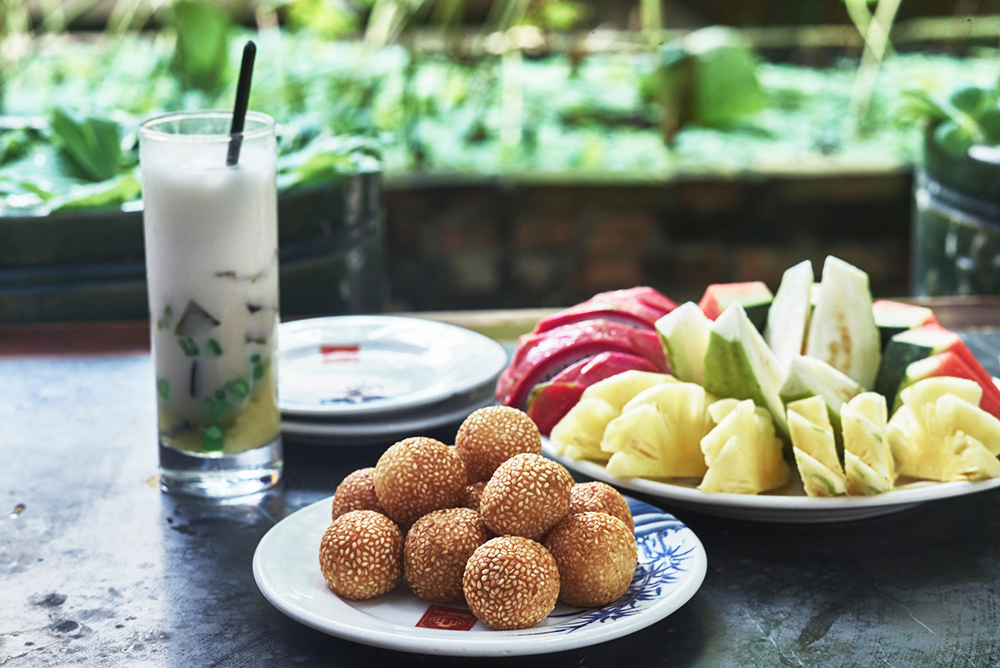 Deep-fried, doughy balls of goodness, bánh cam is a beloved southern speciality. Made from rice flour, the sesame-studded golden shell conceals a sweet filling. Traditionally, the paste filling is made from mung beans sweetened with vanilla extract, but modern updates include purple yam and green tea-filled balls. Up in the north, there is a nearly identical dessert sold called bánh rán. Vendors at local markets begin selling these treats around 6 a.m. (get them while they're hot and fresh.)
Try it: Street Foods, 23F Nguyen Huu Canh, Quan Binh, HCMC
---
14. Chả Cá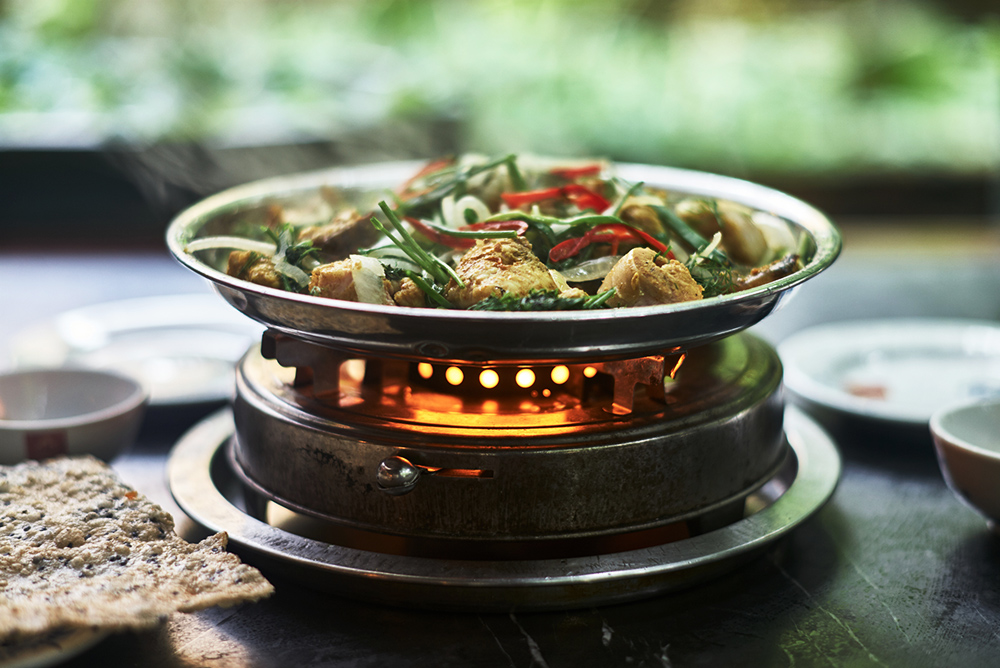 Perfumed with fresh dill, chả cá is a uniquely northern delicacy from the capital contrasting in flavours, textures and colours. Chunks of flaky white fish are marinated in turmeric before being sautéed in butter on high heat. Dill is then generously distributed across the skillet, feathering out across the pale yellow fish fillets like moss growing in wild abandon. It's a very photogenic entrée so snap a picture while the dill is still wispy and not wilted from the blazing temperatures.
Try it: Cha Ca Thang Long Restaurant, 19-21-31 Duong Thanh, Hoan Kiem, Hanoi
---
15. Nộm Hoa Chuối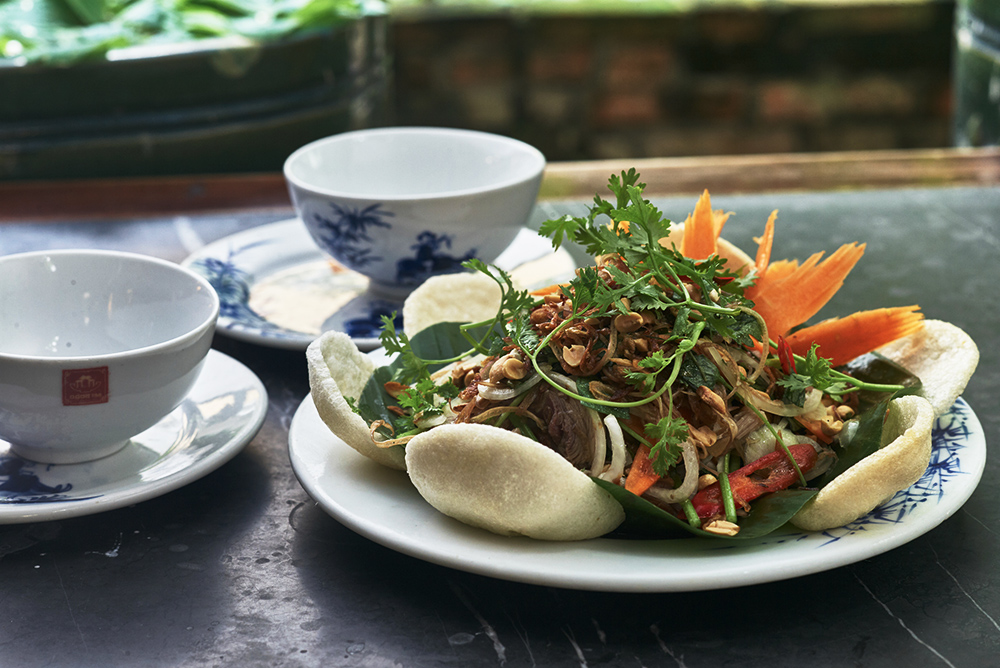 A meat-free option, nộm hoa chuối is a stunning array of shredded banana flowers tossed with pickled carrots, coriander, lotus root, and cabbage. Depending on the season, pomelo and julienned green mango or papaya can be added to the jumble. In some preparations, you'll find the addition of chicken although this is usually a vegetarian dish. The salad is bound with nước chấm sauce and decorated with crushed peanuts and bird's eye chili. For a refreshing punch, hit it with a squeeze of lime.
Try it: Mountain Retreat, 36 Le Loi, Ben Nghe, District 1, Ho Chi Minh City
---
16. Cà Phê Trứng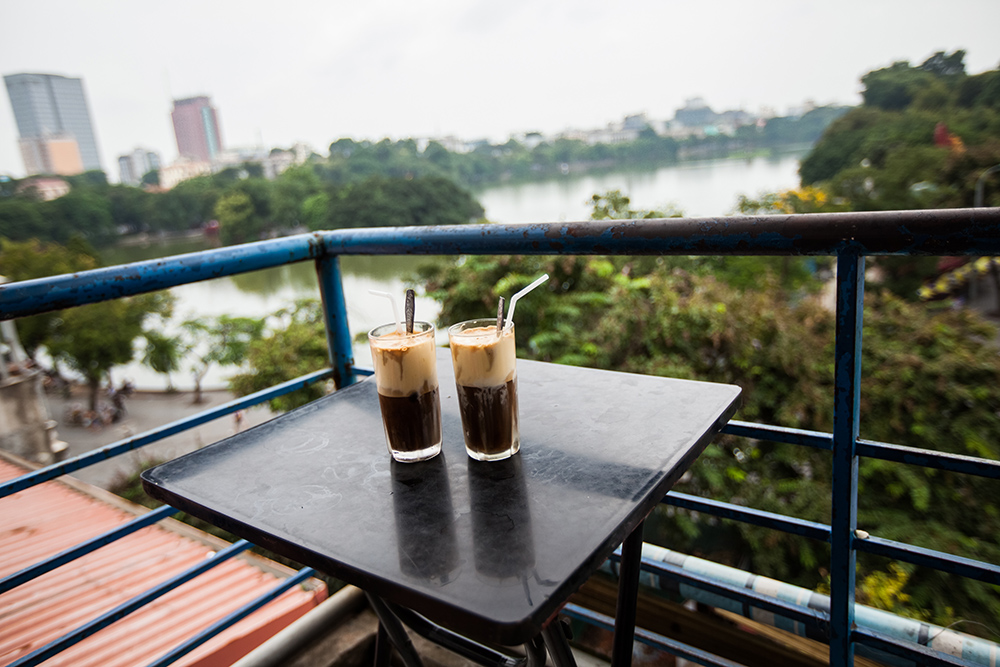 For a new brew to add to your coffee repertoire, cà phê trứng is something not to be missed. The story goes that this Hanoian delectable was invented by accident. Seventy years ago, the then-barman of the Sofitel Legend Metropole Hanoi, Mr. Nguyen Giang, ran out of fresh milk on a shift to serve for the coffee. He ingeniously created a substitute mixture of egg yolks and condensed milk, and the rest is history. More of a confection than an actual caffeine boost, a frothy meringue-like substance is perched atop a cup of black coffee. It can be served either hot or cold.
Try it: Giang Cafe, 39B Nguyen Huu Huan, Ly Thai To, Hoan Kiem, Hanoi (home of the original recipe)
---
17. Bánh Tráng Nướng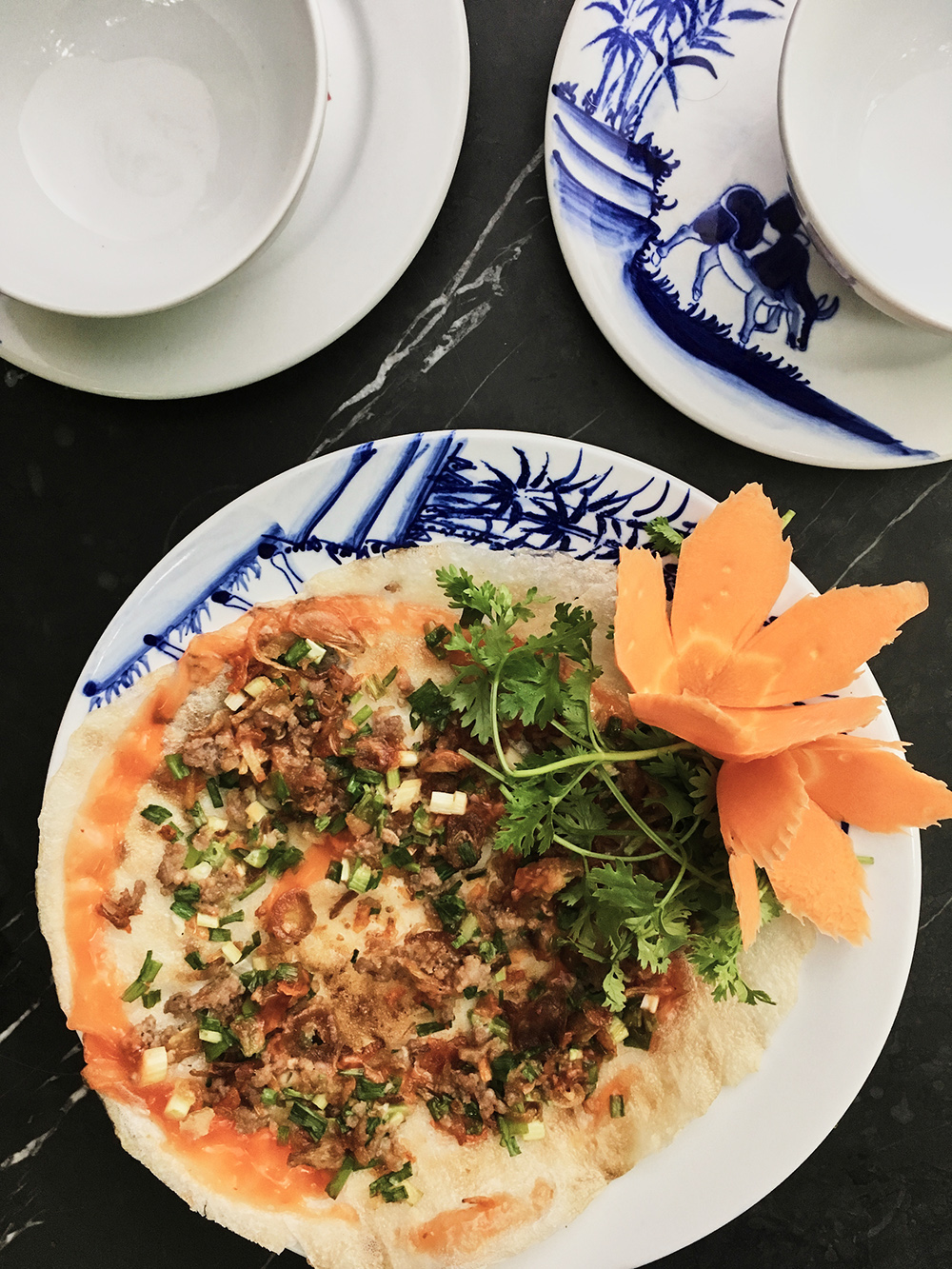 A streetside snack, bánh tráng nướng is a widely popular treat among youth. The dish is an example of new age Vietnamese cuisine, completely unrecognizable to older generations. All you need is a charcoal brazier, rice paper, and buckets of inexpensive toppings like minced pork, green onion, pork floss and dried shrimp.
Nicknamed the "Vietnamese Pizza," a thin sheet of rice paper acts as the base. It is placed on top of a charcoal burner, slathered with butter and immediately a quail egg is cracked over the sheet acting as a glue for any additional toppings. When it's ready, the vendor will drizzle a generous amount of hot sauce and serve it to you folded like a crispy taco.
Try it: Turtle Lake Roundabout (Hai Con Rua), Ho Chi Minh City
---
18. Hủ Tiếu Nam Vang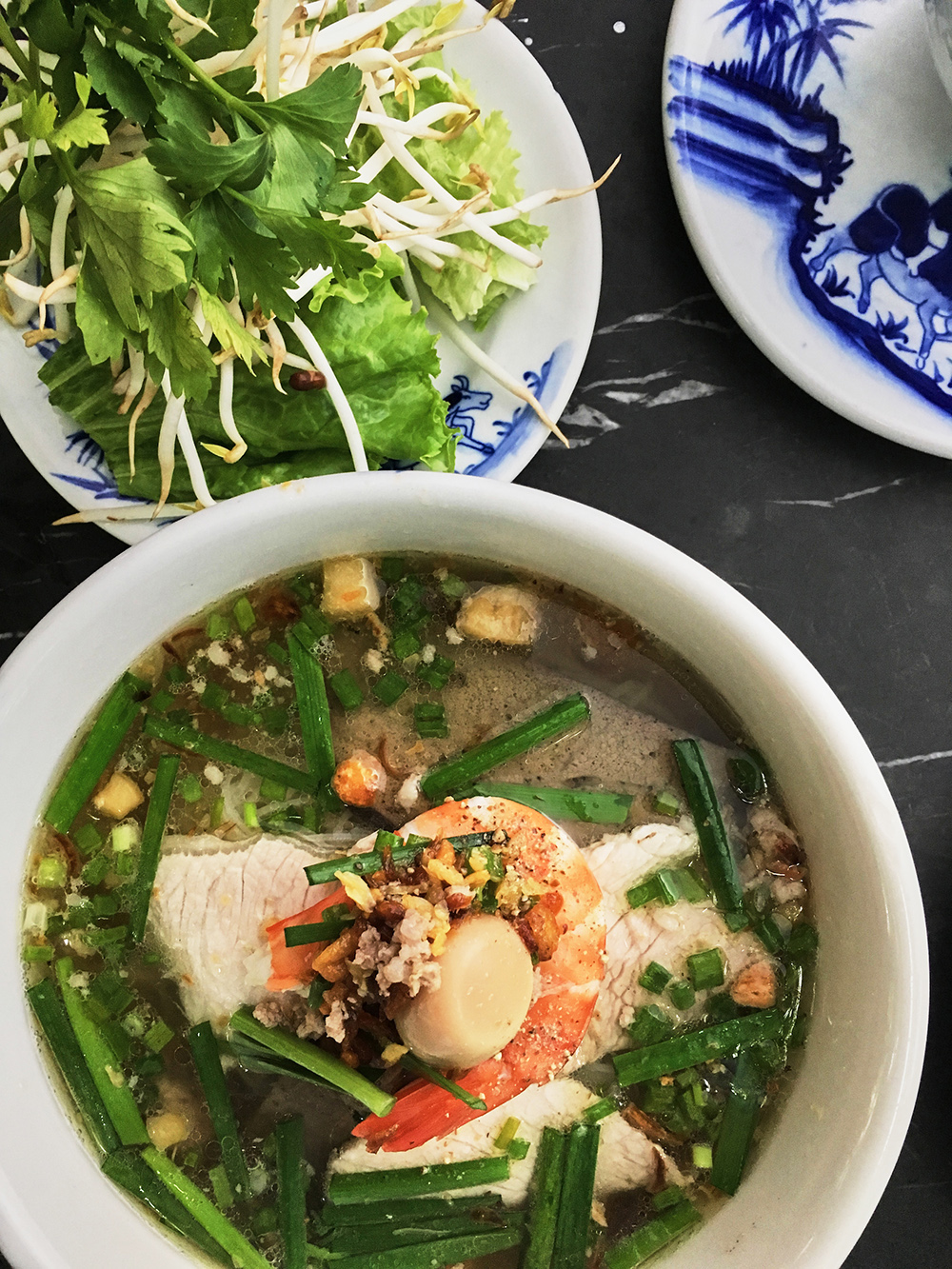 This is the standard street food item in the south. The Vietnamese version of the kuy teav in Cambodia and guay tiew in Thailand, hủ tiếu is a bowl of noodles served either wet (nước) or dry (khô). Typically, an opaque broth made from pork bones is eaten with hủ tiếu noodles. The definitive rendition of hủ tiếu is Hủ Tiếu Nam Vang. The recipe calls for pork on the bone, boiled liver, a quail egg and some shrimp. If you're squeamish, ask them to hold off on the congealed pork blood chunks, which make their way into a bowl every now and then. The peppery broth speckled with chopped green onions also has a noticeable sweetness to it, coming from the addition of rock sugar.
Try it: Hu Tieu Co Huong, 152/7/2 Ly Chinh Thang, Ward 7, District 3, Ho Chi Minh City
---
19. Bún Thịt Nướng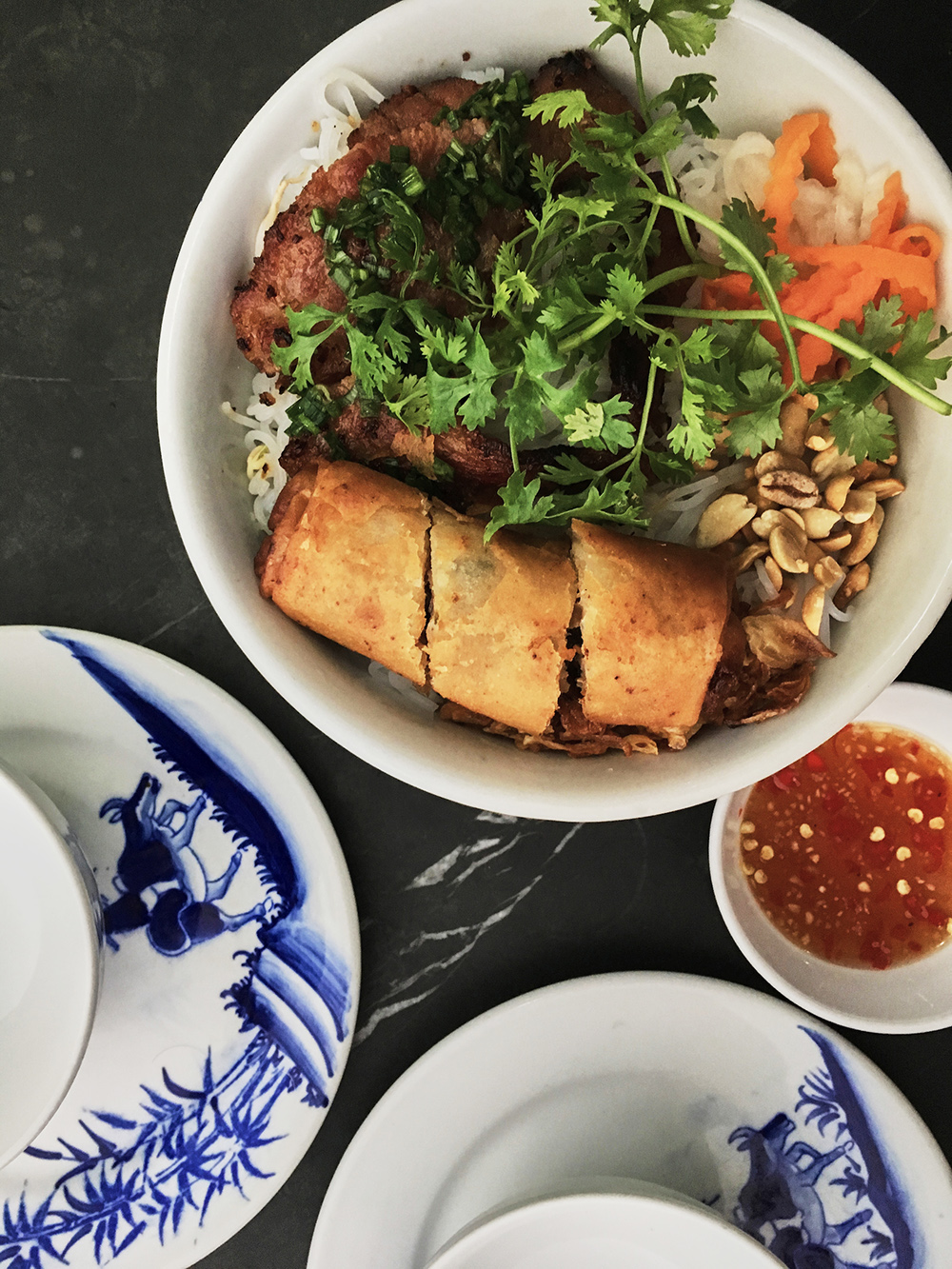 Bún thịt nướng is a pool of spaghetti-like rice vermicelli layered with different elements such as fried spring rolls (see #21), charred tender pork and if you're lucky, marinated chopped beef. The mouthwatering assembly comes sans broth but spicy nước chấm is never too far behind. Bathe the pasta salad in Vietnam's ubiquitous sauce for added depth. The multilayered experience is further enhanced with roasted peanuts, pickled carrots, oily green onions, fiery chili pepper, mint and basil. If you want the addition of the fried spring rolls, ask for bún thịt nướng chả giò.
Try it: Chi Tuyen (formerly Chi Thong), 195 Co Giang, District 1, Ho Chi Minh City
---
20. Chè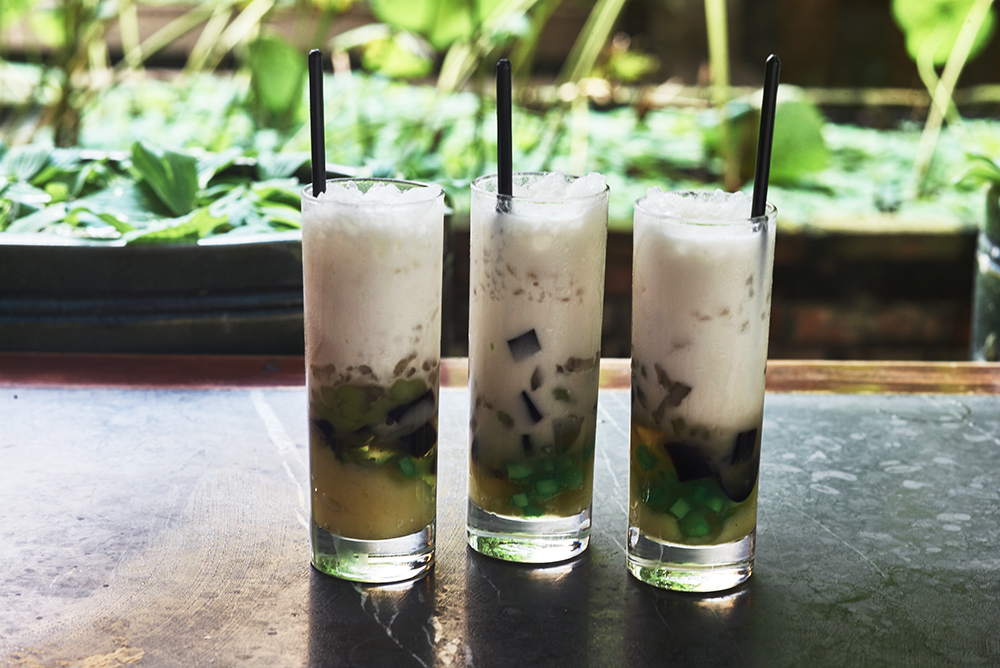 Chè is a sweet, beverage-like dessert, served either hot or cold. Sometimes, it comes in the form of a pudding while others have likened it to a dessert soup. Cold chè is speckled with jellied ingredients and tropical fruits like bananas, mangoes and longan, usually doused in coconut milk. The firm crunch of artificially dyed water chestnuts is somewhat of a surprising encounter in the syrupy pool. Try the beautiful three-coloured dessert, chè ba màu. Often called the rainbow dessert, this is a layered spectacle of red beans, mashed mung beans and pandan jelly, topped with crushed ice and coconut sauce.
Try it: Che 95, 95 Hang Bac, Hoan Kiem, Hanoi
---
21. Chả Giò/Nem Rán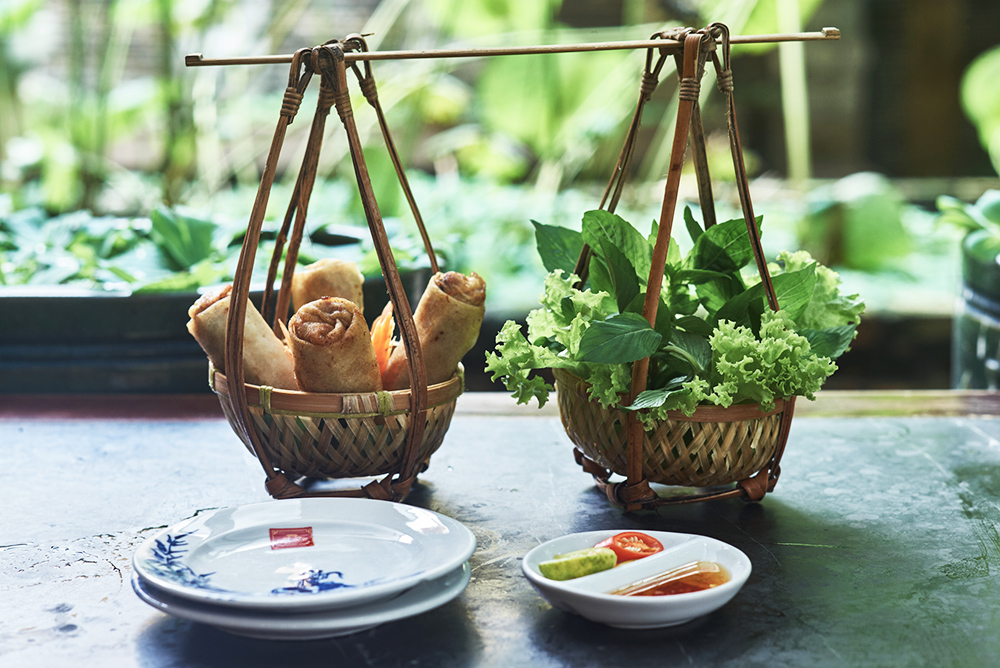 In the north it's referred to as nem rán, while in the southern dialect, they call it chả giò. A typical Vietnamese appetizer, the deep-fried equivalent of gỏi cuốn (see #12) is very filling so be careful to not indulge in too many pieces before your main course. Most often, the rolls are stuffed with ground pork, minced shrimp, wood ear mushrooms and glass noodles. Vietnamese egg roll differs from Chinese egg rolls because the wrapper is made of rice and not wheat.