From bún bò huế to bún chả, chef, writer and travel tv host Anthony Bourdain loved eating in Vietnam. For the curious foodies who want to retrace the footsteps of this legendary gourmand, here are some of his favourite spots in Hanoi and Ho Chi Minh City and what to order when you're there.
---
Of all the individuals who have fallen under Vietnam's spell, no one's obsession with Vietnam outmatches that of celebrity chef Anthony Bourdain. Over 206 episodes and two television shows, no country has enraptured the brazen itinerant more so than Vietnam, a country he called "one of his favourite places on earth."
"Vietnam. It grabs you and doesn't let you go. Once you love it, you love it forever." - Anthony Bourdain
Early in his television career, Bourdain made his love of Vietnam known, taking viewers on an espionage-themed tour around the northern region of the country in an episode of No Reservations entitled "Vietnam: The Island of Mr. Sang". Channeling his inner James Bond, Bourdain discovered "squeasel" and also learned the potency of the local brew, rượu đế, Vietnamese moonshine.
A few seasons later, he returned to Vietnam for a homecoming of sorts, as implied by the episode's title "Vietnam: There's No Place Like Home." At the end of the episode, Bourdain is seen contemplating the life of an expat. Later on, he visited the imperial capital of Huế in Parts Unknown, sampling dishes like cơm hến (minced baby clams on sesame rice crackers) and the legendary Bún bò Huế, in its birthplace.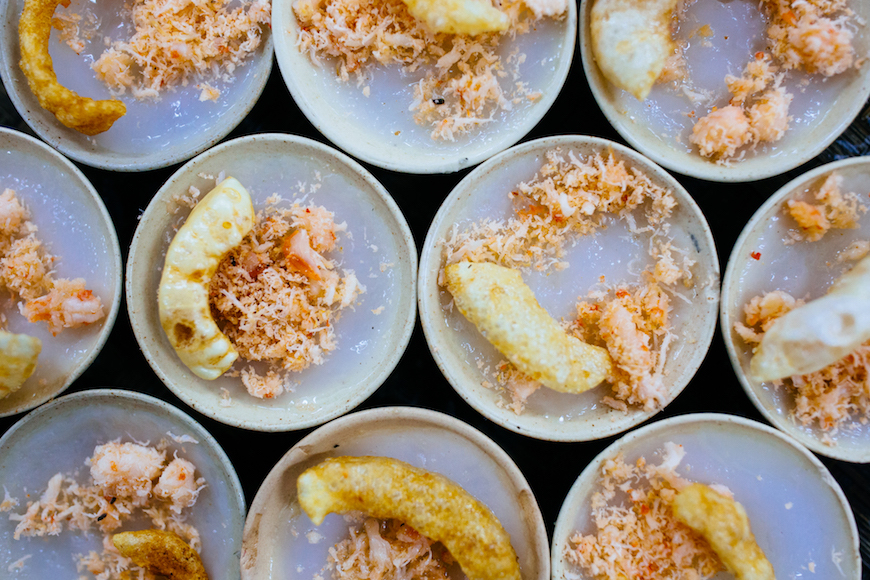 His is not so much an obsession as it is an earnest love admiration for Vietnam and its people. In the season eight opener of Parts Unknown, Bourdain once again finds himself in Vietnam, this time in the capital of Hanoi. The day starts off with streetside bún ốc, and ends with the cheerful clinking of bia hơi. But the highlight of this episode is a guest appearance by US President Barack Obama.
President Obama and Bourdain break bread over a 70,000 VND assembly of bún chả, a Hanoian speciality. As Bourdain appraises the president's chopstick techniques, the two bond over a shared love of the Southeast Asian region and the importance of cultural openness. Underscoring each episode is a story of tenderness and affection that is uncharacteristically Bourdain, yet understandable to those who have visited.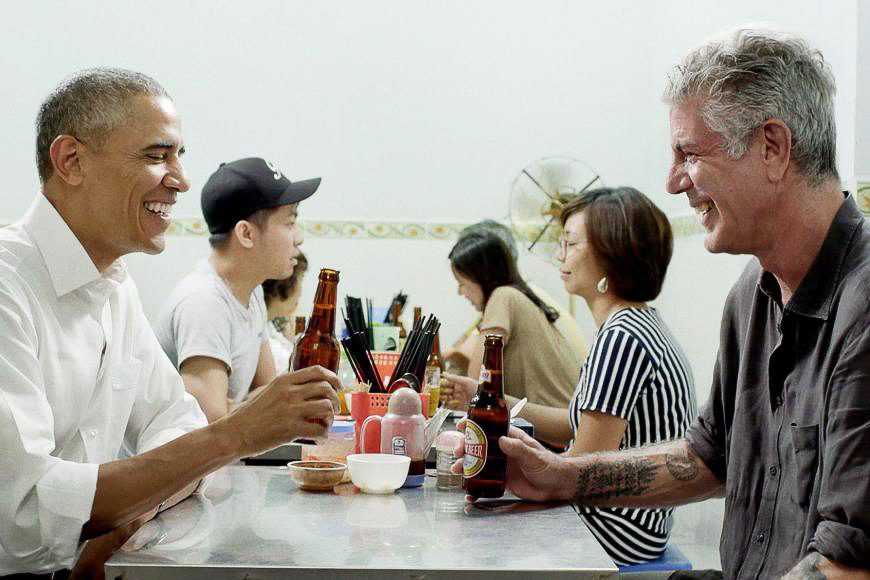 All the senses are engaged here.
Bourdain always celebrated cuisines with strong identities that don't rely on pomp to create a statement, which explains his particular reverence towards Vietnamese food. Vietnamese cuisine is so complete, providing a balanced, multisensory interplay of flavours, textures and aromas. It's not modest fare under any circumstance, but Vietnamese food needs no extra frills to make an impact.
---
Ready to follow Bourdain's footsteps around Vietnam? Here are a few highlights for your list.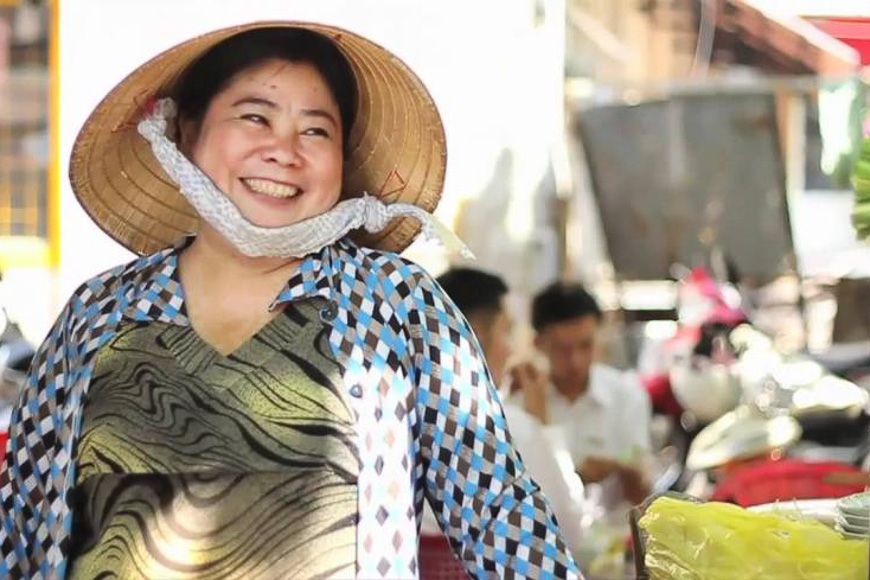 Bún bò Huế at The Lunch Lady in Ho Chi Minh City
The famed Lunch Lady (23 Hoang Sa Street, Phuong Da Kao, District 1, HCMC) is sequestered in an unassuming alleyway on the northern edge of District 1. Hoards of Vietnamese businessfolk and now, tourists, meet here around lunch time. Snag a table close to the mobile kitchen where Ms. Nguyen Thi Thanh hurriedly orchestrates the operation. Sitting at one of these tables affords the diner a theatrical performance complete with the sounds of cleavers pounding against wooden boards and men barking out orders, fanning worn out Vietnamese dong to relieve themselves of Ho Chi Minh's oppressive heat.
The lunch lady's Bún bò Huế (40,000 VND) is dark broth was was riddled with a generous amount of delectables such as fatty pig trotter, slices of beef brisket, and hefty log of cha lua, a type of Vietnamese sausage. Strong citrus notes come through from the broth long-simmered with stalks of lemongrass.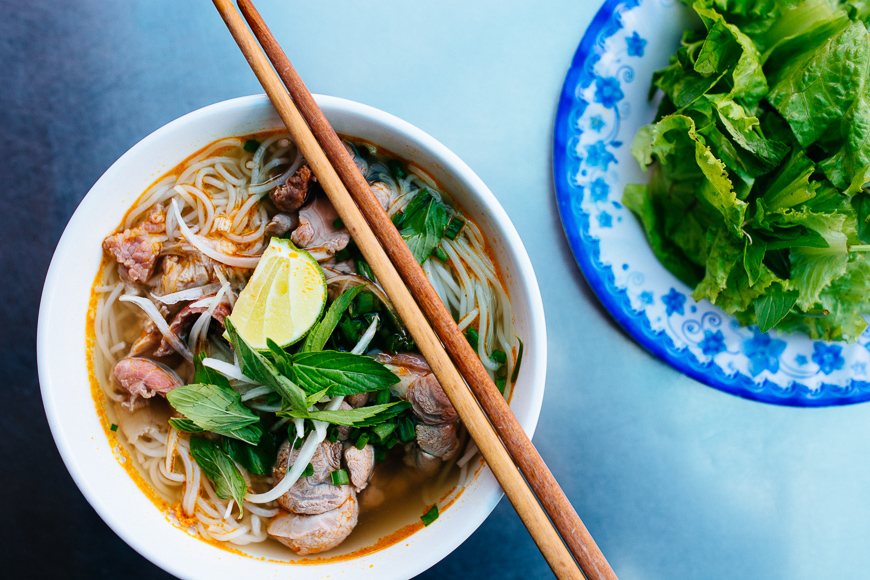 Bún chả at Bún chả Hương Liên in Hanoi
Bun Cha Obama. That's what this small canteen-style joint located on Le Van Huu street is now popularly known as. Ever since the photo of President Obama and Anthony Bourdain perched on low slung seats was released back in late May 2016, the unpretentious eatery has become Hanoi's most bustling bún chả hotspot. Now, it features the very table they ate at enshrined in addition to a new location named after the US President. Try the "Combo Obama," a deal of a cold bottle of Bia Hà Nội, bún chả and seafood nem rán, all for the stunningly low cost of 85,000 VND.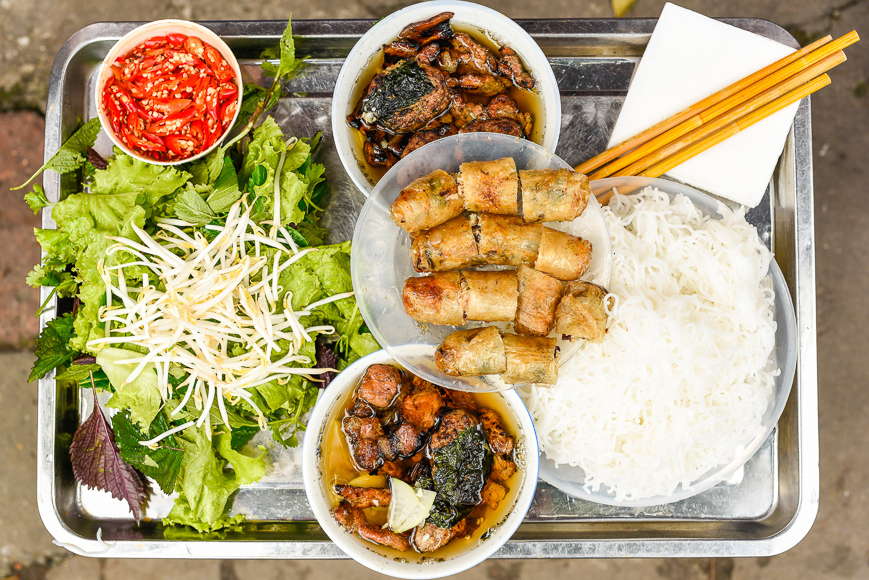 Bún chả is unrecognisable to outsiders; it is the food of the Vietnamese middle class. However, its smell -- the smell of grilled pork patties -- hangs in the air and wafts out of canteens similar to this one. Expect a large bowl of bún chả's unique broth consisting of nước chấm and sugar and laced with vinegar, a smattering of patties and grilled pork swimming around in the bowl, plus a serving of bún, rice vermicelli, and a plate of fresh herbs.
Bourdain did right by his endorsement of this street food item. This spot is something you should not miss on a visit to Hanoi.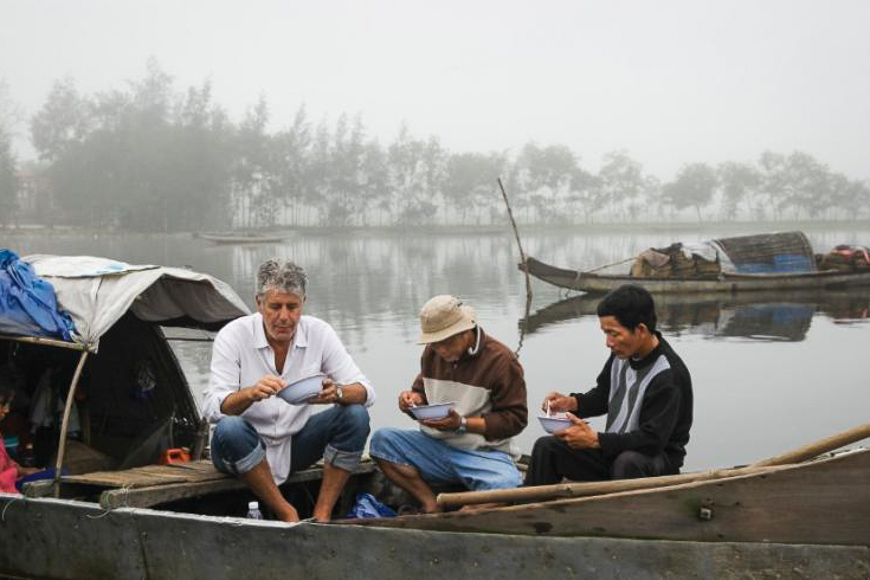 ---
To map out your very own Bourdain-inspired foodie excursion through Vietnam, here are the establishments and dishes you cannot miss:
---
Want more Vietnam travel ideas? Sign up for our newsletter to receive our best stories in your inbox.